This website uses cookies to ensure you get the best experience while browsing it. By clicking 'Got It' you're accepting these terms.
Why is Palm Oil So Bad?
May. 02, 2014 02:57PM EST
Food
Consumer knowledge on the destructiveness of palm oil production—found in everything from ice cream and crackers to detergents and cosmetics, is rising. Increased awareness is sorely needed, as more and more forests are cleared to make way for palm oil plantations.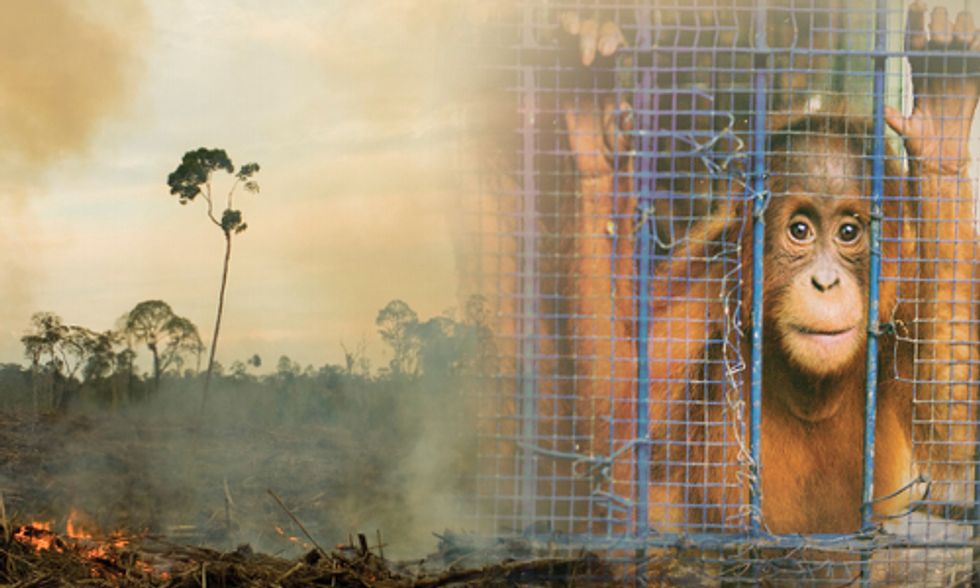 There are a lot of questions around the use of palm oil. The Rainforest Action Network, which has been working on this issue for some time, has an excellent factsheet on palm oil, which is briefly excerpted here:
What is Palm Oil?
Palm oil is a globally traded agricultural commodity that touches our lives in every trip we make to the supermarket. Palm oil is an edible vegetable oil derived from pulping the fruit of oil palms originally native to Africa. Palm oil is commonly used as a cooking oil in Africa, Southeast Asia and parts of Brazil and its consumption is on the rise worldwide. The recent rise in the use of palm oil in the U.S. food industry has resulted largely from changed labeling requirements that have caused a switch away from using trans fats.
Why is Palm Oil a Problem?
Palm oil has become one of the world's leading causes of rainforest destruction. Unchecked expansion has pushed palm oil plantations into the heart of some of the world's most culturally and biologically diverse ecosystems and palm oil is among the biggest threats driving iconic wildlife species like the Sumatran orangutan to the brink of extinction in Indonesia. This large-scale destruction of rainforests and carbon-rich peatland landscapes is releasing globally significant quantities of carbon pollution into the atmosphere, making palm oil a major global driver of human induced climate change. The production of palm oil is also responsible for widespread human rights violations as palm oil companies often forcefully remove Indigenous Peoples and rural communities from their lands.
Fighting Back—One Man's Effort in Indonesia
The rainforests of Indonesia are among the most biodiverse on the planet, containing 10 percent of the world's known plants, 12 percent of mammals, and 17 percent of all known bird species. The threat from deforestation is huge, as only half of the country's original forests remain, with an estimated 2 million acres lost every year.
Rudi Putra, a biologist who has been dismantling illegal palm oil plantations that are causing massive deforestation and threatening to wipe out the Sumatran rhino, orangutans, tigers, elephants and other endangered species, just won the prestigious Goldman Environmental Prize for his efforts. He is protecting the Leuser Ecosystem in Aceh; it is the only place on Earth where tigers, elephants, rhinos and orangutans can be found living together in the wild.
Working with local communities and local police, Putra and his colleagues were able to enforce land protection laws and shut down illegal palm oil plantations. Watch this short video on Rudi Putra's story: 
Despite this success, the local government in Aceh is now trying to legally open up more land to palm oil development.
Yes—Think Globally, Act Locally
Ultimately it is up to consumers to know what is in what they eat. As with sweatshop labor, there is a high price to pay for our modern goods. Urging companies to cut palm oil out of their supply chains is one solution. And supporting the Rudi Putra's of the world is another —which comes down to awareness of what is happening around the world, in our own communities and within our own families. There are fewer than 100 Sumatran rhinos left in the wild. Is it worth wiping them out for a processed food ingredient?
Take Action
Sign the petition to protect the Leuser Ecosystem as a UNESCO World Heritage Site. And call on snack food companies such as General Mills and Nestle to only use sustainably sourced palm oil.
--------
YOU ALSO MIGHT LIKE
P&G to Eliminate Deforestation From Palm Oil Products
9 Arrested After Death-Defying Protest of P&G's Use of Palm Oil
Palm Oil Company Ordered to Pay $30 Million for Illegal Rainforest Destruction 
--------
EcoWatch Daily Newsletter
Investing in grid infrastructure would enable utilities to incorporate modern technology, making the grid more resilient and flexible. STRATMAN2 / FLICKR
By Elliott Negin
The Royal Swedish Academy of Sciences' recent decision to award the 2019 Nobel Prize in Chemistry to scientists who developed rechargeable lithium-ion batteries reminded the world just how transformative they have been. Without them, we wouldn't have smartphones or electric cars. But it's their potential to store electricity generated by the sun and the wind at their peak that promises to be even more revolutionary, reducing our dependence on fossil fuels and protecting the planet from the worst consequences of climate change.
Two Javan rhinos deep in the forests of Ujung Kulon National Park, the species' last habitat on Earth. Sugeng Hendratno / WWF
The global population of the critically endangered Javan rhinoceros has increased to 72 after four new calves were spotted in the past several months.
A tiger looks out from its cage at a new resort and zoo in the eastern Lao town of Tha Bak on Dec. 5, 2018. Karl Ammann believes the "zoo" is really a front for selling tigers. Terrence McCoy / The Washington Post / Getty Images
Are tigers extinct in Laos?
That's the conclusion of a detailed new study that found no evidence wild tigers still exist in the country.
A group of scientists is warning that livestock production must not expand after 2030 for the world to stave off ecological disaster.
The largest wetland in Africa is in the South Sudan. George Steinmetz / Corbis Documentary / Getty Images Plus
Methane emissions are a far more powerful greenhouse gas than carbon dioxide – about 28 times more powerful. And they have been rising steadily since 2007. Now, a new study has pinpointed the African tropics as a hot spot responsible for one-third of the global methane surge, as Newsweek reported.