This website uses cookies to ensure you get the best experience while browsing it. By clicking 'Got It' you're accepting these terms.
Why Buying Local Flowers Is Just as Important as Buying Local Food
May. 15, 2016 11:53AM EST
Climate
You may not realize it, but flowers are a part of the buy-local movement—and with good reason.
Seventy percent of the cut flowers sold in the U.S. are imported from Latin America. Though the hot climate is just what the flowers need, those constant high temperatures are also conducive to bugs and disease. Consequently, growers in Columbia, Ecuador and many other countries rely on pesticides that have long been banned in the U.S. to produce flowers worth selling in international markets.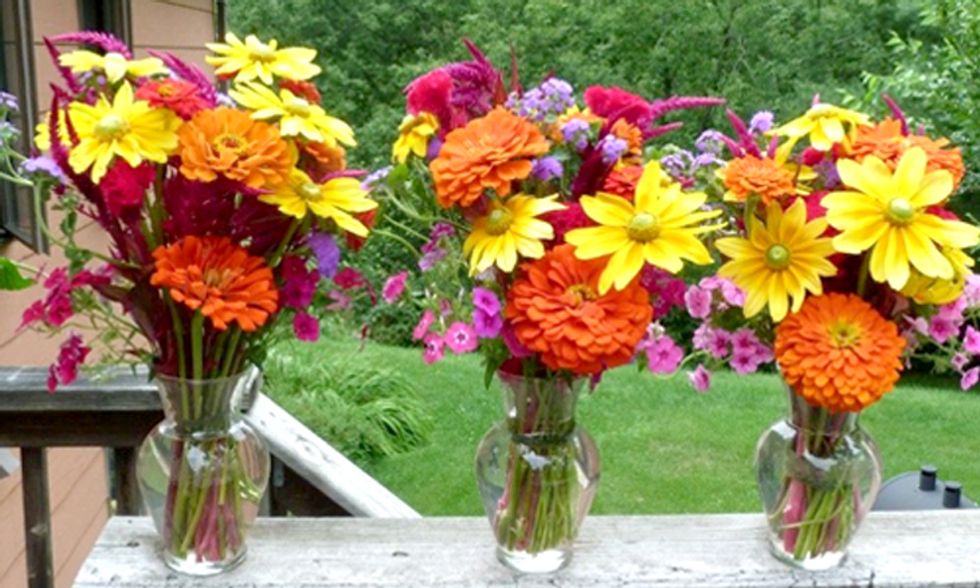 As with other crops, applying pesticides to flowers takes its toll on people, especially on mothers who work in the flower fields when they're pregnant and unavoidably expose their fetuses to the toxic chemicals. Not only that, but researchers found that children whose mothers were exposed to pesticides during pregnancy tended to have higher blood pressure than unexposed children, increasing the chance of risk of cardiovascular disease later in life.
Consumers may be exposed to those chemicals as well. Roses can contain as much as 50 times the amount of pesticides legally allowed on the food we eat, reports the Environmental News Network. When flowers are imported into the U.S., they're checked for bugs, but not for pesticide contamination. You could bring a lot of unwanted toxic chemicals into your home when you buy a bouquet produced outside the U.S., particularly when you stick your nose right into them.
Importing flowers from Latin America, Europe, Africa and even Australia and New Zealand has another significant environmental impact: climate change.
Blooms coming from south of our borders may be hauled in temperature-controlled trucks or perhaps flown from one continent to another, stored overnight in refrigerators, then driven on to various marketplaces. In a study done for Valentine's Day, Flowerpetal.com, an online flower vendor, calculated that shipping 100 million roses around the U.S. generated some 9,000 metric tons of carbon dioxide (CO2). On the other hand, flowers grown in warmer clients do save the energy that might be consumed if the plants were raised in a northern greenhouse.
Still, if it's possible to purchase flowers grown locally, overall, you'll probably use less energy, suffer less pesticide exposure and funnel more money back into your local economy. The question is, where to find them?
Farmers Markets—In spring, summer and fall, most farmers markets teem with flowers grown nearby. Some farmers interplant their crops with flowers to attract beneficial insects that will prey on produce-devouring bugs. But other "flower farmers" grow both annuals and perennials as their crop. You can find the nearest source of local flower growers at LocalHarvest.org.
Your Own Yard—As long as you have adequate sunshine and water, you can grow many of the flowers you enjoy, including both perennials and annuals. Real Simple put together this useful guide on how to create a low-maintenance cutting garden that can help you get started.
A Community Garden—Don't have your own yard? Don't let that stop you. You can rent a plot of land in a community garden and plant to your heart's content. The American Community Gardening Association makes it easy to find the nearest locale to you.
Garden Club Swaps—Join the local garden club, where you'll end up swapping seeds and plants with other gardeners in your community. You'll save money, get rid of your own excess plants, get access to new plants and keep the neighborhood green and in bloom.
YOU MIGHT ALSO LIKE
'Human Swan' Joins 4,500-Mile Migration to Help Save the Species
Go From Bike to eBike in Under a Minute With the GeoOrbital
Historic Vote Ends Hawaii's Ivory Trade
EcoWatch Daily Newsletter
Penguins are seen near the Great Wall station in Antarctica, Feb. 9, days after the continent measured its hottest temperature on record at nearly 65 degrees Fahrenheit. Xinhua / Liu Shiping / Getty Images
By Richard Connor
Scientists have recorded Antarctica's first documented heat wave, warning that animal and plant life on the isolated continent could be drastically affected by climate change.
The Athos I tanker was carrying crude oil from Venezuela when a collision caused oil to begin gushing into the Delaware River.
U.S. Department of the Interior
A case that has bounced around the lower courts for 13 years was finally settled yesterday when the U.S. Supreme Court upheld a lower court decision, finding oil giant Citgo liable for a clean up of a 2004 oil spill in the Delaware River, according to Reuters.
The buildings of downtown Los Angeles are partially obscured in the late afternoon on Nov. 5, 2019, as seen from Pasadena, California, a day when air quality for Los Angeles was predicted to be "unhealthy for sensitive groups." Mario Tama / Getty Images
The evidence continues to build that breathing dirty air is bad for your brain.
Wave power in Portugal. The oceans' energy potential is immense. Luis Ascenso, via Wikimedia Commons
By Paul Brown
The amount of energy generated by tides and waves in the last decade has increased tenfold. Now governments around the world are planning to scale up these ventures to tap into the oceans' vast store of blue energy.
Yellowstone National Park closed to visitors on March 24, 2020 because of the Covid-19 virus threat. William Campbell-Corbis via Getty Images
When the novel coronavirus started to sweep across the country, the National Park Service started to waive entrance fees. The idea was that as we started to practice social distancing, Americans should have unfettered access to the outdoors. Then the parking lots and the visitor centers started to fill up, worrying park employees.