This website uses cookies to ensure you get the best experience while browsing it. By clicking 'Got It' you're accepting these terms.
Which Is the Greenest College Campus in Your State?
Jul. 24, 2014 12:45PM EST
Colleges across the U.S. have been making headlines for environmentally conscious polices and student activism. For example, the University of Dayton became the first U.S. Catholic college to divest from fossil fuels, Washington University students were arrested protesting Peabody Coal, and 130+ universities joined in a movement to measure the sustainable dining on campus.
There are numerous ways to judge how "green" a school is, including a close look at college campuses. eCollegeFinder has created a map illustrating the greenest college campuses in each state, as judged by College Prowler.
College Prowler ranked each school on a 1 to 10 scale, and while they did not disclose the criteria used, they summed up the motivation behind the rating system as follows: "These days, schools boast a high number of LEED-certified facilities and sustainability initiatives. The following colleges and universities are striving for a more eco-friendly future."
Only one school received a perfect 10: Pitzer College in California.
See if your school made the list.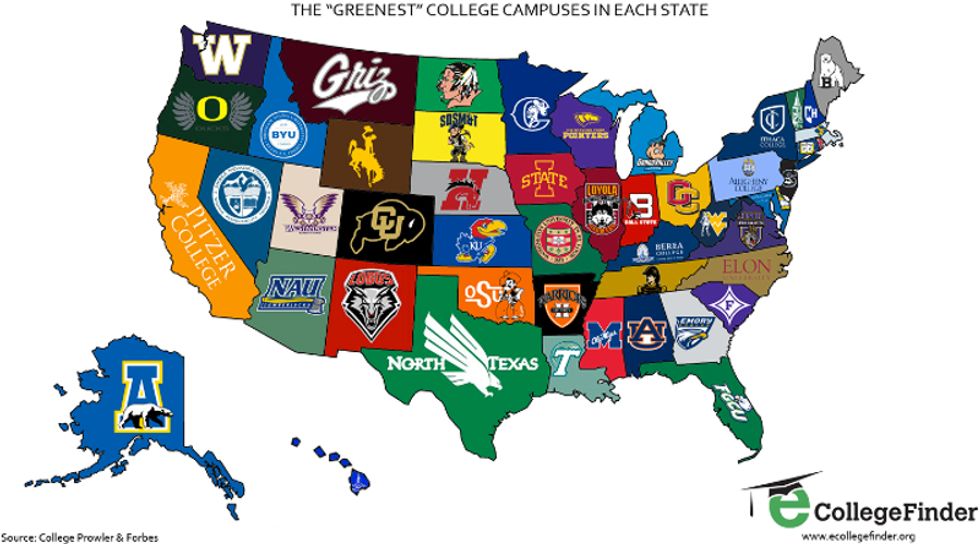 And, in case you're a little rusty on college logos, here's the breakdown of universities and College Prowler green campus ratings by state:
Alabama: Auburn University – 8.6
Alaska: University of Alaska Fairbanks – 8.05
Arizona: Northern Arizona University – 9.67
Arkansas: Hendrix College – 9.06
California: Pitzer College – 10
Colorado: University of Colorado Boulder – 9.8
Connecticut: Yale University – 9.36
Delaware: University of Delaware – 8.61
Florida: Florida Gulf Coast University – 9.8
Georgia: Emory University – 9.65
Hawaii: Chaminade University of Honolulu – 8.18
Idaho: Brigham Young University - Idaho – 8.45
Illinois: Loyola University Chicago – 9.21
Indiana: Ball State University – 9.11
Iowa: Iowa State University – 9.19
Kansas: University of Kansas – 8.43
Kentucky: Berea College – 8.73
Louisiana: Tulane University – 8.5
Maine: Bowdoin College – 9.54
Maryland: Goucher College – 9.47
Massachusetts: Smith College – 9.47
Michigan: Grand Valley State University – 9.47
Minnesota: Carleton College – 9.19
Mississippi: University of Mississippi – 8.5
Missouri: Washington University in St. Louis – 9.36
Montana: University of Montana – 8.7
Nebraska: Hastings College – 8.35
Nevada: Sierra Nevada College – 8.45
New Hampshire: University of New Hampshire – 8.8
New Jersey: Richard Stockton College of New Jersey – 8.71
New Mexico: University of New Mexico – 7.94
New York: Ithaca College – 9.42
North Carolina: Elon University – 9.41
North Dakota: University of North Dakota – 8.15
Ohio: Oberlin College – 9.31
Oklahoma: Oklahoma State University – 8.76
Oregon: University of Oregon – 9.67
Pennsylvania: Allegheny College – 9.19
Rhode Island: Brown University – 8.81
South Carolina: Furman University – 9.13
South Dakota: South Dakota School of Mines and Technology – 8.32
Tennessee: Vanderbilt University – 8.91
Texas: University of North Texas – 9.52
Utah: Westminster College – 9.14
Vermont: University of Vermont – 9.41
Virginia: James Madison University – 8.84
Washington: University of Washington – 9.46
West Virginia: West Virginia University – 8.02
Wisconsin: University of Wisconsin – Stevens Point – 9.13
Wyoming: University of Wyoming – 8.38
You Might Also Like
Which States Made The Top 10 For LEED-Certified Green Buildings?
Barriers to Fossil Fuel Divestment at Tufts University
Two Washington DC Universities Combine For Country's Largest Non-Utility Solar Energy Purchase
EcoWatch Daily Newsletter
The Visible Infrared Imaging Radiometer Suite on the Suomi NPP satellite acquired this image of forest fire smoke hovering over North America on Aug. 15, 2018. NASA Earth Observatory
New York City isn't known for having the cleanest air, but researchers traced recent air pollution spikes there to two surprising sources — fires hundreds of miles away in Canada and the southeastern U.S.
If temperatures continue to rise, the world is at risk from global
sea-level rise
, which will flood many coastal cities as seen above in Bangladesh. NurPhoto / Contributor / Getty Images
The mounting climate emergency may spur the next global financial crisis and the world's central banks are woefully ill equipped to handle the consequences, according to a new book-length report by the Bank for International Settlements (BIS), as S&P Global reported. Located in Basel, Switzerland, the BIS is an umbrella organization for the world's central banks.
Two ice fishers with a truck cut a hole in the ice near an ice fishing hut on frozen Lake Winnebago.
Richard Hamilton Smith / Corbis NX / Getty Images
By Susan Cosier
Come February in Wisconsin, almost everything will be covered in ice and snow. In little shanties on frozen Lake Winnebago, a 30-by-13-mile lake in the eastern part of the state, fishers will keep watch over rectangular holes cut into the ice with a chainsaw. When they spot a fin passing below, they'll jab their spears down deep. The lucky ones will earn themselves a lake sturgeon, a species that has prowled the earth's waters for more than 150 million years.
Fresno, California, seen above, is receiving $66 million for walking trails, sidewalks, bike lanes, and more. DenisTangneyJr / iStock / Getty Images
Grecia Elenes grew up in Fresno, California. She says some parts of the city have been neglected for decades. When she moved back after college she realized nothing has changed.
People are seen embracing at Numeralla Rural Fire Brigade near the scene of a water tanker plane crash on Jan. 23 in Cooma, Australia. Three American firefighters have have died after their C-130 water tanker plane crashed while battling a bushfire near Cooma in southern NSW this afternoon. Jenny Evans / Getty Images
Three U.S. firefighters gave their lives battling Australia's historic wildfires Thursday when their airborne water tanker crashed.