Which Is the Greenest College Campus in Your State?
Colleges across the U.S. have been making headlines for environmentally conscious polices and student activism. For example, the University of Dayton became the first U.S. Catholic college to divest from fossil fuels, Washington University students were arrested protesting Peabody Coal, and 130+ universities joined in a movement to measure the sustainable dining on campus.
There are numerous ways to judge how "green" a school is, including a close look at college campuses. eCollegeFinder has created a map illustrating the greenest college campuses in each state, as judged by College Prowler.
College Prowler ranked each school on a 1 to 10 scale, and while they did not disclose the criteria used, they summed up the motivation behind the rating system as follows: "These days, schools boast a high number of LEED-certified facilities and sustainability initiatives. The following colleges and universities are striving for a more eco-friendly future."
Only one school received a perfect 10: Pitzer College in California.
See if your school made the list.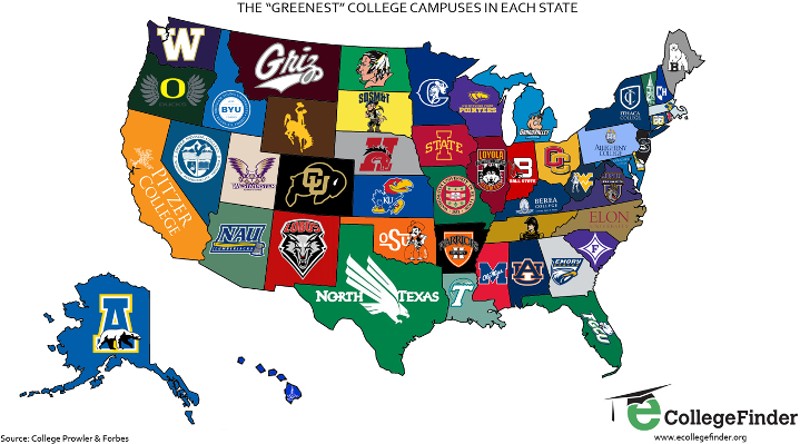 And, in case you're a little rusty on college logos, here's the breakdown of universities and College Prowler green campus ratings by state:
Alabama: Auburn University – 8.6
Alaska: University of Alaska Fairbanks – 8.05
Arizona: Northern Arizona University – 9.67
Arkansas: Hendrix College – 9.06
California: Pitzer College – 10
Colorado: University of Colorado Boulder – 9.8
Connecticut: Yale University – 9.36
Delaware: University of Delaware – 8.61
Florida: Florida Gulf Coast University – 9.8
Georgia: Emory University – 9.65
Hawaii: Chaminade University of Honolulu – 8.18
Idaho: Brigham Young University - Idaho – 8.45
Illinois: Loyola University Chicago – 9.21
Indiana: Ball State University – 9.11
Iowa: Iowa State University – 9.19
Kansas: University of Kansas – 8.43
Kentucky: Berea College – 8.73
Louisiana: Tulane University – 8.5
Maine: Bowdoin College – 9.54
Maryland: Goucher College – 9.47
Massachusetts: Smith College – 9.47
Michigan: Grand Valley State University – 9.47
Minnesota: Carleton College – 9.19
Mississippi: University of Mississippi – 8.5
Missouri: Washington University in St. Louis – 9.36
Montana: University of Montana – 8.7
Nebraska: Hastings College – 8.35
Nevada: Sierra Nevada College – 8.45
New Hampshire: University of New Hampshire – 8.8
New Jersey: Richard Stockton College of New Jersey – 8.71
New Mexico: University of New Mexico – 7.94
New York: Ithaca College – 9.42
North Carolina: Elon University – 9.41
North Dakota: University of North Dakota – 8.15
Ohio: Oberlin College – 9.31
Oklahoma: Oklahoma State University – 8.76
Oregon: University of Oregon – 9.67
Pennsylvania: Allegheny College – 9.19
Rhode Island: Brown University – 8.81
South Carolina: Furman University – 9.13
South Dakota: South Dakota School of Mines and Technology – 8.32
Tennessee: Vanderbilt University – 8.91
Texas: University of North Texas – 9.52
Utah: Westminster College – 9.14
Vermont: University of Vermont – 9.41
Virginia: James Madison University – 8.84
Washington: University of Washington – 9.46
West Virginia: West Virginia University – 8.02
Wisconsin: University of Wisconsin – Stevens Point – 9.13
Wyoming: University of Wyoming – 8.38
You Might Also Like
Which States Made The Top 10 For LEED-Certified Green Buildings?
Barriers to Fossil Fuel Divestment at Tufts University
Two Washington DC Universities Combine For Country's Largest Non-Utility Solar Energy Purchase
Glyphosate, the main ingredient in Monsanto's widely used herbicide Roundup, will be added July 7 to California's list of chemicals known to the state to cause cancer, according to a Reuters report Tuesday. This news comes after the company's unsuccessful attempt to block the listing in trial court and requests for stay were denied by a state appellate court and California's Supreme Court.
California's Office of Environmental Health Hazard Assessment (OEHHA) announced the designation on Monday under the Safe Drinking Water and Toxic Enforcement Act of 1986, or Proposition 65.
Keep reading...
Show less
www.facebook.com
Keep reading...
Show less
Researchers from the Marine Animal Response Society examine one of the dead right whales. Marine Animal Response Society
Canadian government officials and marine biologists are investigating the mysterious deaths of six North American right whales. The endangered animals all turned up dead between June 6 and June 23 in the Gulf of St. Lawrence, off Canada's southeastern coast.
North Atlantic right whales are the rarest of all large whale species and among the rarest of all marine mammal species, with only about 450 right whales in the North Atlantic.
Keep reading...
Show less
Scott Pruitt testifies during his Senate confirmation hearing for EPA administrator, January 2017.
The U.S. Environmental Protection Agency's (EPA) chief of staff pressured the leader of its Board of Scientific Counselors to change her congressional testimony to downplay the impact of the agency's mass dismissal of scientists from the board, the New York Times reports.
Keep reading...
Show less
By Jason Mark
Sequoiadendron giganteum. That's the scientific name for the giant sequoia: the mammoth trees found in California's Sierra Nevada that are the largest organisms on Earth, and among the longest-lived. Biologists estimate that about half of all sequoias live in Giant Sequoia National Monument, a 328,000-acre preserve in the Southern Sierra Nevada established by President Clinton in 2000.
Now that national monument is in jeopardy.
Keep reading...
Show less
By Andy Rowell
Donald Trump this week is launching an "energy week," pushing the argument that the U.S. will become a net exporter of oil and gas.
The president and his cronies are talking about a new era of "U.S. energy dominance," which could stretch for decades to come. However, no one believes the president anymore.
Keep reading...
Show less
UN
By Colleen Curry
The United Nations has designated 23 new sites around the world to its World Network of Biosphere reserves—stunning natural landscapes that balance environmental and human concerns and strive for sustainability.
The forests, beaches and waterways were added to the list this year at the International Coordinating Council of the Man and the Biosphere Programme meeting in Paris earlier this month.
Keep reading...
Show less
Jun. 26, 2017 01:48PM EST
www.elysee.fr
By Andy Rowell
There is a growing feeling within European capitals that a quiet, but deeply positive, revolution is happening under Emmanuel Macron in France.
Macron's opinion poll rating is high, especially boosted in how the young French president has reacted to Donald Trump on the international stage.
Keep reading...
Show less
Jun. 26, 2017 12:32PM EST
www.facebook.com
Keep reading...
Show less