This website uses cookies to ensure you get the best experience while browsing it. By clicking 'Got It' you're accepting these terms.
Which Is the Greenest College Campus in Your State?
Jul. 24, 2014 12:45PM EST
Colleges across the U.S. have been making headlines for environmentally conscious polices and student activism. For example, the University of Dayton became the first U.S. Catholic college to divest from fossil fuels, Washington University students were arrested protesting Peabody Coal, and 130+ universities joined in a movement to measure the sustainable dining on campus.
There are numerous ways to judge how "green" a school is, including a close look at college campuses. eCollegeFinder has created a map illustrating the greenest college campuses in each state, as judged by College Prowler.
College Prowler ranked each school on a 1 to 10 scale, and while they did not disclose the criteria used, they summed up the motivation behind the rating system as follows: "These days, schools boast a high number of LEED-certified facilities and sustainability initiatives. The following colleges and universities are striving for a more eco-friendly future."
Only one school received a perfect 10: Pitzer College in California.
See if your school made the list.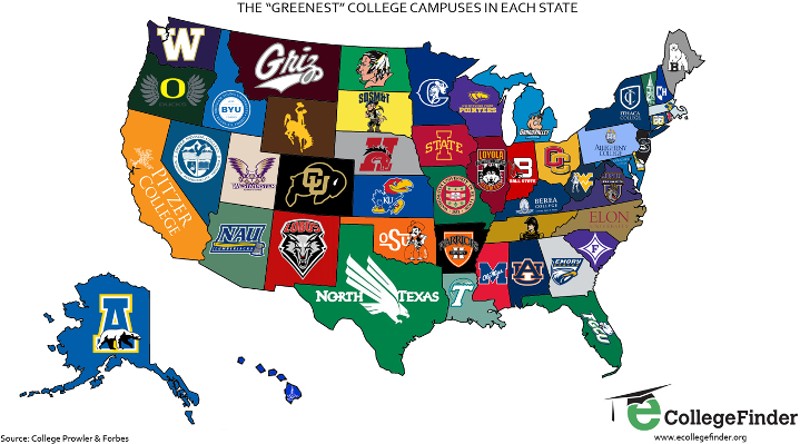 And, in case you're a little rusty on college logos, here's the breakdown of universities and College Prowler green campus ratings by state:
Alabama: Auburn University – 8.6
Alaska: University of Alaska Fairbanks – 8.05
Arizona: Northern Arizona University – 9.67
Arkansas: Hendrix College – 9.06
California: Pitzer College – 10
Colorado: University of Colorado Boulder – 9.8
Connecticut: Yale University – 9.36
Delaware: University of Delaware – 8.61
Florida: Florida Gulf Coast University – 9.8
Georgia: Emory University – 9.65
Hawaii: Chaminade University of Honolulu – 8.18
Idaho: Brigham Young University - Idaho – 8.45
Illinois: Loyola University Chicago – 9.21
Indiana: Ball State University – 9.11
Iowa: Iowa State University – 9.19
Kansas: University of Kansas – 8.43
Kentucky: Berea College – 8.73
Louisiana: Tulane University – 8.5
Maine: Bowdoin College – 9.54
Maryland: Goucher College – 9.47
Massachusetts: Smith College – 9.47
Michigan: Grand Valley State University – 9.47
Minnesota: Carleton College – 9.19
Mississippi: University of Mississippi – 8.5
Missouri: Washington University in St. Louis – 9.36
Montana: University of Montana – 8.7
Nebraska: Hastings College – 8.35
Nevada: Sierra Nevada College – 8.45
New Hampshire: University of New Hampshire – 8.8
New Jersey: Richard Stockton College of New Jersey – 8.71
New Mexico: University of New Mexico – 7.94
New York: Ithaca College – 9.42
North Carolina: Elon University – 9.41
North Dakota: University of North Dakota – 8.15
Ohio: Oberlin College – 9.31
Oklahoma: Oklahoma State University – 8.76
Oregon: University of Oregon – 9.67
Pennsylvania: Allegheny College – 9.19
Rhode Island: Brown University – 8.81
South Carolina: Furman University – 9.13
South Dakota: South Dakota School of Mines and Technology – 8.32
Tennessee: Vanderbilt University – 8.91
Texas: University of North Texas – 9.52
Utah: Westminster College – 9.14
Vermont: University of Vermont – 9.41
Virginia: James Madison University – 8.84
Washington: University of Washington – 9.46
West Virginia: West Virginia University – 8.02
Wisconsin: University of Wisconsin – Stevens Point – 9.13
Wyoming: University of Wyoming – 8.38
You Might Also Like
Which States Made The Top 10 For LEED-Certified Green Buildings?
Barriers to Fossil Fuel Divestment at Tufts University
Two Washington DC Universities Combine For Country's Largest Non-Utility Solar Energy Purchase
Plus, learn if there's one that's best for your health.
Catherine Falls Commercial / Moment / Getty Images
An invasive Amynthas worm, also known as a crazy snake worm, Asian jumping worm and Alabama jumper Tom Potterfield / Flickr
By Jason Bittel
My wife and I built a house two years ago on a few acres of woodland outside of Pittsburgh. The backyard is full of maples, poplars, briars and common spicebush. Two-lined salamanders and grumpy-looking crayfish wade among the rocks in the small stream that runs down the edge of the property. Deer, raccoon and opossum tracks appear regularly in the snow and mud. Sometimes, my trail-cam even catches a pair of gray foxes as they slink through the night.
AleksandarNakic / Getty Images
By Kate Murphy
No matter the time of year, there's always a point in each season when my skin decides to cause me issues. While these skin issues can vary, I find the most common issues to be dryness, acne and redness.

David Woodfall / The Image Bank / Getty Images
By Sam Nickerson
The U.S. Environmental Protection Agency (EPA) in April 2018 proposed relaxing standards related to how it assesses the effects of exposure to low levels of toxic chemicals on public health.
Now, correspondence obtained by the LA Times revealed just how deeply involved industry lobbyists and a controversial, industry-funded toxicologist were in drafting the federal agency's proposal to scrap its current, protective approach to regulating toxin exposure.
Steve Irwin poses with a three foot long alligator at the San Francisco Zoo on June 26, 2002. Justin Sullivan / Getty Images
February 22 is the birthday of conservationist and beloved TV personality "Crocodile Hunter" Steve Irwin, who would have been 57 years old today.
Irwin's life was tragically cut short when the barb from a stingray went through his chest while he was filming in 2006, but his legacy of loving and protecting wildlife lives on, most recently in a Google Doodle today honoring his birthday.