This website uses cookies to ensure you get the best experience while browsing it. By clicking 'Got It' you're accepting these terms.
West Nile Virus Outbreak Linked to Climate Change
Aug. 31, 2012 08:53AM EST
Climate
By Joe Mendelson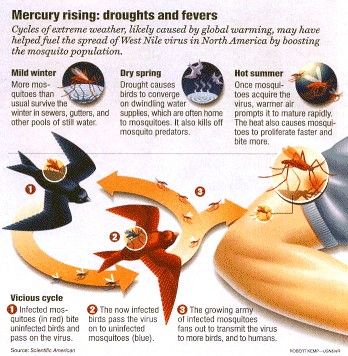 Like many across the country, I enjoy gardening and yard work during the summer. Mosquito attacks, however, have a way of diminishing the fun. Last weekend, I was out in the backyard trimming some bushes when I felt "the bite," a nasty one going for some blood from my leg. When I looked down, there was a ravenous swarm. Let me be clear. I do not have any irrational fear of bugs, it's been dry as all get out in my neck of the 'burbs, and I make sure to rid my yard of all standing water. No matter . . . it was feasting time and I was on the menu.
As NWF's new report Ruined Summer: Carbon Pollution's Extreme Toll on Summer highlights, there can be another serious aspect to these attacks: West Nile virus. Transmitted by mosquitoes to humans, the Center for Disease Control says West Nile virus can cause severe symptoms, including permanent neurological effects, in 1 out of every 150 persons infected. And about 20 percent of those infected have significant symptoms like fever, headache and nausea for days.
The Climate Change Link
The first time the virus was detected in the Western Hemisphere was a New York City outbreak in 1999. More recent climate change science indicates that this was just the start of a problem that will increasingly plague our backyards. As climate scientists stated in 2007:
The strain of West Nile virus (WNV) that emerged for the first time in North America during the record hot July 1999 requires warmer temperatures than other strains. The greatest WNV transmissions during the epidemic summers of 2002 to 2004 in the U.S. were linked to above-average temperatures. Laboratory studies of virus replication in WNV's main Culex mosquito vector show high levels of virus at warmer temperatures.
Worst West Nile Outbreak Ever
Unfortunately, the science appears to be holding true. So far in 2012, 47 states have reported West Nile virus infections in people, birds or mosquitoes. A total of 1,118 cases of West Nile virus in people—including 41 deaths—have been reported to the CDC.  Approximately 75 percent of the cases have been reported from five states: Texas, Mississippi, Louisiana, South Dakota and Oklahoma. About half the cases are from Texas and the numbers are trending upward in most areas, including Texas. A lead scientist at the CDC recently indicated that the country is in the midst of one of the largest West Nile virus outbreaks ever seen in the United States. As Scientific American summed up:
The fact that the worst U.S. West Nile epidemic in history happens to be occurring during what will likely prove to be the hottest summer on record doesn't surprise epidemiologists. They have been predicting the effects of climate change on West Nile for over a decade. If they're right, the U.S. is only headed for worse epidemics.
The Cost of West Nile Virus and Who Pays
On the individual level you can protect yourself from West Nile virus by using an insecticide—like DEET (doesn't sound appealing)—and trying to deal with mosquitoes in your yard (read the CDC's prevention Q& A here). But there are broader attempts to deal with this public health issue and they highlight the building costs of climate change.
One attempt to deal with the outbreak is aerial spraying to control mosquitoes (maybe even more unappealing). On a recent CDC press call, the Texas State Health Commissioner discussed Dallas County efforts on such a plan. He stated that the aerial spraying is costing close to $3 million and is paid for from federal and state public health and emergency preparedness funds—i.e. you and me the taxpayers.
Even broader prevention efforts to address the growing West Nile virus threat are underway and focus on vaccination. If successful, it won't be cheap. One study has estimated that the average cost per case prevented with a vaccine would be around $34,200, and it would cost  $8.7 billion over ten years to vaccinate 100 million people. While there would be a significant benefit in reducing overall healthcare costs by reducing the number of cases of West Nile, I'm pretty sure if we go down this road much of the vaccination cost will be picked up through various federal and state health insurance and public health programs funded by our tax dollars.
Guess who won't be picking up the tab? The polluters, i.e. the big oil and coal companies whose products fuel climate change and play a leading role in the West Nile Virus equation end up not paying a cent. According to a recent Center for American Progress analysis Exxon and Shell turn a $160,000 of profit every minute. This means that in less than twenty minutes these two oil companies make enough in profits to pay for the Dallas aerial spray program costs being that are being footed by the nation's taxpayers.
In dealing with public health threats the best and most cost-effective policy is prevention, and the broadest West Nile virus preventative step we can take is limiting the carbon pollution that is causing climate change. And without a putting price on carbon pollution we end up with the current situation where the individual slathers on the DEET, lives under the aerial spray cloud and the polluters contributing to the problem pay nothing.
Visit EcoWatch's CLIMATE CHANGE page for more related news on this topic.
EcoWatch Daily Newsletter
Large food companies are following in the footsteps of fast-food restaurants such as Burger King and KFC by offering meat alternatives. Getty Images
By Elizabeth Pratt
Hormel, Kellogg's, and Kroger are among the large companies now planning to offer "fake meat" products at grocery stores.
Experts say the trend toward plant-based meats coincides with consumers' desires to eat less meat.
However, experts urge consumers to closely check package labels as a product isn't necessarily healthy just because it's described as plant-based.
In grocery stores and fast-food outlets around the U.S., a revolution is taking place.
Colombia rainforest. Marcel Oosterwijk / CC BY-SA 2.0
Many of us think of the Amazon as an untouched wilderness, but people have been thriving in these diverse environments for millennia. Due to this long history, the knowledge that Indigenous and forest communities pass between generations about plants, animals and forest ecology is incredibly rich and detailed and easily dwarfs that of any expert.
picture-alliance / Newscom / R. Ben Ari
By Wesley Rahn
Plastic byproducts were found in 97 percent of blood and urine samples from 2,500 children tested between 2014 and 2017, according to a study by the German Environment Ministry and the Robert Koch Institute.

Pexels
Medically reviewed by Daniel Bubnis, MS, NASM-CPT, NASE Level II-CSS
Hot yoga has become a popular exercise in recent years. It offers many of the same benefits as traditional yoga, such as stress reduction, improved strength, and flexibility.
Lara Hata / iStock / Getty Images
By SaVanna Shoemaker, MS, RDN, LD
Rice is a staple in many people's diets. It's filling, inexpensive, and a great mild-tasting addition to flavorful dishes.
An image of the trans-alaskan oil pipeline that carries oil from the northern part of Alaska all the way to valdez. This shot is right near the arctic national wildlife refuge. kyletperry / iStock / Getty Images Plus
The Trump administration has initialized the final steps to open up nearly 1.6 million acres of the protected Alaskan National Wildlife Refuge to allow oil and gas drilling.