This website uses cookies to ensure you get the best experience while browsing it. By clicking 'Got It' you're accepting these terms.
WATCH: Kayaking Duo Struck by Humpback Whale
Sep. 27, 2015 10:37AM EST
Animals
While kayaking in Monterey Bay, California, Tom Mustill and Charlotte Kinloch found themselves on the wrong side of a breaching humpback whale. One week and a viral video later, they sat down to share their side of the story.
Mustill and Kinloch are lucky to be alive and unscathed after a harrowing experience with a breaching humpback whale, caught on this video:
Q. Some on social media have questioned whether it was responsible for you to be out among the whales in the first place. Do you want to set the record straight?
Charlotte: We had exactly that conversation with our guide. We were following the guidelines—staying 100 yards from the whales, not kayaking towards them and moving back if they approached. That said, we hardly needed to be told. Your innate sense of caution tells you to keep back and out of the way of these giant animals.
It's great people are interested in seeing whales, provided they behave responsibly. Thinking about and becoming fascinated with these creatures is the first step to protecting them.
Tom: One of my first jobs was working as a volunteer guide on a whale-watching boat, making sure boats didn't approach whales too closely or disrupt their behavior, so I was very aware of the need to stay well back. Also, it's obvious they can damage you, they're massive! But in any environment there are risks, and if you go into that environment you have to accept those risks.
A whale breaching onto a kayak in Monterey has never happened before, and I think that was partly chance and partly the recovery of the ecosystem to the point where there are a lot of whales in the water very close to land, so that's heartening.
Q. Footage taken from a nearby whale-watching ship has made the rounds online. Did you get a chance to speak to anyone who saw the collision first-hand?
Charlotte: We weren't actually aware that there was a video until the next day. As we were heading back to shore, Tom wanted to talk about it straight away. I had to make him wait until we were safe on land. I couldn't quite believe that it was over and we weren't dead, or even hurt.
Our conversations when we got back to the kayak tours office revolved around why that whale had breached so close to us. Had it seen us? Had it intended to have some sort of interaction with us? Were we even a factor? I remember someone saying that whales breach to play. Certainly to my untrained eye the breaches that we had seen earlier in the day and from a distance looked playful to me more than anything else.
We also talked about how lucky we were to have seen what the whale had looked like so close up.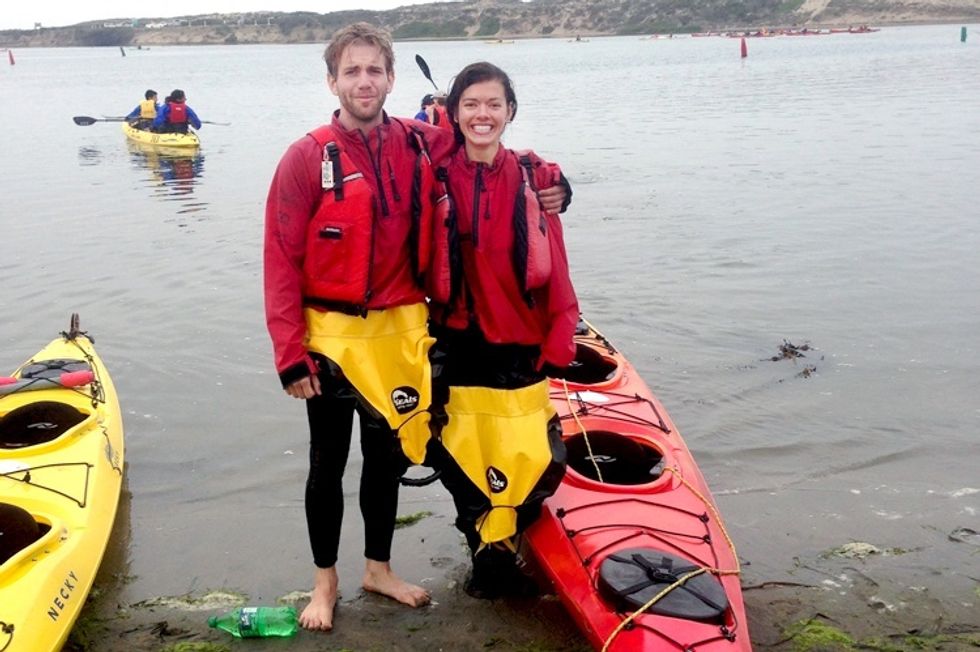 Q. Tom, you're a nature videographer and—I'm assuming—a nature lover. Has this changed the way you look at nature at all?
Tom: I'm really lucky that my job allows me to spend time in extraordinary places and with some marvellous creatures. Before I worked in film-making I was a conservation biologist, and it was the desire to transmit a feeling of connectedness with the natural world that prompted me to change careers. I've tried to make films that inspire and enliven people rather than being full of doom and gloom.
This experience was very strange because I don't think my brain can fully understand it. I have become a little obsessed with trying to find out as much as possible of what we know of the minds of these animals.
I actually wrote about this last week. Some people reading this have interpreted it as my thinking the whale gave a crap about squishing us, which I'm not saying at all! I'm most excited by how we have no idea what it thought. Isn't that extraordinary? I would like to make a film about whales now, focusing on what we don't know about their inner lives. This is partly an excuse to spend more time with them, but mainly to highlight how nuts it is that there are these gigantic living animals living alongside us and, although we're making some headway, we still can't really fathom what they're thinking.
Q. What do you hope happens as a result of your story spreading across the world?
Tom: If we'd been kayaking there a few decades ago, we'd have been more in danger from the awful water quality than any sea beasties. Monterey Bay is one of the great conservation success stories. It's alongside a huge human population with lots of farming and industry. The bay used to be so polluted the water would turn leaded paint on boats black. No whales or other life would come anywhere near the shore.
But thanks to the work of a whole bunch of people over the years, we could kayak out past rafts of sea otters and snuffling sea lions to a bay where gray, blue, humpback and orca whales visit. The day we were out our guide had never seen so many whales, let alone feeding so close to the shore.
But there is a really simple message that no one can avoid from watching the clip of our narrow escape: there are huge and fascinating beasts still in our seas. In fact, the humpback population has recovered so much that they might be removed from the endangered species list, and this is a triumph. I don't want to die yet, but being ended by a resurgent humpback whale—a champion animal for life bouncing back—I'd take that over any other option I can think of.
Charlotte: I would love people to watch the video and take from it what an amazing animal this is, and how brilliant it would be if there were more of them. I'll leave it at that.
YOU MIGHT ALSO LIKE
8 National Parks You've Never Heard of But Should Add to Your Bucket List
25 Walruses Killed on Alaskan Beach, Beheaded and Missing Tusks
America's Deadly Love Affair With Bottled Water Has to End
Beloved Elephant Yongki Killed by Ivory Poachers, Sparks Outrage
EcoWatch Daily Newsletter
A view of a washed out road near Utuado, Puerto Rico, after a Coast Guard Air Station Borinquen MH-65 Dolphin helicopter crew dropped relief supplies to residents Tuesday, Oct. 3, 2017. The locals were stranded after Hurricane Maria by washed out roads and mudslides. U.S. Coast Guard photo by Petty Officer 3rd Class Eric D. Woodall /
CC BY-NC-ND 2.0
By Coral Natalie Negrón Almodóvar
The Earth began to shake as Tamar Hernández drove to visit her mother in Yauco, Puerto Rico, on Dec. 28, 2019. She did not feel that first tremor — she felt only the ensuing aftershocks — but she worried because her mother had an ankle injury and could not walk. Then Hernández thought, "What if something worse is coming our way?"
Flooded battery park tunnel is seen after Hurricane Sandy in 2012.
CC BY 2.0
President Trump has long touted the efficacy of walls, funneling billions of Defense Department dollars to build a wall on the southern border. However, when the U.S. Army Corps of Engineers (USACE) released a study that included plans for a sea wall to protect New Yorkers from sea-level rise and catastrophic storms like Hurricane Sandy, Trump mocked it as ineffective and unsightly.
A general view of fire damaged country in the The Greater Blue Mountains World Heritage Area near the town of Blackheath on Feb. 21, 2020 in Blackheath, Australia. Brook Mitchell / Getty Images
In a post-mortem of the Australian bushfires, which raged for five months, scientists have concluded that their intensity and duration far surpassed what climate models had predicted, according to a study published yesterday in Nature Climate Change.
Sea level rise causes water to spill over from the Lafayette River onto Llewellyn Ave in Norfolk, Virginia just after high tide on Aug. 5, 2017. This road floods often, even when there is no rain.
Skyler Ballard / Chesapeake Bay Program
By Tim Radford
The Texan city of Houston is about to grow in unexpected ways, thanks to the rising tides. So will Dallas. Real estate agents in Atlanta, Georgia; Denver, Colorado; and Las Vegas, Nevada could expect to do roaring business.
Malala Yousafzai (left) and Greta Thunberg (right) met in Oxford University Tuesday. Wikimedia Commons /
CC BY 2.0
What happens when a famous school striker meets a renowned campaigner for education rights?