This website uses cookies to ensure you get the best experience while browsing it. By clicking 'Got It' you're accepting these terms.
Wal-Mart, Kraft Sued Over Selling Parmesan Cheese With Wood Pulp Filler
Feb. 24, 2016 01:20PM EST
Food
Wal-Mart's "Great Value 100% Grated Parmesan Cheese" is at the center of new litigation that accuses the brand of, well, not being 100 percent cheese.
Tests shows that the big box retailer's cheese contained as much as 10 percent cellulose, a wood-based additive that prevents clumping in pre-shredded cheese according to a complaint filed yesterday in Manhattan federal court, Bloomberg reported.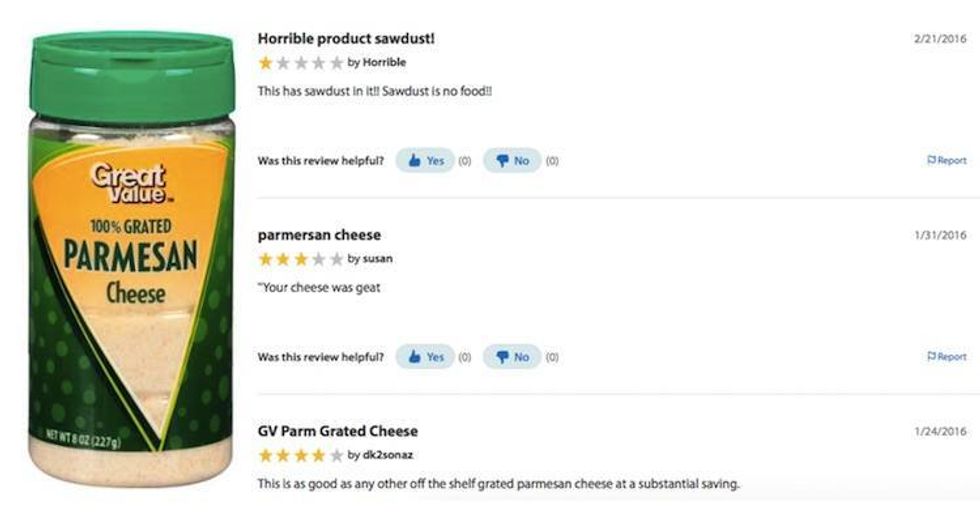 A negative review of Wal-Mart's Great Value brand of "100 percent" grated parmesan cheese was posted on February 21 following reports of wood pulp filler. The product, which has an average of 4.5 stars out of 81 reviews, had been generally received well by consumers until news broke about the filler. Photo credit: Walmart
The lawsuit—Moschetta v. Wal-Mart Stores Inc.—was filed at the U.S. District Court, Southern District of New York on behalf of customer Marc Moschetta. He claims that the 100 percent representation of the Wal-Mart's cheese "was false and mis-characterized the amount and percentage of Parmesan cheese in the container."
Cellulose has been called "wood pulp" because it is extracted from ground-up wood. The additive is OK'd by the U.S. Food and Drug Administration (FDA) for consumption and is actually pretty standard in many shredded cheese varieties and other foodstuffs such as ice cream, puffed snack foods, baked goods and more.
What's not OK is using too much of it. The FDA considers safe cellulose consumption levels at 2-4 percent. According to a Bloomberg investigation, Wal-Mart and other brands have ironically added high quantities of cellulose to their misleadingly labeled 100 percent Parmesan products:
Essential Everyday 100% Grated Parmesan Cheese, from Jewel-Osco, was 8.8 percent cellulose, while Wal-Mart Stores Inc.'s Great Value 100% Grated Parmesan Cheese registered 7.8 percent, according to test results. Whole Foods 365 brand didn't list cellulose as an ingredient on the label, but still tested at 0.3 percent. Kraft had 3.8 percent.
So why are these cheesemakers stuffing their Parmesan products with plant fiber? According to Bloomberg:
Of all the popular cheeses in the U.S., the hard Italian varieties are the most likely to have fillers because of their expense. Parmesan wheels sit in curing rooms for months, losing moisture, which results in a smaller yield than other cheeses offer. While 100 pounds of milk might produce 10 pounds of cheddar, it makes only eight pounds of Parmesan.
Bloomberg reported that Moschetta is seeking class-action status for the fraud claims to allow U.S. consumers to band together to press claims against Wal-Mart.
"We take this matter seriously," Randy Hargrove, a spokesman for Bentonville, Arkansas-based Wal-Mart, told Bloomberg via email. "We will review the allegations once we have received the complaint and will respond appropriately with the court."
Incidentally, the FDA has been cracking down on companies cutting corners with their Parmesan cheese products. Following a tip, the agency busted Pennsylvania-based Castle Cheese for not using any Parmesan in three brands that were marketed as 100 percent Parmesan. What they used instead was a mixture of Swiss, mozzarella, white cheddar and cellulose, according to the FDA.
The now-bankrupt cheesemaker is expected to plead guilty this month to federal criminal charges on food labeling violations. Michelle L. Myrter, president and co-owner of Castle Cheese, could face up to a year in prison and a $100,000 fine.
Kraft is also facing a similar lawsuit—Lewin v. Kraft Heinz Foods Co.—that was filed last week in San Francisco federal court.
Top Class Actions reported that the company is staring down a potential $5 million class action lawsuit over claims that its "100% Grated Parmesan Cheese" contains nearly 4 percent cellulose. 
Lead plaintiff Samantha Lewin says she spent $3.99 for a product she believed was accurately labeled as pure Parmesan, only to discover otherwise, the report said. 
YOU MIGHT ALSO LIKE 
10 Reasons to Oppose the Senate Version of the DARK Act
Organic Milk and Meat Is Healthier for You, Scientists Say
Pamela Anderson: If Louisiana Prisons Go Vegan, I'll Come Cook and Serve Lunch to the Inmates
NBA Superstar Ray Allen to Open Organic Fast-Food Restaurant
EcoWatch Daily Newsletter
A Starbucks barista prepares a drink at a Starbucks Coffee Shop location in New York. Ramin Talaie / Corbis via Getty Images
By Cathy Cassata
Are you getting your fill of Starbucks' new Almondmilk Honey Flat White, Oatmilk Honey Latte, and Coconutmilk Latte, but wondering just how healthy they are?
By Sharon Kelly
Back in April last year, the Trump administration's Environmental Protection Agency decided it was "not necessary" to update the rules for toxic waste from oil and gas wells. Torrents of wastewater flow daily from the nation's 1.5 million active oil and gas wells and the agency's own research has warned it may pose risks to the country's drinking water supplies.
Swedish climate activist Greta Thunberg takes part in a "Friday for Future" youth demonstration in a street of Davos on Jan. 24, 2020 on the sideline of the World Economic Forum annual meeting. FABRICE COFFRINI / AFP via Getty Images
Treasury Secretary Steven Mnuchin pretended not to know who Greta Thunberg is, and then he told her to get a degree in economics before giving world leaders advice, as The Guardian reported.
The Visible Infrared Imaging Radiometer Suite on the Suomi NPP satellite acquired this image of forest fire smoke hovering over North America on Aug. 15, 2018. NASA Earth Observatory
New York City isn't known for having the cleanest air, but researchers traced recent air pollution spikes there to two surprising sources — fires hundreds of miles away in Canada and the southeastern U.S.
If temperatures continue to rise, the world is at risk from global
sea-level rise
, which will flood many coastal cities as seen above in Bangladesh. NurPhoto / Contributor / Getty Images
The mounting climate emergency may spur the next global financial crisis and the world's central banks are woefully ill equipped to handle the consequences, according to a new book-length report by the Bank for International Settlements (BIS), as S&P Global reported. Located in Basel, Switzerland, the BIS is an umbrella organization for the world's central banks.