This website uses cookies to ensure you get the best experience while browsing it. By clicking 'Got It' you're accepting these terms.
Vintage Clothing: Good for the Planet and Your Pocketbook
Sep. 25, 2014 11:07AM EST
Anna LaPlaca is a second-year undergraduate student at the University of California, Los Angeles with an interest in sustainability and eco-conscious living.
In our busy lives, it's often hard to remember your commitments to sustainable living, however earnest they may be. You may consciously know that certain lifestyle choices are better than others, but when it comes to putting these moral values into practice, the reality can be much easier said than done.
Our entire society has been rooted in the consumerist culture that more is more and less is a bore. So if you feel connected to living sustainably and lowering your carbon footprint, consider simply changing which stores you shop at. And I don't mean grocery stores. The clothing stores we choose to shop at can have just as much an impact (or lack thereof) on the environment.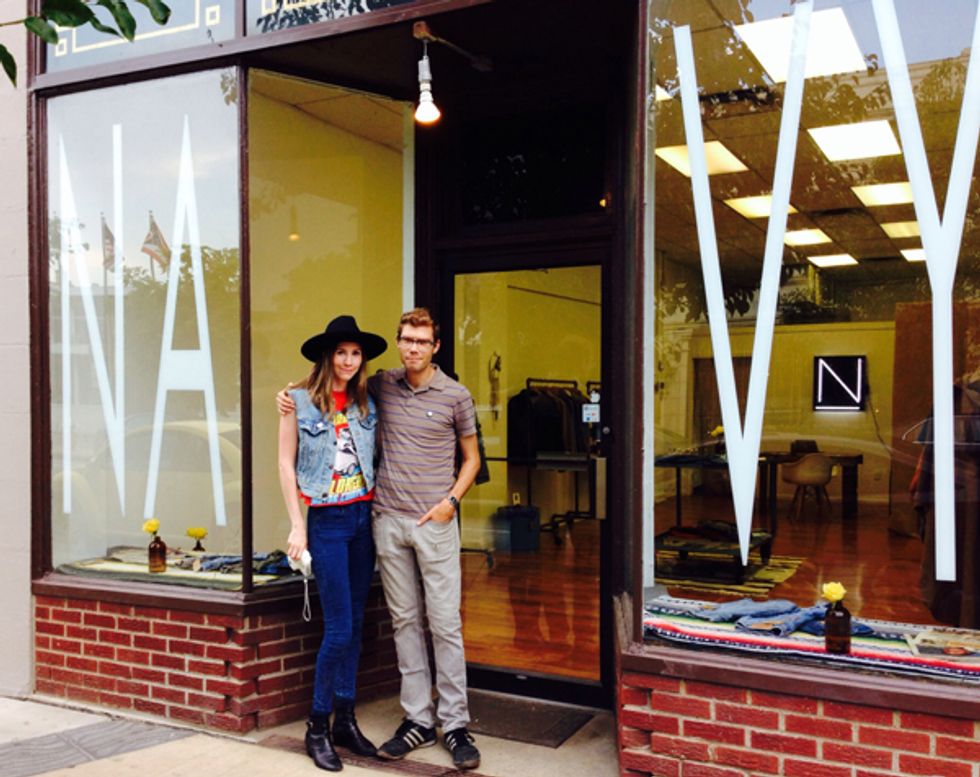 As Americans, we spend an alarming amount of money on new clothes every year. But what if there was a way to recycle our clothes and cut down on clothing waste in a major way? The answer lies in vintage and up-cycled clothing.
By offering a pop-up shop curated with vintage luxury items, owner and Cleveland native Mary Peffer is working to bring sustainability to the consumer level. Peffer's shop, NAVY Project is a sub-project of her LA-based public relations firm, Navy PR. I caught up with Peffer to discuss the roots of this innovative project and its deep connection to sustainability.
AL: What is the pop-up shop all about?
MP: The PRoject is a division of our PR company NAVYPR based in LA. We wanted to bring our appreciation for luxury vintage to emerging markets at an accessible price point.
The Detroit storefront is the temporary home to classic androgynous runway trends rooted within rare vintage garments. Apparel within the 600 sq. ft. shop is not gender specific and is priced under $100.
The store also exhibits and sells artwork by Brooklyn Shop Third Eye designer and musician Savannah King, Cleveland/New York illustrator Deanna First and digital photographic print work by New York artist and former Cleveland resident Susan Greenspan.
AL: What led you to base this project in your hometown of Cleveland?
MP: I lived in Cleveland for 18 years. It's a city that's always been heavy in music, art, and fashion culture. Being surrounded by that in my formative years my sister-in-law, Melinda, and I naturally looked to the city to launch the PRoject, but it really clicked for us when Cleveland became the center of national news stories with LeBron James confirming a move back to Cleveland, The Gay Games hosted for the first time in the city, and the Republican National Convention slated for later in the year. We want to do all we can to keep the momentum of this amazing city moving forward.
AL: How do you think sustainability can be applied to the world of fashion and retail?
MP: I think it's great when you see a company really investing in the education and practice of sustainability. When I worked at Yves Saint Laurent I was the leader for Corporate Social Responsibility measurement and education on the U.S. side. I realized during that time, most individuals want to help wherever they can, they just need the proper resources and guidance on how to contribute and understand impact at a micro level. Education is key.
Melinda and I read recently, "the average American throws away more than 68 pounds of textiles per year. We're not talking about clothing being donated to charity shops or sold to consignment stores, that 68 pounds of clothing is going directly into landfills."
It's jarring to think about.
The brand Reformation is an excellent role model when it comes to up-cycling current fashion. The founder, Yael Aflalo is a former boss of mine and I look up to her and was inspired by her approach. It's not something we really saw before them, she's a pioneer in the fashion world.
On our side, NAVY PRoject aims to find a new home for vintage clothes that would otherwise be discarded. These clothes aren't damaged, and a lot of them are luxury. There's a heritage in each piece, a story, one that we hope continues with its' new owners. Today's world of fast-fashion and synthetic fabrics translate into clothes that are made to be disposable. Incorporating vintage and upcycled apparel into your wardrobe eliminates waste and sends a message to mass retailers that consumers respect our Earth.
AL: Is there a particular environmental issue you feel most connected to?
MP: Global warming. Melinda and I both live in Los Angeles where we see the effects of the drought everyday.
AL: Will your pieces be up-cycled or vintage?
MP: Vintage.
AL: Where did you find the pieces for the shop?
MP: I sourced product from all of the country; estate sales, flea markets, yard sales, and consignment shops. I started my trip by traveling through Southern and Northern California. I also made stops in Washington, Portland, Idaho and North Carolina, meeting up with old fashion major friends from college, stylists, and NY friends from Burberry and YSL getting their input and really trying to have fun with the process.
AL: Who or what was your main inspiration for this project?
MP: I like the idea of unisex because it allows people to express themselves without pre-determined restrictions. My sense of style has been heavily influenced by music and pop culture trends in general.
I envisioned two people for the store when curating the space, myself in high-school, trying to find affordable statement making clothes that expressed my individuality while fitting properly, and my previous assistant, Pablo Soto, at Saint Laurent. His style is amazing, always inspiring, unique, but not too trendy. He has a European sensibility, very rock n' roll. That said, it was important for us to resonate with people of all ages. I think anyone open to the idea of vintage, heritage and luxury can find something they really love. There's a Fendi top in the store that would be perfect to wear to the office and a deadstock army tee that would be awesome with a pair of boyfriend jeans.
I like the ease in which clothes from the 70's and 80's work on the body, daywear that can create a wardrobe of basics to wear over and over.
AL: Ultimately what are your goals with NAVY PRoject?
MP: The PRoject aims to communicate on art, architecture, fashion, design and hospitality ways that extend beyond traditional media and social platforms. It's an experience and a way to provide access to trends in emerging cities. The first focuses on fashion and art.
AL: Do you have any advice or recommendations for our readers on ways to live more sustainably?
MP: Don't get overwhelmed. Doing right by the Earth doesn't have to mean compromising your lifestyle. Start small, look for products free of harmful chemicals and toxins and made of natural fibers. Pro tip: shop local, they often offer earth-friendly reusable shopping bags that can double as a grocery bag or gym tote.
If you're in the Cleveland area, check out Peffer's unique shop at 6602 Detroit Ave. in the Gordon Square Arts District. Keep updated on the latest happenings by following @navypr and look out for future NAVY Project pop-up shops in cities across the country.
YOU MIGHT ALSO LIKE
7 Benefits of Going Grain-Free
9 Ways Processed Foods Are Slowly Killing People
EcoWatch Daily Newsletter
The Visible Infrared Imaging Radiometer Suite on the Suomi NPP satellite acquired this image of forest fire smoke hovering over North America on Aug. 15, 2018. NASA Earth Observatory
New York City isn't known for having the cleanest air, but researchers traced recent air pollution spikes there to two surprising sources — fires hundreds of miles away in Canada and the southeastern U.S.
If temperatures continue to rise, the world is at risk from global
sea-level rise
, which will flood many coastal cities as seen above in Bangladesh. NurPhoto / Contributor / Getty Images
The mounting climate emergency may spur the next global financial crisis and the world's central banks are woefully ill equipped to handle the consequences, according to a new book-length report by the Bank for International Settlements (BIS), as S&P Global reported. Located in Basel, Switzerland, the BIS is an umbrella organization for the world's central banks.
Two ice fishers with a truck cut a hole in the ice near an ice fishing hut on frozen Lake Winnebago.
Richard Hamilton Smith / Corbis NX / Getty Images
By Susan Cosier
Come February in Wisconsin, almost everything will be covered in ice and snow. In little shanties on frozen Lake Winnebago, a 30-by-13-mile lake in the eastern part of the state, fishers will keep watch over rectangular holes cut into the ice with a chainsaw. When they spot a fin passing below, they'll jab their spears down deep. The lucky ones will earn themselves a lake sturgeon, a species that has prowled the earth's waters for more than 150 million years.
Fresno, California, seen above, is receiving $66 million for walking trails, sidewalks, bike lanes, and more. DenisTangneyJr / iStock / Getty Images
Grecia Elenes grew up in Fresno, California. She says some parts of the city have been neglected for decades. When she moved back after college she realized nothing has changed.
People are seen embracing at Numeralla Rural Fire Brigade near the scene of a water tanker plane crash on Jan. 23 in Cooma, Australia. Three American firefighters have have died after their C-130 water tanker plane crashed while battling a bushfire near Cooma in southern NSW this afternoon. Jenny Evans / Getty Images
Three U.S. firefighters gave their lives battling Australia's historic wildfires Thursday when their airborne water tanker crashed.