This website uses cookies to ensure you get the best experience while browsing it. By clicking 'Got It' you're accepting these terms.
Video of Drunken Rampage + $15k Reward = 3 Men Identified as the Culprits for Killing the World's Rarest Fish
May. 12, 2016 12:07PM EST
Animals
All it takes is one bad decision. And when people have been drinking, there's ample opportunity.
On April 30, three men broke into Devil's Hole, an ecologically fragile area of Death Valley National Park. They trashed a pool that serves as the only remaining home for the world's rarest fish: the Death Valley pupfish.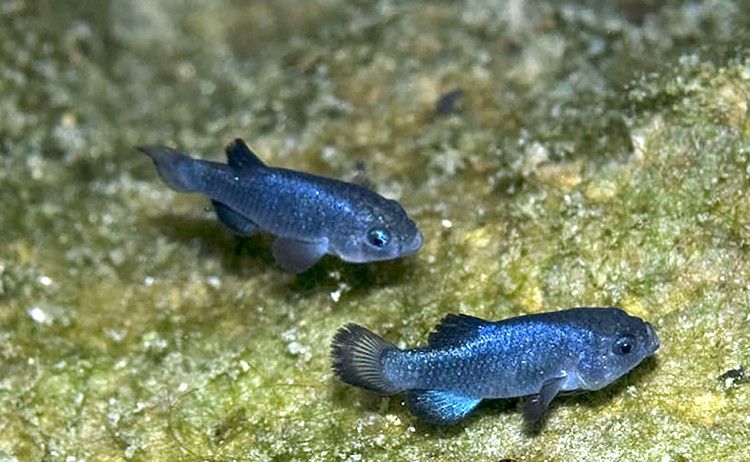 While these charming creatures have no natural predators, they tend to be slow-moving and easygoing—which makes them extremely vulnerable to vandalism. At least one of the fish died while the men trampled their home.
The story behind these tiny fish is fascinating. In addition to their rarity—population numbers fluctuate between 115 in winter and 500 in summer—the Death Valley pupfish were at the center of the first Endangered Species Act-related litigation to go all the way to the Supreme Court.
At issue was a question of water rights, a common dispute in California. In 1976 infuriated developers wanted access to water that environmental activists claimed was critical to the survival of the pupfish. The case set a precedent: when it comes to the Endangered Species Act, the protection of endangered and threatened wildlife will be taken seriously.
Concerned about the potential for retaliatory vandalism, the National Parks Service has fenced off Devil's Hole, adding cameras to monitor the area. The three men who broke in attempted—and failed—to disable the cameras. Instead, the men ensured that they, along with their vehicle, were caught on film.
The drunken adventure included wading in the pool, clambering around the rocks, firing at least 1 rounds of bullets and tossing beer cans into the desert.
When the men finished, they left behind a pair of boxer shorts, vomit and discarded trash. The National Parks Service swept into gear, publishing stills—and later a full video.
The National Park Service offered a $5,000 reward to anyone who could help identify the culprits. The Center for Biological Diversity later sweetened the deal, upping it to a $15,000 reward. That extra incentive turned out to be enough to entice the public into naming those responsible.
The tipping point, it turned out, was the men's vehicle, which was extremely distinctive thanks to its unique customizations. While the men hadn't been arrested as of May 10, the National Parks Service was gathering material to build a case for arrest and prosecution.
Death Valley is an incredibly important and unique natural area, hosting more than 50 types of mammals, more than 300 bird species and a huge variety of fish, reptiles and amphibians. The park's range of elevations creates distinct bands of habitat in which very unique species thrive, but disruptions to that habitat can prove devastating.
In Devil's Hole, a truly special spot, trampling and skinny-dipping meant not just disrupting the fish, but also potentially destroying their eggs. If the summer pupfish population dips too low, it will be difficult for the fish to recover through the winter, when a small number of individuals becomes the stock required to keep the species alive.
Incidents like these are a stark reminder of the incredible fragility of so many endangered species. With a little more damage, the men could have wiped out the Death Valley pupfish species forever.
YOU MIGHT ALSO LIKE
USDA: Beekeepers Lost 44% of Honey Bee Colonies Last Year
5 Incredible Species That Glow in the Dark
Huge Win for the Oregon Spotted Frog
Jane Goodall Among 58 Scientists Urging Government to Halt Grizzly De-Listing
EcoWatch Daily Newsletter
A vegan diet can improve your health, but experts say it's important to keep track of nutrients and protein. Getty Images
By Dan Gray
Research shows that 16 weeks of a vegan diet can boost the gut microbiome, helping with weight loss and overall health.
A healthy microbiome is a diverse microbiome. A plant-based diet is the best way to achieve this.
It isn't necessary to opt for a strictly vegan diet, but it's beneficial to limit meat intake.
New research shows that following a vegan diet for about 4 months can boost your gut microbiome. In turn, that can lead to improvements in body weight and blood sugar management.
Students gathered at the National Mall in Washington DC, Sept. 20. NRDC
By Jeff Turrentine
Nearly 20 years have passed since the journalist Malcolm Gladwell popularized the term tipping point, in his best-selling book of the same name. The phrase denotes the moment that a certain idea, behavior, or practice catches on exponentially and gains widespread currency throughout a culture. Having transcended its roots in sociological theory, the tipping point is now part of our everyday vernacular. We use it in scientific contexts to describe, for instance, the climatological point of no return that we'll hit if we allow average global temperatures to rise more than 2 degrees Celsius above preindustrial levels. But we also use it to describe everything from resistance movements to the disenchantment of hockey fans when their team is on a losing streak.
samael334 / iStock / Getty Images
Berries are small, soft, round fruit of various colors — mainly blue, red, or purple.
A glacier is seen in the Kenai Mountains on Sept. 6, near Primrose, Alaska. Scientists from the U.S. Geological Survey have been studying the glaciers in the area since 1966 and their studies show that the warming climate has resulted in sustained glacial mass loss as melting outpaced the accumulation of new snow and ice. Joe Raedle / Getty Images
By Mark Mancini
On Aug. 18, Iceland held a funeral for the first glacier lost to climate change. The deceased party was Okjökull, a historic body of ice that covered 14.6 square miles (38 square kilometers) in the Icelandic Highlands at the turn of the 20th century. But its glory days are long gone. In 2014, having dwindled to less than 1/15 its former size, Okjökull lost its status as an official glacier.
Members of Chicago Democratic Socialists of America table at the Logan Square Farmers Market on Aug. 18. Alex Schwartz
By Alex Schwartz
Among the many vendors at the Logan Square Farmers Market on Aug. 18 sat three young people peddling neither organic vegetables, gourmet cheese nor handmade crafts. Instead, they offered liberation from capitalism.
Hackney primary school students went to the Town Hall on May 24 in London after school to protest about the climate emergency. Jenny Matthews / In Pictures / Getty Images
Bird watching in the U.S. may be a lot harder than it once was, since bird populations are dropping off in droves, according to a new study.