Two Dams Collapse at Brazilian Mine, Village Engulfed in 'Thick, Red Toxic Mud'
Nov. 06, 2015 03:20PM EST
Energy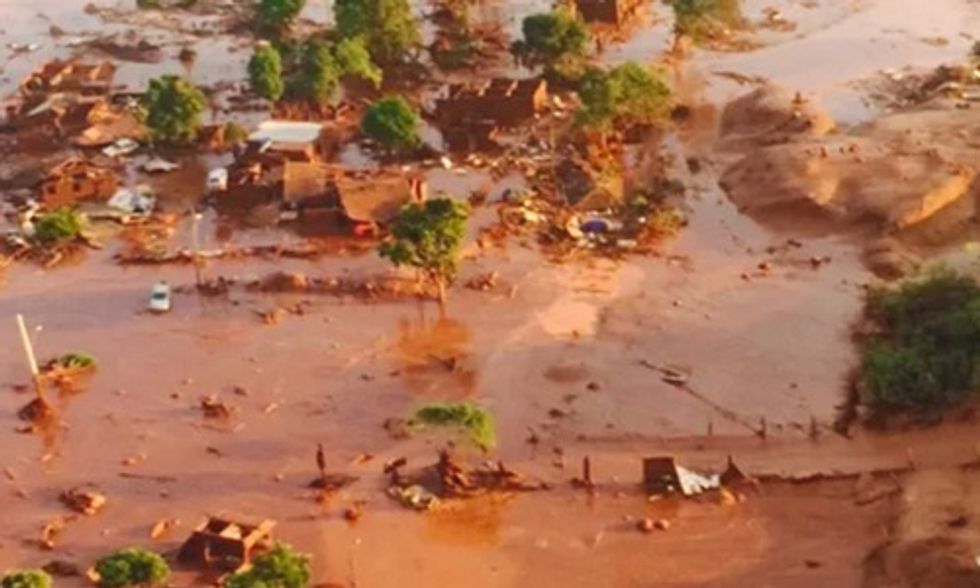 Two dams collapsed at the Germano iron ore mine in Brazil's state of Minas Gerais yesterday, unleashing "a deluge of thick, red toxic mud that engulfed a village," according to RTE News. Dozens are missing, but the exact number of injured and dead are unknown.
Time: See the Terrifying Aftermath of a Dam Burst in #Brazil https://t.co/XD4nrsdbrr

— UK World News (@UK World News)1446836884.0
Reuters currently reports 30 injured and two dead, while RTE News reports 50 injured and 17 dead. The death toll is expected to rise as recovery efforts have been hampered by the mudslides, which knocked out roads and cell towers.
"In reality there are a lot more [dead], but we can't confirm any more than that. We don't even know that we'll find everybody," said firefighter Adão Severino Junior.
"The organization is mobilizing every effort to prioritize care for people and the mitigation of environmental damage," Samarco, the company that runs the mine, told GloboNews.
An employee for Samarco told GloboNews that there were reports of seismic activity in the area leading up to the incident, however the company's press representatives said, "We can not at this time confirm the causes and extent of the incident."
"The collapse paralyzed operations at the mine, a joint venture between Vale and BHP Billiton, the world's top iron ore miners and raised fears of an expensive cleanup," said Reuters.
RTE reports:
Television footage showed a torrent of muck several hundred meters long that had swamped houses and ripped off their roofs.
The mud reached the intact roofs of some houses, atop of which stranded people waited to be rescued. Some homes appeared to have been swept hundreds of meters by the rushing wall of mud.
The village of Bento Rodrigues near the dam is practically buried, the fire chief said.
Dams are becoming increasingly dangerous as extreme weather events are on the rise. "Hundreds of thousands of dams across the planet pose risks in a climate changed world," said Gary Wockner, an international river advocate based in Colorado, in an email to EcoWatch. "Whether it's drought or flooding, most dams were engineered and built pre-climate change and may not be able to handle the extreme weather events that are likely to occur in the near future."
A recent report, The Risk, Public Liability & Economics of Tailings Storage Facility Failure, bolsters Wockner's argument. The report "demonstrates that catastrophic mine waste failures are increasing in frequency and severity because of—not in spite of—modern mining techniques, and will continue to do so until regulators and mining companies take active steps to prevent them," according to the nonprofit Earthworks. The report found that half (33 of 67) of all serious tailings dam failures in the last 70 years occurred in the 20 years between 1990 and 2009.
"Our research shows that more mining waste disasters like Brazil's Germano spill are inevitable," said David Chambers, report co-author and director of the Center of Science in Public Participation. "If mining practices continue as usual, we are going to see more severe spills, more frequently. These spills each will cost the public hundreds of millions to billions of dollars to clean up—if cleanup is possible at all. And sometimes, like the Germano spill, they will cost people's lives."
The report, which came out in July, was conducted in response to the 2014 Mount Polley mine waste disaster in British Columbia (BC), another waste impoundment failure which released roughly 24.4 million cubic meters of mine tailings waste into the Fraser River watershed.
"An expert panel commissioned by the BC provincial government recommended the global mining industry make significant changes to how it handles mining waste," said Earthworks. "To date those recommendations have been largely ignored."
There are 839 mining waste tailing dams in the U.S. and 3,500 abroad, according the U.S. Army Corps of Engineers and the United Nations, respectively. According to Earthworks, these large dams have no oversight in the U.S. or on a global level.
Here are some images of the destruction from the Germano spill in Brazil:
Two dead, dozens missing after two dams burst in Brazil https://t.co/Pxq4dsOosT https://t.co/zbRXRU4ClN

— Yahoo Canada News (@Yahoo Canada News)1446823764.0
two dams burst in Brazil https://t.co/bmUc6pzjHX BHP Billiton / Vale https://t.co/TWy11NnACU

— Texas_Stella (@Texas_Stella)1446823109.0
Surging Mudslide From A Burst Dam In Brazil Kills At Least One, Injure Dozens - https://t.co/KREesT1Dz5 https://t.co/48VvfngNq8

— BuzzExpress (@BuzzExpress)1446822982.0
And here's a video with aerial views of the damage from the mudslide:
YOU MIGHT ALSO LIKE
Will Rupert Murdoch 'Dumb Down the Science' at National Geographic?
EcoWatch Daily Newsletter