This website uses cookies to ensure you get the best experience while browsing it. By clicking 'Got It' you're accepting these terms.


The best of EcoWatch, right in your inbox. Sign up for our email newsletter!
Top 10 U.S. Cities Running Out of Water
Aug. 14, 2014 12:37PM EST
Even as we watch the stunning footage of an overwhelmed Detroit drowning under massive rainfall, U.S. Drought Monitor shows other regions of the country parched and longing for more water. The organization releases weekly maps tracking the extent of drought in the U.S., ranking regions on five levels: "abnormally dry," "moderate drought," "severe drought," "extreme drought" and "exceptional drought."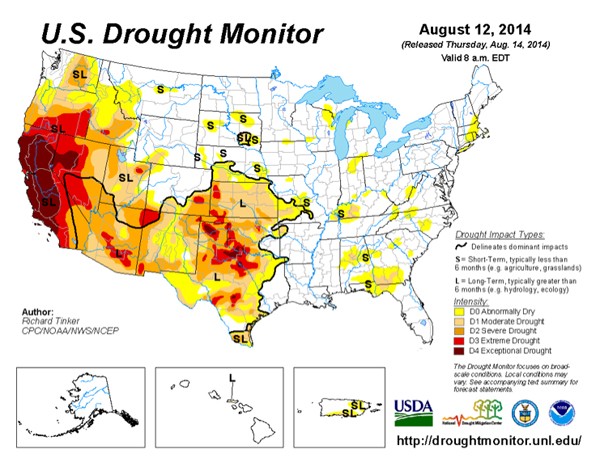 Its current map documents a huge swath of the western U.S., extending as far east as Kansas, Missouri and Nebraska, suffering from drought conditions. It also shows patches of South, Midwest, upper Great Lakes region and even New England having a drier than normal summer, covering more than a third of the continental U.S.
But the areas of "exceptional drought," the highest category, are localized in four states. California is by far the hardest hit, with 58 percent of the state under "exceptional drought" and 82 percent in the two highest categories. Nevada, Oklahoma and Texas also have patches of "exceptional" drought, surrounded by a sea of less intense drought.
So it's not surprising that all of its top ten cities with a severe water shortage are in California, located mostly in its fertile Central Valley growing region. Bakersfield, which has seen explosive growth in the last 40 years, tops the list with 90 percent of the city under "exceptional drought." Unlike most of the other cities in the top 10, it has enacted no water restrictions. The other cities in order of the severity of drought are Hanford, Salinas, Gilroy-Morgan Hill, Santa Maria, Merced, Santa Cruz, Madera, Visalia and Fresno.
With these cities supplying a large percentage of the nation's produce—70 percent of its lettuce comes from Salinas—the impact should be felt in grocery stores across the country.
The water shortage in these cities also points out the absurdity of California-based bottled water companies sourcing their product from local spring and tap water, and processing it to ship out of state.
You Might Also Like
California Experiencing Most Severe Drought Ever Recorded
8 Foods That California's Drought Will Make More Costly
Precious Water Bottled and Shipped Out of Drought-Ridden California
EcoWatch Daily Newsletter
A metal fence marked with the U.S. Border Patrol sign prevents people to get close to the barbed/concertina wire covering the U.S./Mexico border fence, in Nogales, Arizona, on Feb. 9. ARIANA DREHSLER / AFP / Getty Images
D'Bone Collector Museum head Darrell Blatchley shows plastic found inside the stomach of a Cuvier's beaked whale in the Philippines this weekend. - / AFP / Getty Images
Yet another whale has died after ingesting plastic bags. A young male Cuvier's beaked whale was found washed up in Mabini, Compostela Valley in the Philippines Friday, CNN reported. When scientists from the D' Bone Collector Museum in Davao investigated the dead whale, they found it had died of "dehydration and starvation" after swallowing plastic bags―40 kilograms (approximately 88 pounds) worth of them!
Pexels
By Jeff Turrentine
"Be careful what you wish for; you just might get it." This is something that everybody has to learn at some point. Lately, the lesson has hit home for a group of American automakers.
Art direction: Georgie Johnson. Illustrations: Freya Morgan
By Joe Sandler Clarke
"Don't expect us to continue buying European products," Malaysia's former plantations minister Mah Siew Keong told reporters in January last year. His comments came just after he had accused the EU of "practising a form of crop apartheid."

A few months later Luhut Pandjaitan, an Indonesian government minister close to President Joko 'Jokowi' Widodo, warned his country would retaliate if it was "cornered" by the EU.
Torres and his parents walk along the Rio Grande. Luis Torres / Earthjustice
By Luis Torres
For some people who live along the U.S.-Mexico border, President Trump's attempt to declare a national emergency and extend the border wall is worse than a wasteful, unconstitutional stunt. It's an attack on their way of life that threatens to desecrate their loved ones' graves.
Flooding caused by last week's bomb cyclone storm has broken records in 17 places across the state of Nebraska, CNN reported Sunday. Around nine million people in 14 states along the Mississippi and Missouri Rivers were under a flood watch, CNN meteorologist Karen Maginnis said.
A car destroyed by Cyclone Idai in Beira, Mozambique. ADRIEN BARBIER / AFP / Getty Images
At least 150 people have died in a cyclone that devastated parts of Mozambique, Zimbabwe and Malawi over the weekend, The Associated Press reported Sunday. Cyclone Idai has affected more than 1.5 million people since it hit Mozambique's port city of Beira late Thursday, then traveled west to Zimbabwe and Malawi. Hundreds are still missing and tens of thousands are without access to roads or telephones.
"I think this is the biggest natural disaster Mozambique has ever faced. Everything is destroyed. Our priority now is to save human lives," Mozambique's Environment Minister Celso Correia said, as AFP reported.