This website uses cookies to ensure you get the best experience while browsing it. By clicking 'Got It' you're accepting these terms.
Tips to Green Your Wedding
Apr. 09, 2014 12:50PM EST
Are you putting the final touches on a spring wedding or in the midst of planning a lovely summer celebration? Even if you are just starting to talk about your future with your special someone, you might already be thinking about how you can make your wedding day as sustainable and eco-friendly as possible. After all, a beautiful celebration of your love does not have to equal a ton of food waste or plastic party favors—or break the bank.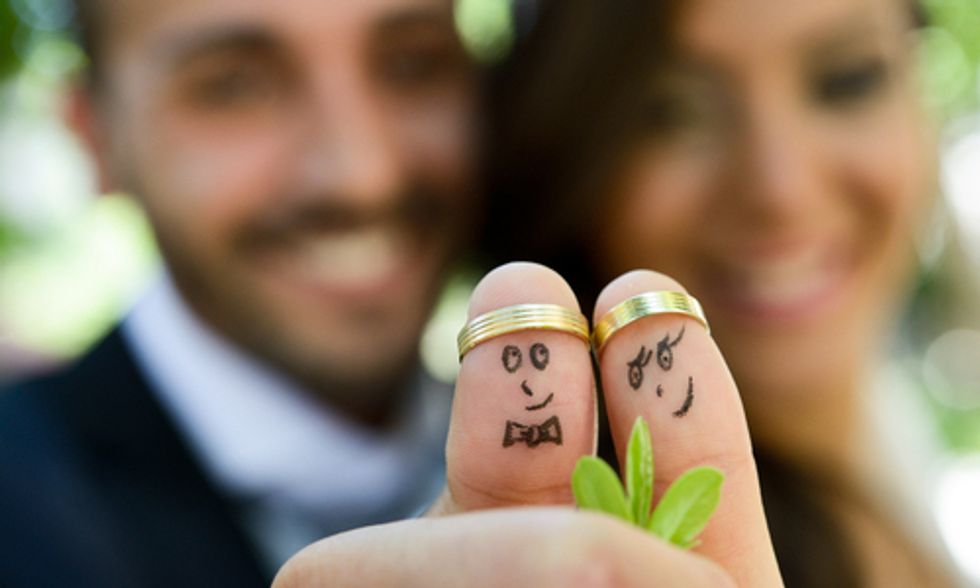 Photo courtesy of Shutterstock
While you can marry in a low-key, simple fashion in your backyard or living room, perhaps you are drawn to a more traditional affair or have hundreds of relatives who must be there for your special day. If that is the case, but you want to be as environmentally friendly as possible, then consider your options in the follow major areas of wedding planning.
Invitations
The greenest invitations would be paperless—those sent electronically—which will also save money. If you have your heart set on pretty paper invites, then consider tree-free (such as hemp or recycled cotton, available from such retailers as Green Field Paper Company) or recycled paper along with non-toxic soy or vegetable-based inks. Same goes for wedding ceremony programs, which, if you distribute, consider recycling in a lovely basket at the ceremony.
Venues
There are several considerations when choosing the perfect place for your celebration. First, you should pick a place that means something to you. Second, consider a space that will benefit from your event, such as a museum, historic home, cultural organization or art gallery. Third, consider having your ceremony and reception at one, centralized locale, to reduce transportation needs. And go local, if possible, to benefit the local economy.
As you scout venues, ask about their policies on such things as recycling and avoidance of disposable dishware.
If you are marrying during daylight hours, an outdoor wedding makes a fine option. This will eliminate the need for additional lighting, with the added benefit of a beautiful natural setting. A botanical garden or arboretum that is run by a nonprofit are a couple of great outdoor possibilities.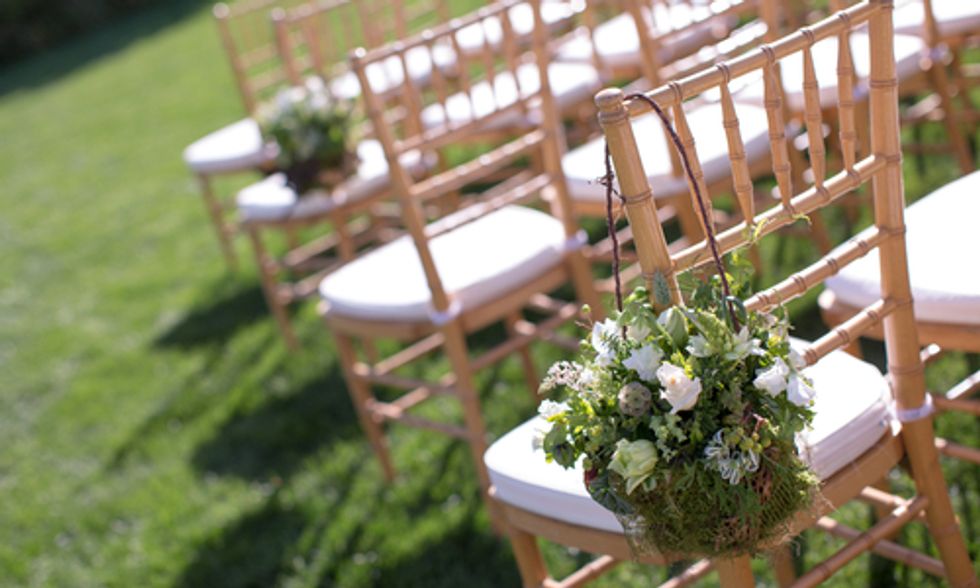 Photo courtesy of Shutterstock
Wedding rings
Gold mining is one of the most polluting industries, as well as rife with human rights abuses. But don't despair. Earthworks' No Dirty Gold campaign has tips to follow so you don't have to worry about "tarnishing your love with dirty gold." You can also search for rings designed with recycled gold and conflict-free diamonds. The Green Bride Guide offers a selection of eco-friendly wedding rings.
A great alternative to buying news rings is to use heirloom or vintage rings.
Wedding attire
A good way to go green with a wedding dress is to wear your mother's, grandmother's or another relative's gown. If there isn't such a dress you can personalize with a few tweaks, check out consignment shops and find a vintage gown that speaks to you. Or, buy a wedding gown for a cause.
If you buy a new dress, be sure to check for one created with sustainable materials (and not petroleum-based) such as peace silk, organic cotton and hemp.
Food
The best way to be eco-friendly when planning your reception menu is to go as organic and local as possible. Search for organic farmers in your area and work with a caterer who offers sustainable and local food for a low-impact option.
Flowers
Again, a good option is to go as organic and local as possible when planning floral arrangements for your wedding. After the wedding you can send flowers home with guests or donate them to a local shelter or retirement home. Or, consider decorating with potted native plants, which can then be planted and incorporated into landscaping.
Fresh flowers are not the only option. Try dried or silk flowers, which you can reuse or resell after your big day.
Transportation
According to the Green Bride Guide, a 100-guest wedding produces an average of 7.7 tons of greenhouse gases. Yikes. And with more than 6,000 weddings happening daily in the U.S., this can have quite a toll on the environment. One way to minimize this impact is by having your wedding ceremony and reception close to each other and the majority of your guests.
Also, consider the mode in which you and your wedding party will be transported. Consider a solar-powered vehicle or eco-friendly options such as a horse and carriage to reduce emissions. The Knot has seen couples depart via canoe, bicycles and more.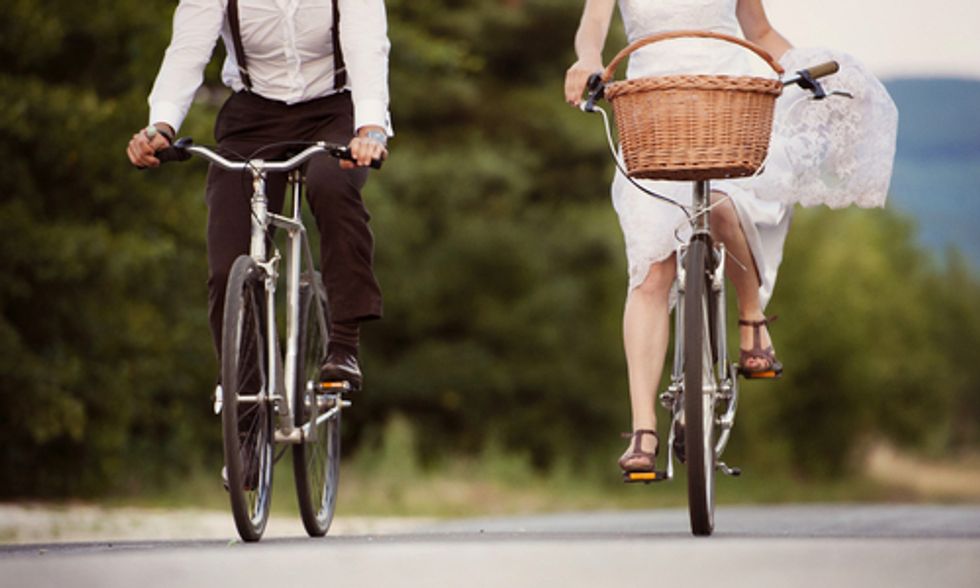 Photo courtesy of Shutterstock
Wedding registry
In honor of your special day, guests will want to shower you with presents. But will you really need a cabinet full of crystal or 12 ladles? The Nature Conservancy reminds to register for gifts that you actually need, will definitely use and (if possible) are healthy for the planet.
You can also ask guests to donate to your favorite charity or to nonprofits through such sites as JustGive.org, which offers a gift registry option.
Décor and party favors
Your wedding can be beautiful, and personalized, without breaking the bank or devastating the environment. The Knot emphasizes reducing and reusing: "The key to an eco-friendly wedding that's still style-conscious is to simplify. Reusing accents or materials doesn't just save money, it saves resources." Work with what's nearby and in season as much as possible. Also, use decorations that can do double duty at the ceremony and the reception, if they will not be at the same locale.
The Bridal Association of America estimates that an average couple spends more than $400 on wedding favors for guests. Seem like a lot for a few pounds of mints or candied almonds? Consider handmade, sustainable party favors instead. Green Wedding Shoes has a DIY section, from terrarium place holders to hot cocoa favors, and a whole range of wearable, edible, personalized projects in between.
And then of course there's the honeymoon.
The environmental impact of your trip is reduced the closer you stay to home. If you have your heart set on a change of scenery or an exotic locale, consider eco-trips. The Rainforest Alliance suggests four romantic rainforest retreats, which are environmentally sustainable, socially responsible and casually luxurious. No matter where you honeymoon, you can always buy energy offset credits to counter the toll your travel has on the environment.
If you have planned a green wedding and have additional tips, please share in the comments below. If you are planning a wedding, congratulations!
——–
YOU MIGHT ALSO LIKE
Beyond 'Reduce, Reuse, Recycle' to a World Without Waste
11 Ways to Vote With Your Fork
8 Foods That Naturally Whiten Teeth
——–
EcoWatch Daily Newsletter
The staircase to a subway station in SOHO with a temporary closure, flood control installation sign. Jeffrey Greenberg / Universal Images Group / Getty Images
The Metropolitan Transit Authority in New York City tested out a new system designed to protect its subways stations from flooding when another super storm hits, creating a bizarre sight on Wednesday, as The Verge reported.
Flat-lay of friends eating vegan and vegetarian Thanksgiving or Friendsgiving dinner with pumpkin pie, roasted vegetables, fruit and rose wine. Foxys_forest_manufacture / Royalty-free / iStock / Getty Images
Thanksgiving can be a tricky holiday if you're trying to avoid animal products — after all, its unofficial name is Turkey Day. But, as more and more studies show the impact of meat and dairy consumption on the Earth, preparing a vegan Thanksgiving is one way to show gratitude for this planet and all its biodiversity.
Residents wear masks for protection as smoke billows from stacks in a neighborhood next to a coal fired power plant on Nov. 26, 2015 in Shanxi, China. Kevin Frayer / Getty Images
By Matt Berger
It's not just kids in the United States.
Children worldwide aren't getting enough physical activity.
That's the main conclusion of a new World Health Organization (WHO) study released Wednesday.
By Tim Ruben Weimer
Tanja Diederen lives near Maastricht in the Netherlands. She has been suffering from Hidradenitis suppurativa for 30 years. Its a chronic skin disease in which the hair roots are inflamed under pain — often around the armpits and on the chest.