This website uses cookies to ensure you get the best experience while browsing it. By clicking 'Got It' you're accepting these terms.
The World Agrees: Let's End Illegal Fishing
May. 18, 2016 12:10PM EST
Animals
By Tony Long, The Pew Charitable Trusts
The Port State Measures Agreement (PSMA), an international treaty intended to help stop illegal fishing, will enter into force now that it has been ratified by more than the 25 governments needed.
The United Nations Food and Agriculture Organization (FAO) announced May 16 that six countries—Dominica, Guinea-Bissau, Sudan, Thailand, Tonga and Vanuatu—had ratified the binding agreement, bringing the total to 30. They join other governments large and small around the world, including the U.S. and the European Union and demonstrate the broad range of support for the PSMA.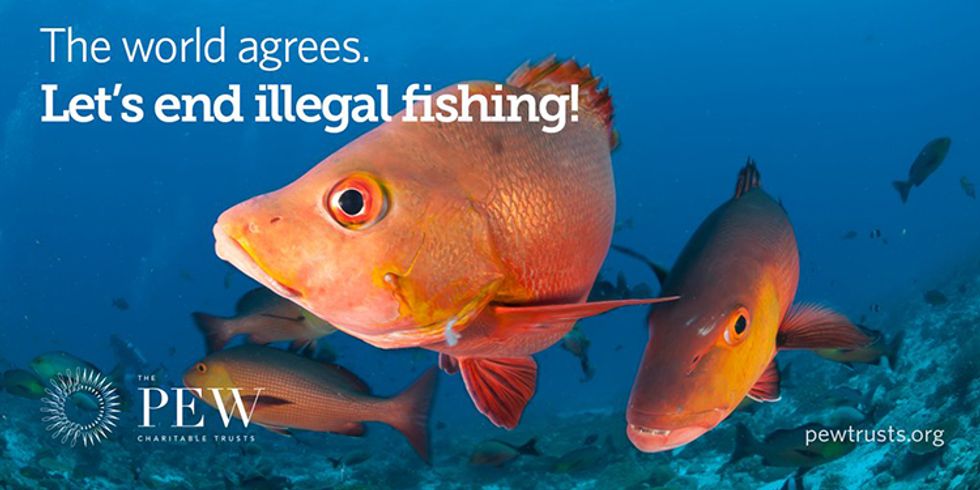 This is a critical step in the global fight to end illegal, unreported and unregulated (IUU) fishing and should lead to more governments signing on to the treaty. That would strengthen the PSMA and extend its reach to new regions. We know that more countries are in the process of ratifying the pact and we expect the numbers to grow.
Regional collaboration will help the PSMA's implementation. Efforts such as those being undertaken by members of the Central America Fisheries and Aquaculture Organization and FISH-i Africa demonstrate the importance of cooperation among neighboring nations—and its critical role in the treaty's success.
IUU fishing is a major problem around the world and poses serious threats to the effective conservation and management of fish stocks. Estimated to account for up to $23.5 billion each year or 1 in every 5 wild-caught marine fish, illegal fishing can cause the total collapse of a fishery or seriously impair the condition of fish populations. It also can harm efforts to rebuild stocks that have been overfished. In addition, IUU fishing causes economic pain—in lost revenue and employment opportunities—for many coastal communities.
The PSMA, if used in conjunction with catch documentation policies, could be one of the most cost-effective and efficient means of combating illicit fishing. By mandating that captains provide advance notice of their arrival in port and by empowering port officials to turn away suspect catch, the treaty could keep many tons of illegally caught seafood from entering national or international markets each year. Officials would be able to detain and sanction IUU vessels and their captains.
The pact also gives port officials the discretion to deny port services, such as fueling, to vessels believed to have engaged in maritime crimes. Effective implementation of these port state measures will reduce the economic incentives to engage in black-market fishing.
Ports will have to determine whether vessels are carrying illegal catch and whether this seafood is being improperly landed, transshipped, processed or sold. Doing so should reduce the number of "ports of noncompliance."
The PSMA can help with enforcement of national laws as well as conservation measures adopted by the regional fisheries management organizations (RFMOs). Port states can focus on port inspections and controls than on costly efforts to monitor, pursue and inspect vessels at sea. The agreement also requires more effective cooperation and information-sharing among coastal nations, the flag states of fishing vessels and the RFMOs.
Although it's important to pause to acknowledge the results of hard work and collaboration among governments all around the world, 30 ratifications are not nearly enough. Countries can do much more in this critical fight. To ensure effective implementation and enforcement on a national level, states should incorporate the PSMA requirements in domestic legislation.
Tony Long directs the ending illegal fishing project for The Pew Charitable Trusts.
YOU MIGHT ALSO LIKE
Only 60 Vaquita Left as World's Smallest Porpoise Slides Toward Extinction
Baby Bison Dies After Tourists Put It in Their Car Because It Looked Cold
Rare Rhino Gives Birth to Adorable Baby Girl
EcoWatch Daily Newsletter
Coldplay is releasing a new album on Friday, but the release will not be followed by a world tour.
Ash dieback is seen infecting a European ash (Fraxinus excelsior) in Bottomcraig, Scotland, UK on Aug. 10, 2016.
nz_willowherb / Flickr
Scientists have discovered a genetic basis to resistance against ash tree dieback, a devastating fungal infection that is predicted to kill over half of the ash trees in the region, and it could open up new possibilities to save the species.
Truth in Action is a day-long global conversation on the climate crisis and how we solve it. The Climate Reality Project
Former Vice President Al Gore kicked off 24 hours of climate talks in the U.S. and 77 other countries around the world Wednesday night.
Activists highlighted the climate emergency outside Scottish Government headquarters at St Andrew's House in Edinburgh on Oct. 13, 2017. Usage of the term "climate emergency" spiked in 2019, according to Oxford Dictionaries.
By Jessica Corbett
Climate advocates and experts celebrated Oxford Dictionaries' announcement Wednesday that "climate emergency" is the Oxford Word of the Year 2019.
By Kieran Cooke
There could be a way of countering one key aspect of the climate emergency by making much greater use of a widely-available plant: bamboo building.