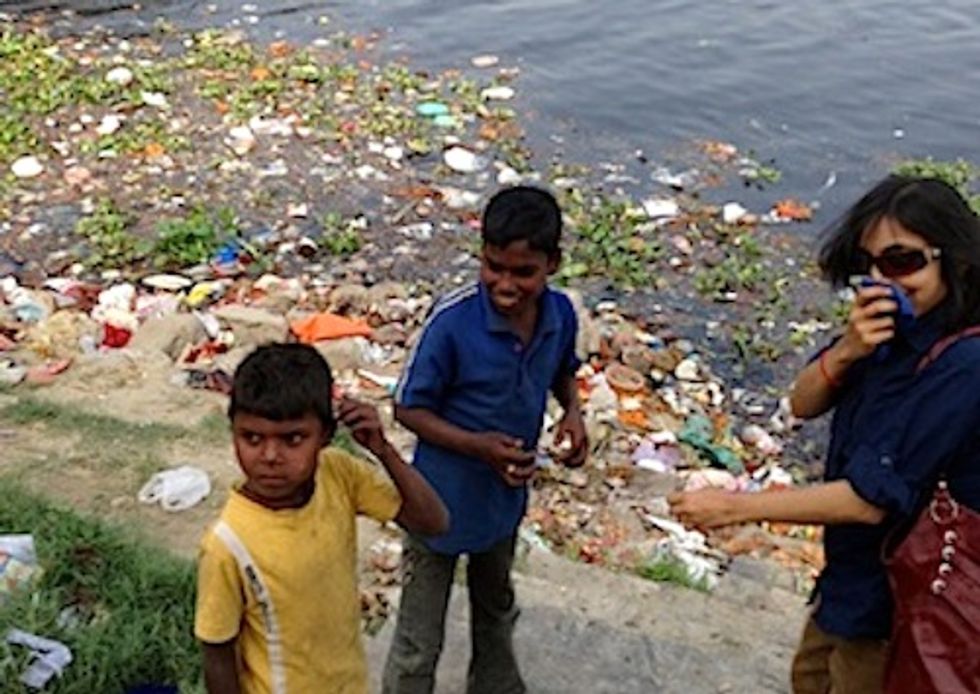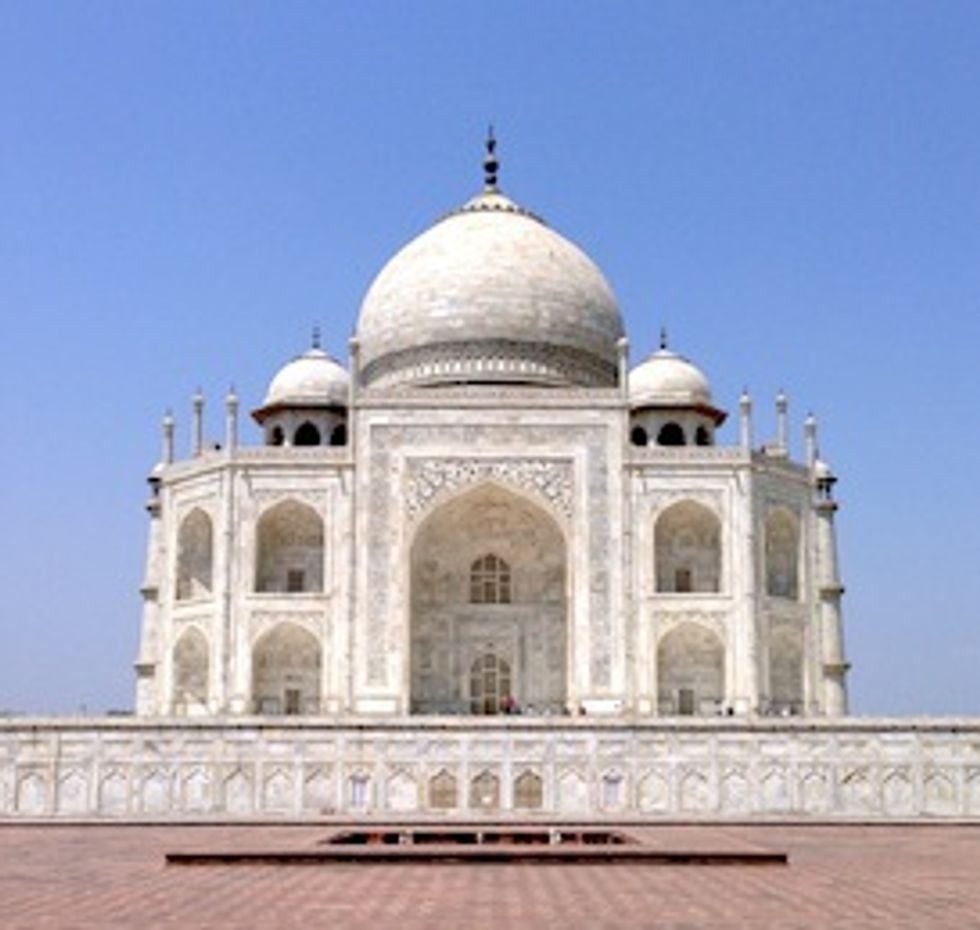 Hundreds of thousands of tourists flood into the city of Agra, India, every year to see the gleaming marble of the Taj Mahal, a site immaculately kept since its completion in 1653. Emperor Shah Jahan, who had the Taj Mahal built as a tomb for his wife, kept the reflecting pools filled with water from the sacred Yamuna River that flows just meters from the Taj Mahal's northern walls. During that time, royal visitors to the tomb could enjoy watching egrets fish among reeds and children play in the pristine waters. Today, tourists are quick to turn away from the black, lifeless waters of the Yamuna.
Ashwini Kumar Mishra, the cheery priest of a small Hindu temple and native of Agra, has taken up the mantle to fight for the Yamuna as the Mid Lower Yamuna Riverkeeper. Government incompetence and corruption, coupled with law-breaking, profit-driven industry, have defiled the Yamuna's sacred waters almost to the point of oblivion. He, along with his congregation and volunteers, has been working for years to spread awareness about water pollution and to pressure the local government to take necessary action on the Yamuna.
In 2010, Mishra succeeded, through petitions and peaceful protests, in forcing the local government to begin construction on a series of lagoons that serve as a natural treatment system for sewage in western Agra. Before his campaign, thousands of gallons of raw sewage would empty straight into the Yamuna before flowing past the Taj Mahal.
"This is what the entire waste canal looked like before 2010," Mishra said, pointing to the head pond of the treatment system. It was black and rank, an open sewer for the surrounding communities. But as Mishra walked me along a dirt path that follows the snaking lagoons, the stench was replaced by an earthier, wetland smell.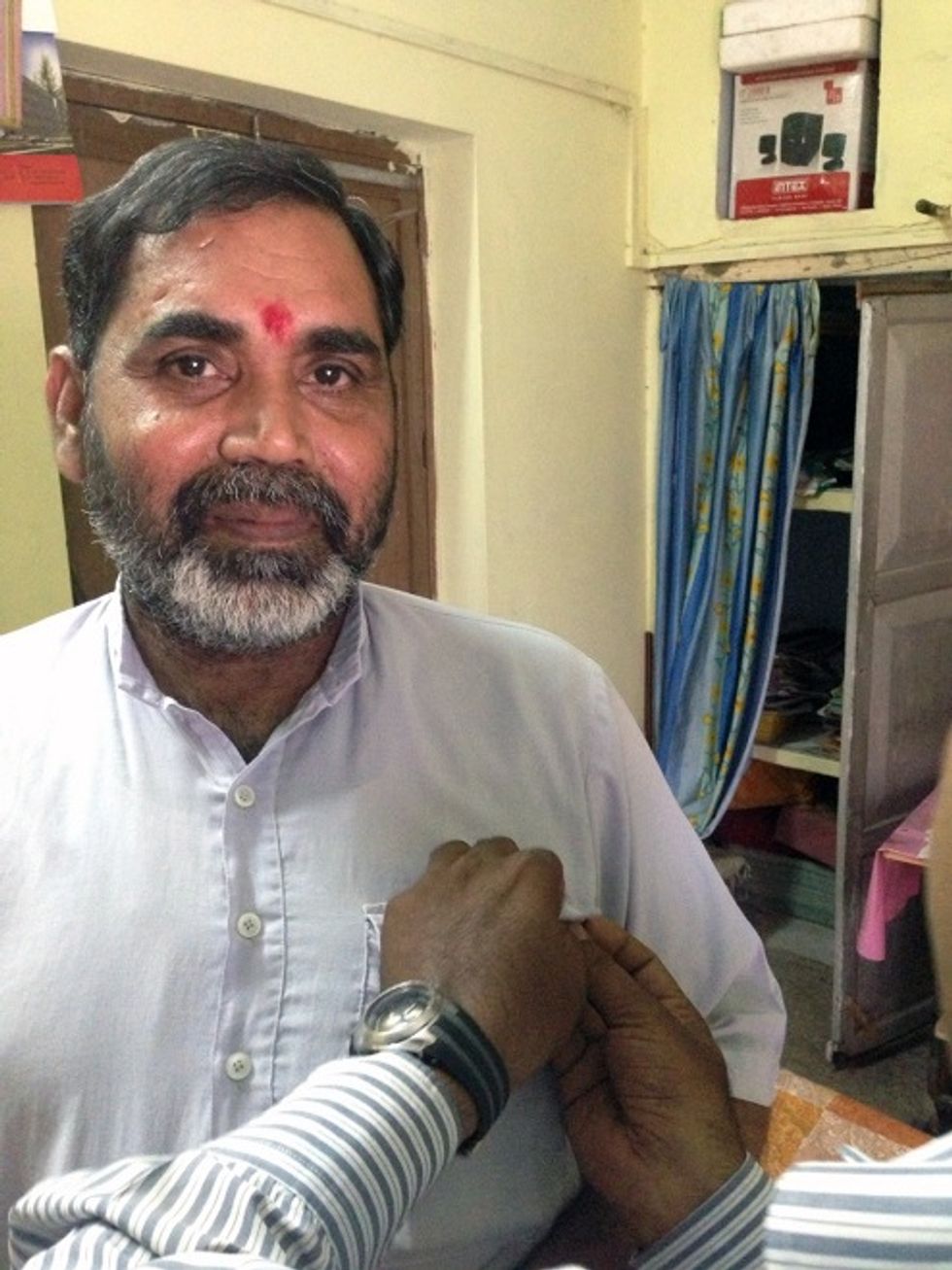 Three years on, the lagoons form a six kilometer network of thriving wetlands. As Mishra gave us a tour of the first three kilometers, I saw dozens of bird species, including a kingfisher and a peacock—India's national bird—and heard the steady hum of a thriving insect population. In several of the lower lagoons, fish broke the water's surface as they came up to feed on  insects.
Still, this is only a small piece to the puzzle. The Yamuna, the largest tributary of the Ganges River in northern India, is an extremely sick river. Running 1,376 kilometers (855 mi) from its origin in the Himalayas, the Yamuna is depended upon by tens of millions of people for water.
Even though Mishra organizes numerous riverside cleanup events with thousands of attendees, many of whom are devotees at his temple, the Yamuna's riverbed is parched in many places, blanketed with trash, debris and illegal laundry operations. What remains of the Yamuna's once mighty flow is a black, noxious stream that offers little comfort to the livestock, children and stray dogs that can be seen wading through it on a hot afternoon.
"It used to be as wide as several superhighways and now it is barely as wide as a two lane road," said one of Mishra's friends, a native of Agra. "We used to swim in there as children, whole packs of us. Now only the poor children swim in there to bathe … and they don't know any better about the health risks."
Industrial pollution and sewage are immediate problems, but much larger issues sit upstream: dams and diversions. These are especially complex problems as India tries to feed and power its burgeoning population.
In India's capital, New Delhi, north of Agra on the Yamuna, Minakshi Arora, the Mid Upper Yamuna Riverkeeper, and her husband, Kesar Singh, the Lower Yamuna Riverkeeper, face similar challenges. The couple, devoted water activists, also spend their time running the Hindi regional section of India Water Portal, a web-based interactive platform covering topics related to water management challenges and offering practical solutions for daily water-related issues.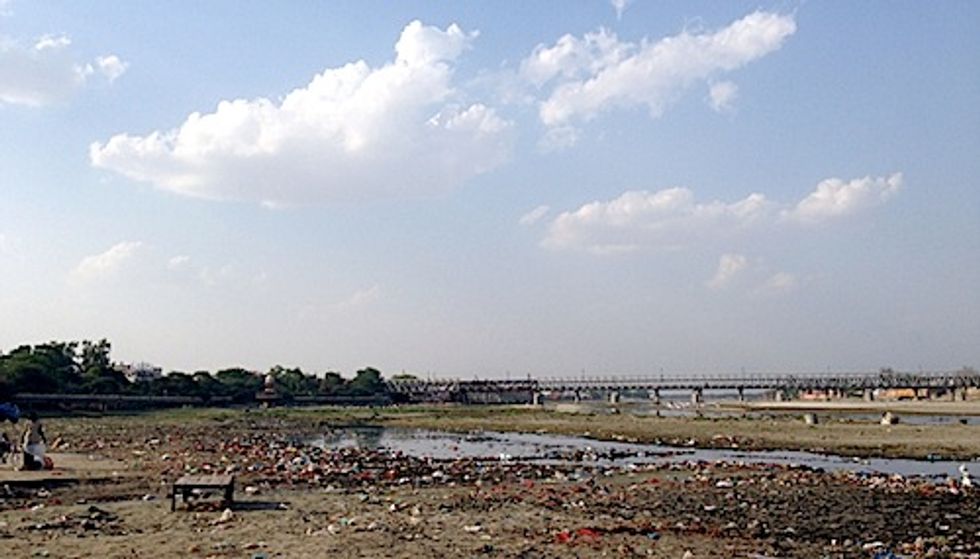 Arora and Singh took me to a stretch of the Yamuna located between two thermal power plants in the south of New Delhi. A small barrage sits under a bridge crossing the Yamuna and the overflow spills down a modest three foot drop. The black water is so heavily polluted that it froths up into little foam icebergs that continue downstream. Unfortunately for clean water advocates in New Delhi, this part of the Yamuna contains little fresh water to begin with. Farther upstream, a series of large barrages divert most of the water towards agricultural and industrial use. The flow that enters this length of the Yamuna is composed almost entirely of untreated wastewater from 16 massive pipes that carry the city's sewage.
After trekking along this stinking stretch of the Yamuna for several kilometers in the scorching heat, the three of us took a seat in the shade near a highway turnoff. Every minute or so, a car would pull up and a passenger would take a plastic bag of trash out of their trunk. Some would walk over to the river embankment and hurl the trash, still in the bag, directly into the river. Others would wait for a half-naked man to come up the embankment from his boat and do the deed for them in exchange for several rupees.
"See the high fence they built along that bridge," said Kesar, pointing up to a 10 foot wall of mesh wire that ran the entire span of the bridge, "they built that so people would stop throwing trash bags out of their car windows into the river."
"Throwing organic waste into the sacred Yamuna River for it to wash away is an old tradition among Hindus," Arora explained to me back in the bustling heart of New Delhi, "But now much of the waste is inorganic and doesn't degrade. It is also traditional for people to dispose of bodies in the river. Now the river hardly flows and the population has exploded. So the river can no longer serve as it did once. But traditions stick and people keep defiling the Yamuna. Government campaigns to curb this have had little effect."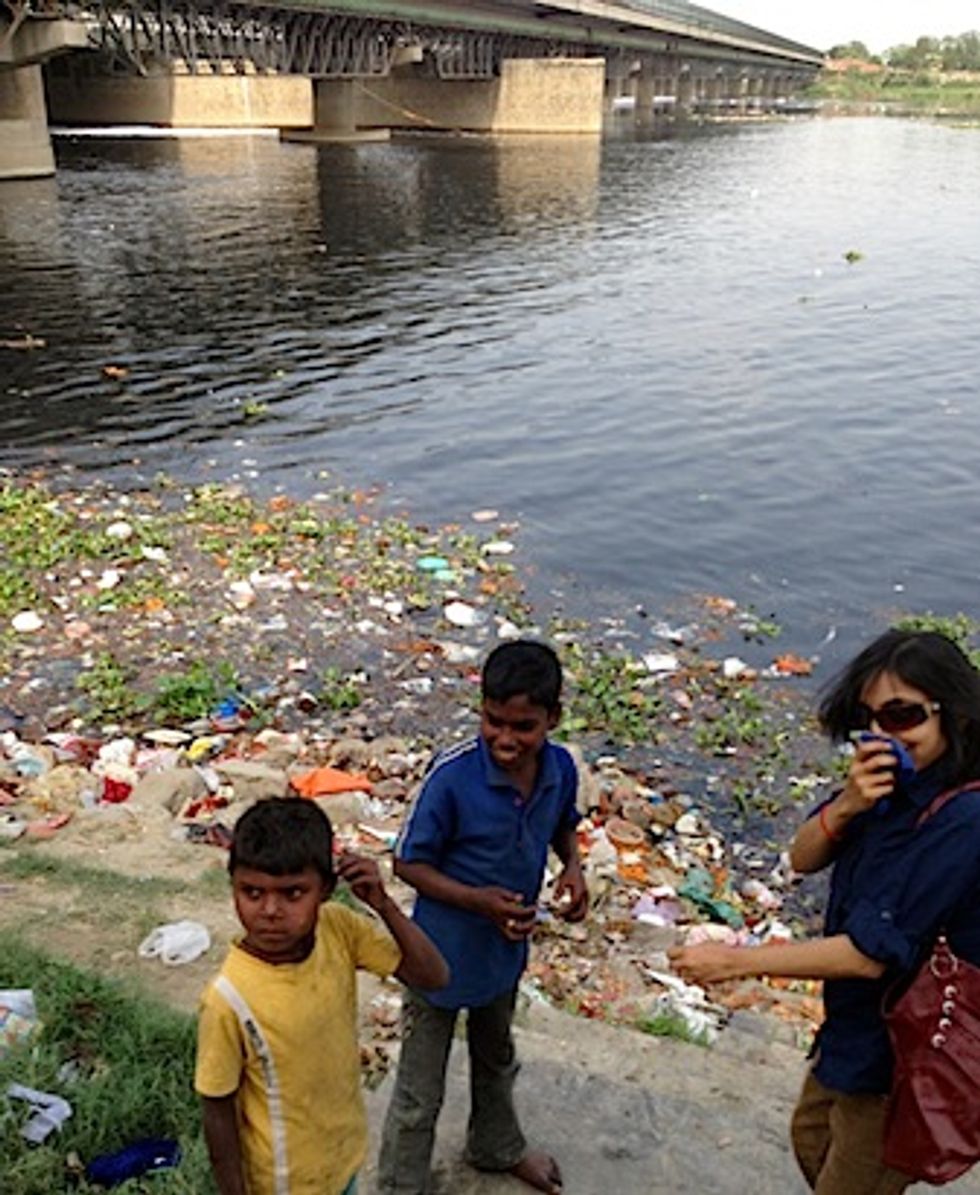 Another well-known river activist, Sudhirendar Sharma, sat down with me over chai tea and told me about Balbir Singh Seechewal, a famed river activist in the state of Punjab. In 2007 Seechewal initiated a campaign to clean the Kali Bein, a 160-kilometer-long stream sacred to Sikhs, with the help of thousands of community members. Encroachment by farmers, silt deposition and pollution from wild growth had virtually obliterated the Kali Bein. But under Seechewal's leadership, volunteers dredged the stream bed and cleaned the stream bank. Under pressure from the movement, towns along the stream's course stopped dumping raw sewage into it. The government of Sultanpur Lodhi, the largest city the Kali Bein runs through, agreed to build a sewage treatment plant for the urban waste fouling the waters. The Kali Bein's transformation was stunning and Seechewal continues his fight for clean water to this day.
Sharma told me this story to highlight the importance of victories on smaller water bodies in India. Because the issues facing large rivers such as the Yamuna are so colossal, and almost impossible to remedy without a concerted, multi-year effort by the government, he recommended focusing on smaller rivers and streams where more tangible victories might be won.
I was saddened to see the state of some of India's most sacred waterways up close, but I was also encouraged to meet such passionate activists that are working to change the status quo. Indeed, as Waterkeeper Alliance and other domestic and international environmental organizations continue to support the work of clean-water activists in India and across the rest of Asia, I am hopeful that change will come, if slowly, and people will once again be able to enjoy their right to swimmable, drinkable, fishable waters.
Visit EcoWatch's WATER page for more related news on this topic.
Recycling and general waste plastic wheelie bins awaiting collection for disposal in Newport, Rhode Island. Tim Graham / Getty Images
Reduce. Reuse. Recycle. According to The National Museum of American History, this popular slogan, with its iconic three arrows forming a triangle, embodied a national call to action to save the environment in the 1970s. In that same decade, the first Earth Day happened, the EPA was formed and Congress passed the Resource Conservation and Recovery Act, encouraging recycling and conservation of resources, Enviro Inc. reported.
According to Forbes, the Three R's sustainability catch-phrase, and the recycling cause it bolstered, remain synonymous with the U.S. environmental movement itself. There's only one problem: despite being touted as one of the most important personal actions that individuals can take to help the planet, "recycling" – as currently carried out in the U.S. – doesn't work and doesn't help.
Turns out, there is a vast divide between the misleading, popular notion of recycling as a "solution" to the American overconsumption problem and the darker reality of recycling as a failing business model.
Tiffany Duong is an avid ocean advocate. She holds degrees from UCLA and the University of Pennsylvania Carey Law School and is an Al Gore Climate Reality Leader and student member of The Explorer's Club.
She spent years as a renewable energy lawyer in L.A. before moving to the Amazon to conduct conservation fieldwork (and revamp her life). She eventually landed in the Florida Keys as a scientific scuba diver and field reporter and writes about the oceans, climate, and the environment from her slice of paradise. Follow her on Twitter/Instagram @lilicedt.
EcoWatch Daily Newsletter
The coal-fired Huaneng Power Plant in Huai 'an City, Jiangsu Province, China on Sept. 13, 2020. Costfoto / Barcroft Media via Getty Images
Overall energy demand is expected to rise 4.6 percent this year compared to 2020 and 0.5 percent compared to 2019, according to the IEA's Global Energy Review 2021. Demand for fossil fuels is expected to jump to such an extent that emissions will rise by nearly five percent in 2021. This will reverse 80 percent of the emissions decline reported in 2020, to end emissions just 1.2 percent below 2019 emissions levels. Because the lockdown saw the biggest drop in energy demand since World War II, the projected increase in carbon dioxide emissions will still be the second-highest on record, BBC News pointed out.
"This is a dire warning that the economic recovery from the COVID crisis is currently anything but sustainable for our climate," IEA Executive Director Fatih Birol said in a statement reported by AFP.
Birol said much of that increase was being driven by the resurgence of coal use. In fact, coal demand is expected to increase by 60 percent more than all forms of renewable energy, according to the report. Overall coal demand is expected to increase by 4.5 percent in 2021. More than 80 percent of that growth is in Asia, and more than 50 percent is in China. While coal use is expected to increase in the U.S. and Europe as well, it will remain far below pre-pandemic levels. Still, global coal use is expected to rise to nearly its 2014 peak, BBC News reported.
Natural gas demand is also expected to rise by 3.2 percent in 2021, to put it more than one percent above 2019 levels, according to the report.
There are, however, two bright spots in the report from a climate perspective. The first is that oil demand, while up 6.2 percent from 2020, is still expected to remain around 3 percent below 2019 levels. This is because oil use for ground transportation is not expected to recover until the end of 2021, and oil use for air travel is expected to remain at 20 percent below 2019 levels by December of 2021.
"A full return to pre-crisis oil demand levels would have pushed up CO2 emissions a further 1.5%, putting them well above 2019 levels," the report authors wrote.
The second bright spot is that renewable energy demand is set to rise in all sectors in 2021. In power, where its rise is the greatest, it is set to increase by more than eight percent. This is "the largest year-on-year growth on record in absolute terms," the report authors wrote.
Renewable energy will provide 30 percent of electricity overall, BBC News reported, which is the highest percentage since the industrial revolution. The problem is that the increase in renewables is running parallel to an increase in fossil fuels in some places. China, for example, is also expected to account for almost half of the rise in renewable electricity.
"As we have seen at the country-level in the past 15 years, the countries that succeed to cut their emissions are those where renewable energy replaces fossil energy," energy expert and University of East Anglia professor Corinne Le Quéré told BBC News. "What seems to be happening now is that we have a massive deployment of renewable energy, which is good for tackling climate change, but this is occurring alongside massive investments in coal and gas. Stimulus spending post-Covid-19 worldwide is still largely funding activities that lock us into high CO2 emissions for decades."
To address this issue, Birol called on the world leaders gathering for U.S. President Joe Biden's climate summit Thursday and Friday to pledge additional action before November's UN Climate Change Conference, according to AFP.
"Unless governments around the world move rapidly to start cutting emissions, we are likely to face an even worse situation in 2022," said Birol.
From Your Site Articles
Related Articles Around the Web
A grizzly bear killed an outdoor guide in a rare attack near Yellowstone Park. William Campbell / Corbis / Getty Images
Representative Alexandria Ocasio-Cortez (D-NY) re-introduces the Green New Deal in Washington, D.C. on April 20, 2021. Mandel Ngan / AFP / Getty Images
By Brett Wilkins
In the latest of a flurry of proposed Green New Deal legislation, Reps. Cori Bush and Alexandria Ocasio-Cortez on Monday introduced the Green New Deal for Cities Act of 2021, a $1 trillion plan to "tackle the environmental injustices that are making us and our children sick, costing us our homes, and destroying our planet."
Offshore oil and gas drillers have left more than 18,000 miles of pipelines at the bottom of the Gulf of Mexico. Drew Angerer / Getty Images
Offshore oil and gas drillers have discarded and abandoned more than 18,000 miles of pipelines on the floor of the Gulf of Mexico since the 1960s, a report from the Government Accountability Office says.
The industry has essentially recovered none of the pipelines laid in the Gulf in the last six decades; the abandoned infrastructure accounts for more than 97% of all of the decommissioned pipelines in the Gulf.
The pipelines pose a threat to the habitat around them, as maritime commerce and hurricanes and erosion can move sections of pipeline.
The Bureau of Safety and Environmental Enforcement does not conduct undersea inspections even though surface monitoring is "not always reliable for detecting ruptures," according to the GAO.
For a deeper dive:
For more climate change and clean energy news, you can follow Climate Nexus on Twitter and Facebook, sign up for daily Hot News, and visit their news site, Nexus Media News.