The Danger of 'Balanced' Climate Science in the Media

We've recently seen significant steps taken, both nationally and globally, toward the long-term goal of tackling the climate crisis and transitioning to a sustainable economy. This year in the U.S., the Supreme Court ruled in favor of U.S. Environmental Protection Agency's stricter rules on coal plant pollution, followed by President Obama announcing regulations requiring significant reductions in greenhouse gases produced by each American state. Taking the U.S.'s lead, though without specific numbers, China announced it would also seek to put a cap on its emissions. And, in addition to celebrating their recent World Cup championship, Germany can now celebrate a milestone of producing nearly one-third of their energy from renewables in the first half of the year.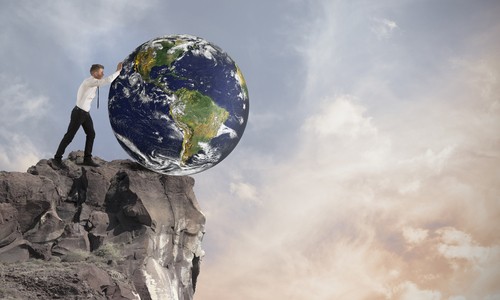 Photo courtesy of Shutterstock
While it's clear these governments, as well as many public and private organizations, are beginning to take climate change seriously, skeptics still exist. From extremists in our nation's congress to Rupert Murdoch's recent statements expressing doubt, they are brought out front and center in media reports, despite the clear and proven science of climate change. The Union of Concerned Scientists recently analyzed the climate science coverage of major U.S. news networks, finding that accuracy of information varied widely across networks, with the results less than surprising:
CNN, Fox News, and MSNBC are the most widely watched cable news networks in the U.S. Their coverage of climate change is an influential source of information for the public and policy makers alike…
Fox News was the least accurate; 72 percent of its 2013 climate science-related segments contained misleading statements. CNN was in the middle, with about a third of segments featuring misleading statements. MSNBC was the most accurate, with only eight percent of segments containing misleading statements.
The media, in attempting to offer "balanced stories" does a disservice to the public and policymakers by giving small handfuls of climate change contrarians significant attention despite the fact that nearly all climate scientists agree that climate change is underway and that it is human-caused. When they share equal airtime it sends the message that the science is more uncertain than it is. The questioning of science by the American right wing clearly does not accurately reflect the scientific consensus, and is detrimental to those interested in moving our economy down a sustainable path. Why then does the media still give skeptics equal amount of air time?
This question was recently asked by an independent body in Britain, the BBC Trust, calling on BBC to stop misleading viewers into thinking that the "debate" on climate change is equal. While critical opinion should not be ignored, they stated, a minority of unqualified skeptics should also not be portrayed as having the same weight as the majority of professional climate scientists. According to the Washington Post, BBC has recently taken steps to address this:
Since the review began in 2010, nearly 200 BBC senior staff were sent to workshops to learn what it means to cover science impartially. "The key point the workshops tried to impart is that impartiality in science coverage does not simply lie in reflecting a wide range of views, which may result in a 'false balance'…"
In response to the report, BBC News announced that its reporters will be directed to significantly reduce air time to climate deniers and broader anti-science viewpoints. This announcement reflects the culmination of the network's efforts to improve the accuracy and fairness of news coverage.
Providing an unbalanced view about the accurate science behind environmental issues is not only dishonest, but it's a serious danger to modernizing the environmental laws and regulations that are so fundamental to our health and well-being. It's time to stop giving climate change deniers and science skeptics so much media coverage, and focus on the important task of addressing the climate problem and the interconnected environmental problems of global economic sustainability.
Representation of climate change (and climate denial) in the media reflects a broader concern of mine: a willfully uninformed American public. We need to increase the level of science literacy in this nation if we want to get out of the global sustainability crisis we have created. The world's economy is based on technology that is growing more complex, and the impact of that technology on our fragile planet cannot be understood without basic scientific research. Detailed knowledge of our planet's systems is necessary if we are to learn how to properly manage production and consumption of our natural resources and ensure environmentally-sustainable economic growth.
The anti-science sentiment we see reflected in the media every day reflects individuals that come to a discussion with ideological biases that prevent reasoned debate and discussion. We need to realize that science is science—not a partisan issue—and understanding it is the first step in dislodging those biases. I'm not certain how to stimulate the public's scientific curiosity and interest. I do know, however, that the earth systems research and sustainability education that takes place at America's great research universities—including Columbia University's Earth Institute—is an important component of putting us on a path to a sustainable economy.
Disturbing footage of a snake in Goa, India vomiting an empty soft drink bottle highlights the world's mounting plastic pollution crisis.
Keep reading...
Show less
By Melissa Hellmann
When her eldest son was in elementary school in the Oakland Unified School District, Ruth Woodruff became alarmed by the meals he was being served at school. A lot of it was frozen, processed foods, packed with preservatives. At home, she was feeding her children locally sourced, organic foods.
Keep reading...
Show less
May. 28, 2017 01:33PM EST
Laurie Woolever
By James O'Hare
There are 20 million people in the world facing famine in South Sudan, Somalia, Nigeria and Yemen. In developed nations, too, people go hungry. Venezuela, for instance, is enduring food insecurity on a national level as a result of economic crisis and political corruption. In the U.S., the land of supposed excess, 12.7 percent of households were food insecure in 2015, meaning they didn't know where their next meal would come from.
Keep reading...
Show less
May. 28, 2017 01:22PM EST
Melwater, Greenland ice sheet. Diane Tuft
Artists are taking the climate crisis into frame and the results are emotional, beautiful and stirring.
So you've seen the best climate change cartoons and shared them with your friends. You've showed your family the infographics on climate change and health, infographics on how the grid works and infographics about clean, renewable energy. You've even forwarded these official National Oceanic and Atmospheric Administration graphs that explain the 10 clear indicators of climate change to your colleagues at the office.
Keep reading...
Show less
May. 27, 2017 01:11PM EST
As the Trump administration moves full speed ahead on boosting the oil and fossil fuel industry, opposition to increased pipeline construction is cropping up in different communities around the country.
Keep reading...
Show less
May. 27, 2017 01:02PM EST
Minke whale stranding near Havergate Island in Suffolk. MCGA.
By Simon Evans
Last Saturday, two dead whales washed up on the coast of Suffolk, in eastern England, and a third was spotted floating at sea.
What happened next illustrates how news can spread and evolve into misinformation, when reported by journalists rushing to publish before confirming basic facts or sourcing their own quotes.
Keep reading...
Show less
May. 27, 2017 01:22PM EST
By Monica Amarelo and Paul Pestano
Sun safety is a crucial part of any outdoor activity for kids, and sunscreen can help protect children's skin from harmful ultraviolet rays. Kids often get sunburned when they're outside unprotected for longer than expected. Parents need to plan ahead and keep sun protection handy in their cars or bags.
Keep reading...
Show less
May. 27, 2017 01:02PM EST
By Joe McCarthy
A lot of people take part in community clean-up efforts—spending a Saturday morning picking up litter in a park, mowing an overgrown field or painting a fence.
Keep reading...
Show less