Teen Activist Walks Across America for Climate Action
Are you tired of hearing how apathetic young people are? Then listen to Kelsey Juliana.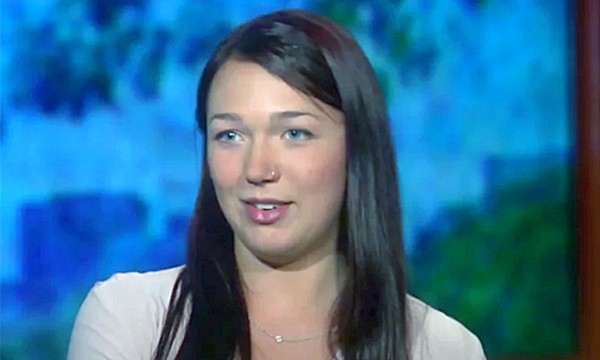 Her parents met in '90s while protesting logging in Oregon's old-growth forests, and she's a chip off the old blocks. Now 18, she's a plaintiff in a lawsuit to force Oregon to act to reduce carbon emissions that are driving climate change.
She'll be in New York City for the People's Climate March but she's in the midst of a longer walk. She's joined other environmental activists in the Great March for Climate Action, which stepped off in Los Angeles on March 1 and winds up in Washington D.C. on Nov. 1. The group is taking a break just as they're crossing the Indiana border into Ohio and taking a bus to New York City to join the march.
Juliana talked to Bill Moyers on this week's edition of Moyers & Company to explain why she's so devoted to saving the planet.
"You don't have to call yourself an activist to act," she says on the segment. "I think that's so important that people my age really get [that] into their heads. As a younger person, I have everything to gain from taking action and everything to lose from not. It's important that youth are the ones who are standing up because of the fact that we do have so much to lose. We don't need to only look at ecology. We can look at it as, 'Why do I care about climate change? Because I want to be able to do things. Because I want to ensure my children will be able to do things.'"
YOU MIGHT ALSO LIKE
The People's Climate March: A Time Where 'We' Can Make a Difference
Naomi Klein on Democracy Now! Discussing Capitalism vs. the Climate
Josh Fox: It's Easy to Switch to Renewable Energy
www.facebook.com
Keep reading...
Show less
Scott Pruitt testifies during his Senate confirmation hearing for EPA administrator, January 2017.
The U.S. Environmental Protection Agency's (EPA) chief of staff pressured the leader of its Board of Scientific Counselors to change her congressional testimony to downplay the impact of the agency's mass dismissal of scientists from the board, the New York Times reports.
Keep reading...
Show less
By Jason Mark
Sequoiadendron giganteum. That's the scientific name for the giant sequoia: the mammoth trees found in California's Sierra Nevada that are the largest organisms on Earth, and among the longest-lived. Biologists estimate that about half of all sequoias live in Giant Sequoia National Monument, a 328,000-acre preserve in the Southern Sierra Nevada established by President Clinton in 2000.
Now that national monument is in jeopardy.
Keep reading...
Show less
By Andy Rowell
Donald Trump this week is launching an "energy week," pushing the argument that the U.S. will become a net exporter of oil and gas.
The president and his cronies are talking about a new era of "U.S. energy dominance," which could stretch for decades to come. However, no one believes the president anymore.
Keep reading...
Show less
UN
By Colleen Curry
The United Nations has designated 23 new sites around the world to its World Network of Biosphere reserves—stunning natural landscapes that balance environmental and human concerns and strive for sustainability.
The forests, beaches and waterways were added to the list this year at the International Coordinating Council of the Man and the Biosphere Programme meeting in Paris earlier this month.
Keep reading...
Show less
Jun. 26, 2017 01:48PM EST
www.elysee.fr
By Andy Rowell
There is a growing feeling within European capitals that a quiet, but deeply positive, revolution is happening under Emmanuel Macron in France.
Macron's opinion poll rating is high, especially boosted in how the young French president has reacted to Donald Trump on the international stage.
Keep reading...
Show less
Jun. 26, 2017 12:32PM EST
www.facebook.com
Keep reading...
Show less
Jun. 26, 2017 02:46PM EST
Keep reading...
Show less
Jun. 26, 2017 03:34PM EST
www.youtube.com
According to Bloomberg, "SeaWorld Entertainment Inc. received a subpoena earlier this month from regulators investigating disclosures and public statements by executives, including comments about the Blackfish documentary that caused a public backlash against the confinement of orcas.
Keep reading...
Show less


Get EcoWatch in your inbox