This website uses cookies to ensure you get the best experience while browsing it. By clicking 'Got It' you're accepting these terms.
Ted Cruz Continues to 'Coddle' His Fossil Fuel Funders in Wake of Deadly Texas Floods
Jun. 01, 2015 11:41AM EST
Climate
On paper at least, Texas Senator and declared 2016 presidential candidate Ted Cruz is an intelligent man. He graduated cum laude from Princeton University where he was a debate champion. He went onto Harvard Law School where he graduated magna cum laude and was primary editor of the Harvard Law Review.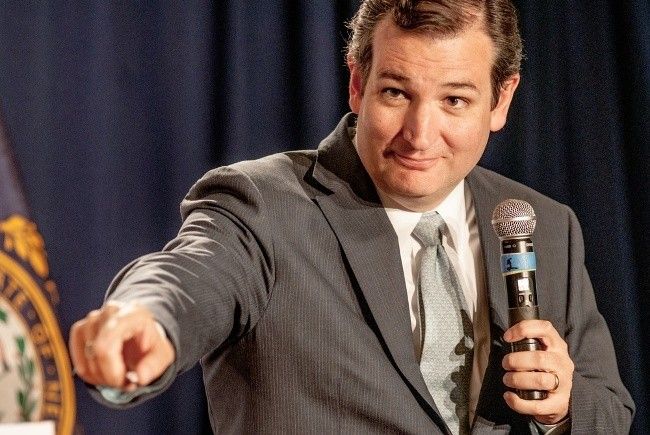 Photo credit: Shutterstock
But when Cruz talks about the climate, many people feel he sounds like the most ignorant and fact-challenged of his far-right followers.
Last week, as destructive floods swept his home state, killing more than two dozen people and destroying hundreds of homes, Cruz said, in response to a question about the role of climate change in the floods, "At a time of tragedy, I think it's wrong to try to politicize a natural disaster." Never mind that climate scientists in Texas and other places think that, far from "politicizing" the disaster, talking about climate change is the first step to finding a solution and protecting people from the impacts of climate change.
"As a scientist, I think it is essential to connect the dots between climate change and the increasing risk it poses to our families and communities," Katharine Hayhoe, an atmospheric scientist at Texas Tech University, told ThinkProgress in response to Cruz's attempt to disconnect the flooding from climate change. "Keeping our mouths shut on what the data is telling us, even if it's in fear of vicious reprisals, is like a physician not telling a patient they have a dangerous condition just because they're afraid of the patient's reaction."
"The science isn't political," she said. "It's the solutions that are political."
In a recent TEDxTexas talk, Hayhoe explains how today's warming caused by carbon emissions makes weather extremes more likely and more severe than they were in the past:
Michael Mann, director of the Earth System Science Center at Pennsylvania State University, suggested that Cruz might have ulterior motives for his persistent and outrageous climate denial statements, motives that could include the nearly 1 million dollars in campaign contributions Cruz has received from the oil and gas industry—his largest funder after Republican and conservative political groups.
"The ones politicizing the matter are those like Cruz who coddle their fossil fuel funders by denying the science of climate change and smearing those who attempt to point out the very real and damaging impacts climate change is already having," Mann told ThinkProgress. "It is shameful and history will judge it as such."
Cruz has a lengthy track record of politicizing climate science to push for policies that favor the fossil fuel industry.
Earlier this year, Cruz called California Gov. Jerry Brown, who has been working on strong new regulations on cutting fossil fuel emissions and increasing energy efficiency in his state and hammering our climate agreements with other government leaders, a "global warming alarmist" who doesn't want to look at what Cruz called "real data," although that apparently doesn't include the work of the 97 percent of climate scientists who accept that human-caused global warming is indeed real.
Days later, Cruz ratcheted up his rhetoric and his politicization of climate change, saying "global warming alarmists are the equivalent of flat-earthers" who are making "apocalyptical claims."
"You know it used to be it [was] accepted scientific wisdom [that] the Earth is flat, and this heretic named Galileo was branded a denier," said Cruz.
When he wasn't busy telling interviewers that the climate scientists are wrong and that he and his ilk are the equivalent of Gallileo, he was embarrassing himself in a hearing of the Senate Commerce Subcommittee on Space, Science and Competitiveness, of which he happens to be chair. When NASA administrator Charles Bolden attempted to explain why the space agency studies climate change, Cruz retorted, "I would suggest that almost any American would agree that the core function of NASA is to explore space. That's what inspires little boys and little girls across this country. It's what sets NASA apart from any agency in the country. I am concerned that NASA in the current environment has lost its full focus on that core mission."
Cruz's fellow Senator Gary Peters, a Democrat from Michigan, backed Bolden, saying, "The chairman has mentioned that he wants science to drive the process here. Here we have leading experts in our country on science saying that the cuts that we saw in Earth sciences were disastrous in the Bush era."
YOU MIGHT ALSO LIKE
Climate Denier Ted Cruz Announces Presidential Run, Gov. Brown Calls Him "Unfit to Be Running for Office"
9 Climate-Denying Republicans Who Might Run for President
EcoWatch Daily Newsletter
A. Battenburg / Technical University of Munich
By Sarah Kennedy
Algae in a pond may look flimsy. But scientists are using algae to develop industrial-strength material that's as hard as steel but only a fraction of the weight.
Variety of fermented food korean traditional kimchi cabbage and radish salad. white and red sauerkraut in ceramic plates over grey spotted background. Natasha Breen / REDA&CO / Universal Images Group / Getty Image
Even if you've never taken probiotics, you've probably heard of them.
These supplements provide numerous benefits because they contain live microorganisms, such as bacteria or yeast, which support the healthy bacteria in your gut (1, 2, 3, 4).
Pexels
Singapore will become the first country in the world to place a ban on advertisements for carbonated drinks and juices with high sugar contents, its health ministry announced last week. The law is intended to curb sugar consumption since the country has some of the world's highest diabetes rates per capita, as Reuters reported.
A typical adult takes around 20,000 breaths per day. If you live in a megacity like Beijing, with many of those lungfuls you're likely to inhale a noxious mixture of chemicals and pollutants.
Fred Stone holds his brown swiss cow Lida Rose at his Arundel dairy farm on March 18 after a press conference where he spoke about PFAS chemical contamination in his fields. Gregory Rec / Portland Portland Press Herald via Getty Images
By Susan Cosier
First there was Fred Stone, the third-generation dairy farmer in Maine who discovered that the milk from his cows contained harmful chemicals. Then came Art Schaap, a second-generation dairy farmer in New Mexico, who had to dump 15,000 gallons of contaminated milk a day.
Protesters attend the 32nd annual Fur-Free Friday demonstration on Nov. 23, 2018 in Beverly Hills, California. Ella DeGea / Getty Images
California Governor Gavin Newsom signed into law a bill that that bans the sale and manufacture of fur products in the state. The fur ban, which he signed into law on Saturday, prohibits Californians from selling or making clothing, shoes or handbags with fur starting in 2023, according to the AP.
By Simon Evans
During the three months of July, August and September, renewables generated an estimated total of 29.5 terawatt hours (TWh), compared with just 29.1TWh from fossil fuels, the analysis shows.
A demonstrator waves an Ecuadorian flag during protests against the end of subsidies to gasoline and diesel on Oct. 9 in Quito, Ecuador. Jorge Ivan Castaneira Jaramillo / Getty Images