This website uses cookies to ensure you get the best experience while browsing it. By clicking 'Got It' you're accepting these terms.
Paula Kahumbu attends the TDI Awards during the 2017 Tribeca Film Festival at Spring Studios on April 25, 2017 in New York City. Rob Kim / Getty Images for Tribeca Film Festival
Women have long been at the forefront of the effort to protect the earth and its creatures. Some of them, like Greta Thunberg and Jane Goodall, are household names.
Malala Yousafzai (left) and Greta Thunberg (right) met in Oxford University Tuesday. Wikimedia Commons /
CC BY 2.0
What happens when a famous school striker meets a renowned campaigner for education rights?
EcoWatch Daily Newsletter
The Diwalwal Gold Mine in Mindanao, Philippines on Feb. 1, 1988. Destruction of the environment by extractive industries is linked to significant threats to women's safety, a new study has found. Patrick AVENTURIER / Gamma-Rapho via Getty Images
By Julia Conley
Climate action leaders have warned for years that marginalized frontline communities in poor countries are already facing the most destructive impacts of the climate crisis, and a new study confirms those fears, detailing how women in those regions are at greater risk for violence and abuse as the environment is degraded.
Efetova / iStock / Getty Images
By Lucy Goodchild van Hilten
Three years into the Sustainable Development Goals—17 global goals set by the United Nations—many countries' policy makers are developing domestic legislation that will help them reach environmental targets, from cutting carbon emissions to improving clean water and sanitation. But when it comes to environmental research and action, weighing the options to reach policy decisions relies on personal experience and perspective as well as facts and evidence, and gender plays a major role.
Ankarb / iStock
By Carly Nairn
For International Women's Day, we decided to honor those lady writers bringing climate change to everyone's minds and eyeballs through world-building, apocalyptic scenarios. Pandemics, extreme weather, droughts and a militarized process of securing natural resources are common elements in climate fiction or "cli-fi"—and our anxiety-induced states make this the perfect time for an artful examination of the future of the environment.
United Nations Development Program Bangladesh
This Sunday marks the first anniversary of the Women's March that happened on the day after Donald Trump's inauguration—the largest protest march in our nation's history. The Sierra Club was there that day, and we'll be there this year, too—at a significant moment for women's rights and justice.
by Rebecca Adamson
The McKinsey Global Institute's report, The Power of Parity: How Advancing Women's Equality Can Add $12 Trillion to Global Growth, concluded that, "Gender inequality is not only a pressing moral and social issue but also a critical economic challenge. If women … do not achieve their full economic potential, the global economy will suffer."
Interviews collected by Emily Arasim and Osprey Orielle Lake
Indigenous women from across North America stand on the frontline of ongoing action to halt construction of the Dakota Access Pipeline. They stand to protect the Earth, water, global climate, and the sacred sites, Indigenous rights and communities of the region.
Osprey Orielle Lake
"It is so important for us all to stand with Standing Rock and help them succeed in stopping this pipeline, because this is not just about Standing Rock, this is about all nations around the world, including the non-natives, this affects everyone from East to West." — Smiles for the People, Rosebud Sioux Peoples of South Dakota
Since early 2016, the Standing Rock Sioux Tribe, and hundreds of Indigenous Nations and allies have been resisting the construction of the $3.7 billion-dollar pipeline, which would transport 470,000 barrels of oil every day and threaten massive damage to the land and the waterways, including the Missouri River, which serve as the source of the Standing Rock Sioux's drinking water, and which flow to millions of downstream residents across the U.S.
In recognition of the central role played by Indigenous women in the resistance effort, the Women's Earth & Climate Action Network, International (WECAN) interviewed women leaders of Standing Rock and allied Indigenous Nations, recording their experiences, visions and calls to action for social and ecological justice. Their voices are critical not only for the wisdom, solutions and pointed analysis that they offer, but also because of the direct, violent impacts of the fossil fuel industry that are often borne disproportionately on the bodies of Indigenous women.
With conviction and care, the women convey that protecting water and sacred places has always been their traditional role as women, and they are taking a fierce stand to ensure a healthy life for generations to come.
The women also express that this is not just a fight to stop dangerous fossil fuel infrastructure and ensure the protection of water—it is also the culmination of ancestral prophecies, and the extraordinary next step of an Indigenous rights movement that has been building in this country for decades and generations.
They speak of the need for ceaseless action for Indigenous sovereignty; for a new relationships between Native communities, governments and corporations; and for a paradigm of socio-ecological balance based on respect for women and the Earth. These things are inseparable, they explain—when there is respect for women, there is respect for water, and there is respect for life.
Women on the frontline also decry the rapidly escalating militarization and abuses of local law enforcement, which has included the use of attack dogs, mace, intrusive surveillance and physical violence against those involved in ongoing non-violent direct actions based in traditional prayer and ceremony.
Since the collection of these statements, mass arrests, check-points , violence and intimidation against land and water defenders has grown more dire. Leaders from diverse national and international institutions point to a long legacy of colonial injustices against Native peoples in the U.S., ongoing through environmental racism, human and Indigenous rights abuses and damage to the Earth by corporate and state actors who continue to push forward pipeline construction.
The words and determination of these women stand strong as beacons of hope, resistance and love that shine far beyond the corporate pillage of Energy Transfer partners and the banks and corporations financing the pipeline.
The insights of these dedicated Indigenous women leaders call out to a world facing climate disaster and massive degradation of the Earth's ecological systems. Their testimonies remind us that it is time for women's knowledge and leadership, that it is time to respect Indigenous rights, that it is time to make a stand for all generations to come—and that it is far past time to stop the Dakota Access pipeline. Together the women raise their voices to declare, "Mni Wiconi, Water is Life!"
LaDonna Brave Bull Allard

LaDonna Brave Bull Allard (Standing Rock Sioux of Fort Yates, North Dakota)—founder of the Camp of the Sacred Stones, landowner along the proposed Dakota Access Pipeline routeEmily Arasim
On April first we started the Sacred Stone Camp to stand up against Dakota Access Pipeline. We have been here since then, standing up in prayer, doing our best to stop a pipeline that will damage our water. First and foremost we are water protectors, we are women who stand because the water is female, and so we must stand with the water. If we are to live as a people, we must have water, without water we die. So everything we do as we stand here, we must make sure that we do it in prayer, and that we do it in civil-disobedience. We do it with goodness and kindness in our hearts, but we stand up. We will not let them pass. We stand. Because we must protect our children and our grandchildren.
The abuse against women is well know in American history, world history—and this tells you a lot about what is happening to our Earth. If you respect women, you respect Earth and you respect water ... It's so simple, this whole fight, it has nothing to do with being an activist, but it has everything to do with being a mom.
As a mom, it's really hard to lose a child, you are never the same, and so when my son died, I buried him on that hill over there, so that he would be right there to watch the mouth of the Cannon Ball and the Missouri Rivers. And when they told me they were going to build a pipeline I was like, 'I can't allow that, I can't allow anybody to put a pipeline next to my sons graves'.
Jaslyn Charger

Jaslyn Charger (Cheyenne River Sioux of Eagle Butte, South Dakota)—founder of the International Indigenous Youth CouncilEmily Arasim
As soon as I set foot here, I knew that I had to be here. I knew that this was the place I was meant to be, the place where I would benefit my people most ... I felt the call, and I've just been active in this fight ever since, because I feel the pain of what the government is doing to our Mother Earth. They are raping her, across the world they are cutting up her belly and bringing out all her guts and it's just not right. We as woman we can feel her pain, we have that connection to her. We can hear her screams even though she doesn't have a voice, we see it. There used to be so many snows here, there used to be so many animals, and they are gone.

It's only going to take two hours for the oil to reach my community and reach my people. There will be no warning for us, they aren't going to tell us if the pipeline breaks, they are going to try to cover it up. Our water would be contaminated ... that's environmental racism. It is. On my people.
So what I did here in Standing Rock is to build the International Indigenous Youth Council, where youth can voice their opinions, where youth can be heard—because our voice is a strong one. This is our future ... I am here for my children that have not yet come. I want to tell them someday, hey, I loved you so much that I gave my life for you, I gave my life to defend your land and your water.
If you do have fear, find courage, because there is someone out there who needs you, there is someone out there in the future that is depending on you, and that's what we all gotta remind ourselves ... because we need to find strength in our pain ... because no matter what they do to us, no matter what they say, no matter if they bring dogs, mase, beat us to death—we are still going to be here ... Natural never breaks, but everything man-made does. Everything man made breaks, including our laws and our government, and it is up to us, as citizens of the United States, as citizens of this great country, we have to hold them accountable. And that is what we are doing here.
Champa Seyboye

Champa Seyboye (Spirit Lake Sioux living in Mandan, North Dakota)Osprey Orielle Lake
I am here at the Oceti Sakowin camp to support clean water, to support Mother Earth. I have a daughter, I am here with my grandmother, my uncles, my sisters, and what I hope comes of this is more awareness of the need for clean water, it is our right—we all deserve clean water, we shouldn't have to fight tooth and nail constantly to get something that Mother Earth provides for us. There are so many bodies of water around the world that we can no longer drink from, and the Missouri River provides water to so many of us. If it gets contaminated a lot of people will be affected. I hope for more people to understand the value of water, and what that means for everyone—from our kids to our elders.
Kandi Mossett

Kandi Mossett (Mandan, Hidatsa, Arikara from New Town, North Dakota) —Indigenous Environmental Network lead organizer on the Extreme Energy & Just Transition CampaignEmily Arasim
I stand with Standing Rock to help stop this greedy oil industry that initially came from where I live north-west of here, where they started digging oil out of the ground in the Bakken formation. This is a pipeline that is over 11,000 miles in length, and which is endangering everyone all along the water corridor down to the Gulf of Mexico and out to the world. Immediately in this location we have millions of people that will be impacted directly, so this is not just about the few of us holding it down here in Cannonball, North Dakota - this is about all of us who live downstream. This is about protecting our water sources - it is not just about one pipeline.

The big picture is that the fossil fuel industry is on its way out. This country mostly, and our choices as human being around the world, are causing climate chaos, and that is why we see rising ocean levels and Pacific Island states disappearing and people being displaced from their homes. Really—what we want is a just transition away from the fossil fuel industry. We have seen this country say we want to reduce our emissions—well if the Dakota Access pipeline were to be built that would be the equivalent of about 30 coal fired power plants per year being added to emissions to the air. That is equivalent to 21.4 million new vehicles per year. If this country of the U.S.A. was really serious about reducing emissions, we would absolutely not allow the Dakota Access Pipeline to be built.
Phyllis Young

Phyllis Young (Standing Rock Sioux)—former councilwoman for the Standing Rock Sioux Tribe and Central Oceti Sakowin camp organizerOsprey Orielle Lake
I am "Woman Who Stands By The Water" and my other name is "Woman Who Loves the Water." I was given those names by my people because it's been my life struggle to protect the water. I grew up on this river, I was removed and displaced when I was 10 years old, and I have never been compensated for the home that my grandparents lost. I came back here and I live on the river and I am telling the Army Corp, "You'll never displace me again. You'll never put me somewhere where I don't belong." ... We have been on a campaign for life, and it is our life struggle to maintain this river where we have lived all of our lives, under international principles of treaty that govern our relationship with the United States.

We want no pipeline. We want no oil going through our river, through our land. We want alternative energy sources—the sun is our brother. The sun is our natural world, and we need to utilize the solar and the natural energies that probably will devastate the capitalist world, but that's how it has to be. We're at a new threshold of human rights. It's not about just us. It's about the whole world. It's about Mother Earth, having endured her suffering for this long, she needs our help. She needs our protection. She's a female, and Indigenous people are the keepers of Mother Earth. We're obligated to keep her water for her, and maintain the life as created, and for us. We have deep spiritual obligation to protect our place—so we're petitioning the United Nation's Human Rights Commission to send observers here, and we're petitioning the commission to eliminate racial discrimination with a formal charge on the Bismarck route being changed to Standing Rock. We are invoking all of our rights to the water, to the treaty crossing, and we need allies to help us continue ... We are here for the long haul. We are here. We're staying here until there is no pipeline.
Lauren Howland

Lauren Howland (Jicarilla Apache of Dulce, New Mexico)—International Indigenous Youth council memberEmily Arasim
I'm here to stand for the water. I'm here to fight for my children, and my children's children—for the generations to come. I'm here to protect these people all around us, this land, this is sacred land, there are burial sites all through here ... This is a youth led movement, people forget that, that the youth are here fighting. Come to Standing Rock. ... You will be taken care of, that is the way of our people. We are bringing our prayers, we are bringing our Chanupas, we are bringing our tobacco. We are stopping this black snake that would kill us. This pipeline here would kill us, it would give us cancers, it would give our kids cancers. There's gonna be no future generations if this pipeline is built. Go look out at the soil by the pipeline. ... They are hurting my Mother Earth, they are hurting our Grandmother Earth, they are hurting Turtle Island [North America]. They are not here for themselves or us, they are here for the money. Pipeline workers, police, if you hear this, you need to understand how you are hurting us, how you are hurting the children.
Shrise Wadsworth

Shrise Wadsworth (Hopi of the Bear Strap Clan from Shungopavi Village, Second Mesa, Arizona, pictured on the left)sprey Orielle Lake
I am here joining the peaceful protesters here at the Standing Rock Sioux Reservation to be a part of all of this, to show my support for my brothers and sisters, and to spark inspiration and motivation in my generation to get out there and embrace their heritage, embrace who they are as people, to show my community that they too do have a voice and their voice does matter. It is a beautiful thing to be here and see all the Nations reunited, together as it should be.
Joye Braun

Joye Braun (Cheyenne River Sioux of Eagle Butte, South Dakota)—Indigenous Environmental Network representative and Dakota Access community organizerEmily Arasim
On April 1st, I helped put out a call for other pipeline fighters, and cousin answered the call and me and my cousin became the first two campers at Sacred Stone Camp ... When we were down fighting Keystone XL, my daughter, she had this huge epileptic seizure ... and when she came too, she told us what she had seen, and what she saw was these black snakes that were coming across the land, and that we were going to chop the head off of one of them, but once we chopped the head off of that one, others would pop up, and we had to be ready. And she said that the women were going to be in front of this fight, women were going to be standing in the front in red shawls ... and you see that happening here ... we have to be ready to fight them, and we have to to take everything that we learned and teach elsewhere.
Michelle Cook

Michelle Cook (Diné of the Walk Around Clan from Oak Springs, Arizona) —Standing Rock legal advisorOsprey Orielle Lake
This river is central to the survival of a people—and to me when you threaten the survival of a people, their identity, their land base, their water, that's unacceptable. That's a paradigm that has no place in today's world and so that's why I'm here.

We are fighting the Dakota pipeline, but we're also fighting the whole system of violence. The whole system which has called us savages. Which has denied us our ability to be human—and we're responding to that by creating a community that has it's own values. That respects its women. That gives its children priority. That will teach its children the traditional knowledge of life, that will give them life ... When I saw the young women crying out for help, I said I have to be there because I'm not going to watch these people be desolated for the greed of a corporation that does not love this land, that is not part of this land. That's the beautiful work that we're here for. ... When we have natural resource development which is unsustainable, which threatens the very life of human beings and the natural world, we say absolutely no, it's unacceptable. We deserve better than that. We're not going to let the future of America, the future of Turtle Island to be robbed and taken and stolen from us.
Tara Houska

Tara Houska (Ojibwe, Couchiching First Nation of International Falls, Minnesota)—national campaigns director of Honor the EarthEmily Arasim
I came to Standing Rock when I heard a call out for help, to protect the water and to stop this destructive project from going through these people's homelands. I came here to stand with my Indigenous relatives for something that is much larger than just a single project. We want to stop this project but we also want to take a stand and say, 'no more'. Enough is enough. Indigenous people have been targeted for far too long and we've had to give up everything. We've been targeted for our homelands, for our children, for our language, for our culture—and what little we have left, what remnants we have left is now being threatened with contamination and destruction and our children are still targeted, and it needs to stop. And so I am hopeful that when we stop this project, it will be a moment in which people will realize that Indigenous nations are here, and we are sovereign, and we are not going to tolerate the conversation as it is today.
Eryn Wise

Eryn Wise (Jicarilla Apache and Laguna Pueblo, New Mexico)—International Indigenous Youth Council member and media coordinatorEmily Arasim
I had a dream about two months into being here, that my grandma who has passed away asked me for a glass of water - and when I went to give her the glass of water, it was full of dirt and oil. And she kept trying to drink it, and I was just so desperate to get her some water, but I couldn't find any anywhere, and I was really worried that if I didn't step up and do something to help protect the water, that we wouldn't have it anymore—I was seeing myself down the line without it.

And so I am here, taking part in this movement that everyone needs to be part of ... We will stop the Dakota Access pipeline—and this will continue outside of Standing Rock—and that is something that I deeply hope and know will happen.
Winona Kasto

Winona Kasto (Cheyenne River Sioux)—cook at Oceti Sakowin CampEmily Arasim
I am a traditional cook for Lakota peoples and I've been cooking for about thirty years. It's always so important for me to be here, to be there for the people, the people we must feed to stay strong, so they can stay here and do the work they are doing for us all.
Morning Star Gali

Morning Star Gali (Achomawi Band of Pitt River, Northeastern California)Osprey Orielle Lake
We are here, with the frontline defenders, with the women, with the women that are holding the line ... with a woman who is facing felony charges, all because she is standing for her children, who are here at the camp. All of us here are here for our future generations, so that we will have clean water.
The atrociousness regarding what happened with the burial sites being dug up by machinery, it's unfortunately not an uncommon occurrence for us, for Native peoples. We do not have the right to practice our religious freedom, we do not have the right to practice our traditional ceremonies—we have seen that this week in terms of helicopter flyovers, drone flyovers while we are going and making our offerings and putting those prayers and tobacco down. We are here to stand with the people here—we are here to stand for the protection of all sacred places.
Leanne Guy

Leanne Guy (Diné, from Navajo, New Mexico)—executive director of the Southwest Indigenous Women's CoalitionEmily Arasim
We are, as tribal peoples, connected to our lands, to our culture, to our languages. As women, we are life givers, we are nurtures within our communities, and have such a strong connection to Mother Earth as well. Violence against Mother Earth is violence against our women. And, that is part of what we stand for. Trying to end the violence—sexual and domestic violence, and also making that connection to Mother Earth, to the water, to our lands and to us as people. We are uniting against all of the pipeline industry—all of the extraction that is happening against our Earth, our women, our girls, our boys, our men. We are here to provide our support and to stand together as women in the movement, and with all of our relatives here.
Deezbaa O'Hare

Deezbaa O'Hare (Diné, Irish/Swedish residing in Oakland, California)Emily Arasim
As Indigenous people we know that water is life, we know that we come from the water, the first environment is this water, and the women carry that. We carry that water inside of us. And this is about this to, this is about connection. ... We have to listen to our core, our core responsibilities as humankind, let us honor ourselves, let us honor each other, let us take care of ourselves as we take care of the world around us. ... There is a prayer that has been laid down here and it's not just for our generation, is for the next generations, and so we carry that, we carry that forward for healing and wellness for the Earth. And we are not being asked to do this alone, it is time for all people of all nations to wake up and listen to the water. Water is life.
Osprey Orielle Lake is the founder and executive director of the Women's Earth and Climate Action Network (WECAN) International . She is the author of the award-winning book Uprisings for the Earth: Reconnecting Culture with Nature. Follow on Twitter @WECAN_INTL.
Emily Arasim is the Communications Coordinator and Project Assistant for WECAN International. She is an avid photojournalist, writer, seed saver and farmer from New Mexico.

Kaye Spector
Environmental activist and consumer advocate Erin Brockovich said in a recent interview that  individuals can—and should—exert influence on big corporations by flexing their muscles at the local level. That means using social networks, such as Facebook and Twitter, and showing up at local government meetings to express their opinions.
"It begins at a very local level," Brockovich told EnviroNews in the video interview below. 
Sometimes just showing up at a local meeting can influence politicians, she said. "When people are there, they've  got something to answer for."

The Center for Environmental Health (CEH) today released a new report outlining the health risks to pregnant women and young children from harmful chemicals used in fracking. The report, Toxic and Dirty Secrets: The Truth About Fracking and Your Family's Health, shows how chemicals related to the oil and gas industry when conducting fracking operations can pollute the air and water in communities around fracking sites and pose health risks especially to pregnant women and children, who are most vulnerable to chemical exposures.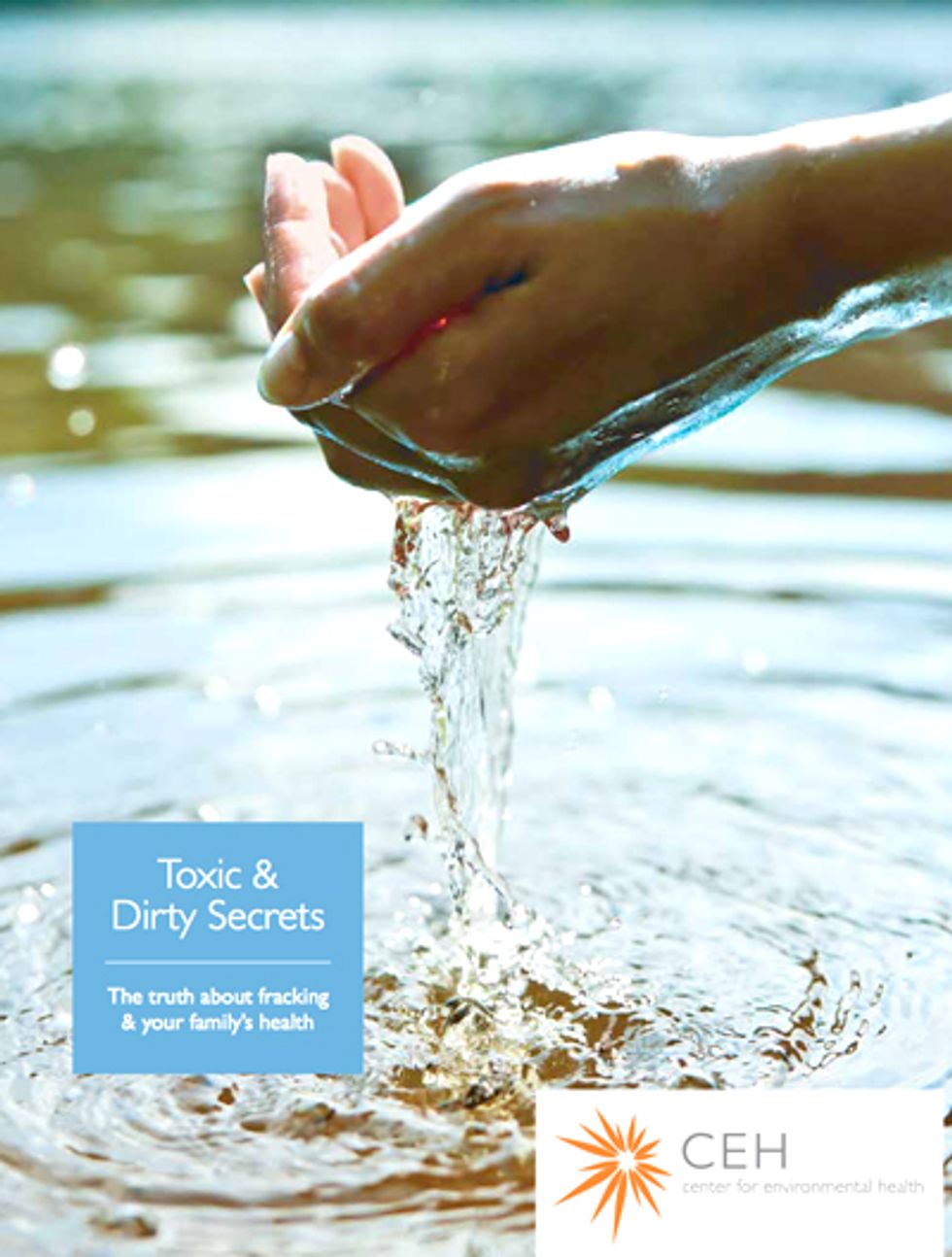 Toxic and Dirty Secrets: The Truth About Fracking and Your Family's Health
by Center for Environmental Health.
"Many harmful chemicals that we have been working so hard to eliminate from consumer products are now being used in mass quantity by fracking operations. In many instances, residents near fracking sites have already suffered from chemical pollution in their air and water," said Ansje Miller of CEH, a co-author of the report. "Current regulations allow companies to hide the fact that they are poisoning us with these chemicals under a claim of 'trade secret.' This is unacceptable, and leads to serious health risks, especially to pregnant women and children."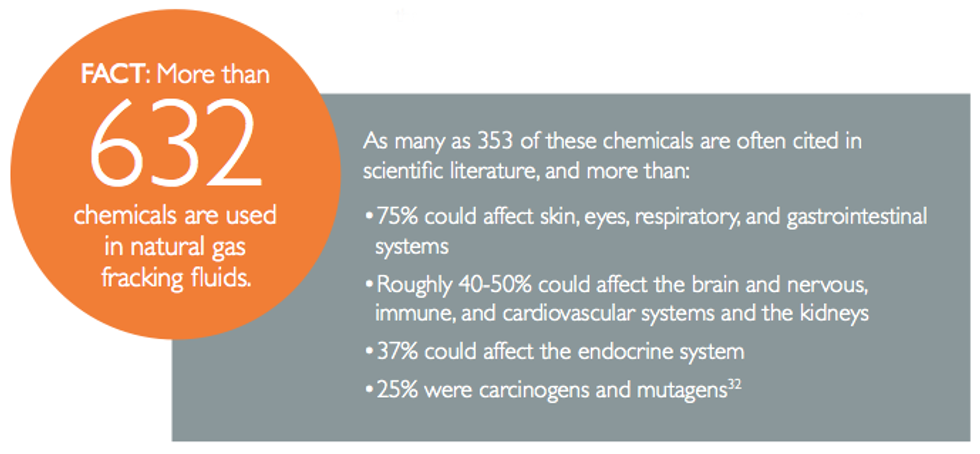 The chemicals used in fracking operations, from extraction to processing, distribution, transport and waste disposal, can pollute surrounding air and water. These harmful chemicals pose serious health risks to surrounding communities, and in particular to pregnant women and children. Just some of the harmful substances commonly used in fracking include methane, BTEX (benzene, toluene, ethylbenzene and xylenes), arsenic, radium, ozone, formaldehyde, radium, radon, nitrogen oxides, methylene chloride and silica sand. These substances are associated with low birth weight, birth defects, respiratory problems, cancer and fertility problems.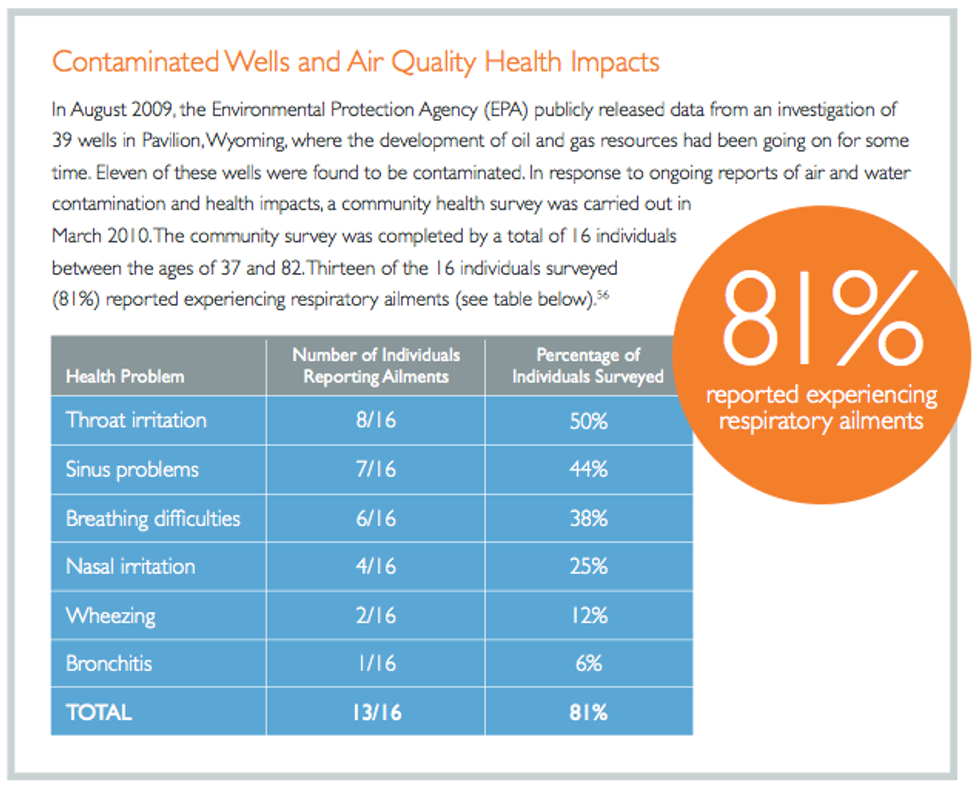 According to New York State Sen. Tony Avella, "More and more individuals are starting to realize that hydrofracking is an extremely dangerous drilling practice and its effects, both known and unknown, are too dangerous to not have a comprehensive and transparent health impact analysis. There have been a variety of illnesses associated with residents living near hydrofracking sites, such as loss of smell, memory problems, headaches, respiratory illness and stillbirths. This is why an impact study remains paramount in determining the effects of hydrofracking prior to even considering allowing fracking in our State. I commend the Center for Environmental Health for releasing this important report which further focuses on health effects on mothers and children as a direct result of hydrofracking. The evidence is simply overwhelming against this dangerous practice. I will therefore continue to advocate for the State of New York to heed these warnings."
Fracking has also been found to alter the social fabric of the communities where it occurs. The process increases road traffic, which increases stress, injuries and fatalities. Fracking also causes industrial noise, which is correlated with hypertension, sleep disturbance, cardiovascular disease, stroke, increased aggression, depression and cognitive impairment. Fracking has also caused social disruption, and has been correlated with increases in sexually transmitted diseases, substance abuse and violent crime.
"Nurses are deeply concerned about the irreparable harm fracking inflicts upon the people and communities in their care," said Kathy Curtis, LPN, Board Member of the Alliance of Nurses for Healthy Environments. "Environmental damage, diseases and disorders and negative social impacts are just part of the problem. What we don't hear much about is another chemical industry dirty little secret: much of the fracked gas will supply cheap energy and feedstock to make yet more toxic chemicals. Further, our communities will be irrevocably contaminated, not to provide inexpensive home heating as has been advertised, but to ship the gas to China."
"Fetuses and children are disproportionately vulnerable to the deleterious effects of exposure to environmental toxicants," said Dr. Sheila Bushkin, MD, MPH. "Although health impacts from industrial chemicals already exist in our population, the magnitude of risk would be greatly increased if High-volume Hydraulic Fracturing (HVHF) is permitted within the state of New York. Exposure to industrial chemicals and to ionizing radiation cause greater injury during development and early life. This may result in greater likelihood of birth defects, cognitive and behavioral development and lifelong disabilities. Likewise, environmental exposures to these substances, place pregnant women at greater risk from complications of gestation, resulting in increased maternal illnesses and mortality. From an ethical point of view, it is the responsibility of the medical community and legislative leaders to protect the health of the people of New York State and future generations. The first step would be to conduct a comprehensive Health Impact Assessment, prior to permitting the onset of HVHF activities within this beautiful state."
Visit EcoWatch's FRACKING page for more related news on this topic.
——–
Sign the petition today, telling President Obama to enact an immediate fracking moratorium: