This website uses cookies to ensure you get the best experience while browsing it. By clicking 'Got It' you're accepting these terms.
Coca-Cola says it will not phase out its plastic bottles. Roberto Machado Noa / LightRocket / Getty Images
Greenpeace activists at the Suwung landfill in Bali, Indonesia. Jurnasyanto Sukarno / Greenpeace
EcoWatch Daily Newsletter
Coke bottles found on Mull Beach in Scotland. Will Rose / Greenpeace
Coca-Cola, PepsiCo and Nestlé were identified as the world's biggest producers of plastic trash in global cleanups and brand audits, a new report from Greenpeace and the Break Free From Plastic movement reveals.
Over the span of nine months, an international team of volunteers sorted through 187,000 pieces of plastic trash collected from 239 cleanups in 42 countries around the world.
Pexels
Coca-Cola is "closely watching" the cannabis drinks market, the world's largest beverage company said Monday in an online statement.
Coke announced its interest after a report from Canada's BNN Bloomberg said the soda giant was in "serious talks" with Edmonton-based Aurora Cannabis, a medical marijuana producer and distributor, to develop drinks infused with cannabidiol, or CBD.
A lack of drinking water and a surplus of Coca-Cola are causing a public health crisis in the Mexican town of San Cristóbal de las Casas, The New York Times reported Saturday.
Some neighborhoods in the town only get running water a few times a week, so residents turn to soda, drinking more than half a gallon a day on average.
Coca-Cola
Coca-Cola intentionally funded the Global Energy Balance Network (GEBN) as a "weapon" in a "growing war between the public health community and private industry" on the causes of obesity, according to a press release sent to EcoWatch by consumer group U.S. Right to Know.
The quotes come from documents obtained in a Freedom of Information Request filed by U.S. Right to Know that formed the basis for a study published Wednesday in the Journal of Epidemiology and Community Health. The study's authors focused on the documents because they definitively proved that Coca-Cola funded the GEBN with the intention of influencing public health debate in their favor.
64 percent of bottled water comes from municipal tap water sources.
By Julia Conley
Bottled water companies have relied on predatory marketing practices and exorbitant lobbying efforts to sell Americans on the inaccurate belief that pre-packaged water is cleaner and safer than tap water—a notion that is costing U.S. households about $16 billion per year.
In a new report entitled "Take Back the Tap," Food & Water Watch explains that 64 percent of bottled water comes from municipal tap water sources—meaning that Americans are often unknowingly paying for water that would otherwise be free or nearly free.
By Eva Perroni
Film is an incredible tool for effecting change in the food system with its unique ability to educate, inspire and grow the movement for sustainable food and farming. Film can transport viewers to unseen territories, from Colombian coffee-growing regions to the bottom of the ocean, and unveil the stories, struggles and triumphs of those working in the hidden fabric of the food system.
Chris J. Ratcliffe / Greenpeace

By Louise Edge
Friday Greenpeace criticized Coca-Cola's new global plastics plan for failing to address the urgency of ocean plastic pollution.
The long awaited policy from the world's largest soft drink company featured a series of measures weaker than those previously announced for Europe and the UK.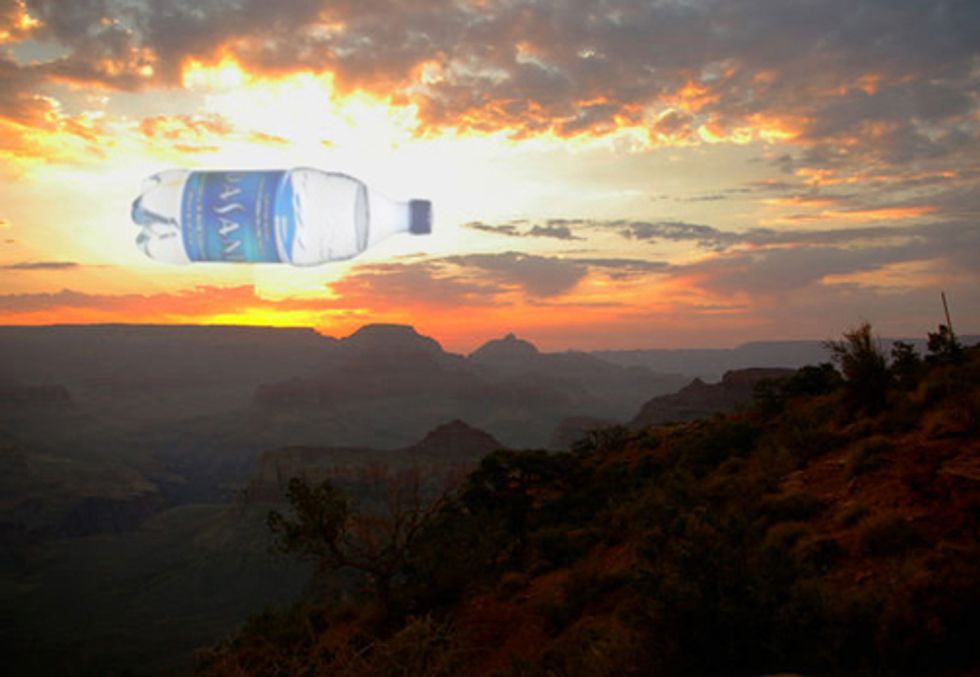 A new National Park Service (NPS) policy issued Dec. 14 may lead the way for plastic bottle bans in all national parks. This announcement comes after nearly 100,000 people across the country joined a popular campaign on Change.org calling on the NPS to ban plastic water bottles following the park's decision to abruptly cancel implementation of a ban amid charges of corporate influence from Coca Cola.
Stiv Wilson, who started the campaign on Change.org, signed by almost 100,000 people, said:
"While it is commendable that the National Park Service has decided not to completely cow to Coca-Cola on a plastic bottle ban, the new policy is still troubling.
"Unfortunately, the new directive, which allows park superintendents to implement bottle bans in their jurisdiction, may not result in changes best for our national parks. If the barriers to implementation of bottle bans are too cost-prohibitive or onerous for the superintendents to act, then we've only witnessed a bait and switch.
"The public outcry around the Park Service's seemingly backroom corporate deals has been overwhelming, and the public expects the NPS to go the whole way and save our national parks from plastic pollution."
Stiv Wilson launched the campaign on Change.org after learning of allegations that the NPS nixed its long-planned ban on plastic water bottles in the Grand Canyon due to a last-minute lobbying effort by Coca-Cola, a major national park donor actively opposed to bottled water bans. Wilson worked as a journalist before dedicating his life to reducing plastic pollution and joining the staff of 5 Gyres, a nonprofit focused on plastic pollution.
"Mobilizing 100,000 people to take action is no small feat," said Corinne Ball, organizing director at Change.org. "Stiv has demonstrated, through using Change.org's unique platform, that anyone, anywhere can act on issues that are important to them and create meaningful change."
Live signature totals from Stiv Wilson's campaign can be found by clicking here.
Related Links:
For Public Employees for Environmental Responsibility exposes the controversy, with documents from a whistleblower, click here.
For New York Times coverage that prompted Mr. Wilson to launch his campaign, click here.
For Stiv Wilson's blog post about the National Park Service directive on 5gyres.org, click here.
For more information, click here.
—————
5 Gyres is a research organization that seeks to communicate the global impact of plastic pollution in the world's oceans and employ strategies to eliminate the accumulation of plastic pollution in the 5 subtropical gyres. Almost 100,000 people have joined Stiv Wilson's campaign on Change.org
Change.org is the world's fastest-growing platform for social change—growing by more than 500,000 new members a month, and empowering millions of people to start, join, and win campaigns for social change in their community, city and country.