This website uses cookies to ensure you get the best experience while browsing it. By clicking 'Got It' you're accepting these terms.


The best of EcoWatch, right in your inbox. Sign up for our email newsletter!
Longview Daily News
Millennium Bulk Terminals of Longview, Washington, is making plans for a facility along the Columbia River that would export up to 44 million tons of coal a year to Asia, increasing U.S. exports of coal by 40 percent. But, the final environmental impact statement (FEIS) of the proposed coal-export terminal has residents fearing for the health of people and the planet.
By Zoe Loftus-Farren
The Oakland City Council took a strong stand against coal Monday night. Following a long and often emotional city council meeting—during which whistles and cheers were at times met with boos and yelling—the council passed an ordinance prohibiting the storage and handling of coal and petcoke at Oakland facilities and a resolution that would specifically apply the ordinance to the Oakland Bulk and Oversized Terminal (OBOT), which is being built on the old Oakland Army Base.
The Oakland City Council voted 7-0 to ban coal storage and handling in Oakland.
The meeting drew hundreds of impassioned Oakland residents, including representatives from the labor, faith, environmental and health communities, as well as the terminal developers. Those speaking against the terminal emphasized that West Oakland already suffers the effects of disproportionate air pollution. They argued that added particulate pollution tied to the coal export terminal could elevate the risk of health problems like asthma, cancer and lung and heart disease.

Several speakers also pointed to climate change and it's impact both globally and in Oakland.
"There is strong evidence that if coal is not shipped from OBOT, it will not be shipped and combusted at all," Linda Rudolph, director of the Climate Change and Public Health Project at the Public Health Institute, said, speaking to the city council prior to the vote.
"If coal is shipped from OBOT, the greenhouse gas emissions from burning that coal will be greater than that from all five bay area oil refineries. It will contribute significantly to climate change and climate change is the defining health challenge of this century. It's a serious threat to the health of Oakland residents."
Those speaking on behalf of the project said that measures could be taken to mitigate the impacts from coal and emphasized the jobs associated with the terminal project.
"[The terminal] will be the source of generational prosperity for many of the … un- and underemployed residents and most important, it will be safe," said Jerry Bridges, president and CEO of Terminal Logistics Solutions, which will operate OBOT. (Labor representatives, however, spoke out strongly against the use of the terminal for coal shipments, rejecting the idea that the issue is one of jobs versus community health or justice and pointing out that the terminal will create jobs regardless of the specific commodities shipped through it).
The buildup to the vote has been considerable. Oakland residents and activists have been advocating against coal exports since the spring of 2015, when plans to use OBOT for coal were first revealed. On Friday, they received a sign that their efforts might pay off when Oakland City staff released a report finding that the use of the terminal for coal exports would negatively impact the health, safety and general welfare of Oakland residents and recommending that the City Council pass both the ordinance and the resolution applying it to OBOT.
Furthermore, staff concluded that the city had legal authority to ban the export of coal through Oakland. (The original agreement between CCIG and the City of Oakland did not specify which commodities would be shipped through the terminal and prohibited modifications based on new laws. However, it included a caveat allowing for any modification that might be necessary to protect local health and safety).
The staff report itself was based in large part on a city-commissioned study on the impacts of the terminal prepared by Environmental Science Associates, that underscored the public health, safety and environmental impacts of transporting, storing and handling coal at the proposed shipping terminal. These include increased exposure to particulate pollution in communities already overburdened by pollutants, health and safety risks related to the spontaneous combustion of coal and increased global CO2 emissions associated with the burning of exported coal in power plants overseas.
The environmental consultancy's report reinforced findings from two additional studies, one commissioned by city council member Daniel Kalb, released just a day earlier and a second by the Public Health Panel on Coal in Oakland.
Kalb was optimistic going into the city council meeting. "I'm confident we will take action that will protect the public health and minimize safety risks," he said, speaking with Earth Island Journal by phone before the meeting. "I think there is plenty of analysis to suggest it is a serious health risk to a lot of people, especially workers and there are substantial safety risks."
The Oakland coal issue has spurred action far beyond city limits as well. In February, California State Sen. Loni Hancock, D-Oakland, introduced four bills targeting coal exports in California generally and the OBOT site specifically. The State Senate passed two of the bills in June—one that would prohibit the State Transportation Committee from funding coal storage or transportation projects in or adjacent to disadvantaged communities and another that would require additional environmental review of the proposed Oakland project. The two bills are now under consideration by the State Assembly.
Environmental groups have also been focusing on Utah, where pro-coal actors have worked to secure funding for the Oakland project as a means of ensuring export capacity for Utah coal. Specifically, the state has pledged $53 million in taxpayer funds toward a loan for the OBOT project in exchange for shipping rights at the terminal.
The funds were initially provided through a loan by the Utah Community Impact Fund, using money that was supposed to go towards mitigating impacts of mineral extraction in Utah. When that usage of funds was called into question, the Utah legislature approved a bill essentially swapping out those funds for other money to get around the rules.
Last week, Earthjustice, Sierra Club and Heal Utah, among other groups, sent a letter to the U.S. Department of Justice and the Department of the Interior demanding an investigation of the loan on legal and ethical grounds.
"I think some people want to frame this as a story about liberal West Coasters who are worried about climate change in the abstract versus coal miners in Utah," Ted Zukoski, an Earthjustice attorney who has been following the Utah developments, said. "This is about Utah and corporations they are working on behalf of, trying to offload the environmental damage to another community, cashing in while someone else suffers."
Throughout the four-hour Monday night city council meeting, many anti-coal activists, as well as council members, made a point of emphasizing that they were not opposing the Oakland Army Base redevelopment project or OBOT more generally, but rather the use of the terminal to export coal.
Prior to the meeting, David Smith, an attorney representing the developer, California Capital Investment Group, told the East Bay Express that they would go to court to challenge a coal ban.
Gregory McConnell, representing CCIG, reiterated this sentiment at the council meeting. Speaking to the city council in reference to a letter the company sent the council earlier in the day, he said "the developer will have no choice but to pursue all legal remedies to protect their interests" if the council voted to ban coal. He suggested that the city could be liable for hundreds of millions of dollars for breaching the development agreement.
"So this is not going to end tonight even if the decision that you make tonight says that you ban coal," McConnell said.
Environmental and community groups, however, praised the decision. "We stand with community groups and commend the City for taking a strong stance against coal and using its powers to protect its residents," Irene Gutierrez, an attorney with Earthjustice, said in a statement.
"We are totally delighted everybody came through that was there tonight," said Margaret Rossoff of No Coal in Oakland campaign, a grassroots organization campaigning to stop coal from being by rail through Oakland, right before joining a celebration with friends following the vote.
Both the ordinance and the resolution passed by 7 to 0 vote—one council member was excused from the meeting. The council will hold a second reading of the ordinance on July 19.
Zoe Loftus-Farren is associate editor of Earth Island Journal. Her writing has appeared in Alternet, Salon.com and Truthout, among other outlets. She has also worked as an environmental lawyer.
YOU MIGHT ALSO LIKE
Kochs Dump Trump to Fund Climate-Denying Senators in Ohio and Nevada
Nation's Capital Takes Major Climate Action Step: Unanimously Approves 50% Renewable Energy Target
'Three Amigos' Vow to Get Half Their Electricity From Clean Power by 2025
'We Are the Keepers of the Mountains … Love Them or Leave Them, Just Don't Destroy Them'
EcoWatch Daily Newsletter
The City of Portland in Oregon took a stand yesterday against dirty fossil fuels. It passed a resolution—with teeth—against new fossil fuel transportation and storage infrastructure in Portland and on our iconic rivers. Coal, oil and gas companies want to export stunning volumes of dirty fuel through our communities—the City of Portland just made that harder.
Policy resolutions are fine, but Portland's resolution will make an on-the-ground difference. The city council directs staff to propose changes to the city's code that will protect Portlanders from dirty fossil fuels. City laws about land use, public health, safety, building, electrical, nuisance and fire can all be updated to prevent fossil fuel exports. In other words, the city council message was: Do something. Write laws that matter.
What's at stake?
The Columbia River faces nearly a dozen terminals proposed to ship coal, tar sands oil, Bakken crude and fracked gas overseas. Tesoro, for example, proposes America's largest oil-by-rail export terminal—42 percent of the capacity of Keystone XL—across the river from Portland. And just downstream, a liquefied natural gas terminal would export more gas each year than the state uses. Building these terminals would ensure the use of fossil fuel infrastructure for decades, while energy giants mine, drill and frack to feed their export terminals.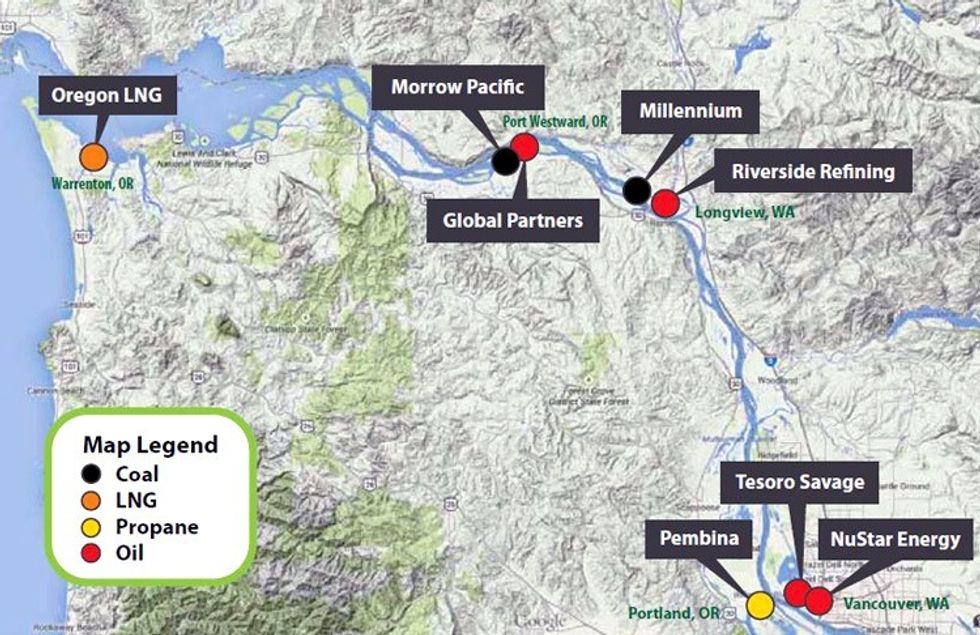 Critics may say cities can't stop fossil fuel exports, but cities actually have a significant say in whether fossil fuel shipping terminals are built. Earlier this year, Portland rejected a propane export terminal by refusing to bend its rules in order to protect the Columbia River. The goal is simple: if the city blocks new fossil fuel export terminals, it also blocks the dangerous trains, pipelines and oil tankers that would serve those terminals.
From Portland to Paris
As global leaders descend on Paris, Portland will not watch from the sideline; it will lead by example. Portland took action to address fossil fuels and carbon pollution instead of waiting (and waiting) for a top-down federal climate policy. Mayor Charlie Hales will travel to Paris to share Portland's plan and encourage others to take real steps forward on the global, national and local levels.
We are all in this together. It's time to do what we can.
Take action: Thank Portland's Council for bold action and encourage local climate leadership.
YOU MIGHT ALSO LIKE
Gov. Cuomo Vetoes Port Ambrose Liquefied Natural Gas Project
How COP21 Will Unleash Massive Global Renewable Energy Growth
TransCanada's Next Move? Pipeline to Mexico Carrying U.S. Fracked Gas
Bill Nye, While Driving a Tesla, Shares 5 Ways to #BeUnstoppable
The cornerstone of Northwest Native American art, the totem pole, served as both inspiration and rallying point this week when more than 250 residents of Whatcom and Skagit Counties in Washington state, both tribal and non-tribal, gathered at the Lummi Nation to launch the totem pole journey. The focus of the event was the announcement by six major Christian churches in the Pacific Northwest that they would join the fight to block North America's largest coal terminal at Xwe'chi'eXen, the Lummi name for Cherry Point.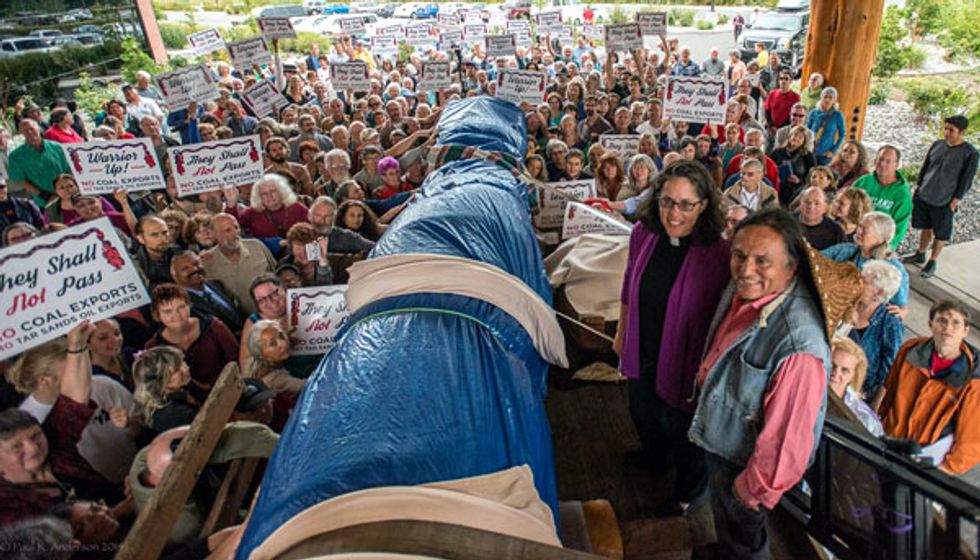 "I am honored to be here to speak for the promises that need to be kept, and our promises yet to be made," said Reverend Charis Weathers, a Lutheran pastor who delivered the announcement to leaders of the Lummi Nation. "We hope that this journey will call people to action, that the eyes of those who have not seen what is happening to the land and waters will be opened, and the ears of those who have been deaf to the cries of the earth will finally hear."
The ceremony began with a statement from Lummi Chairman Tim Ballew that endorsed the 5,500-mile totem pole journey. The journey will visit churches all over the Pacific Northwest that have signed onto the letter opposing coal export proposals. Lummi tribal member Freddie Lane delivered the Chairman's statement to the assembled crowd.
"Already, coal export officials have shown breathtaking disrespect for our heritage," the statement read. "To those who would sacrifice the way of life of all peoples of the Pacific Northwest, we say: take notice, you will not win this battle. Enough is enough!"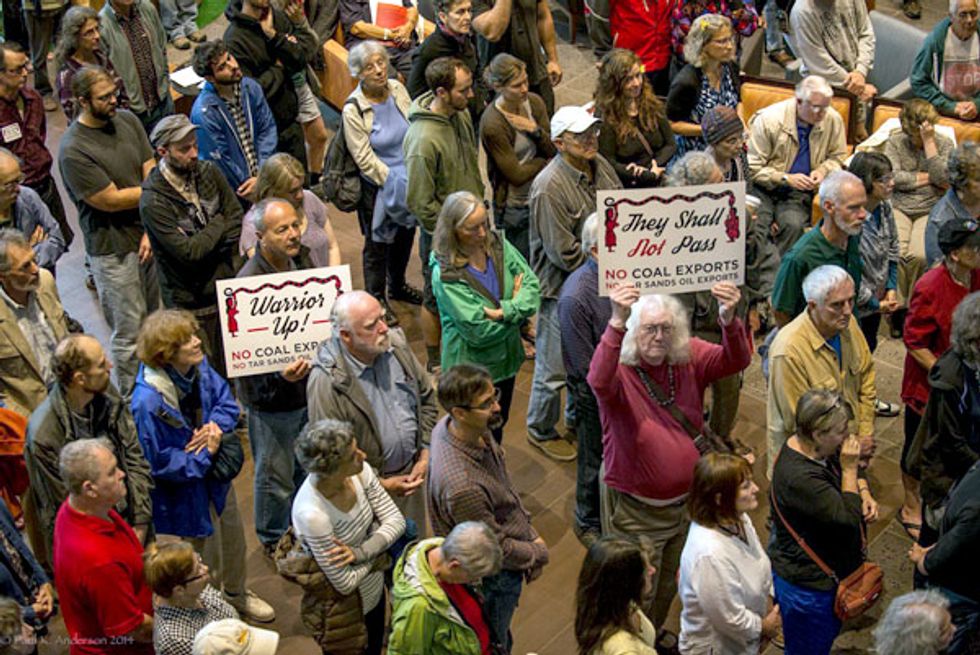 Master Carver Jewell James spoke to the need for, and the intentions of, the totem pole journey. "The people must be awakened to what is happening," he said. "The salmon are dying. The starfish have disappeared … Coal exports would add hundreds of ships thousands of feet long through a narrow passage in Alaska were some of the only salmon remain."
James explained that he hoped the journey would strengthen relationships and community alliances. "I remember as I was taught by elders who said it's not the totem pole that is sacred, it becomes treasured from the gathering of the people around it, from bringing families together."
Those in attendance also heard from Chief Tsilixw, hereditary leader of the Lummi tribe, who spoke to what he felt was the responsibility of people of all faiths to uphold a shared responsibility to the land and water, and to future generations.
Following the remarks of speakers, members of the crowd were invited to join in blessing the 19-foot red cedar totem pole, which ultimately will be presented to First Nations battling tar sands proposals in their homelands of northern Alberta. The journey brings together an unusual alliance of First Nations, environmental organizations,and faith communities in a combined effort to protect the sacred sites of the Lummi Nation and the communities of the Pacific Northwest. The journey, which launched Aug. 17, will take approximately three weeks to complete, with the final ceremony scheduled for Sept. 6 in Alberta.
YOU ALSO MIGHT LIKE
Oregon Rejects Key Permit for Coal Export Terminal
U.S. Coal Exports Fuel Global Climate Change and Undermine Obama's Climate Plan
The state of Oregon stood up to dirty coal exports today by denying a key dock-building permit. This denial is a major victory for residents and climate activists who have waged a huge, high-profile campaign against coal exports. Oregon's decision today shows that our state leadership values clean air, our climate and healthy salmon runs.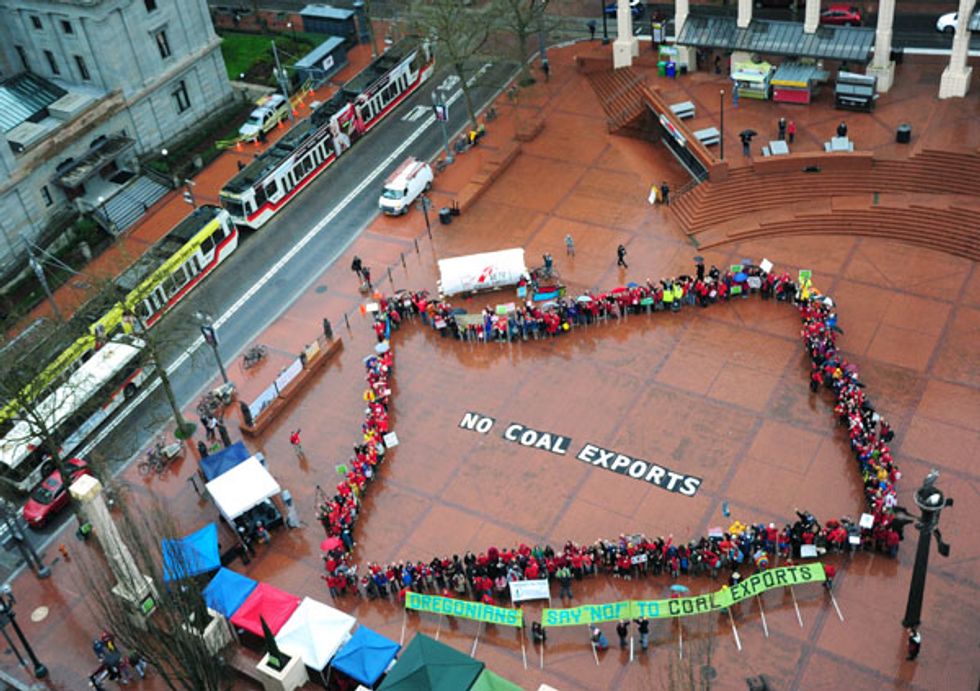 Coal export proponent, Ambre Energy asked the Oregon's Department of State Lands for permission to build a new loading dock to ship Powder River Basin coal down the Columbia River to ocean-going ships bound for Asia. Oregon said no, saying the coal export project "would unreasonably interfere with the paramount policy of this state to preserve the use of its waters for navigation, fishing and public recreation."

As American use of coal declines, the Pacific Northwest is threatened by industry trying to maintain profits by exporting the coal that is too dirty to burn here. At its peak, Oregon and Washington faced six coal export proposals. Three proposals were withdrawn by the companies and today's decision marks the first time a Pacific Northwest state agency formally rejected a coal export permit. Two coal export terminals remain on the table in Washington and face intense public opposition, led by Power Past Coal, an alliance of health, environmental, businesses, clean-energy, faith and community groups working to stop coal export off the West Coast.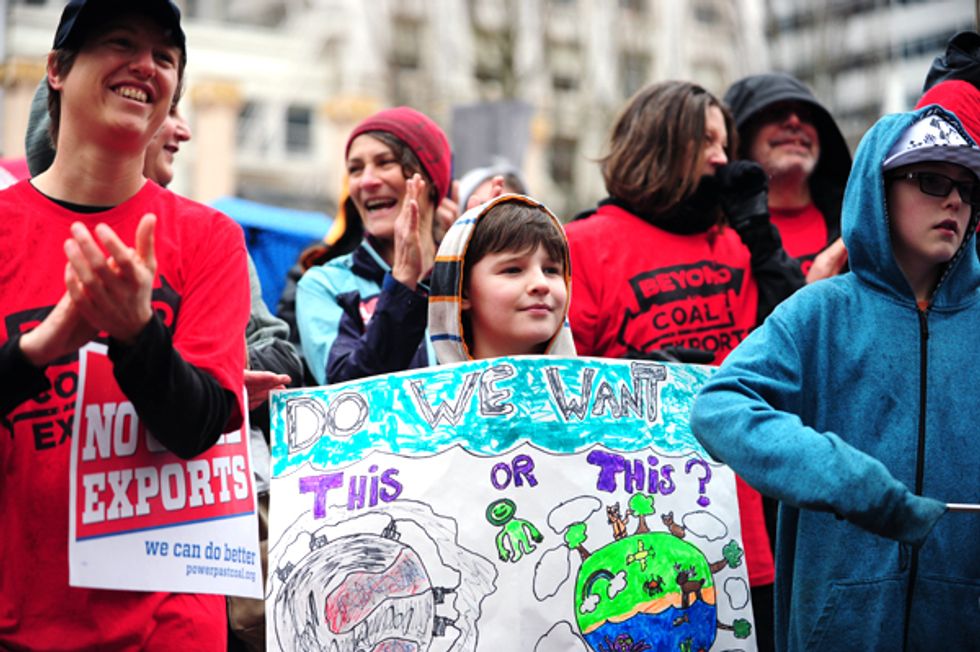 The decision to place the protection, conservation and best use of the Columbia River above coal export deals a severe blow to Ambre Energy's struggling proposal. In the spring of 2012, Australian-based Ambre Energy was described by The Australian as, "a small-time Queensland resources company … at risk of financial collapse." Since then, Ambre has failed to succeed at any of its coal-related ventures in the U.S. or abroad. Today's permit denial seriously challenges the company's ability to continue their attempt to export coal in the U.S. and should be seen as a warning to other coal companies hoping to try exporting coal to eek out more profit from their dying industry.
Here's how communities in the Northwest stood up to Ambre Energy:
More than 20,000 people contacted the Department of State Lands urging them to deny the permit to build a coal export dock.

Eighty-six elected officials from Oregon, Montana, Idaho and Washington urged Governor Kitzhaber and DSL to reject the dock permit.

Close to 600 Northwest businesses and business leaders expressed concern or outright opposition to coal export.

More than 3,000 medical professionals and public health advocates requested a denial of the Morrow Pacific project permit. Coal contains toxic pollution like lead and arsenic known to harm human health. In addition to dangerous diesel exhaust from trains, barges and ships, toxic coal dust will threaten air quality and worsen asthma, respiratory illness and other health problems.

One hundred sixty-five Oregon physicians voiced their concerns directly to Governor Kitzhaber in the Position Statement on Coal Exports from Concerned Oregon Physicians to Governor Kitzhaber.

And we rallied … we rallied like it was our job. Because protecting the river, salmon and health of our climate and community is our job.
You Might Also Like
U.S. Coal Exports Fuel Global Climate Change and Undermine Obama's Climate Plan
Coal CEO Wants to Sue EPA For 'Lying About So-Called Global Warming'
Greenpeace USA has released a major new report on an under-discussed part of President Obama's Climate Action Plan and his U.S. Environmental Protection Agency (EPA) carbon rule: it serves as a major endorsement of continued coal production and export to overseas markets.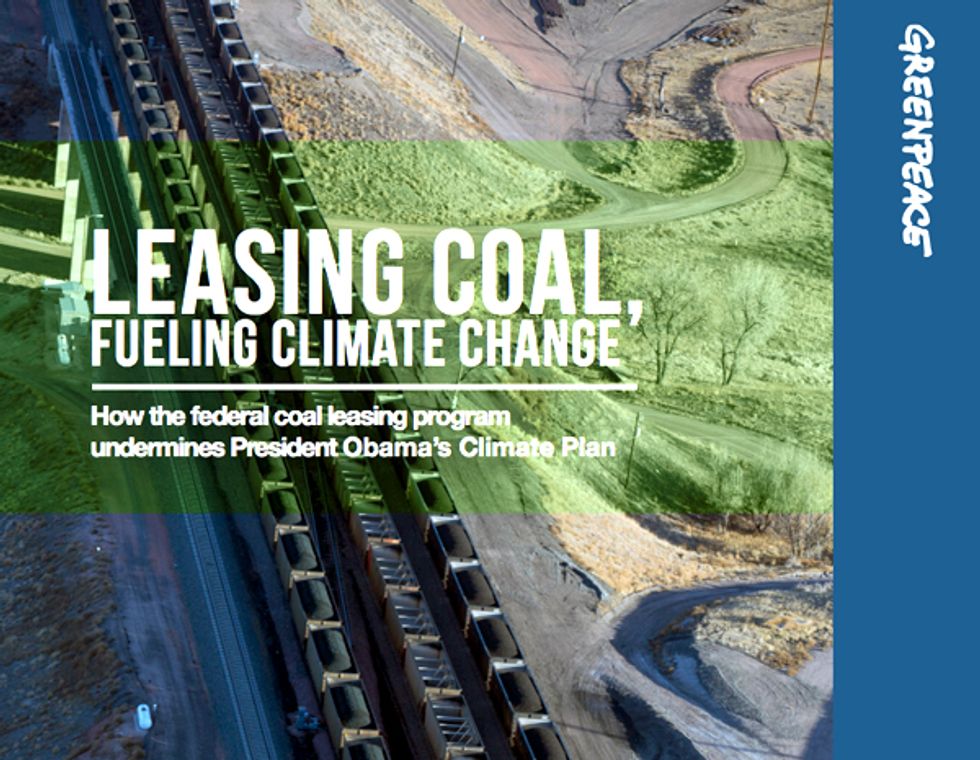 Leasing Coal, Fueling Climate Change: How the federal coal leasing program undermines President Obama's Climate Plan tackles the dark underbelly of a rule that only polices coal downstream at the power plant level and largely ignores the upstream and global impacts of coal production at-large. 
The Greenpeace report was released on the same day as a major story published by the Associated Press covering the same topic and comes a week after the release of another major report on coal exports by the Sightline Institute that sings a similar tune. 
The hits keep coming: Rolling Stone's Tim Dickinson framed what is taking place similarly in a recent piece, as did Luiza Ch. Savage of Maclean's Magazine and Bloomberg BNA. 
But back to Greenpeace. As their report points out, the main culprit for rampant coal production is the U.S. Bureau of Land Management (BLM), which leases out huge swaths of land to the coal industry. Greenpeace says this is occurring in defiance of Obama's Climate Action Plan and have called for a moratorium on leasing public land for coal extraction.
"[S]o far, the Bureau of Land Management and Interior Department have continued to ignore the carbon pollution from leasing publicly owned coal, and have failed to pursue meaningful reform of the program," says the report.
"Interior Secretary Sally Jewell and others in the Obama administration should take the President's call to climate action seriously, beginning with a moratorium and comprehensive review of the federal coal leasing program, including its role in fueling the climate crisis."
Dirty Details
Some of the numbers crunched by Greenpeace USA make the jaw drop.
For example, one chart shows the amount of coal leased by the BLM during Obama's time in the White House. During that time, the BLM has leased off billions of tons of coal from Colorado, Montana and North Dakota, New Mexico, Utah and Wyoming alone.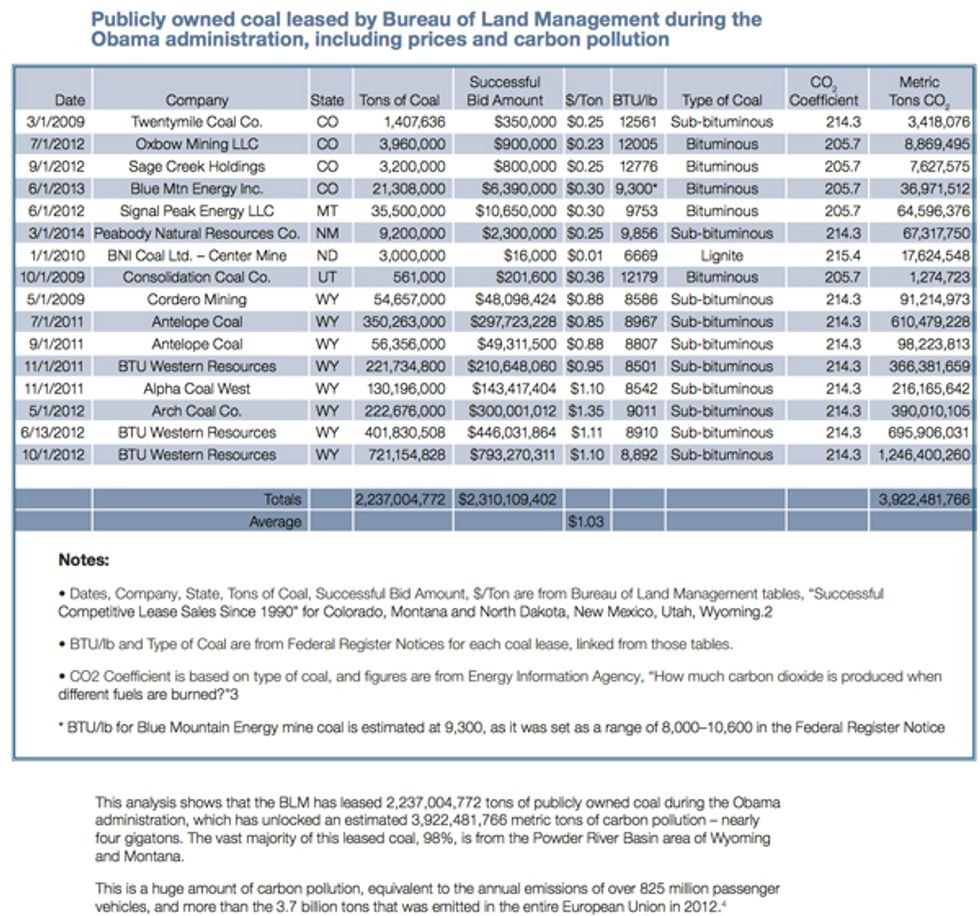 As Greenpeace points out, "This is equivalent to the annual emissions of over 825 million passenger vehicles, and more than the 3.7 billion tons that was emitted in the entire European Union in 2012."
Further, in crunching the numbers on the social cost of carbon metrics, Greenpeace estimates producing all of this BLM-leased coal will cause between $52-$530 billion in damages.
A recent major, precedent-setting federal court decision chided BLM for not taking the social cost of carbon into account in leasing out a plot of land for coal production. It remains unclear whether or not this will impact BLM's future coal leasing activities, however.
Germany's "Clean Break" or Greenwashing?
Interestingly and perhaps shockingly to many, much of this coal is being exported to Germany, home of what some have hailed the epicenter of the global green energy revolution. Though German coal mining is going by the wayside, imports are rising.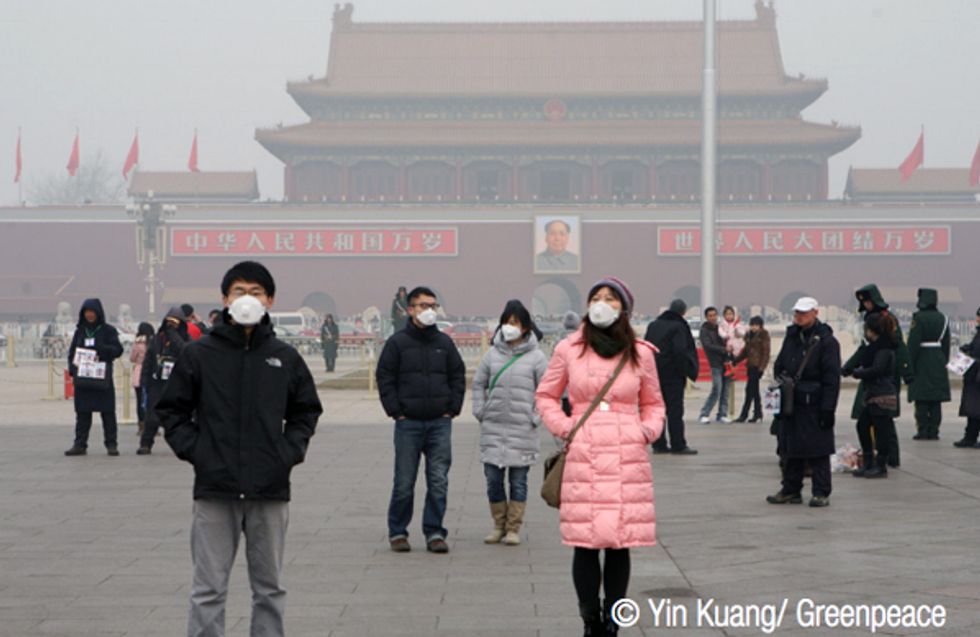 "German coal mining has been a dying tradition. The government will end subsidies in 2018, effectively killing it," explained the Associated Press story.
"However, Germany is experiencing a resurgence in coal-fired power. Five German coal plants have been built since 2008, and more are coming … The result: In 2013, Germany's emissions of carbon dioxide grew by 1.2 percent."
Dirk Jansen, spokesman for Friends of the Earth-Germany, called the situation at-large tantamount to "greenwashing" in an interview with the Associated Press.
"Obama pretties up his own climate balance, but it doesn't help the global climate at all if Obama's carbon dioxide is coming out of chimneys in Germany."
Beyond Obama, though, it raises equally troubling questions about just how "clean" Germany's clean break will be when all is said and done.
You Might Also Like
Climate Denial Machine Fueled By Big Oil and Koch Brothers Impacts Congressional Races
10 Biggest Threats to Human Existence
Wyoming Gov. Matt Mead visited Longview, WA, yesterday to sell his dirty coal, but local community members did not roll out the red carpet. Instead, 60 Longview-area residents protested Gov. Mead's visit, delivering a bucket of Powder River Basin coal that activists had gathered from the side of railroad tracks, spilled by coal trains.
The Governor traveled west to promote a massive coal export terminal in Longview that, if approved, would receive nine full coal trains every day from Wyoming, and ship 44 million tons to Asia every year.
Gov. Mead tried to convince folks that coal is good for them. The protestors weren't buying it. Armed with megaphones and signs, protestors greeted the Governor when he toured the proposed coal terminal saying: Governor, keep your coal in the ground. We don't want it here in Washington.
"The benefits the Governor seeks for Wyoming are dwarfed by the damage mining and exporting coal would bring to his own people, the people of Longview and the rest of the world," said Reverend Kathleen Patton of Longview.
There is tremendous opposition to coal exports in Longview and across the Pacific Northwest. A record 200,000 citizens submitted comments on the Longview coal terminal and 2,000 showed up to testify in person.
Despite Gov. Mead's salesmanship, I am hopeful that our Washington leaders will reject coal exports because it's bad for our health and untenable for our climate.
——–
YOU ALSO MIGHT LIKE
U.S. Coal Exports Nearly Triple Over Last Decade
Coal Exports Face Unprecedented Opposition in the Pacific Northwest
How China's Coal Addiction Could Make Fighting Climate Change 'Almost Impossible'
——–
Environmental advocacy groups this morning filed suit against the United Bulk coal export terminal in Davant, LA, for violating the federal Clean Water Act. Photographs, video footage and satellite imagery document piles of United Bulk coal and petroleum coke that generate highly polluting dust and debris.
The imagery shows plumes of coal-polluted water spreading into the Mississippi River from the United Bulk terminal. The terminal, owned by United Bulk Terminals Davant LLC, has operated for more than four decades, shipping millions of tons of coal and petcoke every year to overseas markets.
"The coal and petcoke sit in huge, open piles along the river," said Warren Lawrence, who lives in the neighboring community of Myrtle Grove. "So when there's rain and wind, it just blows right into the river and the wetlands. The natural environment is the reason people love this area, and the coal is destroying it."
Gulf Restoration Network, Louisiana Environmental Action Network (LEAN) and Sierra Club filed suit in New Orleans' U.S. District Court for the Eastern District of Louisiana. The groups, represented by Tulane University's Environmental Law Clinic, are members of the Clean Gulf Commerce Coalition, which is working to clean-up existing coal terminals in the Gulf Coast region, stop any new coal export terminals, and promote cleaner, safer industries and jobs.
The suit contends that United Bulk has illegally discharged coal and petcoke into the river every day that it has operated for at least five years. It points out that coal and petcoke—an oil-refining byproduct with high levels of arsenic, mercury and other toxins hazardous to human health and aquatic life—have been discharged into the river in enough quantities to produce visible spills on a regular basis. The suit also cites the U.S. Environmental Protection Agency's determination that stormwater runoff from coal piles "can flush heavy metals from the coal, such as arsenic and lead, into nearby bodies of water."
LEAN Executive Director Marylee Orr said that conservation groups and community residents hope that United Bulk will adopt a more environmentally responsible approach. "We're hopeful that we'll be able to work with the company to clean up the facility and make it safer for workers, communities and the environment."
Today's legal challenge follows the suit filed last fall by Clean Gulf Commerce Coalition organization against Louisiana's Department of Natural Resources for its illegal approval of a coastal use permit for the proposed RAM coal export terminal in Myrtle Grove in Plaquemines Parish. The suit argues that the RAM terminal conflicts with the state's master plan for restoring Louisiana's disappearing coastal wetlands.
"The expansion of coal exports and the associated pollution to the Mississippi and surrounding communities and wetlands flies in the face of Louisiana's coastal master plan," said Scott Eustis, Gulf Restoration Network's coastal wetland specialist. "The river is a valuable and limited resource for rebuilding our coastal wetlands, without which we cannot continue to live in Louisiana."
Louisiana is at particular risk from increased coal exports through the Mississippi River. Three terminals along the Lower Mississippi, including United Bulk, are seeking to dramatically expand exports, which would increase the amount of coal and petcoke stored in open piles, blanket nearby areas in dust and discharge more coal-polluted runoff into vital coastal wetlands.
The international market for U.S. coal has also grown increasingly volatile. Port authorities on the West Coast and in Corpus Christi, TX have concluded that the coal export market is simply too risky to invest significant sums in new or expanded shipping facilities.
"When you look at the big picture, the existing coal terminals in Louisiana are too dirty, and shipping more coal through Louisiana at new terminals is simply too risky," said Al Armendariz, senior campaign representative with Sierra Club's Beyond Coal campaign. "The international markets can't be counted on, the changing climate creates too many variables, and local communities don't want to be the coal pipeline to India and China. Louisiana leaders should focus on solutions that will help communities prosper—coastal restoration and tapping into the clean energy economy now."
Both Clean Gulf Commerce Coalition and the Power Past Coal coalition in the Pacific Northwest are focusing attention on health, safety and environmental impacts of existing coal export systems, including shipping coal by rail from mines to the ports.
The Clean Gulf Commerce Coalition includes: Air Alliance Houston, Gulf Restoration Network, Louisiana Environmental Action Network, Lower Mississippi River Keeper, Public Citizen, Sierra Club, Texas Environmental Justice Advocacy Services and Texas Organizing Project.
Visit EcoWatch's COAL page for more related news on this topic.

Coal exports in the U.S. have nearly tripled since 2005, according to new data from the U.S. Energy and Information Administration.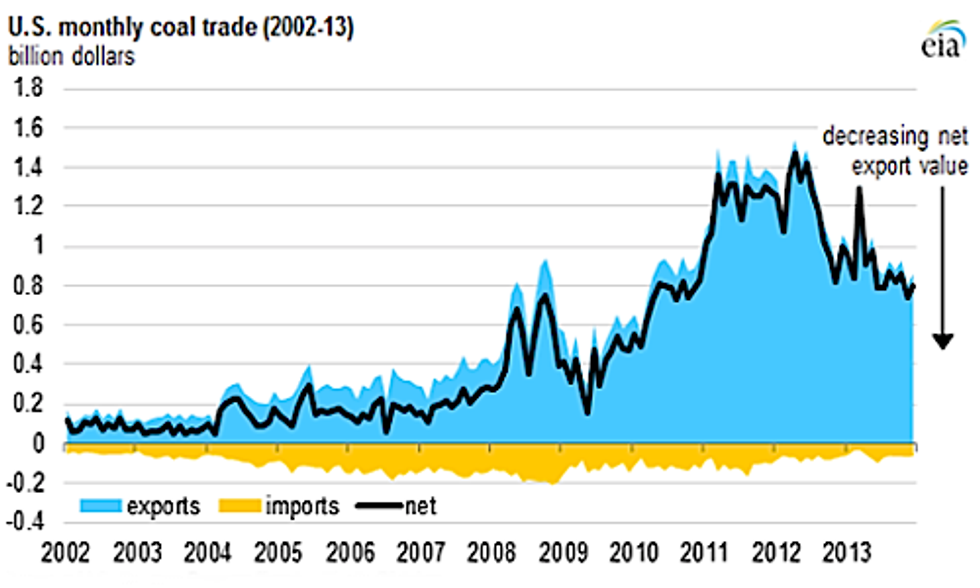 Domestic coal consumption is continuing to shrink in the U.S., where a combination of low natural gas prices, tightening environmental regulations and the falling price of renewable energy generation are pushing utilities away from conventional coal plants.
As a result, coal producers in the U.S. are looking abroad to find willing buyers.
Coal represents a mere fraction of U.S. energy exports, currently around five percent. Nonetheless, skyrocketing exports constitute a noteworthy trend.
In 2005, the U.S. exported 50 million short tons of coal, while in 2012 it exported 126 million short tons. Half of U.S. coal exports go to Europe, 26 percent are sent to Asia and around 10 percent go to North and South America each.
In Washington, conservative leaders have once again renewed their push to loosen fossil fuel export regulations. Sen. Barrasso (R-WY) representing a major coal-producing state, called Thursday for President Obama to allow more natural gas, coal and oil to be shipped abroad.
Sen. Barrasso and his allies have seemingly spent little time considering the environmental consequences of extracting and exporting even more dirty fossil fuels, instead preferring to emphasize the job-creation benefits of expanding the energy sector.
Visit EcoWatch's COAL and ENERGY pages for more related news on this topic.

The U.S. Government Accountability Office (GAO) today released the result of its investigation into coal leasing practices at the Bureau of Land Management, which confirmed earlier reports that coal companies have taken advantage of a lax bidding process for leasing coal on publicly owned lands, resulting in nearly $30 billion in loss for U.S. taxpayers. Sen. Ed Markey (D-MA) echoed the Sierra Club, Greenpeace and other environmental and community advocacy groups in calling for a temporary suspension of the federal coal leasing program.
[slideshow_deploy id='346837']
"The Interior lacks rigor and oversight in determining the fair market value of federal coal leases," said Sen. Ed Markey and Rep. Peter DeFazio in a joint statement on the report.
"Given the lack of market competition in coal leases, if the fair market value set by Interior is low, it can lead to significant losses for taxpayers. For instance, for every cent per ton that coal companies decrease their bids for the largest coal leases, it could mean the loss of nearly $7 million for the American people."
This is the second federal report, after the Inspector General's report in June of 2013, showed significant financial losses from the troubled coal leasing program.
"For decades coal companies have exploited a flawed and lax federal leasing program to buy coal on public lands for pennies on the dollar, costing the U.S. taxpayer billions and subsidizing dirty, coal-fired power plants that have contributed to health problems and premature deaths for thousands of American," said Bill Corcoran, deputy director of the Sierra Club's Beyond Coal campaign.
"This independent assessment shows why change must happen in the federal coal leasing program. Interior Secretary Sally Jewell and the Bureau of Land Management owe it to American taxpayers to suspend the current leasing program until coal companies are paying a fair price for publicly-owned coal.
The GAO report adds to the mounting pressure to reform the federal coal leasing program. However, this report does not address broader problems with the federal coal leasing program such as its role in unlocking huge quantities of carbon pollution. In December 2013, a report from the Bicameral Task Force on Climate Change recommended that the Department of Interior reform the federal coal leasing program to help implement President Obama's Climate Action Plan, stating, "BLM should also revisit policies that subsidize fossil fuel development on federal land by increasing royalty rates for federal coal leases, reviewing its procedures for determining "fair market value" during its coal leasing process, and reforming its leasing practices in the Powder River Basin."
"The GAO report is the latest to highlight flaws with a coal leasing program that is rigged to benefit a handful of coal mining companies like Peabody and Arch, and is yet another reminder of the BLM's failure to account for the coal industry's plans to boost exports," said Greenpeace climate and energy campaigner Kelly Mitchell.
"But the larger problem is that the BLM is undermining President Obama's Climate Action Plan by subsidizing the extraction of hundreds of millions of tons of publicly owned coal. Secretary Jewell should put an end to the BLM's coal giveaways and start accounting for the costs of carbon pollution and other damage to the environment when setting royalty rates for the sale of publicly owned coal."
Beyond lost revenue, selling publicly owned coal at such low rates amounts to a major fossil fuel subsidy, favoring coal at the expense of cleaner forms of energy, said Greenpeace. Between 2011-2012, BLM leased more than 2.1 billion tons of coal in the Powder River Basin, unlocking nearly 3.5 billion metric tons of CO2. These and other concerns about the federal coal leasing program were detailed in a letter sent to Interior Secretary Sally Jewell on her first day on the job from the leaders of 21 environmental, health and consumer organizations. More than 135,000 have called on Secretary Jewell to establish a moratorium on federal coal leasing in the Powder River Basin.
Visit EcoWatch's COAL page for more related news on this topic.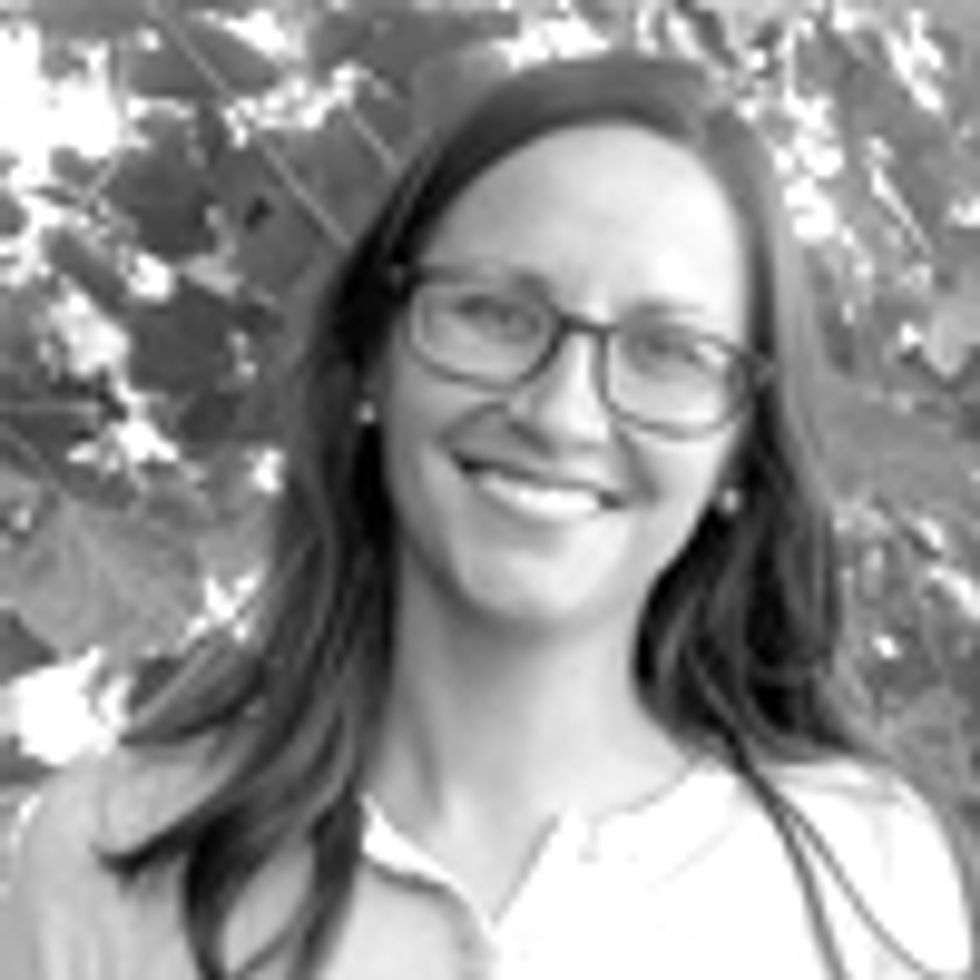 News broke yesterday that Goldman Sachs Infrastructure Partners sold off its remaining equity investment in Carrix, the parent company behind the colossal coal export terminal proposal north of Bellingham, WA, according to Rainforest Action Network.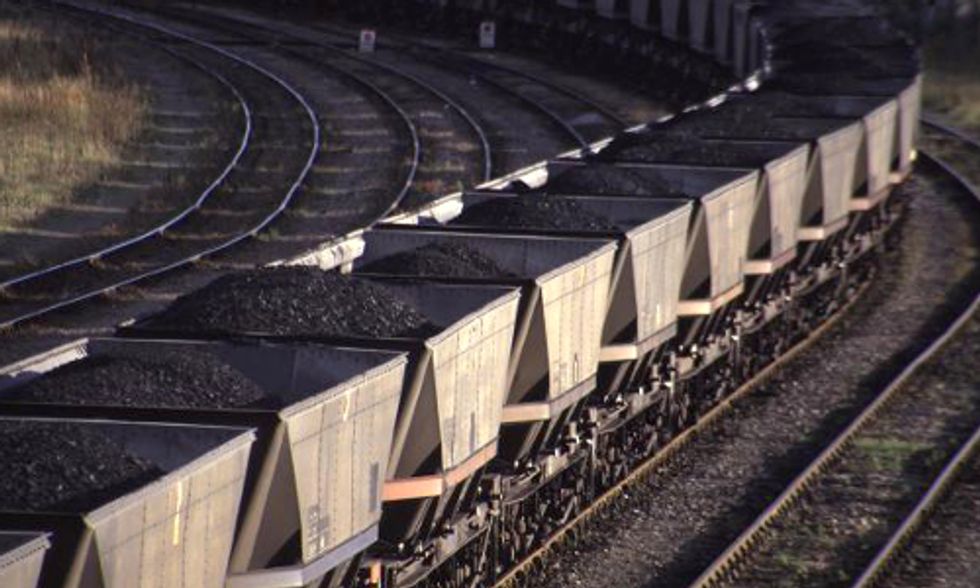 Goldman Sachs did own 49 percent interest in the proposed coal export terminal, which would export 48 million tons of coal to Asian markets each year. The new investor is Fernando Chico Pardo, a Mexican businessman.
"It is encouraging to see a major bank like Goldman Sachs taking a big step away from the coal industry by exiting the partnership behind the Gateway Pacific Terminal at Cherry Point," said Amanda Starbuck, energy and finance program director at Rainforest Action Network. "The bank's action sends a strong signal that if we are serious about protecting our environment from serious climate pollution, coal export terminals like the one at Cherry Point simply cannot be built."
The move comes after coal companies and their investors have shelved three out of six proposed coal export terminals in the Pacific Northwest in the last two years.
"Goldman Sachs' stepping away from coal export is yet another sign from Wall Street that coal export is a losing investment," said Crina Hoyer, executive director of RE Sources for Sustainable Communities. "We already know that local Main Street businesses would feel the negative impacts from coal export, and communities across the region are saying no to this bad deal because of health, climate, environmental and economic impacts."
According to Power Past Coal, recent financial records have shown several of the companies are on shaky financial ground. Market analysis by Goldman Sachs, Bernstein Research, Deustche Bank, Bank of America and other market exports have reported that coal demand abroad is likely on a permanent decline. In an analysis in July 2013 Goldman Sachs wrote, "We believe thermal coal demand growth will slow down in the coming years ... the potential for profitable investments in new thermal coal mining capacity is becoming increasingly limited."
If built, the Gateway Pacific Terminal at Cherry Point would be the largest coal export terminal in North America and would mean up to 18 coal trains traveling round-trip through local communities, threatening the rich biodiversity of the Pacific Northwest. 
"There are many reasons why a company concerned with its reputation would choose to avoid the egregious Gateway Pacific Terminal," Starbuck said. "This coal export terminal threatens human rights, a thriving Tribal fishery and biodiversity in a sensitive marine environment."
Visit EcoWatch's COAL page for more related news on this topic.