Superstorm Sandy's Unhappy Anniversary

A year has passed since Sandy, the second-costliest storm in U.S. history, slammed into the Eastern Seaboard, causing $65 billion in damage. On the day of this unhappy anniversary, though, we can't really say the disaster is behind us. Thousands of families are still unable to return to their homes. Some people have lost everything, including the hope of getting it back.
The destruction from Sandy wasn't even the only extreme-weather disaster during the past year. Colorado is still reeling from a triple whammy of drought, wildfires and then unprecedented floods that forced thousands more to evacuate their homes.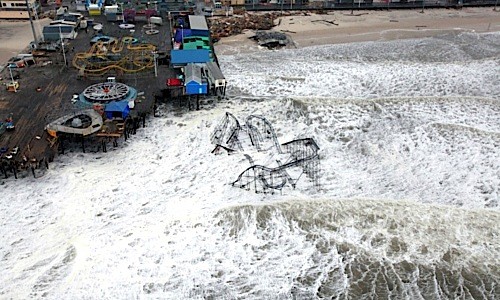 What's going on? These terrible events are consistent with what climate scientists have told us to expect from a warmer climate: wetter—and therefore more powerful—storms in some places; hotter, prolonged droughts in others. Our planet is a complicated and surprisingly sensitive system. Radically altering inputs such as the amount of greenhouse gases in the atmosphere is like letting a toddler randomly start flipping switches in the cockpit of an in-flight 747. How many switches do you think can be safely flipped? I'd hate to find out.
Although nothing could justify the devastation and heartbreak caused by Sandy in the East or by the fires and floods in the West, there has been one positive result. We've reached a tipping point in public concern about climate disruption. No longer does this issue seem like something that will happen in a distant future and to someone else. Even if we haven't experienced extreme weather firsthand, we know someone who has.
What can we do about it? First, we have to kick that kid out of the cockpit. We need to reduce and ultimately eliminate the carbon pollution that is altering our atmosphere and disrupting our climate. We've made progress, too. Last year, greenhouse gas emissions reported to the U.S. Environmental Protection Agency (EPA) by polluters reached their lowest level in almost 20 years. At the same time, clean-energy technologies like wind and solar are growing exponentially—faster than anyone could have guessed just a few years ago.
And yet, it's still not fast enough. The disaster that is runaway climate pollution won't begin to subside until we stop burning fossil fuels entirely and start running our economy on 100 percent clean energy. We can do that, too, but it won't happen through wishful thinking. We need to act. President Obama's climate action plan, although not perfect, includes the first-ever action by the EPA to limit climate-disrupting carbon emissions from their single biggest source: power plants. While standards for gas plants still need to be strengthened, the new standards would clean up new coal power plants, and the agency is planning to propose similar standards for existing power plants next year.
No one can stop the next superstorm, mega wildfire, or 1,000-year flood. But we can get behind stopping the pollution that's disrupting our climate.
Visit EcoWatch's CLIMATE CHANGE page for more related news on this topic.
A coalition of conservation groups and others announced Thursday that a historic number of comments and petitions of support have been submitted to the U.S. Department of the Interior in support of Bears Ears National Monument. Despite the entirely inadequate 15-day comment period ending on May 26, more than 685,000 comments in support of Bears Ears National Monument have been collected.
Keep reading...
Show less
Rink Glacier in western Greenland, with a meltwater lake visible center. NASA/OIB
Scientists have had their eyes on Greenland as its iconic glaciers have begun disappearing due to a warming climate. But, what they didn't expect to see was a whole new type of melting.
Keep reading...
Show less
Mountain View Fire
By Lena Moffitt
An oil tanker in Mead, Colorado exploded, killing one and injuring three on Thursday. Authorities are continuing to investigate the cause of the explosion.
Keep reading...
Show less
Banner created by Alliance for Climate Education
Keep reading...
Show less
Twenty-two GOP senators sent a letter Thursday urging Donald Trump to pull out of the Paris agreement. They argued remaining in the deal could "upend" the administration's ability "to fulfill its goal of rescinding the Clean Power Plan."
Keep reading...
Show less
By Cheryl Johncox
The Federal Energy Regulatory Commission (FERC) rejected on Thursday Energy Transfer Partners' request to resume horizontal directional drilling at two sites for its Rover fracked gas pipeline. This rejection comes after numerous leaks into Ohio's wetlands, and Clean Air and Clean Water act violations. FERC has halted the process at only eight locations of the 32 where drilling is taking place under Ohio's wetlands and streams.
Keep reading...
Show less
By Nadia Prupis
A majority of people in eight countries say they are ready to change their lifestyles if it would prevent climate catastrophe, a survey on global threats released Wednesday found.
Keep reading...
Show less
May. 25, 2017 01:55PM EST
Bill Maher is sick of billionaires' obsession with Mars, more like "Mars-a-Lago," he said.
In a new animation produced by ATTN:, the popular talk show host of Real Time, discusses the perils of our planet, including how "climate change is killing us."
Keep reading...
Show less