This website uses cookies to ensure you get the best experience while browsing it. By clicking 'Got It' you're accepting these terms.
Supermoon Sparked Rhino Killing Spree as Poaching Numbers Skyrocket
Sep. 30, 2015 01:38PM EST
Animals
Sunday's supermoon lunar eclipse was absolutely beautiful, but it was also deadly for some African wildlife. Eight rhinos were killed over the weekend at a South African park, Hluhluwe Game Reserve, according to wildlife officials. This puts the death toll for poached rhinos in the area up to 86 for the year. The total for all of 2014 was 99.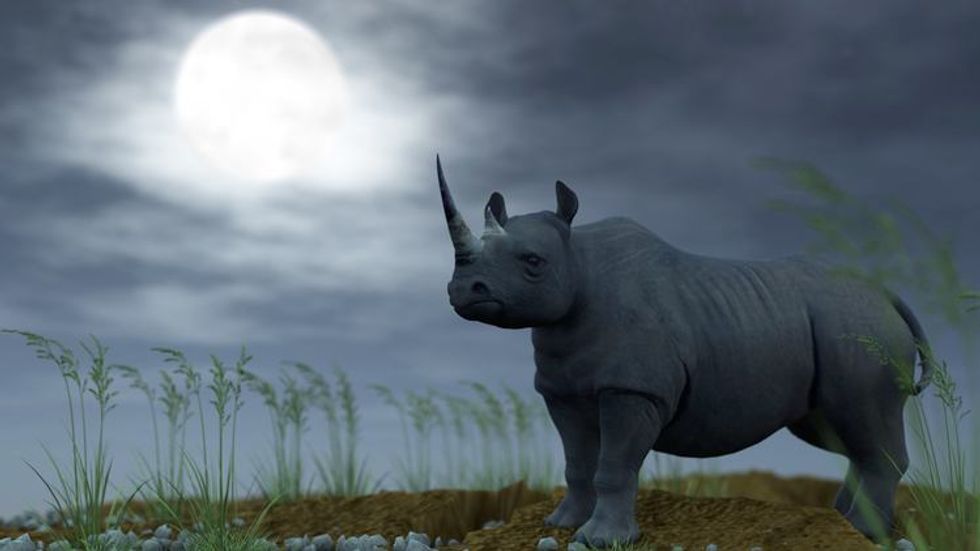 Photo credit: Shutterstock
Wildlife officials worry that the death toll this year will be even higher than last year because South Africa is "going into summer months, where it gets light at 4:30 a.m. and only dark after 7:30 p.m. now to January," rhino conservationist Dex Kotze told The Dodo. Kotze is the founder of Youth 4 African Wildlife and one of the strategists for Global March for Elephants, Rhinos and Lions in Johannesburg, which is taking place around the world this weekend.
"The extra light really assists the poachers," Kotze explains. "There is just so much more time for poachers to be in out in the veld/bush with weather conditions playing in their favor."
The killing spree this past weekend was, no doubt, brought on by the supermoon. "Full moon periods are known as the dreaded 'poachers' moon," said Simon Bloch of South Africa's Times, who initially reported on the killings. He told The Dodo "at least six of [the eight] killings took place over the exact period of the supermoon lunar eclipse, which lasted from sunset on Sunday to sunrise on Monday. At least six of the rhinos had their horns hacked out of their faces. Four died from lethal chemical darting; two others were shot by a rifle."
Wildlife killing often increases during full moons because it allows for increased visibility "thus eliminating the need for unnatural light sources such as flashlights in the bush, which could give their positions away to watchful eyes—it makes it easier to see one's quarry/target," said Bloch.
Bloch says the reserve has tried to crack down on poaching, but has little to show for it. "There are some exceptionally dedicated and skilled anti-poaching rangers," he says. "However, insufficient man-power and budget expenditure makes it difficult to keep rhinos safe from criminal syndicates that operate with inside information, and have the bush-craft skills and weaponry to infiltrate the expansive reserves, which are protected wilderness areas."
Wildlife poaching has become a massive problem worldwide. Despite heightened awareness of the problem, Louie Psihoyos, award-winning director of The Cove and Racing Extinction, says the "wildlife trade is second only to the drug trade."
The killing of Cecil the Lion this summer sparked intense Internet outrage, but the problem is truly rampant. Many efforts are being undertaken to put a stop to the illegal trade, including commissioning fake elephant tusks and fitting them with GPS tracking devices, using drones to survey large areas and even using 3-D printers to manufacture fake rhino horns.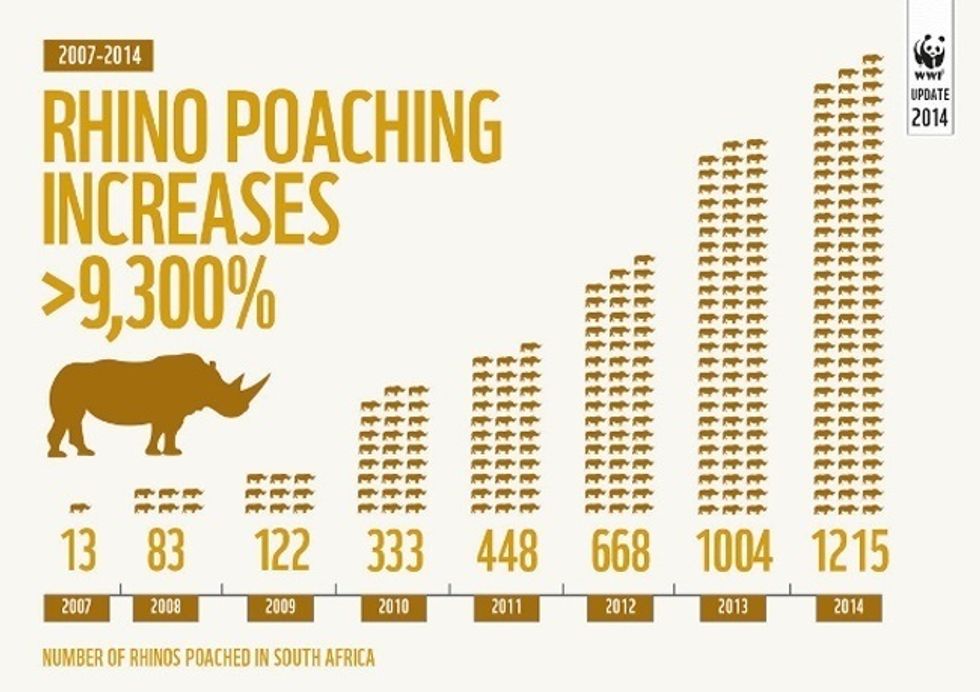 Rhinos' numbers have plummeted worldwide in recent years as poaching has skyrocketed. The Western Black Rhinoceros was declared extinct in 2011. Currently, the Black Rhino, Javan Rhino and Sumatran Rhino are listed as critically endangered. "In Africa, Southern white rhinos, once thought to be extinct, now thrive in protected sanctuaries and are classified as Near Threatened," says the World Wildlife Fund (WWF).
"But the Northern white rhino subspecies is believed to be extinct in the wild and only a few captive individuals remain in a sanctuary in Kenya," adds WWF. "Black rhinos have doubled in number over the past two decades from their low point of 2,480 individuals, but total numbers are still a fraction of the estimated 100,000 that existed in the early part of the 20th century." From 2010 to 2015, 4,714 rhino deaths have been reported in South Africa alone, according to Oxpeckers, a group of investigative environmental journalists.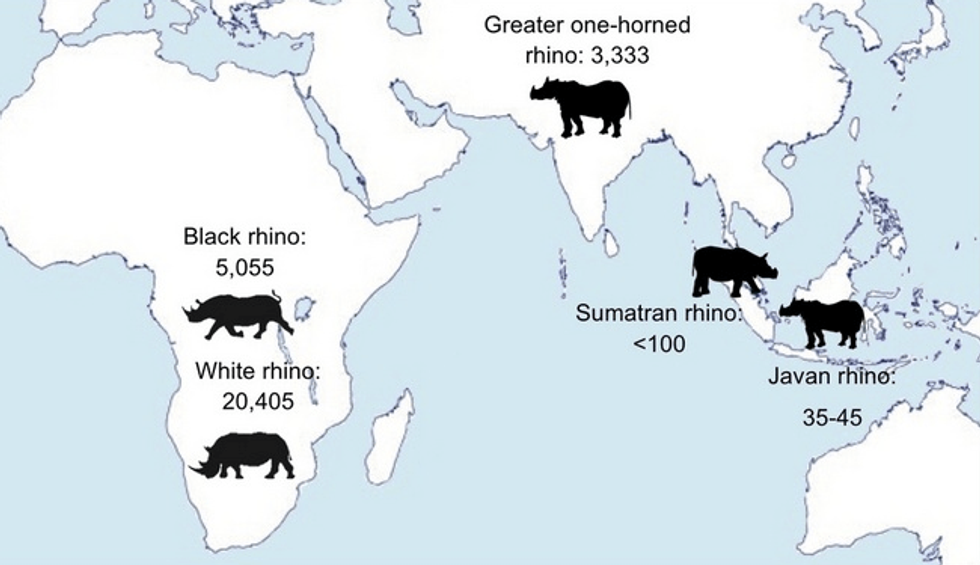 And it's not just rhinos, of course. Many other species are on the brink of extinction. The killing of two elephants in Zakouma National Park in Chad in August had many wildlife conservationists concerned. It's the first time an elephant had been killed by poachers in the park in more than three years. Poaching decimated the elephant population there in the early 2000s. Their numbers dropped from some 4,000 in 2006 to just 450 today.
And earlier this year, 68 elephants were killed by armed militants in the Democratic Republic of Congo in 60 days. The militants have aggressively moved into the poaching business to use money from illegal ivory to buy food, weapons and ammunition. At the African Elephant Summit this year, delegates from various Asian, European and African countries predicted that African elephants could go extinct within decades if something doesn't change.
YOU MIGHT ALSO LIKE
25 Walruses Killed on Alaskan Beach, Beheaded and Missing Tusks
More People Have Died This Year from Selfies Than Sharks
World's Largest Wildlife Corridor to Be Built in California
700 Beehives Hang Off This Rocky Cliff to Boost Dwindling Bee Populations
EcoWatch Daily Newsletter
A Starbucks barista prepares a drink at a Starbucks Coffee Shop location in New York. Ramin Talaie / Corbis via Getty Images
By Cathy Cassata
Are you getting your fill of Starbucks' new Almondmilk Honey Flat White, Oatmilk Honey Latte, and Coconutmilk Latte, but wondering just how healthy they are?
By Sharon Kelly
Back in April last year, the Trump administration's Environmental Protection Agency decided it was "not necessary" to update the rules for toxic waste from oil and gas wells. Torrents of wastewater flow daily from the nation's 1.5 million active oil and gas wells and the agency's own research has warned it may pose risks to the country's drinking water supplies.
Swedish climate activist Greta Thunberg takes part in a "Friday for Future" youth demonstration in a street of Davos on Jan. 24, 2020 on the sideline of the World Economic Forum annual meeting. FABRICE COFFRINI / AFP via Getty Images
Treasury Secretary Steven Mnuchin pretended not to know who Greta Thunberg is, and then he told her to get a degree in economics before giving world leaders advice, as The Guardian reported.
The Visible Infrared Imaging Radiometer Suite on the Suomi NPP satellite acquired this image of forest fire smoke hovering over North America on Aug. 15, 2018. NASA Earth Observatory
New York City isn't known for having the cleanest air, but researchers traced recent air pollution spikes there to two surprising sources — fires hundreds of miles away in Canada and the southeastern U.S.
If temperatures continue to rise, the world is at risk from global
sea-level rise
, which will flood many coastal cities as seen above in Bangladesh. NurPhoto / Contributor / Getty Images
The mounting climate emergency may spur the next global financial crisis and the world's central banks are woefully ill equipped to handle the consequences, according to a new book-length report by the Bank for International Settlements (BIS), as S&P Global reported. Located in Basel, Switzerland, the BIS is an umbrella organization for the world's central banks.