This website uses cookies to ensure you get the best experience while browsing it. By clicking 'Got It' you're accepting these terms.


The best of EcoWatch, right in your inbox. Sign up for our email newsletter!
Shell Oil Loses Arctic Drilling Lawsuit
Nov. 13, 2014 04:26PM EST
Energy
Shell Oil seems to be on a losing streak these days.
In early October it was announced that the Greenpeace campaign to get Danish toy company LEGO to sever its nearly 50-year partnership with the oil giant was successful. Its Arctic drilling has been plagued with misadventures such as a drilling rig running aground on New Year's Eve 2012. It was forced to abandon its drilling plans for 2013 and 2014, although it has said it plans to try again for 2015.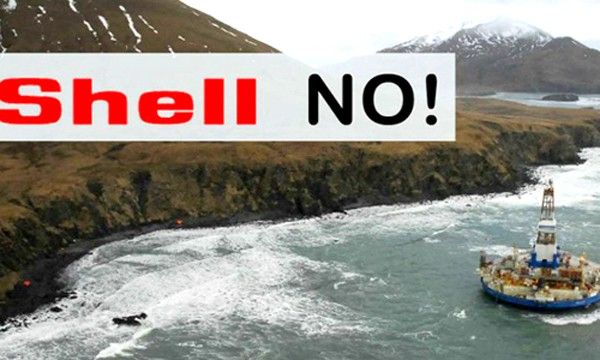 And yesterday, in a decision sure to be a relief to activist and advocacy groups of all stripes, a three-judge panel of the U.S. 9th Circuit Court of Appeals threw out a lawsuit brought by Shell that was primarily an effort to block potential lawsuits from environmental groups who opposed its drilling operations in the Arctic.
Two years ago, Shell filed a preemptive lawsuit against 13 environmental, indigenous and community groups to prevent them from possibly suing Shell at some time in the future over its plans to drill for oil in the Arctic. The 9th Circuit Court panel yesterday called the legal maneuver "novel"and said that it was unconstitutional.
"Big News! David has taken down Goliath!" the Alaska Wilderness League posted on their Facebook page. "Shell tried to bully environmental groups like the Alaska Wilderness League by preemptively suing us to silence our voice. The Ninth Circuit Court of Appeals, however, has officially told the oil giant: Shell NO! That behavior won't fly!"
Shell acquired leases for oil exploration in the Chukchi and Beauford seas off Alaska, following the 2011/2012 approval of its oil spill amelioration plans by the U.S. Bureau of Safety and Environmental Enforcement (BSEE). The company was arguing that since the environmental groups were sure to challenge the approvals, it wanted to have the courts declare the approvals legal, in essence winning its case before the case was filed against it.
"Shell claimed that it needed a swift determination of the legality of the approval so it could conduct exploratory drilling without worrying that the environmental groups would seek to overturn the Bureau's approval of the spill response plans," the panel pointed out in their decision. "Shell's lawsuit represents a novel litigation strategy, whereby the beneficiary of agency action seeks to confirm its lawfulness by suing those who it believes are likely to challenge it."
"Shell may not file suit solely to determine who would prevail in a hypothetical suit," the judges found.
"The environmental groups were 'aggrieved' by the approval of Shell's oil spill response plans, and the Bureau is the federal agency responsible for their approval," said the panel. "Because its plans were approved, Shell was not 'aggrieved' by the Bureau's actions. Moreover, since Shell is not a federal agency, it cannot possibly have any legal obligations under the APA to the environmental groups."
While Shell said they believed this was a valid use of the legal system, advocacy groups were concerned that if Shell had prevailed, it would have had a silencing effect on a wide range of activist, citizen and community groups fearing expensive lawsuits from powerful corporate entities.
"Shell's lawsuits against Oceana and our partners attempted to circumvent the constitution," said Oceana deputy vice president Susan Murray. "Shell, one of the largest corporations in the world, sued nonprofit organizations on the grounds that the groups would dare speak out against the company's proposals and use the courts to have that opposition heard when all other avenues had been exhausted without fair resolution. Today's decision makes clear that Shell's intimidation tactics will not stand. It is time for Shell to face the facts and take a step back in the Arctic."
Chuck Clusen of the Natural Resources Defense Council, also a defendant in the case, said, "Shell was attempting to quash dissent and circumvent due process.  It didn't work—our legal system prevailed. As multiple accidents have already shown, Shell's drilling plans in the Arctic are severely flawed. Shell is not equipped to handle offshore drilling in some of the world's most treacherous waters, and we'll continue to do all we can to stop them from endangering the precious wildlife and local fishing economies that they're putting at risk."
YOU MIGHT ALSO LIKE
Victory for Greenpeace Campaign as LEGO Dumps Shell Oil
Shell Accused of 'Orwellian Doublethink' in Downplaying Climate Risks to Investors
Lawsuit Filed to Protect Struggling Walruses from Arctic Oil Drilling
EcoWatch Daily Newsletter
jenifoto / iStock / Getty Images
Many people consider granola bars a convenient and healthy snack and enjoy their flavor and versatility.
A common green darners (Anax junius). Judy Gallagher / Flickr
By Jason Bittel
It's that time of year again: Right now, monarch butterflies are taking wing in the mountains of northwestern Mexico and starting to flap their way across the United States.
fstop123 / iStock / Getty Images Plus
At EcoWatch, our team knows that changing personal habits and taking actions that contribute to a better planet is an ongoing journey. Earth Day, happening on April 22, is a great reminder for all of us to learn more about the environmental costs of our behaviors like food waste or fast fashion.
To offer readers some inspiration this Earth Day, our team rounded up their top picks for films to watch. So, sit back and take in one of these documentary films this Earth Day. Maybe it will spark a small change you can make in your own life.
Denali national park. Domen Jakus / Flickr / CC BY-NC 2.0
By Stephanie Gagnon
Happy National Parks Week! This year, between April 20 and 28, escape to the beautiful national parks — either in person or in your imagination — and celebrate the amazing wildlife that calls these spaces home.
Sesame, three months old, at Seal Rescue Irleand.
Screenshot / Seal Rescue Ireland Instagram
On Friday, Seal Rescue Ireland released Sesame the seal into the ocean after five months of rehabilitation at the Seal Rescue Ireland facility. Watch the release on EcoWatch's Facebook.

Beer packs of Guinness will now come in a cardboard box. Diageo

By Jordan Davidson
Guinness is joining the fight against single use plastic. The brewer has seen enough hapless turtles and marine life suffering from the scourge of plastic.
Maskot / Getty Images
People of all ages are spending more of their day looking at their phones, computers and television screens, but parents now have another reason for limiting how much screen time their children get — it could lead to behavioral problems.