This website uses cookies to ensure you get the best experience while browsing it. By clicking 'Got It' you're accepting these terms.
SeaWorld to End Killer Whale Shows in Wake of Mounting Protests
Nov. 09, 2015 05:42PM EST
Facing mounting protests and plummeting profits, SeaWorld intends to phase out its infamous killer whale show at its San Diego park next year.
According to the San Diego Union-Tribune, which broke the news after seeing a SeaWorld document posted online in advance of a corporate webcast, the decision is "part of a comprehensive strategy unveiled Monday to re-position the embattled company amid persistent criticisms of how it treats its orcas."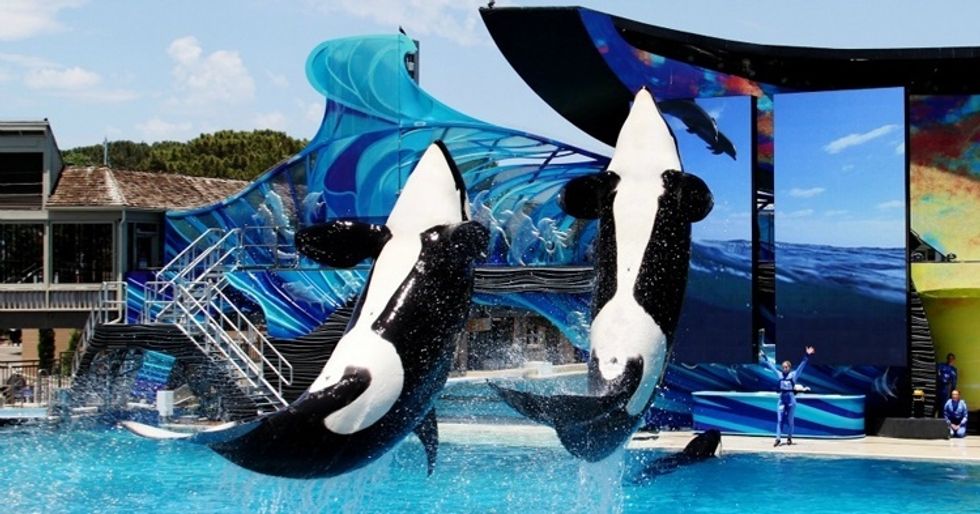 Orcas perform at SeaWorld San Diego. Photo credit: C./flickr/cc
The Union-Tribune further reports that in the show's place will be a new orca "experience" debuting in 2017, described as "informative" and designed to take place in a more natural setting that would carry a "conservation message inspiring people to act."
In the wake of increased public awareness about the sea-park industry sparked by the 2013 documentaryBlackfish, the announcement drew limited praise from animal rights activists—and critics were quick to note that SeaWorld's plans appear to still be motivated by the company's bottom line as opposed to animal welfare.
"While SeaWorld would like us to believe their motivation is advocacy based ... the company has clearly ignored the millions who have already acted and voiced their stance," read a blog post at the Ric O'Barry's Dolphin Project website on Monday. "[S]pecifically, that: keeping orcas in captivity is an unacceptable and outdated practice, no matter the exhibit or size of the tanks."
And as USA Today points out, the California Coastal Commission recently refused to give the company permission to breed killer whales, a decision that would have threatened its theatrical shows.
In addition, "while it's possible the killer whale shows could come to an end at SeaWorld's two other namesake parks, in Orlando and San Antonio, no mention is made of that in the company's online presentation," the Union-Tribune reported.
"An end to SeaWorld's tawdry circus-style shows is inevitable and necessary, but it's captivity that denies these far-ranging orcas everything that is natural and important to them," said PETA's director of animal law Jared Goodman. "This move is like no longer whipping lions in a circus act but keeping them locked inside cages for life or no longer beating dogs but never letting them out of crates."Animal rights groups called for SeaWorld to go further.
He cited the recently unveiled Orca Responsibility and Care Advancement (ORCA) Act, a soon-to-be-introduced bill that would "phase out the captivity of orcas so that their display ends with this generation." Sponsored by Rep. Adam Schiff (D-Calif.), the legislation would outlaw breeding, capturing and importing orca whales for the purpose of public exhibition in the U.S.
"The decision by SeaWorld to phase out killer whale shows in San Diego is a welcome step along the path towards ending the captivity of these magnificent creatures," Schiff said on Monday in response to the news. "Much more needs to be done, however, and I would urge the company to curtail the breeding of their orcas and partner in the creation of ocean sanctuaries. The fact still remains that as long as SeaWorld holds orcas in captivity, the physical and psychological problems associated with their captivity will persist."
The ORCA Act indicates that "no change to SeaWorld's tanks will be sufficient to satisfy the needs of these animals," Goodman added. "That's why PETA is calling on SeaWorld to stop breeding orcas and start building sea sanctuaries where they can experience an actual natural setting and finally thrive."
YOU MIGHT ALSO LIKE
Shocking Photos of Green Sea Turtle Killed by Ingesting Plastics and Other Marine Litter
Watch Live as Polar Bears Congregate Waiting for Sea Ice to Form
Millions of Dog-Coyote-Wolf Hybrids Now Roam Eastern U.S.
One-Third of World's Orangutans at Risk From Fires in Sumatra and Borneo
EcoWatch Daily Newsletter
A pangolin at a rescue center in Cambodia. Rhett A. Butler / Mongabay
A man carries plastic shopping bags in Times Square on May 5, 2018 in New York City. Kena Betancur / VIEWpress / Corbis / Getty Images
White gold man-made diamond solitaire engagement ring. Clean Origin
While keeping track of the new trends in the diamond industry can be hard, it is still an essential task of any savvy consumer or industry observer. Whether you are looking to catch a deal on your next diamond purchase or researching the pros and cons of an investment within the diamond industry, keeping up with the trends is imperative.
Rep. Alexandria Ocasio-Cortez (D-NY) (C) chants with housing and environmental advocates before a news conference to introduce legislation to transform public housing as part of her Green New Deal outside the U.S. Capitol Nov. 14, 2019 in Washington, DC. Chip Somodevilla / Getty Images
Rep. Alexandria Ocasio-Cortez (D-N.Y.) took to the floor of the House of Representatives yesterday to chide Republicans for not reading the Green New Deal, which she introduced over one year ago, as The Hill reported. She then read the entire 14-page document into the congressional record.
Anti Ivan Duque's demonstrator is seen holding a placard with the photos of social leader Alirio Sánchez Sánchez and the indigenous Hector Janer Latín, both killed in Cauca, Colombia during a protest against Ivan Duque visit in London which included a meeting about fracking, environmental issues, the peace process implementation, and questioning the risk that social leaders in Colombia face. Andres Pantoja / SOPA Images / LightRocket / Getty Images
Colombia was the most dangerous nation in 2019 to be an environmental activist and experts suspect that conditions will only get worse.