This website uses cookies to ensure you get the best experience while browsing it. By clicking 'Got It' you're accepting these terms.
Researchers Say Only Way to Guarantee Enough Food in 2050 Is if the World Turns Vegan
Apr. 24, 2016 09:40AM EST
Food
It is possible to produce enough food to feed a growing population without another tree being felled, according to new research. But there's a catch.
The only way to guarantee enough food in 2050 is if the world turns vegan, says the study published Tuesday in Nature Communications. That way, even the most pessimistic projections for technological improvements and availability of farmland wouldn't see people going hungry.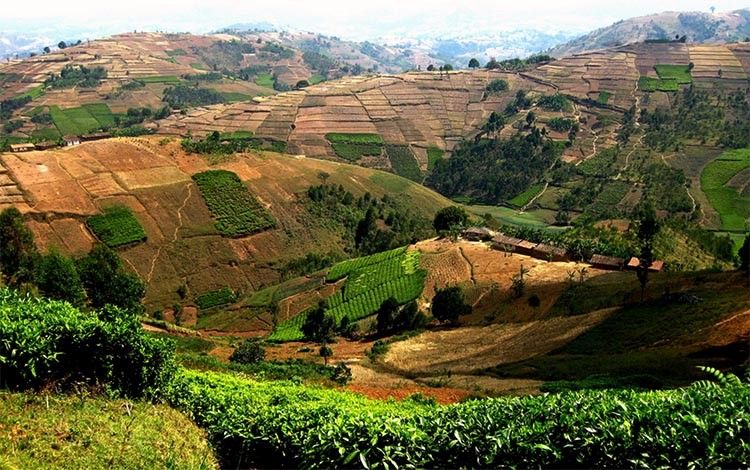 With a global transition to veganism unlikely, the study explores the options left on the table if we continue to eat meat, as well as how climate change might narrow those options further.
The study is more of a thought experiment than a realistic set of projections. But the point it makes is simple: We, as humans, must work out how to make the most appropriate use of a finite amount of land. While there will inevitably be compromises, the paper concludes:
"Deforestation is not a precondition for supplying the world with sufficient food in terms of quantity and quality in 2050."
"Zero-Deforestation"
Whether for growing crops, grazing or building on, 75 percent of the Earth's ice-free surface is used in one way or another by humans, today's study begins. Put another way, only a quarter is left in something resembling its natural state.
Land-based ecosystems house a large fraction of the world's biodiversity, as well as providing food, fuel, energy, air and water purification and protection against the elements for humans.
Forests, in particular, also play an important role in mitigating climate change. The paper notes:
"Forests store more carbon than any other land-cover type per unit area."
The starting point for the study is a hypothetical world in which the global population recognizes the intrinsic value of our remaining forests and halts to deforestation.
The authors look at the projected global population in 2050 and work out what options exist for ensuring the supply of food meets demand, without encroaching on any forested land.
As well as a global average, the study considers whether supply meets demand in 11 distinct regions of the world. These include, for example, sub-Saharan Africa, North America, Western Europe and Southeast Asia.
The authors express food demand in kilocalories per capita per day and the base projections are in line with estimates from the UN Food and Agricultural Organization (FAO).
Regarding the consequence of a growing population on demand for cereals, roots, sugar crops, pulses, oil crops, and fruit and vegetables, the paper explains:
"Safeguarding the existing forests constrains agricultural development as it limits the expansion of cropland and grazing areas. Consequently, the increasing demand for food, feed, fibre and fuel of a growing world population will have to be met on shrinking per capita land areas."
Options on the Table
The study examines how various different factors combine to affect whether or not demand is met in 2050. These include the expansion of farmland (ranging between 11-70 percent compared to 2000), the size of crop yields (high, low or business-as-usual) and the composition of human diet (ranging from heavy meat consumption through to veganism).
Of 500 pathways, each featuring a unique combination of these factors, 289 are likely to produce enough food while still staying within the study's "zero-deforestation" limits.
According to the study's results, 100 percent of scenarios that exclude all livestock manage to supply enough food to meet demand in 2050. In other words, if the whole world becomes vegan, the global population in 2050 could eat enough without another tree being cut down.
The same would be true if the whole world turned vegetarian, assuming the area available for crops expands more than about 22 percent compared to 2000 levels. The paper says:
"A vegan or vegetarian diet is associated with only half the cropland demand, grazing intensity and overall biomass harvest of comparable meat-based human diets."
Assuming the world neither turns vegan nor vegetarian, what options are left? The study explores various options for continuing to eat meat, while still keeping our forests in tact.
The many permutations of different types of livestock (cows, pigs, chickens etc), what they're fed on and the grazing intensity make for a pretty complex picture.
Broadly-speaking, if the diet of North America in 2000 were to prevail globally in 2050, only scenarios in which technological advancements produce very high yields or where a large share of high quality grazing land is given over to cropland provide enough food.
Scenarios that see global food demand and diets in different regions rise in line with FAO forecasts for 2050—representing a "business-as-usual" scenario—provide enough food in all but the lowest yielding scenarios with little cropland expansion.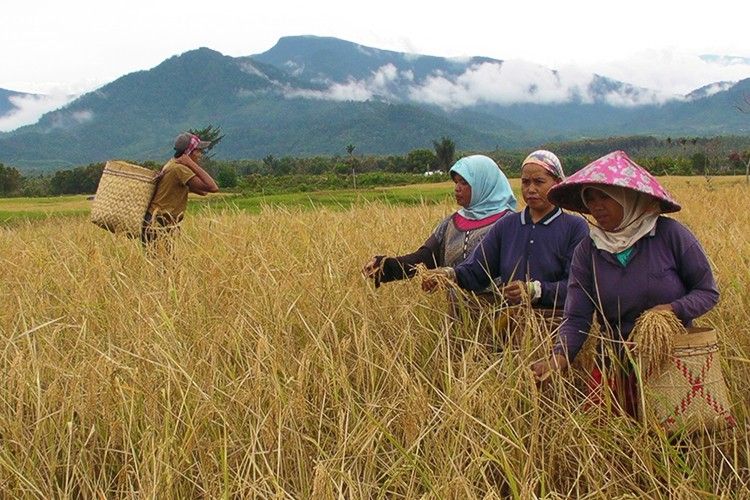 Climate Impact
The study does not explicitly model the impact of climate change on food production or how it affects the results presented above. This was a deliberate choice because the severity of the consequences is uncertain, says lead author Prof. Karl-Heinz Erb from Alpen-Adria University in Vienna. He tells Carbon Brief:
"We have general effects that are not well-known and it is unclear which one is stronger."
Erb explains that where nutrients and water are freely available, higher atmospheric CO2 could increase plant growth—an effect known as CO2 fertilization. Lengthening growing seasons could be another consequence of rising temperature. But, Erb adds:
"On the other hand, the shift in climate patterns could lead to to increased occurrence of extreme events (e.g droughts) and, so, reduce yields."
Instead, the paper makes a general point about the consequence of low yields, saying:
"Apparently, the increased area demand resulting from low yields renders scenarios with richer diets unfeasible."
As a reasonable approximation to climate change, the authors point to their "organic" scenario, in which crop yields per harvest are 40 percent lower compared to industrial agriculture. Erb explains:
"Organic farming is at the lower end of the possible yield level."
The study's organic route is only likely to be able to support the FAO's business-as-usual meat-eating scenario out to 2050 if cropland expands at least 20 percent on 2000 levels. No scenarios allow for an organic approach to food production and global adoption of a North American style diet, the study suggests.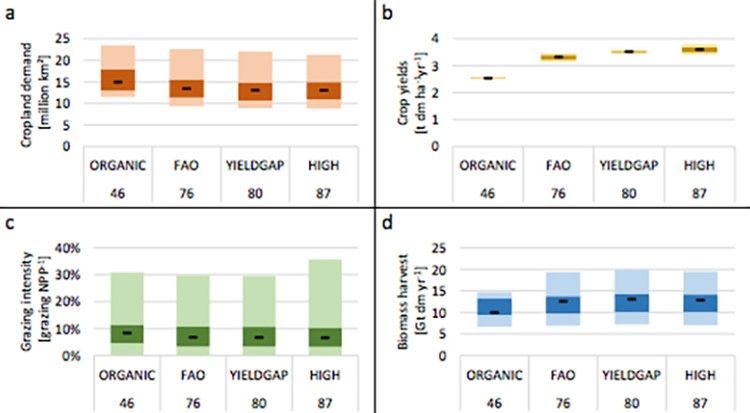 On the climate-benefits of organic agriculture more generally, the paper explains:
"[T]he benefits from increased soil carbon stocks of organic agriculture can be annihilated by the larger area demand resulting from lower yields of organic agriculture. In this regard, the massive greenhouse gas emission costs associated with the expansion of cropland into grazing land, currently not well documented, will be crucial."
Understatement
While the study attempts to discuss the impacts of climate change in its vision of a zero-deforestation world, the real situation will be far more complicated, says Prof. Andy Challinor, professor of climate impacts with expertise in food security at the University of Leeds. He tells Carbon Brief:
"Climate change is not only about low yields, it's about increased variability. This isn't assessed at all in the new study."
Simply comparing organic agriculture to climate change impacts misses the very important impacts of extreme weather events on crop production. Challinor adds:
"The fact that the impacts are complicated and often have no simple numerical answer is not a reason to ignore these important effects."
Erb acknowledges the shortcoming in his study's discussion of climate change, telling Carbon Brief the comparison with the organic pathway is "guess-working."
There are other simplifications and elements that make the study purely hypothetical, too. For example, it assumes that shortfalls in regional food production can be met through international trade. As the paper explains, the reality is likely to be quite different:
"Socioeconomic barriers or obstacles to biomass trade, which could result from subsidy systems, tariffs or other regulations, could narrow the options space by rendering more scenarios unfeasible."
As such, the study is intended more as a vehicle to provoke conversation than to elicit concrete recommendations. Indeed, the authors say the paper:
"It is not aimed at exploring probabilities and it does not support straightforward conclusions regarding the desirability, political practicability or sustainability performance of different scenarios."
The simple point the authors make is about the trade-offs between quality and quantity of food production in a deforestation-constrained world.
YOU MIGHT ALSO LIKE
Top 10 Vegan-Friendly Cities of 2016
50 Billionaires Receive $6.3 Million in Federal Farm Subsidies
GMO Mushroom Sidesteps UDSA Regulations
3 Most Environmentally Damaging Habits You Might Be Able to Change
EcoWatch Daily Newsletter
By Allegra Kirkland, Jeremy Deaton, Molly Taft, Mina Lee and Josh Landis
Climate change is already here. It's not something that can simply be ignored by cable news or dismissed by sitting U.S. senators in a Twitter joke. Nor is it a fantastical scenario like The Day After Tomorrow or 2012 that starts with a single crack in the Arctic ice shelf or earthquake tearing through Los Angeles, and results, a few weeks or years later, in the end of life on Earth as we know it.
A pregnant woman works out in front of the skyline of London. SHansche / iStock / Getty Images Plus
Air pollution particles that a pregnant woman inhales have the potential to travel through the lungs and breach the fetal side of the placenta, indicating that unborn babies are exposed to black carbon from motor vehicles and fuel burning, according to a study published in the journal Nature Communications.
Teen activist Greta Thunberg delivered a talking-to to members of Congress Tuesday during a meeting of the Senate Climate Change Task Force after politicians praised her and other youth activists for their efforts and asked their advice on how to fight climate change.
Ten feet of water flooded 20 percent of this Minot, North Dakota neighborhood in June 2011.
DVIDSHUB
/
CC BY 2.0
A protestor holds up her hand covered with fake oil during a demonstration on the U.C. Berkeley campus in May 2010. Justin Sullivan / Getty Images
The University of California system will dump all of its investments from fossil fuels, as the Associated Press reported. The university system controls over $84 billion between its pension fund and its endowment. However, the announcement about its investments is not aimed to please activists.
By Ngozi Okonjo-Iweala
World leaders have a formidable task: setting a course to save our future. The extreme weather made more frequent and severe by climate change is here. This spring, devastating cyclones impacted 3 million people in Mozambique, Malawi and Zimbabwe. Record heatwaves are hitting Europe and other regions — this July was the hottest month in modern record globally. Much of India is again suffering severe drought.
Covering Climate Now / YouTube screenshot
By Mark Hertsgaard

The United Nations Secretary General says that he is counting on public pressure to compel governments to take much stronger action against what he calls the climate change "emergency."