This website uses cookies to ensure you get the best experience while browsing it. By clicking 'Got It' you're accepting these terms.
PNC Bank Will Cease Investments in Mountaintop Removal Coal Mining
Mar. 03, 2015 12:04PM EST
Energy
Bowing to pressure from Quaker environmentalists, PNC Bank announced yesterday that it will be restricting financing of mountaintop removal coal mining in Appalachia. The shift outlined in its 2015 Corporate Responsibility Report means PNC Bank will effectively cease its investment in this controversial practice.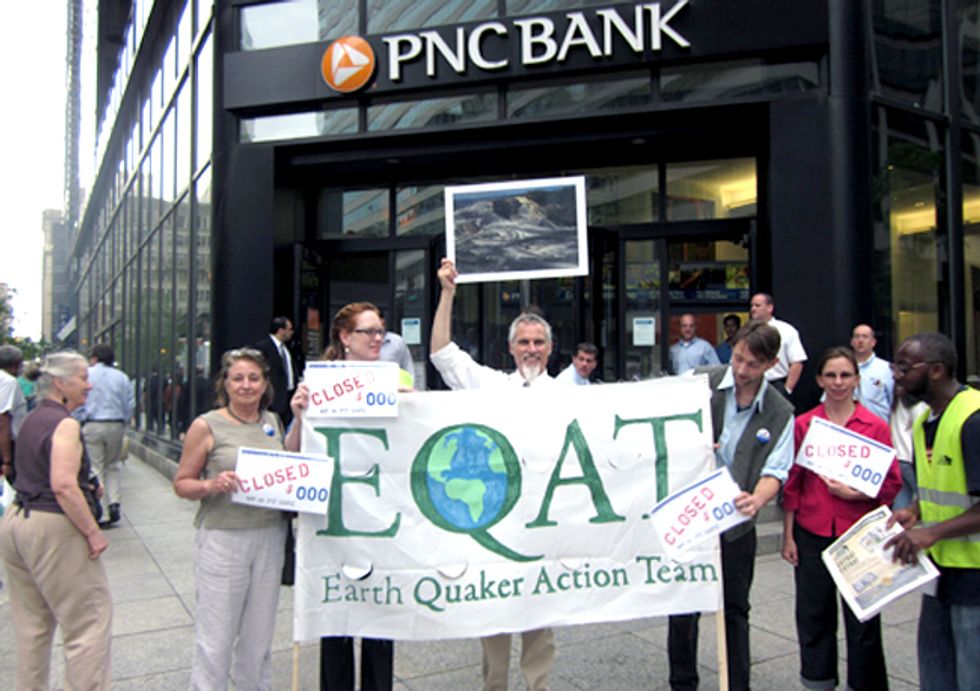 In 2012, PNC Bank financed Alpha Natural Resources, Arch Coal, CONSOL Energy and Patriot Coal, which together were responsible for nearly half (44.97 percent) of Appalachian mountaintop removal production. PNC's total investment was $687.5 million for that year.
The grassroots group leading the charge for PNC's new policy, Earth Quaker Action Team, hails the change as a major shift by the seventh largest U.S. bank. "When we initiated our campaign in 2010, PNC attempted to placate us with a hollow policy. It's good to see that PNC Bank is now taking meaningful steps," says Matthew Armstead, staff coordinator for EQAT. "Since this shift happened because of external pressure, it should be a wake-up call for everyone that the power of change lies with regular citizen activists."
According to EQAT's analysis, PNC's changes in investment will sever ties with the two largest companies (Alpha and Arch). Given Patriot Coal's bankruptcy and CONSOL Energy's imminent shifting out of mountaintop removal, PNC Bank will be left without any major investments in mountaintop removal.
Mountaintop removal has long been criticized for its negative environmental and health impacts. This process of getting coal from a mountain involves blowing up the top of the mountain and dumping the remains into rivers and valleys. The contaminants from the dynamite hang in the air and the sludge and residue from this process poisons water. Scientists note the impact of burning dirty coal is speeding up global climate change.
Released yesterday, PNC's 2015 Corporate Responsibility Report began their new policy by admitting they were "driven by environmental and health concerns."
Rainforest Action Network (RAN), a watchdog expert on the energy sector, issued a statement:
"We see today's news as indicative of a broader trend within the financial sector. Banks no longer want to be associated with a dangerous, abhorrent practice like mountaintop removal; there is an emerging financial industry consensus that these practices are unacceptable. Concretely, this means mountaintop removal companies will have a harder time securing financing to operate and expand in the future."
PNC follows in the footsteps of other banks pressured to adopt policies cutting ties with firms specializing in mountaintop removal: JPMorgan Chase, Wells Fargo, RBS, BNP Paribas and UBS.
Dustin White, an 11th-generation native Appalachian with Ohio Valley Environmental Coalition, lauded the tiny Quaker environmentalist organization for making this change. He said, "PNC's new policy is a step in the right direction, and we applaud our friends at EQAT for their success in moving this big bank to do the right thing. For over 150 years, Big Coal has endangered our health, our heritage, and our homes."
For members of Earth Quaker Action Team this is a major victory from a long campaign. "In our early encounters with PNC, they didn't take us or this issue seriously. We showed them evidence, delivered them Appalachian water poisoned by mountaintop removal, and brought them face-to-face with residents hurt by this practice," says George Lakey, a retired teacher who was arrested twice during the campaign. "We had to take direct action for them to see the light."
YOU MIGHT ALSO LIKE
Groups Demand EPA Regulate Toxic Water Pollution from Mountaintop Removal Coal Mining
Watch Critically-Acclaimed 'Momenta' Now Available Online for Free
President Obama, Stop Selling Us Out: End Oil, Gas and Coal Extraction on Public Lands
EcoWatch Daily Newsletter
Pro-environment demonstrators on the streets of Washington, DC during the Jan. 20, 2017 Trump inauguration.
Mobilus In Mobili
/ Flickr /
CC BY-SA 2.0
By Dr. Brian R. Shmaefsky
One year after the Flint Water Crisis I was invited to participate in a water rights session at a conference hosted by the US Human Rights Network in Austin, Texas in 2015. The reason I was at the conference was to promote efforts by the American Association for the Advancement of Science (AAAS) to encourage scientists to shine a light on how science intersects with human rights, in the U.S. as well as in the context of international development. My plan was to sit at an information booth and share my stories about water quality projects I spearheaded in communities in Bangladesh, Colombia, and the Philippines. I did not expect to be thrown into conversations that made me reexamine how scientists use their knowledge as a public good.
Mt. Rainier and Reflection Lake on Sept. 10, 2015. Crystal Geyser planned to open a bottling plant near Mt. Rainier, emails show.
louelke - on and off / Flickr
Bottled water manufacturers looking to capture cool, mountain water from Washington's Cascade Mountains may have to look elsewhere after the state senate passed a bill banning new water permits, as The Guardian reported.
Large storage tank of Ammonia at a fertilizer plant in Cubatão, Sao Paulo State, Brazil. Luis Veiga / The Image Bank / Getty Images
The shipping industry is coming to grips with its egregious carbon footprint, as it has an outsized contribution to greenhouse gas emissions and to the dumping of chemicals into open seas. Already, the global shipping industry contributes about 2 percent of global carbon emissions, about the same as Germany, as the BBC reported.
At high tide, people are forced off parts of the pathway surrounding DC's Tidal Basin. Andrew Bossi /
Wikimedia
The Jefferson Memorial in Washington, DC overlooks the Tidal Basin, a man-made body of water surrounded by cherry trees. Visitors can stroll along the water's edge, gazing up at the stately monument.
But at high tide, people are forced off parts of the path. Twice a day, the Tidal Basin floods and water spills onto the walkway.
Lioness displays teeth during light rainstorm in Kruger National Park, South Africa. johan63 / iStock / Getty Images
Ahead of government negotiations scheduled for next week on a global plan to address the biodiversity crisis, 23 former foreign ministers from various countries released a statement on Tuesday urging world leaders to act "boldly" to protect nature.