Pennsylvania Fracking Water Contamination Much Higher Than Reported
Feb. 04, 2016 10:42AM EST
Energy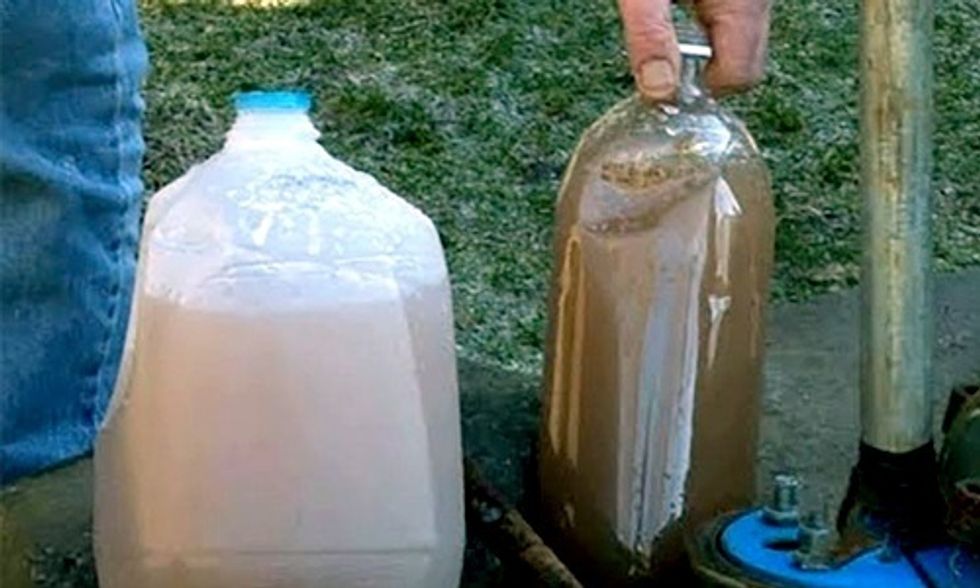 The headline flew around the globe like wild fire. The U.S. Environmental Protection Agency (EPA) published their long-awaited draft fracking drinking water study and concluded: fracking has had no widespread impact on drinking water. But if you've had your ear to the ground in fracking communities, something didn't sit right with the EPA's takeaway. Though the gas industry claims fracking is safe and doesn't harm drinking water, that story doesn't match what many landowners report from the fracking fields.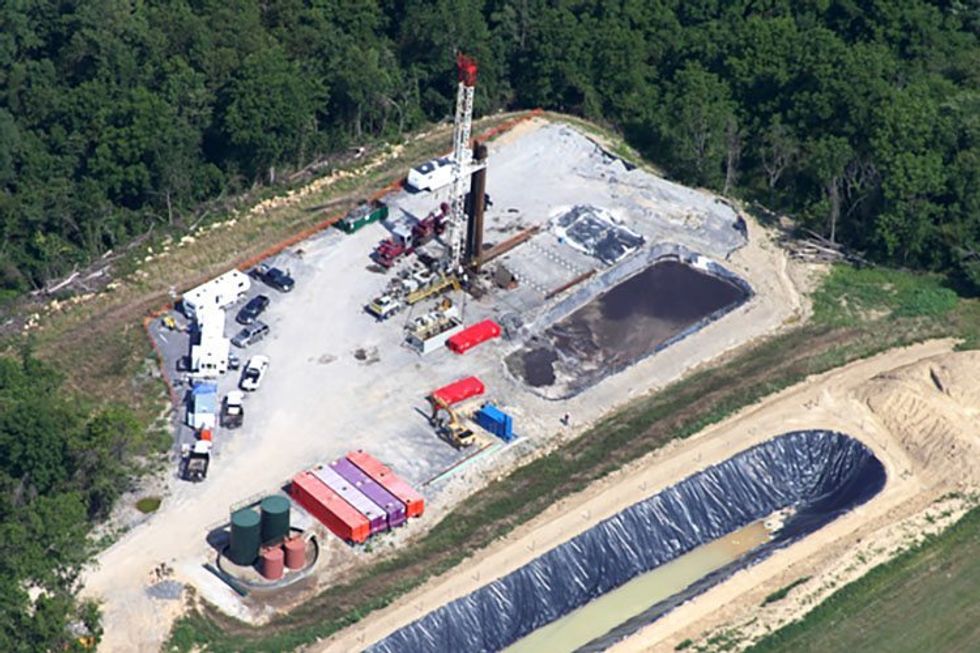 At least in Pennsylvania, the reason for this discrepancy comes down to a singular issue: mismanaged record-keeping and reporting by the Department of the Environment (DEP). Based on 2,309 previously unreported fracking complaints unearthed by the non-profit Public Herald, the public can now peek into 1,275 fracking water complaints from 17 of 40 fracking counties. However, Pennsylvania's official tally of water contamination is only 271 for all 40 counties.
Contrary to the EPA fracking study's conclusion, the prevalence of drinking water contamination appears to be much higher than previously reported. Accurate drinking water complaint data is vital to know as Maryland drafts new fracking regulations to potentially welcome the natural gas industry into Western Maryland in 2017.
What is a Contaminated Water Well?
Officially, Pennsylvania reports 271 confirmed cases of water degradation due to unconventional natural gas operations (a.k.a. fracking).
In Pennsylvania, water degradation is when a private water well located within 2,500 feet of a fracking well has been negatively impacted within six months of drilling. According to the DEP, water degradation falls into two camps—reduced water volume or the presence of "constituents" found in higher levels after drilling than before drilling. Constituents can be naturally-occurring, fracking-related chemicals or methane gas than seeps into aquifers and water wells.
Homeowners usually know right away if something's up with their well water. Their tap water's clarity or color changes, the water smells gross or the well runs dry. What's harder for homeowners to self-identify is natural gas (methane) migration because methane gas is odorless. Methane is highly flammable and if present at dissolved levels above 28 mg/L requires immediate remediation or the potential for explosions exists.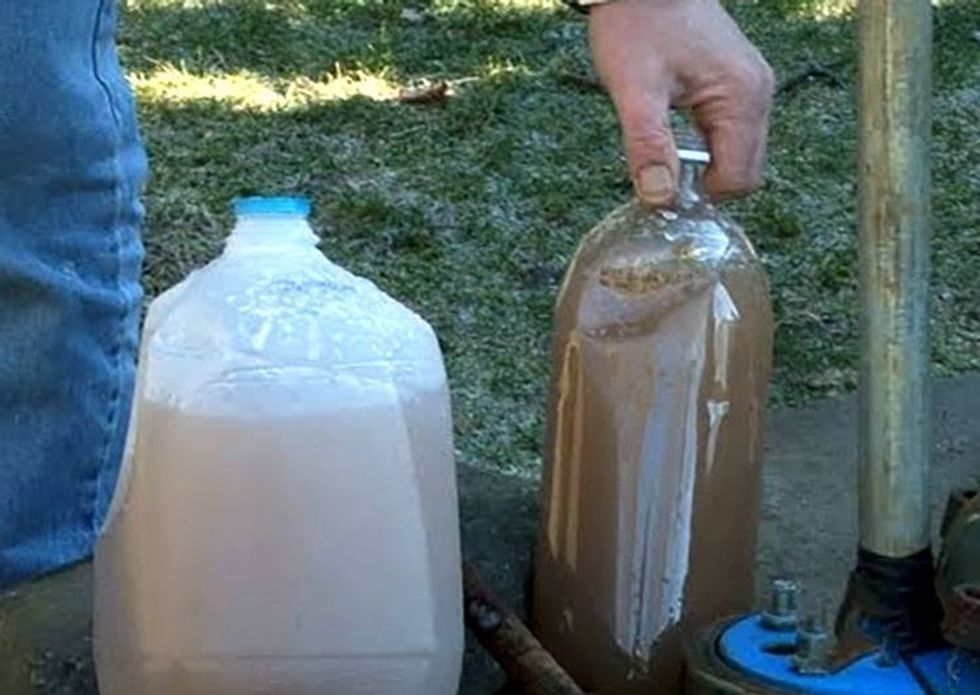 Pennsylvania's DEP regulates the oil and gas industry and is also the "911 dispatch center" for fracking complaints. DEP's role is to register citizen fracking complaints, research complaints and conduct water tests if needed. If water well damage is proved to be caused by nearby fracking, DEP notifies the gas driller that they are responsible for providing water replacement.
Buried in Folders: 1,275 Water Complaints
Prior to Public Herald's fracking complaints database (an open source project named #fileroom) which was launched in September 2015, the public had little access to Pennsylvania's fracking water complaints. What was known is that the DEP fracking complaint system was horrendous.
After considerable legal wrangling, the Scranton Times-Tribune obtained 969 determination letters and the newsroom reported in May 2013, "water damage and murky testing methods."
In May 2014, Pennsylvania's Auditor General reviewed DEP complaint files and reported eight areas of mishandling with "sloppy record keeping" topping the list.
When asked if the public's health was being threatened from fracking water contamination, Pennsylvania's Auditor General publicly commented, "we can't say one way or the other because their [DEP] record keeping is so poor."
After threatening legal action in 2013, Pennsylvania's DEP offices finally gave Public Herald volunteers access to all fracking complaints.
Over more than two years, Public Herald's team scanned 2,309 complaints from 17 of 40 counties. The complaints are stored online in the #fileroom database. The fracking complaints were stored in filing cabinets and most cases weren't entered into any formal central tracking system. The 17 counties account for about 80 percent of Pennsylvania's fracking wells drilled.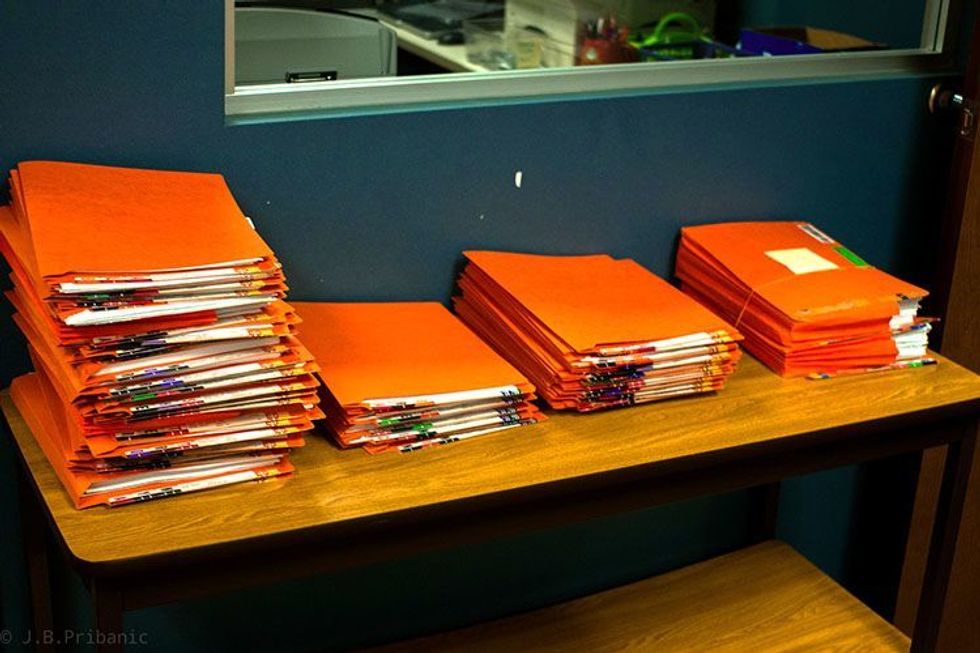 Seventeen (or 44 percent) Water Contamination Rate—Depending on How You Look at It
Not only are Pennsylvania's water complaints much higher than previously reported, but also the basis that complaints are compared to leads people to believe that contamination rates are lower than they really are.
Here's why: A key fracking selling point is that multiple gas wells can be drilled from one central location, also called a "well pad." A fracking well pad is a six-acre plus industrial zone that can host as many as 10 individual gas wells that spread out like a spider web underground. The number of fracking well pad locations interspersed near homes is actually smaller than realized because many fracking wells are concentrated from one location. Pennsylvania's DEP reports an average of 2.6 wells drilled per fracking well pad location. (As of Jan. 26, Pennsylvania has 3,687 unconventional well pads and 9,632 unconventional wells drilled since 2000).
If you're a homeowner or an elected official, assessing the scale of water complaints, comparing to the number of well pad locations is more relevant than comparing to the number of wells drilled. Using the higher figure of wells drilled, which most reporting does, minimizes the scale of impact to people living near concentrated fracking operations.
To understand how this changes the story, if DEP's official tally of 271 confirmed water contaminations is compared to 9,632 fracking wells drilled since 2000, that's a three percent water contamination rate. That figure seems pretty low and supports the EPA's conclusion that fracking water contamination isn't widespread.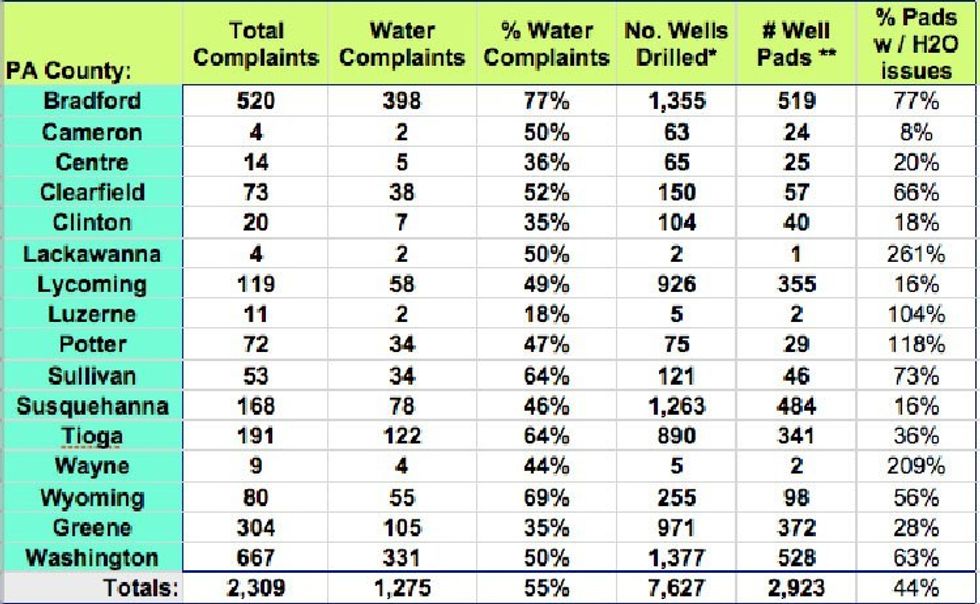 But if you dig into Public Herald's #fileroom database, as the chart above illustrates, 1,275 water complaints were filed in 17 counties with only 2,923* fracking well pads. Those well pads hosted 7,627 gas wells. That means that for about every two fracking well pads, one homeowner called in a water complaint, instead of one for every seven wells drilled. That's a 44 percent fracking water complaint rate suggesting that water well issues are pervasive. Even if the water complaints are compared to the number of wells drilled in these 17 counties, it's a 17 percent water complaint rate.
Not only is the sky-high complaint rate concerning, but why did the DEP dismiss and not report more than 1,000 water well complaints? Did 1,000+ homeowners call in bogus water well claims?
Why Were Three-Quarters of Citizen Water Well Complaints Dismissed?
It is clear that as Pennsylvania rapidly began drilling fracking wells around 2006, the DEP was overwhelmed and unprepared to process the volume of citizen complaints. As explained above, both the Scranton Times-Tribune and Pennsylvania's Auditor General found many points-of-failure in the DEP's fracking complaint process.
A Harvard Law School study analyzed 450 Pennsylvania fracking complaints and produced a what-not-to-do-report suggesting four recommendations: require baseline water well testing, seriously improve the complaint administrative function, improve communication with landowners and allow for appeals. The Scranton Times-Tribune, Pennsylvania Auditor General, Harvard School analysis plus Public Herald's#fileroom complaint database call into serious question if the 1,000+ water complaints should have been dismissed.
Public Herald's own in-depth analysis of 200 complaints found nine ways DEP's decision on water contamination could be challenged and possibly reversed.
Most concerning is that the state's Auditor General found that the DEP encouraged gas drillers and homeowners to reach voluntary restitution agreements on the side. Yet, the DEP did not register and track many of those agreements.
How Does a Lack of Data Lead to "No Widespread Damage" Claim?
Because fracking is regulated at the state level, all 30+ fracking states have different and separate complaint processes. There is no accurate and centralized database in the U.S. reporting drinking water damage resulting from bad well casings, hydraulic fracturing, above ground spills, waste pond spills or drilling mishaps and failures.
That point is printed throughout the EPA's draft Potential Impacts of Hydraulic Fracturing for Oil and Gas on Drinking Water Resources. The study relied on "available data and reporting." The EPA essentially used Pennsylvania DEP's official tally of 271 determined cases. It's unclear if the thousands of unreported fracking complaints were even analyzed.
The U.S. EPA's executive summary spells this out plainly in the Key Data Limitations and Uncertainties section: "This assessment used available data and literature to examine the potential impacts of hydraulic fracturing from oil and gas on drinking water resources nationally. As part of this effort, we identified data limitations and uncertainties associated with current information on hydraulic fracturing and its potential to affect drinking water resources. In particular, data limitations preclude a determination of the frequency of impacts with any certainty. These limitations and uncertainties are discussed in brief below."
It is unclear how the EPA concluded there is no widespread water contamination due to fracking when there is little to no data.
That's exactly the same conclusion the EPA's own 31-member Science Advisory Panel announced recently in a statement on Jan. 8. The panel announced that the EPA's draft Fracking Drinking Water Study's findings, "are inconsistent with the observations, data and levels of uncertainty."
But the fracking-is-safe train has already left the station.
Collateral Damage
What's clear is that fracking causes damage to private drinking water wells. Sadly, many Pennsylvania landowners whose drinking water wells were compromised because of nearby fracking operations received no restitution because the DEP did not properly assess their complaints.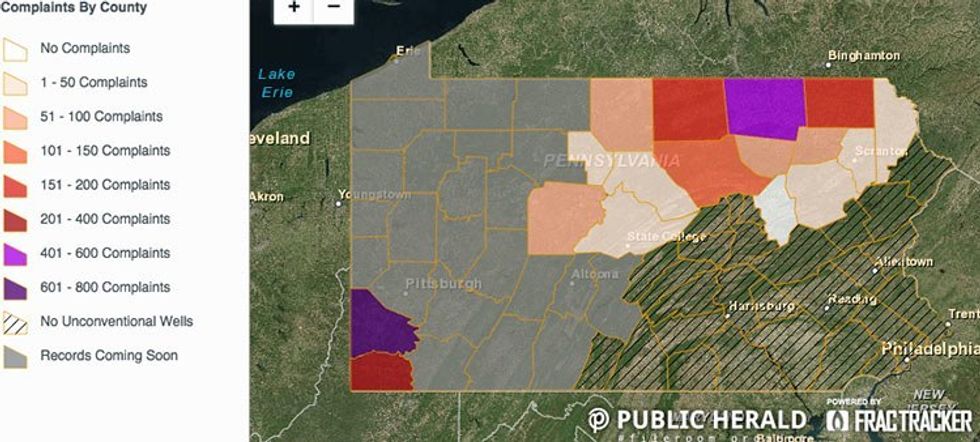 Even with the large volume of incoming drinking water complaints, Pennsylvania's DEP did not assume a presumption of liability for the gas drilling industry; the onus of proof was on the homeowner to prove contamination for their water wells that were within half a mile from a fracking well pad. And many landowners, especially in the early phases of fracking, didn't have pre-drilling water tests to compare post-drilling results.
Looking Ahead for Maryland
To ensure that Western Maryland landowners don't face the same situation, Maryland's Department of the Environment and elected officials should consider closely analyzing Pennsylvania's thousands of fracking complaints. Public Herald is still scanning the Southwest region's files.
Joshua Pribanic, Public Herald's editor-in-chief adds, "At this point, there is no way to find out what happened with thousands of fracking water complaints except to go door-to-door and ask what happened with a complainant's drinking water. In many cases you'll find rooms stuffed with bottled water. Or, you'll find in the basement an industry-supplied reverse osmosis system or a methane mitigation system. The true extent of water contamination has been concealed." And that doesn't help Maryland as we look to study and analyze our sister state's actual results.
Reposted with permission from our media associate Baltimore Fishbowl.
Scientists are studying barley, the key ingredient in beer. Ridofranz / Getty Images
Researchers at UC-Riverside are investigating how barley, a key ingredient in beer, survives in such a wide variety of climates with hopes of learning what exactly makes it so resilient across climates.
Barley was first grown domestically in Southwest Asia about 10,000 year ago and is grown around the world, from Egypt to Minnesota.
Barley's prime growing regions have shifted northward in recent decades as global temperatures have risen due to climate change caused by human extraction and combustion of fossil fuels.
Chuck Skypeck, technical brewing projects manager for the Brewers Association located in Boulder, Colorado, told E&E climate change's effects are impacting the brewing industry.
"Certainly dynamic growing conditions, water scarcity, extreme weather events, growers' planting decisions can all affect both pricing and availability of brewers' supply of malted barley," he told E&E News.
For a deeper dive:
For more climate change and clean energy news, you can follow Climate Nexus on Twitter and Facebook, sign up for daily Hot News, and visit their news site, Nexus Media News.
EcoWatch Daily Newsletter
Air France airplanes parked at the Charles de Gaulle/Roissy airport on March 24, 2020. SAMSON / AFP via Getty Images
France moved one step closer this weekend to banning short-haul flights in an attempt to fight the climate crisis.
A bill prohibiting regional flights that could be replaced with an existing train journey of less than two and a half hours passed the country's National Assembly late on Saturday, as Reuters reported.
"We know that aviation is a contributor of carbon dioxide and that because of climate change we must reduce emissions," Industry Minister Agnes Pannier-Runacher told Europe 1 radio, according to Reuters.
The measure now has to pass the French Senate, then return to the lower house for a final vote. It would end regional flights between Paris's Orly airport and cities like Nantes and Bordeaux, The Guardian explained. It would not, however, impact connecting flights through Paris's Charles de Gaulle/Roissy airport.
The bill is part of a legislative package which aims to reduce France's emissions by 40 percent of 1990 levels by 2030, Reuters reported. It is a watered-down version of a proposal suggested by France's Citizens' Convention on Climate, BBC News explained. This group, which was formed by President Emmanuel Macron in 2019 and included 150 ordinary citizens, had put forward a ban on flights that could be replaced with an existing train journey of under four hours.
However, the journey length was lowered after protests from KLM-Air France, which had suffered heavy losses due to the coronavirus pandemic, and regions who were concerned about being left out of national transit networks, as The Guardian explained.
"We have chosen two and a half hours because four hours risks isolating landlocked territories including the greater Massif Central, which would be iniquitous," transport minister Jean-Baptiste Djebbari said, as The Guardian reported.
However, some environmental and consumer groups objected to the changes. The organization UFC-Que Choisir compared plane routes with equivalent train journeys of under four hours and found that the plane trips emitted an average of 77 times more carbon dioxide per passenger than the train journeys. At the same time, the train alternatives were cheaper and only as much as 40 minutes longer.
"[T]he government's choice actually aims to empty the measure of its substance," the group said, according to The Guardian.
The new measure also opens the French government to charges of hypocrisy. It bailed out Air France-KLM to the tune of a seven-billion euro loan last year, though it did require the airline to drop some domestic routes as a condition. Then, days before the measure passed, it more than doubled its stake in the airline, BBC News reported. However, Pannier-Runacher insisted to Europe 1 radio that it was possible to balance fighting climate change and supporting struggling businesses.
"Equally, we must support our companies and not let them fall by the wayside," she said, as Reuters reported.
This is not the first time that climate measures and aviation bailouts have coincided in the wake of the coronavirus pandemic. Austrian Airlines replaced its Vienna-Salzburg flight with additional train service after it received government money dependent on cutting greenhouse gas emissions, BBC News reported.
The number of flights worldwide declined almost 42 percent in 2020 when compared with 2019. It is expected that global aviation may not fully recover until 2024, according to Reuters.
A woman looks at a dead gray whale on the beach in the SF Bay area on May 23, 2019; a new spate of gray whales have been turning up dead near San Francisco. Justin Sullivan / Getty Images
Four gray whales have washed up dead near San Francisco within nine days, and at least one cause of death has been attributed to a ship strike.
A small tourist town has borne the brunt of a cyclone which swept across the West Australian coast.
ABC News (Australia) / YouTube
A general view shows the remains of a dam along a river in Tapovan, India, on February 10, 2021, following a flash flood caused by a glacier break on February 7. Sajjad Hussain / AFP / Getty Images
By Rishika Pardikar
Search operations are still underway to find those declared missing following the Uttarakhand disaster on 7 February 2021.
This story originally appeared in Eos and is republished here as part of Covering Climate Now, a global journalism collaboration strengthening coverage of the climate story.