Can you imagine drinking this well water? Homeowner lives in the Woodland's community north of Pittsburgh. Claims fracking ruined water. DEP claims fracking did not. Photo credit: John Stolz / Public Herald
Guess what was found in Pennsylvania's Department of Environmental Protection's (DEP) filing cabinets after gas operators drilled 10,027 fracking wells over the last 12 years? Only 9,442 citizen-reported fracking complaints. And 44 percent of those are drinking water-related. Pennsylvania's DEP finally released the complaints to Public Herald, an investigative journalism nonprofit. There's much to learn from Pennsylvania's now-public 9,442 fracking complaints as legislators decide to frack or not to frack in Western Maryland.

As fracking took off in 2008, so did the number of citizens lodging water, air and land fracking complaints with the DEP.
A year ago, we reported that Pennsylvania's drinking water contamination due to fracking appeared to be much higher than previously reported. To date, Pennsylvania's Department of Environmental Protection (DEP) reports only 284 positive water contaminations for the 10,027 fracking wells drilled. That three percent figure seems pretty low.

What hasn't set right with many is that Pennsylvania's official water contamination rate is starkly different than what citizens report on-the-ground. Thousands of news stories, YouTube videos and social media posts report an entirely different story of serious fracking water issues, rampant air pollution, land destruction and negative health issues.
In rural communities, many homes rely on private water wells, not municipally-supplied water. The new natural gas drilling process called fracking drills through surface water aquifers to access natural gas found miles underground in shale rock basins.
SHOCKING: Pennsylvania #Fracking water contamination much higher than reported>>https://t.co/svqSYATWq2 https://t.co/J63xgJjjBg

— Earthjustice (@Earthjustice) 1454778007.0
The Now-Public 9,442 Pennsylvania Fracking Complaints Reveal:

1. The volume of citizen complaints is alarming, shocking even. For every fracking well drilled, one homeowner, business or gas operator called in an issue.
2. Water well complaints make up 44 percent of DEP complaints. The DEP is the"911 dispatch" center for citizen oil and gas issues. Ninety-six percent of these water complaints were dismissed. The current number of water complaints is higher as the DEP put methane migration and other water issues under different complaint categories; those cases are additional to the 4,108 reported so far.
3. Water contamination is indeed widespread and systemic: Total complaints and water complaints are scattered throughout Pennsylvania's fracking fields and aren't concentrated in one area.
A tally of the fracking wells drilled, total and water-related fracking complaints by EPA region in Pennsylvania. Public Herald and DEP
4. Complaint ratios worsen over time: As fracking grew in Pennsylvania, gas operators should have reduced the negative impacts to land, air and water over time. This data suggests that as fracking continues, complaint ratios increase.

Because this citizen-complaint data was never studied year-over-year, the opportunities to develop best practices, share learning, conduct scientific studies and possibly reduce future harm were eliminated. Sadly, Pennsylvania DEP and Gov. Wolf were touting that fracking is safer by reporting lower violations. DEP failed to ever report the real volume of citizen complaints.
As older conventional drilling was replaced by fracking in 2010, complaints-to-wells drilled grew at an increasing rate. Fracking is different and worse than conventional drilling. Source: Public Herald / Pennsylvania DEP
Why Was This Complaint Data Never Made Public?
Public Herald is reporting a series of articles analyzing the DEP's 12-year suppression of citizen fracking complaint data.

This newly-discovered complaint data calls into question the U.S. Environmental Protection Agency's (EPA) fracking water study. After the EPA's original "fracking is safe" preliminary conclusion, the final report said there could be water issues in certain situations.
Final EPA Study Confirms #Fracking Contaminates Drinking Water https://t.co/weTc3OT1Ua (@EcoWatch)

— Sierra Club (@Sierra Club) 1482073223.0
Did the EPA ever see these 9,442 citizen complaints? Adding to this mess, several thousand complaint records are missing. Over three years, Public Herald scanned 6,981 paper complaints before the DEP emailed the nonprofit 9,442 complaints. What happened to the almost 3,000 complaint records?
This data would have been invaluable to scientist, health professionals, citizens and communities to know, study, plan and adapt. How many people got sick even though authorities knew water wells were getting contaminated? Dr. Stolz explains, "Suppressed information from Pennsylvania regulators makes it very difficult to know the truth about these incidents," he said.
What Happened to the 3,824 Citizens Who Called In and Their Water Complaint Was Dismissed?
The DEP determined that 96 percent of the fracking water complaints were not caused by nearby gas operations. Were they bogus calls?
"You're telling me that there are thousands of people in Pennsylvania that want to fool the DEP? I can't accept that," said Dr. John F. Stolz to Public Herald. Dr. Stolz is a Professor of Biology at Duquesne University and through his Center for Environmental Research and Education has been providing free water tests for citizens who claim water damage.
Friends of the Harmed's Dana Dolney delivers weekly water to a Pennsylvania homeowner whose well was claimed to be ruined by fracking. There's no financial restitution or government support available for fracking damage. Homeowners either work with the offending gas company, sue or rely on charity.
What Will the Future Look Like?
If there is a minimum level of inherent damage involved with fracking, as the data suggests, what will fracking look like with 20,000 fracking wells in a region? What will happen to Western Maryland's tourism and rural landscape?
My answer. Actual West Virginia commode after nearby fracking trashed private well water. Plaintiff lost their lawsuit even though plaintiff had a taped phone call confession that frackers had ruined water.
Reposted with permission from our media associate Baltimore Fishbowl.

EcoWatch Daily Newsletter
The headline flew around the globe like wild fire. The U.S. Environmental Protection Agency (EPA) published their long-awaited draft fracking drinking water study and concluded: fracking has had no widespread impact on drinking water. But if you've had your ear to the ground in fracking communities, something didn't sit right with the EPA's takeaway. Though the gas industry claims fracking is safe and doesn't harm drinking water, that story doesn't match what many landowners report from the fracking fields.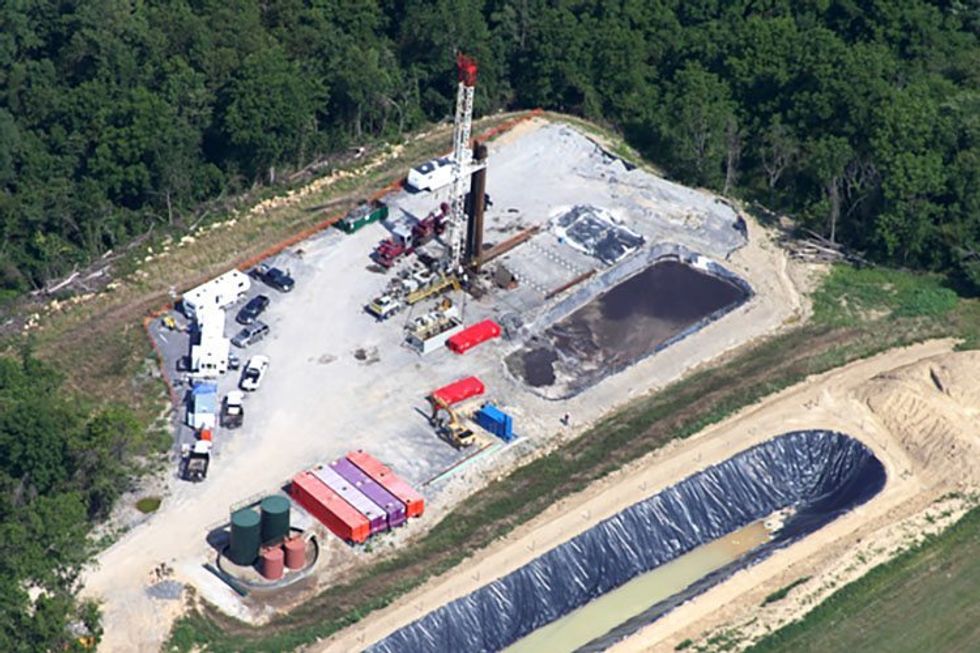 At least in Pennsylvania, the reason for this discrepancy comes down to a singular issue: mismanaged record-keeping and reporting by the Department of the Environment (DEP). Based on 2,309 previously unreported fracking complaints unearthed by the non-profit Public Herald, the public can now peek into 1,275 fracking water complaints from 17 of 40 fracking counties. However, Pennsylvania's official tally of water contamination is only 271 for all 40 counties.
Contrary to the EPA fracking study's conclusion, the prevalence of drinking water contamination appears to be much higher than previously reported. Accurate drinking water complaint data is vital to know as Maryland drafts new fracking regulations to potentially welcome the natural gas industry into Western Maryland in 2017.
What is a Contaminated Water Well?
Officially, Pennsylvania reports 271 confirmed cases of water degradation due to unconventional natural gas operations (a.k.a. fracking).
In Pennsylvania, water degradation is when a private water well located within 2,500 feet of a fracking well has been negatively impacted within six months of drilling. According to the DEP, water degradation falls into two camps—reduced water volume or the presence of "constituents" found in higher levels after drilling than before drilling. Constituents can be naturally-occurring, fracking-related chemicals or methane gas than seeps into aquifers and water wells.
Homeowners usually know right away if something's up with their well water. Their tap water's clarity or color changes, the water smells gross or the well runs dry. What's harder for homeowners to self-identify is natural gas (methane) migration because methane gas is odorless. Methane is highly flammable and if present at dissolved levels above 28 mg/L requires immediate remediation or the potential for explosions exists.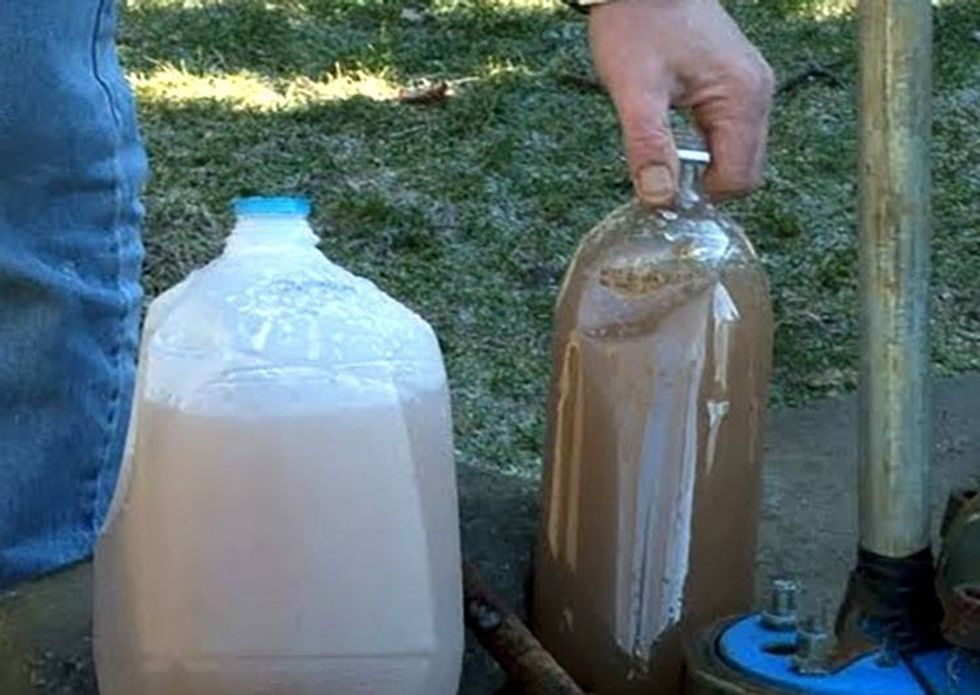 Pennsylvania's DEP regulates the oil and gas industry and is also the "911 dispatch center" for fracking complaints. DEP's role is to register citizen fracking complaints, research complaints and conduct water tests if needed. If water well damage is proved to be caused by nearby fracking, DEP notifies the gas driller that they are responsible for providing water replacement.
Buried in Folders: 1,275 Water Complaints
Prior to Public Herald's fracking complaints database (an open source project named #fileroom) which was launched in September 2015, the public had little access to Pennsylvania's fracking water complaints. What was known is that the DEP fracking complaint system was horrendous.
After considerable legal wrangling, the Scranton Times-Tribune obtained 969 determination letters and the newsroom reported in May 2013, "water damage and murky testing methods."
In May 2014, Pennsylvania's Auditor General reviewed DEP complaint files and reported eight areas of mishandling with "sloppy record keeping" topping the list.
When asked if the public's health was being threatened from fracking water contamination, Pennsylvania's Auditor General publicly commented, "we can't say one way or the other because their [DEP] record keeping is so poor."
After threatening legal action in 2013, Pennsylvania's DEP offices finally gave Public Herald volunteers access to all fracking complaints.
Over more than two years, Public Herald's team scanned 2,309 complaints from 17 of 40 counties. The complaints are stored online in the #fileroom database. The fracking complaints were stored in filing cabinets and most cases weren't entered into any formal central tracking system. The 17 counties account for about 80 percent of Pennsylvania's fracking wells drilled.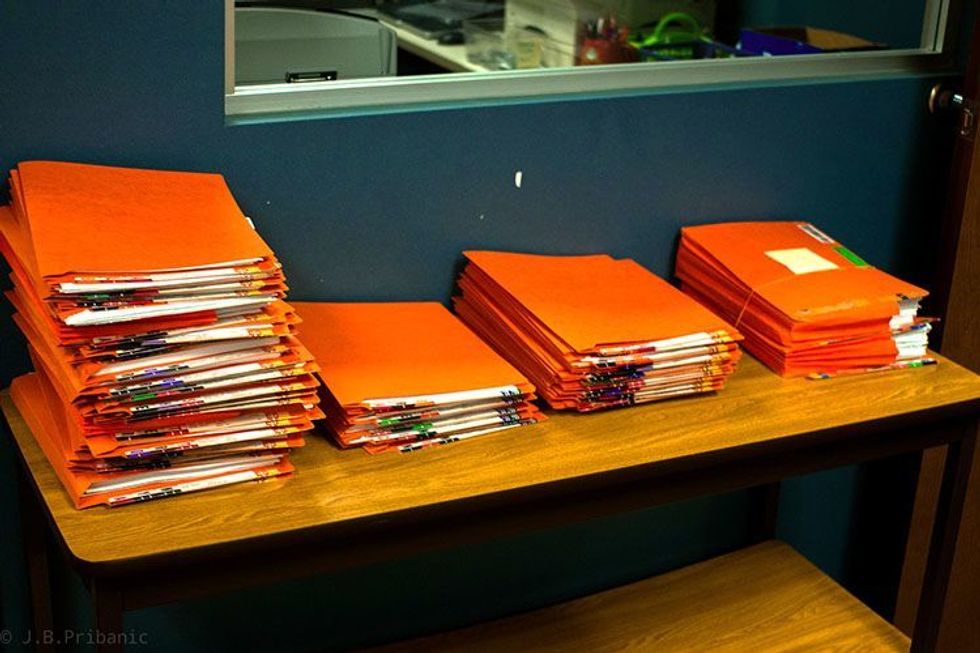 Seventeen (or 44 percent) Water Contamination Rate—Depending on How You Look at It
Not only are Pennsylvania's water complaints much higher than previously reported, but also the basis that complaints are compared to leads people to believe that contamination rates are lower than they really are.
Here's why: A key fracking selling point is that multiple gas wells can be drilled from one central location, also called a "well pad." A fracking well pad is a six-acre plus industrial zone that can host as many as 10 individual gas wells that spread out like a spider web underground. The number of fracking well pad locations interspersed near homes is actually smaller than realized because many fracking wells are concentrated from one location. Pennsylvania's DEP reports an average of 2.6 wells drilled per fracking well pad location. (As of Jan. 26, Pennsylvania has 3,687 unconventional well pads and 9,632 unconventional wells drilled since 2000).
If you're a homeowner or an elected official, assessing the scale of water complaints, comparing to the number of well pad locations is more relevant than comparing to the number of wells drilled. Using the higher figure of wells drilled, which most reporting does, minimizes the scale of impact to people living near concentrated fracking operations.
To understand how this changes the story, if DEP's official tally of 271 confirmed water contaminations is compared to 9,632 fracking wells drilled since 2000, that's a three percent water contamination rate. That figure seems pretty low and supports the EPA's conclusion that fracking water contamination isn't widespread.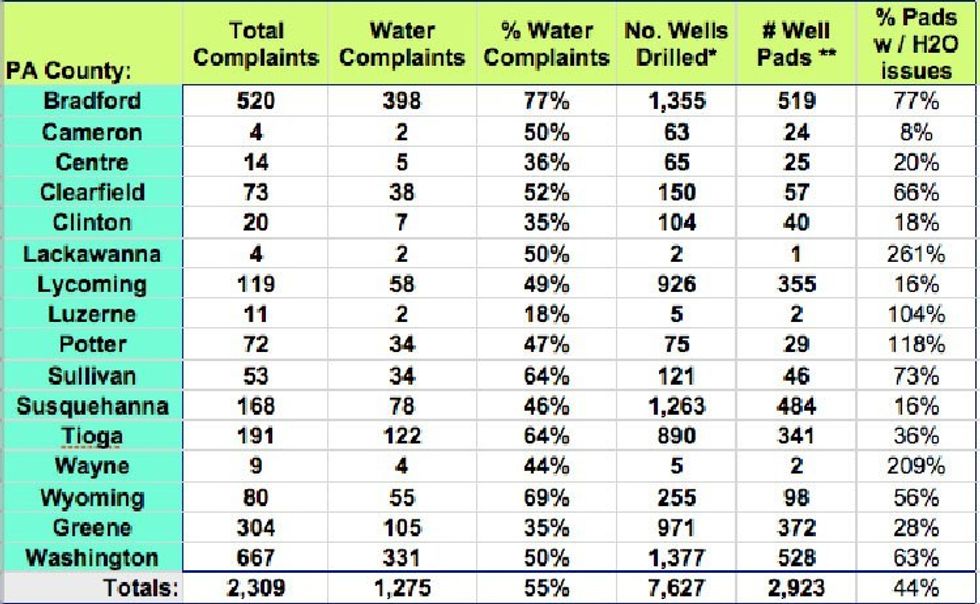 But if you dig into Public Herald's #fileroom database, as the chart above illustrates, 1,275 water complaints were filed in 17 counties with only 2,923* fracking well pads. Those well pads hosted 7,627 gas wells. That means that for about every two fracking well pads, one homeowner called in a water complaint, instead of one for every seven wells drilled. That's a 44 percent fracking water complaint rate suggesting that water well issues are pervasive. Even if the water complaints are compared to the number of wells drilled in these 17 counties, it's a 17 percent water complaint rate.
Not only is the sky-high complaint rate concerning, but why did the DEP dismiss and not report more than 1,000 water well complaints? Did 1,000+ homeowners call in bogus water well claims?
Why Were Three-Quarters of Citizen Water Well Complaints Dismissed?
It is clear that as Pennsylvania rapidly began drilling fracking wells around 2006, the DEP was overwhelmed and unprepared to process the volume of citizen complaints. As explained above, both the Scranton Times-Tribune and Pennsylvania's Auditor General found many points-of-failure in the DEP's fracking complaint process.
A Harvard Law School study analyzed 450 Pennsylvania fracking complaints and produced a what-not-to-do-report suggesting four recommendations: require baseline water well testing, seriously improve the complaint administrative function, improve communication with landowners and allow for appeals. The Scranton Times-Tribune, Pennsylvania Auditor General, Harvard School analysis plus Public Herald's#fileroom complaint database call into serious question if the 1,000+ water complaints should have been dismissed.
Public Herald's own in-depth analysis of 200 complaints found nine ways DEP's decision on water contamination could be challenged and possibly reversed.
Most concerning is that the state's Auditor General found that the DEP encouraged gas drillers and homeowners to reach voluntary restitution agreements on the side. Yet, the DEP did not register and track many of those agreements.
How Does a Lack of Data Lead to "No Widespread Damage" Claim?
Because fracking is regulated at the state level, all 30+ fracking states have different and separate complaint processes. There is no accurate and centralized database in the U.S. reporting drinking water damage resulting from bad well casings, hydraulic fracturing, above ground spills, waste pond spills or drilling mishaps and failures.
That point is printed throughout the EPA's draft Potential Impacts of Hydraulic Fracturing for Oil and Gas on Drinking Water Resources. The study relied on "available data and reporting." The EPA essentially used Pennsylvania DEP's official tally of 271 determined cases. It's unclear if the thousands of unreported fracking complaints were even analyzed.
The U.S. EPA's executive summary spells this out plainly in the Key Data Limitations and Uncertainties section: "This assessment used available data and literature to examine the potential impacts of hydraulic fracturing from oil and gas on drinking water resources nationally. As part of this effort, we identified data limitations and uncertainties associated with current information on hydraulic fracturing and its potential to affect drinking water resources. In particular, data limitations preclude a determination of the frequency of impacts with any certainty. These limitations and uncertainties are discussed in brief below."
It is unclear how the EPA concluded there is no widespread water contamination due to fracking when there is little to no data.
That's exactly the same conclusion the EPA's own 31-member Science Advisory Panel announced recently in a statement on Jan. 8. The panel announced that the EPA's draft Fracking Drinking Water Study's findings, "are inconsistent with the observations, data and levels of uncertainty."
But the fracking-is-safe train has already left the station.
Collateral Damage
What's clear is that fracking causes damage to private drinking water wells. Sadly, many Pennsylvania landowners whose drinking water wells were compromised because of nearby fracking operations received no restitution because the DEP did not properly assess their complaints.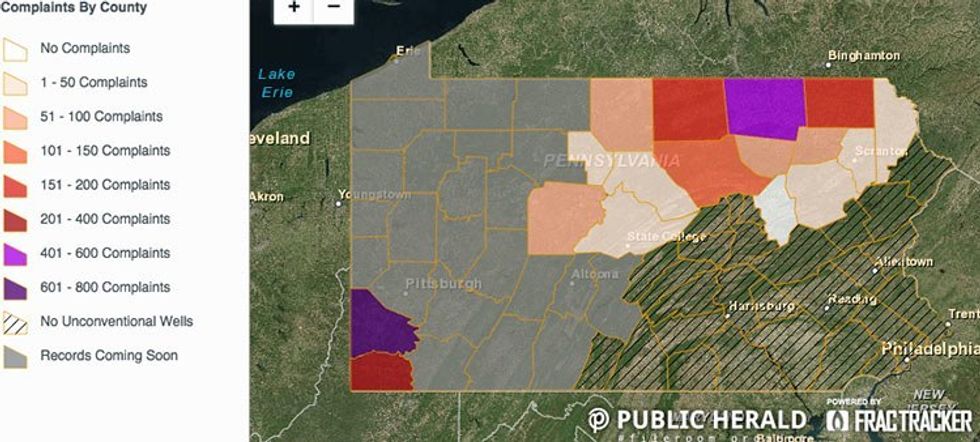 Even with the large volume of incoming drinking water complaints, Pennsylvania's DEP did not assume a presumption of liability for the gas drilling industry; the onus of proof was on the homeowner to prove contamination for their water wells that were within half a mile from a fracking well pad. And many landowners, especially in the early phases of fracking, didn't have pre-drilling water tests to compare post-drilling results.
Looking Ahead for Maryland
To ensure that Western Maryland landowners don't face the same situation, Maryland's Department of the Environment and elected officials should consider closely analyzing Pennsylvania's thousands of fracking complaints. Public Herald is still scanning the Southwest region's files.
Joshua Pribanic, Public Herald's editor-in-chief adds, "At this point, there is no way to find out what happened with thousands of fracking water complaints except to go door-to-door and ask what happened with a complainant's drinking water. In many cases you'll find rooms stuffed with bottled water. Or, you'll find in the basement an industry-supplied reverse osmosis system or a methane mitigation system. The true extent of water contamination has been concealed." And that doesn't help Maryland as we look to study and analyze our sister state's actual results.
Reposted with permission from our media associate Baltimore Fishbowl.
Looking to learn more about Freedom Forever Solar? We offer our 2022 review of the growing company.
Reviews
One of the fastest-growing solar installation companies in the nation, Freedom Forever Solar (not to be confused with Freedom Solar) has expanded to over 24 states in less than five years. In our Freedom Forever Solar review, we'll discuss the pros and cons of this up-and-coming installer and see if it deserves a spot among the nation's best solar companies.
Freedom Forever Solar likes to keep things simple and outlines its services in just three steps: solar panel installation, backup battery installation and solar financing. Similar to a number of its counterparts offering national coverage, Freedom Forever offers solar panels for purchase as well as solar leases and power purchase agreements (PPAs).
| | |
| --- | --- |
| | Freedom Forever Solar Fast Facts |
| Year Started | 2016 |
| Service Areas | 25 states, including AZ, CA, CO, CT, DE, FL, GA, ID, IL, MD, MA, NV, NH, NJ, NM, NC, OR, PA, RI, SC, TX, UT, VT, VA and WI |
| Service Types | Solar panel and battery installations |
| Types of Panels Sold | Varies depending on location |
| Backup Battery Options | Yes, including LG Chem and Tesla Powerwall |
| Certifications | North American Board of Certified Energy Practitioners (NABCEP) technicians |
| Better Business Bureau (BBB) Rating | A+ with accreditation |
Read on to learn more about Freedom Forever Solar, or to see how much a solar system from Freedom Forever Solar or a similar certified installer would cost, you can use this tool or fill out the form below.
Freedom Forever Overview
Founded just six years ago, Freedom Forever Solar is still in its infancy compared to other solar companies of its size. Though a new kid on the block, this Temecula, California-based provider offers a unique approach focused on educating its clientele. With a learning center, a "solar academy," videos, podcasts and more, Freedom Forever aims to set realistic expectations for its customers when it comes to the big picture of renewable energy and the nitty-gritty of solar financing.
By understanding that an informed customer is the best type of customer, Freedom Forever empowers its clients to increase their independence while reducing their costs via solar.
So, how has this approach paid off? Let's explore.
Freedom Forever Services and Installation
Freedom Forever Solar strives to make going solar as easy as possible for homeowners. Offering only solar panel and backup battery installations, Freedom Forever Solar focuses on simplicity in its clean energy services. This model allows Freedom Forever to concentrate its efforts on solar and backup power but may disappoint customers interested in add-ons like electric vehicle charging stations or energy efficiency upgrades. The installations themselves are carried out by authorized partner companies that will vary regionally.
The type of solar panels available for your home will vary depending on your region as well, but backup batteries installed by Freedom Forever include the Tesla Powerwall and LG Chem.
Here's what the average customer can expect Freedom Forever Solar's installation process to look like:
Receive a free quote by providing preliminary information such as your address, monthly energy costs and credit score.
If interested after receiving the quote, Freedom Forever will draw up a full proposal including your custom system design, a rendering of the system's appearance and estimated energy savings over the course of the system's lifetime. The proposal should factor in local and state solar incentives, so be sure to make note that they are included.
Freedom Forever Solar pledges to handle all permits, interconnection agreements and other consents associated with a solar installation in your region.
During the permitting process, Freedom Forever will enroll you in your utility company's net metering program, if applicable.
The installation itself only happens after permits and net metering agreements are finalized. Installations with Freedom Forever are typically finished within one day and are carried out by authorized partner companies.
Finally, you'll need to pass inspection and turn on your system. Once the system is installed, both the city and your electric company will most likely require inspections. Freedom Forever will schedule and oversee both. Once you pass both inspections, you'll be ready to turn your system on.
Solar Panel Warranty
Rather than offering workmanship or product warranties, Freedom Forever Solar promises that your system will perform as advertised through its 25-year production guarantee. Should your system underperform or encounter any problems, Freedom Forever will fix it and reimburse you for any lost savings.
Though this sounds like an all-encompassing warranty, it's not quite that simple. It should be noted that Freedom Forever outsources its labor to local installation crews, and workmanship is not covered by the 25-year production guarantee. This means that any damages to your roof, home or electrical equipment from low-quality workmanship will have to be negotiated with a third party rather than the sales rep you signed a Freedom Forever contract with. Though these situations are rare, they can complicate what should be a simple warranty.
Freedom Forever Costs and Financing
The average cost of a solar system from a certain provider is difficult to assess, as pricing can vary widely depending on your state, your roof and your electric bills. Freedom Forever is a young company up against some industry leaders, so we expect its solar project pricing to be competitive. However, we always encourage readers to get quotes from competing solar companies to make sure you're getting the best value from your investment.
Much of Freedom Forever's expansion can be credited to its utilization of solar leases, which allow homeowners to rent solar power systems at a monthly cost. Though leasing panels provides a switch to clean energy with a low upfront cost, purchasing panels provides the greatest value in the long run. Keep in mind that leases will not be eligible for the solar tax credit.
Financing Options
Freedom Forever Solar offers four solar financing plans for customers:
Cash Purchase: Purchasing your solar system outright provides you with maximum long-term value. Making one upfront payment reduces loan fees and interest, allowing you a quicker payback period. Also, solar panels add property value and make you eligible for the solar tax credit. Over time, homeowners will see the largest return on investment when paying in cash.
Home Solar Loan: Freedom Forever Solar partners with third-party loan companies to provide financial assistance with solar power purchases. With a solar loan, you can still enjoy the benefits of system ownership, maintaining eligibility for tax credits, rebates and additional property value. Solar loans will vary in their interest rates depending on credit score, down-payment amount and length of the loan.
Solar Lease: With a solar lease, you make fixed monthly payments to Freedom Forever, essentially renting your solar panels. The costs of leases are typically about 20% less than you pay for grid-supplied electricity. You can still take advantage of energy savings, but you miss out on a number of valuable benefits associated with system ownership, like the tax credit, rebates and an increase to your property value.
Purchase Power Agreement (PPA): PPAs are similar to solar leases in that you make monthly payments, but instead of renting the solar panels, you agree to pay a fixed monthly rate for the electricity they produce. From our perspective, PPAs are the least advisable option.
Freedom Forever Solar Reviews
Given Freedom Forever's strategy of making solar easy, most positive reviews reflect a quick, seamless and effective installation process, as advertised. The company runs into trouble with its customer support and complications involving third-party installers and loan providers. Let's take a look at what customers are saying.
Positive Freedom Forever Reviews
Not surprisingly, positive reviews reflect Freedom Forever's simple process. Satisfied customers report a system performing as advertised, saving them money on their utility bills with no maintenance or support needed post-install.
"I was referred to this company by my neighbor that had their system installed by Freedom, and I'm glad they did so. My experience with Robert (my rep) was amazing and honestly effortless from our consultation to install. Very clear and thorough, and what was said was delivered." — Tai via Google Reviews
"Great company to work with. Efficient and professional. Our sales rep stayed in contact with us the whole way, making for a smooth installation and transition from the grid. He also gave us a great deal; locked in for 25 years with no money down. Goodbye SDGE." — Kim via Google Reviews
Negative Freedom Forever Reviews
Generally, we prefer to recommend solar companies that handle their installations and financing in-house, and the negative reviews surrounding Freedom Forever Solar are the perfect examples why. Customers too often experience difficulties with warranties when multiple companies are involved and can receive poor treatment from customer service teams looking to offload their issues on another company.
"Be aware that this company is ONLY a solar panel sales company and only installs material, which is NOT made by them, so warranty can be iffy. They hire private party makeshift companies, which are not affiliated with Freedom Forever or solar panel equipment. Be careful with these multiple companies. They are not reliable." — Robert via Better Business Bureau
"One star for quick installation of solar panels. Everything else is a mess. Customer service is very slow, sometimes hard to get a hold of, probably because of all of the disappointed customers calling in and waiting for their service to turn on. As we speak, I am already being billed by their finance company and also paying the power company because my system is not operating." — NA via Better Business Bureau
Our Take On Freedom Forever Solar
Freedom Forever Solar's modern approach to solar education, wide service area and high volume of installations make it an intriguing new company, but a few too many complications with customer service and unreliable partnerships bog down its overall reputation.
By involving third-party contractors and loan providers, there are too many moving pieces in an average solar installation to be carried out as smoothly and consistently as we'd like to see. Overall experiences depend far too heavily on the team that carries out the installation itself, which is arguably the most important part of a solar investment. As a result, we have a hard time recommending Freedom Forever Solar relative to most other top solar companies that likely offer services in the same area.
| | |
| --- | --- |
| Freedom Forever Pros | Freedom Forever Cons |
| Strong production guarantee | Limited services |
| Large service area | Outsourced labor |
| Quick installations | Customer service issues |
| Flexible financing options | No workmanship warranty |
Freedom Forever Solar can be a good and practical choice for customers looking to quickly and simply save money on their energy bills through a solar purchase or solar lease. However, for homeowners looking for attentive customer service and quality workmanship both before and after installation, we advise you to shop around.
You can start getting free quotes from a number of solar installers near you by filling out the form below or using this tool.
INSERT FORM
Solar Energy Provider Comparison
To put this all into context, let's take a look at what industry leaders SunPower and Sunrun offer in comparison to Freedom Forever. What we see as the key factor differentiating SunPower and Sunrun is industry experience. Freedom Forever only has six years of experience as of 2022, which is not a lot of time to establish a reliable process over a range like 25 states. If slow growth is good growth, Freedom Forever Solar doesn't appear to have as sustainable a business model as we'd like to see.
| | | | |
| --- | --- | --- | --- |
| | Freedom Forever | SunPower | Sunrun |
| Year Started | 2016 | 1985 | 2007 |
| Services Offered | Solar panel installation, battery installation, monitoring | Solar panel installation, battery installation, monitoring | Solar panel installation, battery installation, monitoring, maintenance |
| Service Areas | AZ, CA, CO, CT, DE, FL, GA, ID, IL, MD, MA, NV, NH, NJ, NM, NC, OR, PA, RI, SC, TX, UT, VA, VT, WI | All 50 States | AZ, CA, CO, CT, FL, HI, IL, MD, MA, NV, NH, NJ, NM, NY, PA, RI, SC, TX, VT, WI, Puerto Rico and Washington D.C. |
| BBB Rating | A+ | A+ | B+ |
| Payment Options | Cash, loan, lease, PPA | Cash, loan, lease | Cash, loan, lease, PPA |
| Learn More | | | |
Frequently Asked Questions
Is Freedom Forever Solar a good company?
Freedom Forever Solar is a good company, but it lacks the experience and expertise we'd like to see before fully recommending it to our readers. If overall customer satisfaction improves over the next few years (which we certainly hope is the case), we'll be more likely to recommend it.
How does Freedom Forever solar work?
Freedom Forever Solar makes its money by selling solar contracts, the installations and financing of which are handled by third-party partners. Though you may sign a contract through Freedom Forever's sales staff, the crews coming out to work on your home and the company you make loan payments to will be subcontracted.
Does Sunrun own Freedom Forever?
Sunrun does not own Freedom Forever, but Sunrun is the primary solar and battery provider of Freedom Forever. This means that Freedom Forever partners with Sunrun, leveraging its brand and services to back the Freedom Forever sales team. If you sign a contract with Freedom Forever, there's a chance your installation will consist of Sunrun's technology and be carried out by a certified Sunrun partner.
How long has Freedom Forever solar been around?
Freedom Forever Solar has been around since 2016, expanding to 25 states in just six years. Freedom Forever was able to grow so quickly through establishing a wide network of certified independent installers that it outsources its contracts to.
Where is Freedom Forever solar available?
Freedom Forever solar is available in 25 states, including Arizona, California, Colorado, Connecticut, Delaware, Florida, Georgia, Idaho, Illinois, Maryland, Massachusetts, Nevada, New Hampshire, New Jersey, New Mexico, North Carolina, Oregon, Pennsylvania, Rhode Island, South Carolina, Texas, Utah, Vermont, Virginia and Wisconsin.
Karsten Neumeister is a writer and renewable energy specialist with a background in writing and the humanities. Before joining EcoWatch, Karsten worked in the energy sector of New Orleans, focusing on renewable energy policy and technology. A lover of music and the outdoors, Karsten might be found rock climbing, canoeing or writing songs when away from the workplace.