This website uses cookies to ensure you get the best experience while browsing it. By clicking 'Got It' you're accepting these terms.
Penguin Swims 5,000 Miles Each Year to Visit the Man Who Rescued Him
Mar. 14, 2016 11:20AM EST
Animals
Talk about gratitude.
How far would you swim to reunite with the person who saved your life? For one penguin who found himself in a sticky situation (literally), the answer is approximately 5,000 miles.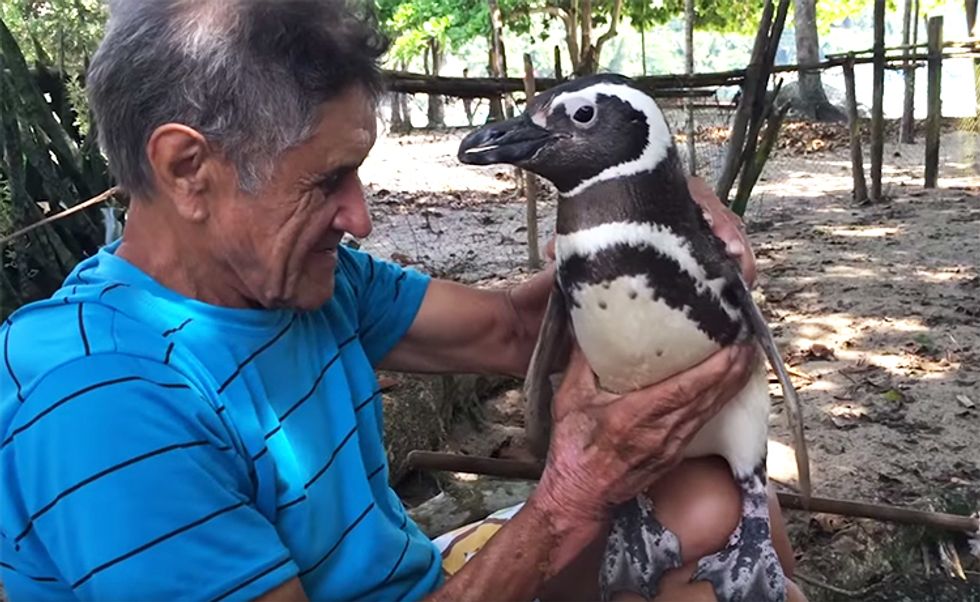 Have you heard about the Magellanic Penguin and retired bricklayer in Brazil who have struck up a unique friendship?
Joao Pereira de Souza lives in a fishing village just outside Rio de Janeiro, Brazil. In 2011 he found a tiny penguin lying on some rocks at his local beach. The creature was covered in oil and close to death.
Joao cleaned the penguin, nursed him back to health and named him Dindim. Joao tried releasing the penguin, presumably never to meet again, but Dindim wasn't ready to leave just yet. Joao recalls, "He stayed with me for 11 months and then, just after he changed his coat with new feathers, he disappeared."
But that was not the last time the two would meet. So the story goes, over the past five years, Dindim has spent many months of the year with Joao and some believe he spends the rest of the time breeding off the coast of Argentina and Chile.
Joao told Globo TV, "I love the penguin like it's my own child and I believe the penguin loves me." Apparently, no one else is permitted to touch Dindim, besides Joao, of course. Dindim lets Joao give him showers, feed and pick him up.
See for yourself:
That's quite a heartwarming story, eh?
According to Penguin World, the Magellanic Penguin is the only migratory, offshore-foraging species in its genus. Some move as far north as Peru and Brazil in winter. So a penguin hanging out at a Brazilian fishing village is not necessarily as wild and crazy as it may sound.
I wonder though; is having a human "bff" in any way a detriment to this wild penguin's welfare?
We know that there are health and emotional benefits of human-animal interactions. But we also know that wild animals belong in the wild and when humans try to change that, tragedy happens.
Still, a recent study found that ecotourism—which some claim can be dangerous to animal species in general—"might be less harmful to larger birds than previously thought because larger animals are more likely to be able to tolerate human disturbance." A key finding from the study: "Larger birds are more tolerant of humans than smaller birds."
Daniel Blumstein, the study's senior author and a member of the Institute of the Environment and Sustainability, explained, "This new finding flips previous recommendations about large-bodied species being more vulnerable to the presence of humans and shows that large-bodied species are more tolerant." He added, "It is likely costly for animals to respond fearfully to people that are not harming them."
Interesting indeed, but to get the full picture, you should read the complete study.
As for the heartwarming bond between Joao and Dindim, to further explore whether this relationship is in any way harmful to the penguin, I turned to International Bird Rescue, an organization that has pioneered oiled aquatic bird care.
There I connected with Barbara Callahan, International Bird Rescue's Response Services Director, who had just left Brazil where she was working with their partner organization, Aiuká Consultoria em Soluções Ambientais. Callahan suggested I connect with the Projects Director of Aiuká, Valeria Ruoppolo, who has been following this case.
About the unusual human-penguin friendship, Ruoppolo told me, "There is no harm really, but that is excluding the fact that the animal is being fed while on shore and that is why it does not go away."
Takes a bit of wind out of the friendship sail, but what do you expect? It's hard for anyone to turn down free lunch.
In terms of where exactly the penguin goes when not with Joao, Ruoppolo believes the media thus far has gotten it wrong: "Once it decides to go, the animal clearly knows where it is going back to, but in my opinion it does not go back south to Argentina as I have seen all over the media."
Her theory? "The penguin is generally away for four months and it probably feeds and swims around south and southeastern Brazil when it decides to go back to Mr. Joao."
Well, you heard it here folks.
Here's to friendship and mutual respect between humans and wildlife. To learn more about International Bird Rescue's incredible work, click here.
YOU MIGHT ALSO LIKE
How You Can Help Save the Whales by Eating the Right Fish
Wild Baby Wolverines Make On-Screen Debut in Remarkable New Documentary
One of the Lucky Ones: Seal Pup Released Back Into the Ocean After Severe Injuries From Marine Debris
EcoWatch Daily Newsletter
Insects play a vital role in ecosystems and humans are particularly dependent on them for food.
Dmitry Grigoriev / Unsplash
By Ajit Niranjan
Seven 'no-regret' actions could rescue insects on the road to extinction, a new roadmap for conservation says, helping ecosystems even where a lack of research means scientists cannot prove benefits to individual species.
Visitors to the Hollywood & Highland mall in Hollywood wear face masks on Jan. 27 . Five people in the U.S. have tested positive for the deadly strain of Coronavirus, one each in Washington, Illinois and Arizona, and two in Southern California, according to the U.S. Centers for Disease Control and Prevention. ROBYN BECK / AFP / Getty Images
Workers evacuate the Lonja del Comercio (Commerce Market) in Havana, Cuba after an earthquake rattled the island Tuesday. ADALBERTO ROQUE / AFP via Getty Images
A 7.7 magnitude earthquake shook the Caribbean Tuesday, rattling people from Miami to Mexico.
New Jersey will be the first state in the U.S. to require builders to take the climate crisis into consideration before seeking permission for a project.
The Director of the Chinese Center for Disease Control and Prevention, Gao Fu speaks on Jan. 26 during a press briefing on studying the 2019-nCoV coronavirus and developing a vaccine to prevent it. Roman Balandin / TASS / Getty Images