This website uses cookies to ensure you get the best experience while browsing it. By clicking 'Got It' you're accepting these terms.
Palm Oil Giant Wilmar Promises to End Forest Destruction
Dec. 16, 2013 11:28AM EST
Food
The world's largest trader of palm oil recently announced it will launch a No Deforestation, No Peat, No Exploitation policy, a broad environmental and social pact that features a commitment to no deforestation and free, prior informed consent when dealing with indigenous communities.
Wilmar International, the Singapore-based agribusiness company, said it "aims to advance an environmentally and socially responsible palm oil industry" and will "only provide products that are free from links to deforestation or abuse of human rights and local communities."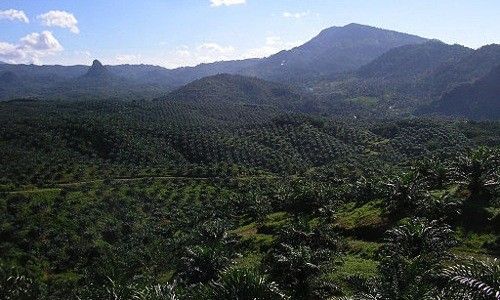 The policy includes measures to "protect high carbon stock and high conservation value landscapes, and to ensure respect for community rights and support for development," says Wilmar, which controls more than a third of the global palm oil trade.
Wilmar also will work with suppliers to immediately move development activities away from high carbon stock, peat and high conservation value lands.
The new policy was the product of months of discussions among The Forest Trust (TFT), Climate Advisers, Wilmar and consumer goods giant Unilever, said a media release.
Palm oil is a $50-billion-a-year commodity that makes its way into half of all consumer goods on the shelves—chocolate, baked goods, soaps, detergents and much more.
U.S. imports have increased almost fivefold over the past decade. Eighty-five percent of palm oil is grown on industrial plantations in Indonesia, Malaysia and Papua New Guinea, home of some of the largest remaining rainforests in the world. Clearing tropical forests for these plantations threatens the world's last Sumatran tigers, as well as orangutans, elephants, rhinos and the tens of millions of people who depend on these rainforests to survive. Because of deforestation, Indonesia is the third-largest emitter of global warming pollution in the world, behind only China and the U.S.
By banning its suppliers from destroying forests and peatlands, Wilmar's policy could be an important step toward transforming the palm oil sector, Bustar Maitar, head of the Indonesia forest campaign at Greenpeace International, wrote on his blog.
"Wilmar has responded to years of pressure from Greenpeace, other NGOs and a growing movement of consumers around the world demanding clean palm oil and an end to forest destruction," Maitar said.  "Wilmar's commitment to No Deforestation has the potential to transform the controversial palm oil industry."
Other organizations have reacted more cautiously based on experience with Wilmar. The company has been accused of violating ethical standards that it has signed as a member of the Round Table on Sustainable Palm Oil and as recipient of funding from the World Bank's International Finance Corporation.
"We are strongly cognizant that Wilmar's commitment to improvement comes in the wake of many years of land-grabbing, fueling of conflicts, destruction of endangered habitat and other abuses—all of which has rewarded Wilmar and its associates with enormous profits and established the company as the world's largest palm oil trader," said a statement from Friends of the Earth. "Friends of the Earth U.S. and Friends of the Earth International will be closely monitoring the implementation of Wilmar's stated commitments to ensure that Wilmar takes immediate steps to fulfill its promise and comply with its policy."
Wilmar's policy comes on the heels of similar recent commitments from other companies. In November, Unilever pledged that 100 percent of the palm oil used in its supply chain would by fully traceable to known sources by the end of next year. Global chocolatier Ferrero also announced it would become a TFT member and work to make sure its supply chain has no link to deforestation by the end of 2014.
In 2010, Nestlé was the first company to commit to eliminate deforestation and exploitation from its supply chain.
Watch this video from Friends of the Earth that looks at the devastation wrought by illegal land grabbing for palm oil plantations in Indonesia.
Visit EcoWatch's FOOD page for more related news on this topic.

EcoWatch Daily Newsletter
By Anita Desikan
The Trump administration is routinely undermining your ability — and mine, and everyone else's in this country — to exercise our democratic rights to provide input on the administration's proposed actions through the public comment process. Public comments are just what they sound like: an opportunity for anyone in the public, both individuals and organizations, to submit a comment on a proposed rule that federal agencies are required by law to read and take into account. Public comments can raise the profile of an issue, can help amplify the voices of affected communities, and can show policymakers whether a proposal has broad support or is wildly unpopular.
Alena Gamm / EyeEm / Getty Images
Picture this: a world where chocolate is as rare as gold. No more five-dollar bags of candy on Halloween. No more boxes of truffles on Valentine's day. No more roasting s'mores by the campfire. No more hot chocolate on a cold winter's day.
Who wants to live in a world like that?
Fabian Krause / EyeEm / Getty Images
Water protectors of all persuasions gathered in talking circles at Borderland Ranch in Pe'Sla, the heart of the sacred Black Hills, during the first Sovereign Sisters Gathering. At the center are Cheryl Angel in red and white and on her left, Lyla June. Tracy Barnett
By Tracy L. Barnett
Sources reviewed this article for accuracy.
For Sicangu Lakota water protector Cheryl Angel, Standing Rock helped her define what she stands against: an economy rooted in extraction of resources and exploitation of people and planet. It wasn't until she'd had some distance that the vision of what she stands for came into focus.
Hedges, 2019 © Hugh Hayden. All photos courtesy of Lisson Gallery
By Patrick Rogers
"I'm really into trees," said the sculptor Hugh Hayden. "I'm drawn to plants."
BruceBlock / iStock / Getty Images
Thanks to their high concentration of powerful plant compounds, foods with a natural purple hue offer a wide array of health benefits.