Adventure
May. 13, 2016 09:27AM EST
Paddleboarder Sets Out on Epic Journey to Fight Plastic Pollution
Lizzie Carr, an adventurer and environmentalist based in the UK, has set off on a three-week, 400 mile journey with only her stand up paddleboard and 30kg of supplies to bring awareness to plastic pollution.
According to The Guardian, she set off from the most southern point of the UK's connected waterways, the river Wey in Surrey on Wednesday. She will then travel north through Oxford, Coventry, the Stoke on Trent canal, the Douglas and Ribble rivers in Lancashire and finish just south of Kendal, Cumbria. Along the way, she will travel through 193 locks and 8km of tunnels and aqueducts standing over 25ft above the ground.
With the help of Ordnance Survey, the national mapping agency for Great Britain, Carr will also map out the scale of plastic pollution in England's iconic canals and waterways.
If she successfully completes the epic trip, she'll be the first person to paddleboard the length of England via its connected waterways.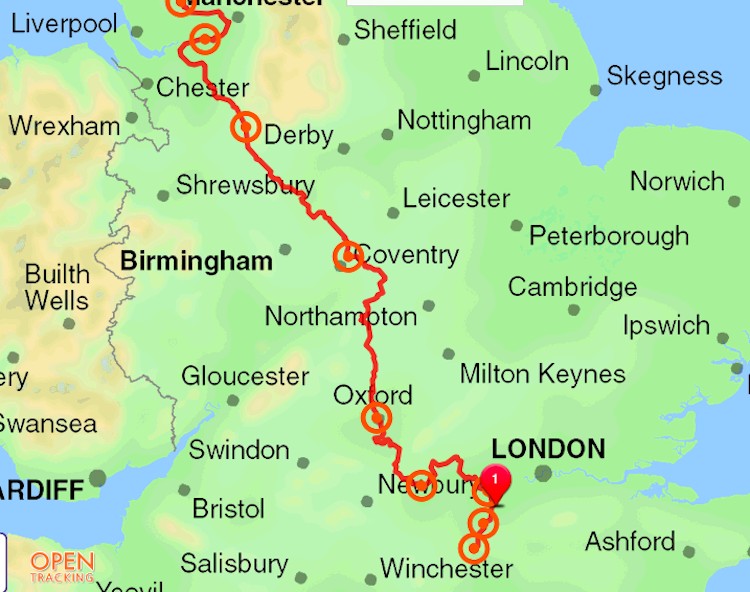 Carr started her journey on Wednesday from the southernmost point of her journey, the river Wey in Surrey. She will travel 600 miles north before stopping in Kendal, Cumbria. Photo credit: Ordnance Survey
"I started paddleboarding a while ago in the Isles of Scilly, Portugal and Barbados," Carr told the Guardian while on her board. "I came back to London and found you could do it in canals and cities, but the more I was doing it the more I saw plastic pollution and debris in the water. It was really sad and when you're trying to board and you get plastic bags stuck on your fins it really compromises the whole experience.
"There are so many layers to the problem of plastic pollution but for me this is about raising awareness and getting people to think about when they buy something that is plastic, what use they will get out of it.
"That meant quitting my stressful corporate job to spend more time with the people I loved rather than confined within the office walls. But, above all, it meant getting outside and back in nature—not just for the obvious health benefits—but because it was the place I felt happiest. I wanted to live a more balanced life, regaining strength by pushing my mental and physical limits and, rather than letting the experience claim me, use it to create a life that I dreamt of."
Carr, who only tried SUP for the first time two years ago, has now paddled on rivers and oceans around the world. She was also selected as a champion for Ordnance Survey's "Get Outside" campaign to encourage people to explore the UK.
"Paddle boarding the length of the country is a great way to show its natural beauty from an altogether different perspective—the water," Carr told Science Focus. "Our canals are iconic pieces of history that provide a presence of calm and tranquillity in urban settings.
"They are easily accessible all over the country they are currently under threat from plastic pollution and debris that, if we don't address soon, will compromise the beauty and quality of our experiences along the canals."
Plastic litter has infiltrated many of the UK's bodies of water. Research from the University of London found that nine out of 10 flounder and a fifth of smelt swimming in the Thames river had plastic in their guts. The researchers also found giant knots of plastic fibers in the stomachs of Chinese mitten crabs at Chelsea Bridge.
The Canal and River Trust, which manages the navigable waterways of England and Wales, spends nearly £1 million a year on clean up efforts.
"Plastic in our water is a serious issue currently under government review," Nick Giles, managing director for Ordnance Survey Leisure, told Science Focus. "It's also an issue Ordnance Survey's recent Geovation Challenge highlighted. Lizzie is an OS Champion for a good reason, and what she is doing demonstrates how we have a beautiful country to be enjoyed, but it also stresses how much it and the creatures that live in it need protecting."
Not only is plastic a problem in waterways, a research team at King's College in London is also looking into the very "real possibility" that microplastics particles are polluting the air.
Carr, who has been in remission from cancer for the past two years, is "deeply in love" with her life.
"It's been scary, difficult, exhausting but quitting my job and shaking up my life has been the best decision I ever made," she wrote on her bio page. "I'm extremely grateful for my experience and the new sense of perspective it's given me."
Carr's challenge will be tracked on her website as well as on the Ordnance Survey's website. You can also follow her journey on her Twitter and Instagram.
YOU MIGHT ALSO LIKE
Scientists Warn That You Could Be Inhaling Chemically-Laden Microplastic Particles
5 Reasons Why You Should Think Twice Before Jumping Into Your Local River
Great Barrier Reef Could Be Dead in 20 Years
Duke Study: Rivers Contaminated With Radium and Lead From Thousands of Fracking Wastewater Spills
Risa Scott / RF Scott Imagery
The Bioscience Resource Project and the Center for Media and Democracy released a trove of rediscovered and newly digitized chemical industry and regulatory agency documents Wednesday stretching back to the 1920s. The documents are available here.
Together, the papers show that both industry and regulators understood the extraordinary toxicity of many chemical products and worked together to conceal this information from the public and the press. These papers will transform our understanding of the hazards posed by certain chemicals on the market and the fraudulence of some of the regulatory processes relied upon to protect human health and the environment.
Keep reading...
Show less
Trevor Hall. PHOTO CREDIT: Emory Hall
I'm a huge Trevor Hall fan so when I saw he was playing in my hometown of Cleveland, I was stoked. I knew seeing the show would be fantastic, but I was also thinking an interview with Trevor would be something really cool to give EcoWatch readers. So, lucky enough, I was offered an interview and was able to hop on my paddleboard from Whiskey Island on the shore of Lake Erie, head up the Cuyahoga River and get to the Music Box Supper Club just in time to chat with Trevor before the show.
"My dad was a drummer, so most my musical influence comes from my dad," Trevor said during our nearly hour interview. "Growing up, my dad had this CD collection in the hallway and I was always fascinated by all the CDs. My hobby was pulling out a CD that looked cool and I'd put it on the stereo and pretend I was rocking out. My dad was really into The Doobie Brothers, Allman Brothers, Earth Wind & Fire, Simply Red, and Crosby, Stills, Nash & Young."
Keep reading...
Show less
The Arbuckle Mountain Wind Farm in southern Oklahoma. Brian Hardzinski / KGOU
American Electric Power (AEP) will invest $4.5 billion in a wind energy project in Oklahoma that could become the largest wind farm in the U.S., the utility announced Wednesday.
AEP will develop a 350-mile transmission line for the 2 GW farm.
Keep reading...
Show less
Environment America / Twitter
The sun is rising on a newer, cleaner era of American energy use.
The U.S. generates nearly eight times as much electricity from the sun and the wind than it did in 2007—enough to power more than 25 million homes—and the average American uses 10 percent less energy than he or she did 10 years ago, according to a new report by Environment America Research and Policy Center.
The report, Renewables on the Rise: A Decade of Progress Toward a Clean Energy Future, also cites a 20-fold increase in battery storage of electricity and the meteoric rise in sales of electric cars—from virtually none in 2007 to nearly 160,000 last year—as evidence that despite attempted rollbacks in Washington, a clean energy revolution is under way across the U.S.
Keep reading...
Show less
Cirrus clouds over Golden Gate Bridge. Brocken Inaglory / Wikimedia Commons
By Tim Radford
Geoengineering, the deliberate alteration of the planet to undo its inadvertent alteration by humans over the past 200 years, is back on the scientific agenda, with a climate compromise suggested as a possible solution.
One group wants to turn down the global thermostat and reverse the global warming trend set in train by greenhouse gases released by fossil fuel combustion, by thinning the almost invisible cirrus clouds that trap radiation and keep the planet warm.
Keep reading...
Show less
By Joe McCarthy
This past June was the third hottest June in recorded history—only 2016 and 2015 had hotter Junes.
The global average temperature has been surpassing the 20th century average for 41 straight years. "Record-breaking temperatures" has almost become a platitude since the turn of the century, yet the consequences of this shift are devastating communities and environments in new ways around the world.
Keep reading...
Show less
iStock
By Joe McCarthy
Tony Maphosa, a Zimbabwean poacher, is accused of putting cyanide in watering holes and salt pans used by elephants numerous times over several years.
All told, his poisoning spree is said to have killed more than 100 elephants, according to Zimbabwean authorities who have been searching for Maphosa for four years.
Keep reading...
Show less
iStock
By David Doniger
As the nation and the world swelter through another year of extraordinary heat, storms, drought and disrupted weather, Senators Sheldon Whitehouse and Brian Schatz introduced carbon fee legislation Wednesday to help curb the heat-trapping pollution that drives this dangerous climate disruption.
Representatives Earl Blumenauer and David Cicilline are introducing companion legislation in the House of Representatives.
Keep reading...
Show less