This website uses cookies to ensure you get the best experience while browsing it. By clicking 'Got It' you're accepting these terms.
Paddleboarder Sets Out on Epic Journey to Fight Plastic Pollution
May. 13, 2016 10:27AM EST
Adventure
Lizzie Carr, an adventurer and environmentalist based in the UK, has set off on a three-week, 400 mile journey with only her stand up paddleboard and 30kg of supplies to bring awareness to plastic pollution.
According to The Guardian, she set off from the most southern point of the UK's connected waterways, the river Wey in Surrey on Wednesday. She will then travel north through Oxford, Coventry, the Stoke on Trent canal, the Douglas and Ribble rivers in Lancashire and finish just south of Kendal, Cumbria. Along the way, she will travel through 193 locks and 8km of tunnels and aqueducts standing over 25ft above the ground.
With the help of Ordnance Survey, the national mapping agency for Great Britain, Carr will also map out the scale of plastic pollution in England's iconic canals and waterways.
If she successfully completes the epic trip, she'll be the first person to paddleboard the length of England via its connected waterways.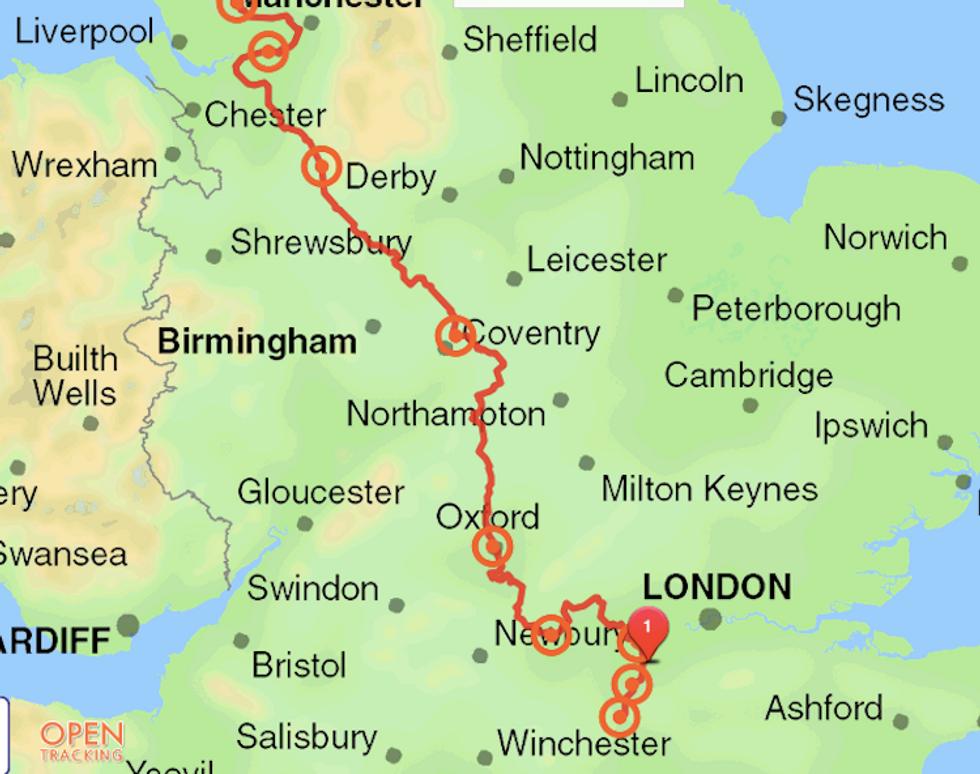 Carr started her journey on Wednesday from the southernmost point of her journey, the river Wey in Surrey. She will travel 600 miles north before stopping in Kendal, Cumbria. Photo credit: Ordnance Survey
"I started paddleboarding a while ago in the Isles of Scilly, Portugal and Barbados," Carr told the Guardian while on her board. "I came back to London and found you could do it in canals and cities, but the more I was doing it the more I saw plastic pollution and debris in the water. It was really sad and when you're trying to board and you get plastic bags stuck on your fins it really compromises the whole experience.
"There are so many layers to the problem of plastic pollution but for me this is about raising awareness and getting people to think about when they buy something that is plastic, what use they will get out of it.
"That meant quitting my stressful corporate job to spend more time with the people I loved rather than confined within the office walls. But, above all, it meant getting outside and back in nature—not just for the obvious health benefits—but because it was the place I felt happiest. I wanted to live a more balanced life, regaining strength by pushing my mental and physical limits and, rather than letting the experience claim me, use it to create a life that I dreamt of."
Carr, who only tried SUP for the first time two years ago, has now paddled on rivers and oceans around the world. She was also selected as a champion for Ordnance Survey's "Get Outside" campaign to encourage people to explore the UK.
"Paddle boarding the length of the country is a great way to show its natural beauty from an altogether different perspective—the water," Carr told Science Focus. "Our canals are iconic pieces of history that provide a presence of calm and tranquillity in urban settings.
"They are easily accessible all over the country they are currently under threat from plastic pollution and debris that, if we don't address soon, will compromise the beauty and quality of our experiences along the canals."
Plastic litter has infiltrated many of the UK's bodies of water. Research from the University of London found that nine out of 10 flounder and a fifth of smelt swimming in the Thames river had plastic in their guts. The researchers also found giant knots of plastic fibers in the stomachs of Chinese mitten crabs at Chelsea Bridge.
The Canal and River Trust, which manages the navigable waterways of England and Wales, spends nearly £1 million a year on clean up efforts.
"Plastic in our water is a serious issue currently under government review," Nick Giles, managing director for Ordnance Survey Leisure, told Science Focus. "It's also an issue Ordnance Survey's recent Geovation Challenge highlighted. Lizzie is an OS Champion for a good reason, and what she is doing demonstrates how we have a beautiful country to be enjoyed, but it also stresses how much it and the creatures that live in it need protecting."
Not only is plastic a problem in waterways, a research team at King's College in London is also looking into the very "real possibility" that microplastics particles are polluting the air.
Carr, who has been in remission from cancer for the past two years, is "deeply in love" with her life.
"It's been scary, difficult, exhausting but quitting my job and shaking up my life has been the best decision I ever made," she wrote on her bio page. "I'm extremely grateful for my experience and the new sense of perspective it's given me."
Carr's challenge will be tracked on her website as well as on the Ordnance Survey's website. You can also follow her journey on her Twitter and Instagram.
YOU MIGHT ALSO LIKE
Scientists Warn That You Could Be Inhaling Chemically-Laden Microplastic Particles
5 Reasons Why You Should Think Twice Before Jumping Into Your Local River
Great Barrier Reef Could Be Dead in 20 Years
Duke Study: Rivers Contaminated With Radium and Lead From Thousands of Fracking Wastewater Spills
EcoWatch Daily Newsletter
U.S. President Donald Trump listens as Anthony Fauci, Director of the National Institute of Allergy and Infectious Diseases speaks in the Rose Garden for the daily coronavirus briefing at the White House on March 29 in Washington, DC. Tasos Katopodis / Getty Images
By Jake Johnson
Just over a month after proclaiming that the number of coronavirus cases in the U.S. would soon "be down to close to zero," President Donald Trump said during a press briefing on the White House lawn Sunday that limiting U.S. deaths from the pandemic to between 100,000 and 200,000 people would mean his administration and the country as a whole did "a very good job."
Dicamba is having a devastating impact in Arkansas and neighboring states. A farmer in Mississippi County, Arkansas looks at rows of soybean plants affected by dicamba. The Washington Post / Getty Images
Documents unearthed in a lawsuit brought by a Missouri farmer who claimed that Monsanto and German chemical maker BASF's dicamba herbicide ruined his peach orchard revealed that the two companies knew their new agricultural seed and chemical system would likely damage many U.S. farms, according to documents seen by The Guardian.
Washington State Governor Jay Inslee and other leaders speak to the press on March 28, 2020 in Seattle. Karen Ducey / Getty Images
A bushfire burns outside the Perth Cricket Stadium in Perth, Australia on Dec. 13, 2019. PETER PARKS / AFP via Getty Images

By Albert Van Dijk, Luigi Renzullo, Marta Yebra and Shoshana Rapley
2019 was the year Australians confronted the fact that a healthy environment is more than just a pretty waterfall in a national park; a nice extra we can do without. We do not survive without air to breathe, water to drink, soil to grow food and weather we can cope with.
By Fino Menezes
Everyone adores dolphins. Intelligent, inquisitive and playful, these special creatures have captivated humans since the dawn of time. But dolphins didn't get to where they are by accident — they needed to develop some pretty amazing superpowers to cope with their environment.