Outraged Birders Warn Oregon Militia: 'We Are Watching Your Every Move'
Jan. 07, 2016 09:59AM EST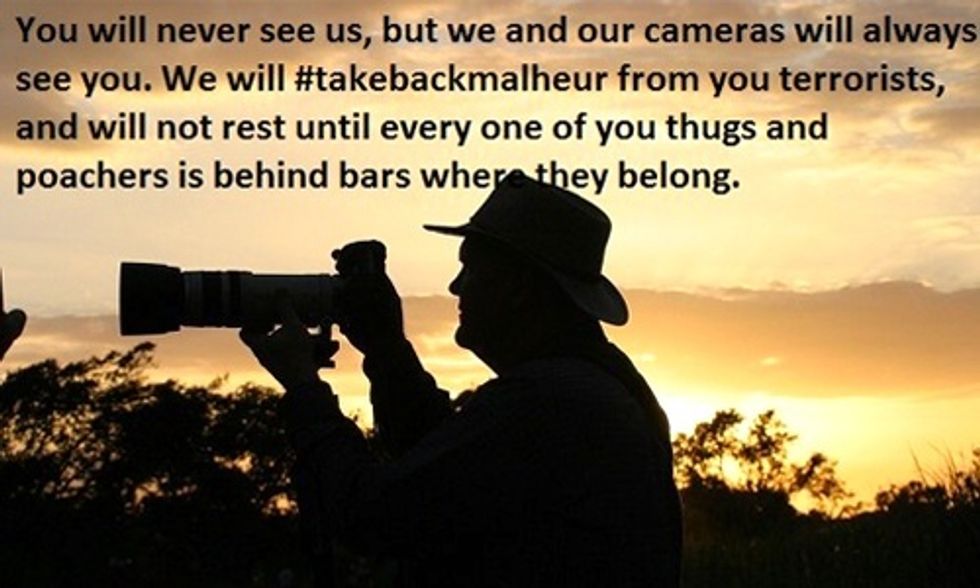 Nature photographers are outraged. Just ask birder and blogger Kevin of Bird Explorers, who uses the pen name Norwegian Chef. He condemned the Oregon militia currently occupying Malheur National Wildlife Refuge in an open letter on Tuesday. 
Kevin, a Bangkok-based wildlife photographer and nature tracker, claims to have the support of some 40 million nature-loving Americans, who, he said, "will not stand" for this kind of "sedition."
40 Million Bad*ss Birders Just Declared War On Oregon Terrorists https://t.co/P0xCZehhWj https://t.co/UQOM1t3hT8

— Zaibatsu News Ⓜ️ (@Zaibatsu News Ⓜ️)1452129124.0
He warned the militants that "no small group of armed thugs is going to destroy the great wildlife and national park system that our great Republican President Teddy Roosevelt and John Muir put in place over a century ago."
The birder said the entire community of wildlife conservationists will be watching them:
"We are watching your every move, and we have been watching you for a long time. And yes absolutely you are domestic terrorists of the worst kind, and the truth about your decades of constant poaching of protected wildlife around Malheur and other wildlife refuges, national parks, national forests and BLM [U.S. Bureau of Land Management] lands has been well-documented."
He assured that the militia will be brought to justice:
"For years those of us who are wildlife photographers, birdwatchers and carers of wildlife, have been documenting the activities of you poachers and criminals around many of our nation's wildlife refuges. With our powerful cameras and ability to move unseen in the wilderness, we have found and documented your illegal hunts, your illegal traps and all sorts of illicit activities, and are constantly feeding that information to law enforcement, and we have finally got many of you poachers on the run and into jails."
Calling the militants "welfare queens" and "cheats" living off of the Bureau of Land Management, Kevin said national treasures such as Malheur, Yellowstone and Yosemite belong to all Americans and not a "small group of armed thugs."
Happy National Bird Day!! Hey our Oregon Anti-Terrorist Bird Post went viral with already 11,458 shares on... https://t.co/L3tP9VnbPt

— Bird Explorers (@Bird Explorers)1452069095.0
As for whether or not the militants should be labeled as terrorists, Kevin had a simple response:
"As Oregon's Congressman Earl Blumenauer just stated, 'Armed insurrection is terrorism. The situation at the Malheur National Wildlife Refuge shouldn't be allowed to fester but should be dealt with firmly, swiftly and fairly. The continued disruption to the community of Burns and occupation of a federal facility is unacceptable. Those involved should be arrested and prosecuted.'"
The birding community is "ablaze" right now, Kevin wrote. "We will #takebackmalheur from you terrorists, and will not rest until every one of you thugs and poachers is behind bars where they belong."
He vowed to "put every civil suit" against them and warned that they'd never be able to outrun or hide from the "natural law of karma."
Kevin isn't the only one to speak out against this group on behalf of wildlife and the environment. Kierán Suckling, executive director of the Center for Biological Diversity, said: "This is the latest in a long string of armed, right-wing thugs attempting to seize America's public lands and enact their paranoid, anti-government dream bought by guns and intimidation.
"We've seen it with pipe bombs planted on wilderness trails and sent to the U.S. Forest Service and Bureau of Land Management. We saw [it] in 2014 with Cliven Bundy and his racist and violent rhetoric in Nevada and now we're seeing it with his sons in Oregon."
YOU MIGHT ALSO LIKE
Colbert's Takedown of the Oregon Militia Men
Armed Militia in Oregon Is Latest Right-Wing Attempt to Seize America's Public Lands
This Woman Wears 15,000 Bees to Help Others Connect to Nature
EcoWatch Daily Newsletter
Recent Stories from EcoWatch