This website uses cookies to ensure you get the best experience while browsing it. By clicking 'Got It' you're accepting these terms.
Nobel Prize Awarded to Trio of Scientists Who Invented Energy-Saving LEDs
Oct. 07, 2014 02:45PM EST
Business
Today the Royal Swedish Academy of Sciences, which oversees the Nobel Prizes, announced the award of the 2014 Nobel Prize for Physics to a trio of scientists from Japan and California for inventing the technology behind what's become an ubiquitous household staple in the last decade—the LED lightbulb. Unlike some of the scientific awards, this one is as much practical as theoretical.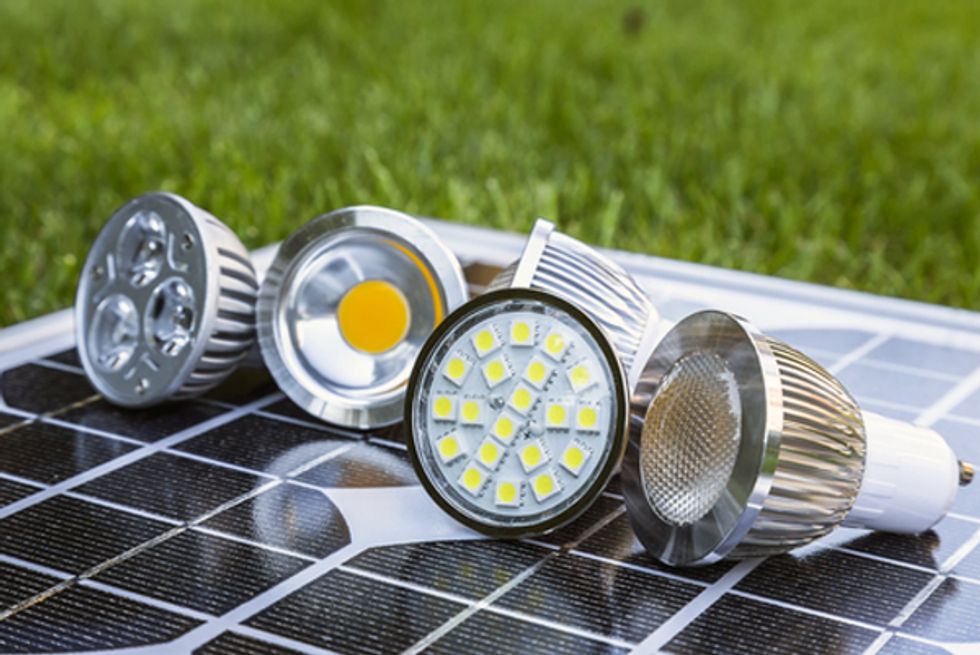 LED lighting has virtually replaced incandescent lighting, invented in the late 19th century. The lightbulbs can last 100 times longer than incandescent ones while saving energy. Photo credit: Shutterstock
In explaining the choice of Isamu Akasaki and Hiroshi Amano from Nagoya University and Shuji Nakamura from the University of California, Santa Barbara, to win the prize, the academy said, "This year's Nobel Laureates are rewarded for having invented a new energy-efficient and environment-friendly light source—the blue light-emitting diode (LED). In the spirit of Alfred Nobel the Prize rewards an invention of greatest benefit to mankind; using blue LEDs, white light can be created in a new way. With the advent of LED lamps we now have more long-lasting and more efficient alternatives to older light sources."
LED lighting has virtually replaced incandescent lighting, invented in the late 19th century. The lightbulbs can last 100 times longer than incandescent ones while saving energy. They use 70-90 percent less energy, reducing dramatically the greenhouse gas emissions produced if the electricity comes from coal-fired plants. And with such low power requirements they can be run off small solar panels, eliminating the need to connect to a grid.
The award is in keeping with the spirit in which Alfred Nobel created the foundation to award the prizes in his 1895 will. In it he said that prizes should go to "those who, during the preceding year, shall have conferred the greatest benefit on mankind." He died in 1896 and the first prizes were awarded in 1901.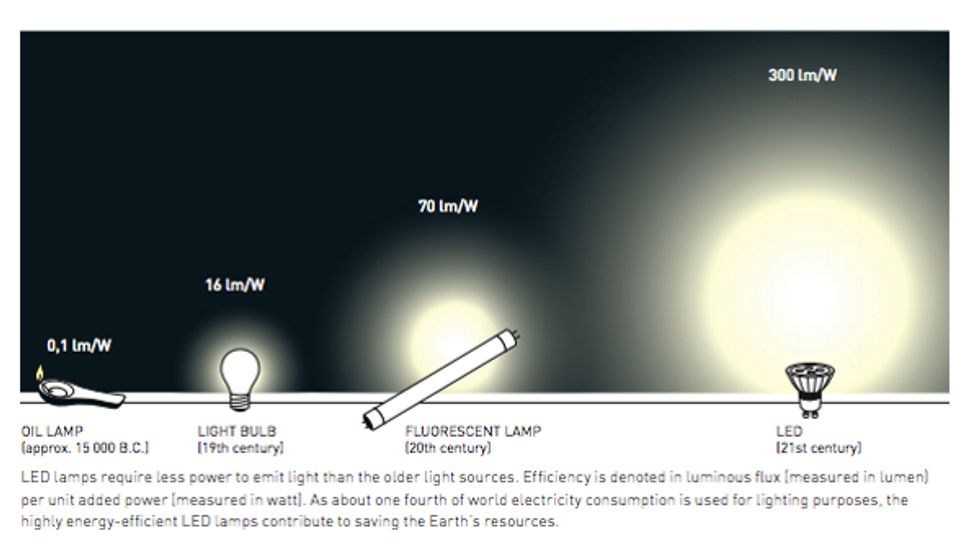 The invention of LED lighting dramatically decreased the energy needed to produce the same amount of light. Photo credit: NobelPrize.org
In a blog post titled "If he were alive today Alfred Nobel would have wanted an environment prize," James Dyke of the UK's University of Southampton points out that the 2007 prize Nobel Peace Prize was awarded to Al Gore and the Intergovernmental Panel on Climate Change (IPCC)  "for their efforts to build up and disseminate greater knowledge about manmade climate change, and to lay the foundations for the measures that are needed to counteract such change."
"I like to think that Nobel himself would understand that in the 21st century conferring the greatest benefit to mankind means looking beyond ourselves and considering how we interact and affect the other species with which we share planet Earth," he writes.
YOU MIGHT ALSO LIKE
Why Energy Efficiency Deserves a Key Role in EPA Carbon Limits
How Does U.S. Rank in Energy Efficiency?
Trade In Old, Inefficient Holiday Lighting for Money Saving LEDs
EcoWatch Daily Newsletter
The Visible Infrared Imaging Radiometer Suite on the Suomi NPP satellite acquired this image of forest fire smoke hovering over North America on Aug. 15, 2018. NASA Earth Observatory
New York City isn't known for having the cleanest air, but researchers traced recent air pollution spikes there to two surprising sources — fires hundreds of miles away in Canada and the southeastern U.S.
If temperatures continue to rise, the world is at risk from global
sea-level rise
, which will flood many coastal cities as seen above in Bangladesh. NurPhoto / Contributor / Getty Images
The mounting climate emergency may spur the next global financial crisis and the world's central banks are woefully ill equipped to handle the consequences, according to a new book-length report by the Bank for International Settlements (BIS), as S&P Global reported. Located in Basel, Switzerland, the BIS is an umbrella organization for the world's central banks.
Two ice fishers with a truck cut a hole in the ice near an ice fishing hut on frozen Lake Winnebago.
Richard Hamilton Smith / Corbis NX / Getty Images
By Susan Cosier
Come February in Wisconsin, almost everything will be covered in ice and snow. In little shanties on frozen Lake Winnebago, a 30-by-13-mile lake in the eastern part of the state, fishers will keep watch over rectangular holes cut into the ice with a chainsaw. When they spot a fin passing below, they'll jab their spears down deep. The lucky ones will earn themselves a lake sturgeon, a species that has prowled the earth's waters for more than 150 million years.
Fresno, California, seen above, is receiving $66 million for walking trails, sidewalks, bike lanes, and more. DenisTangneyJr / iStock / Getty Images
Grecia Elenes grew up in Fresno, California. She says some parts of the city have been neglected for decades. When she moved back after college she realized nothing has changed.
People are seen embracing at Numeralla Rural Fire Brigade near the scene of a water tanker plane crash on Jan. 23 in Cooma, Australia. Three American firefighters have have died after their C-130 water tanker plane crashed while battling a bushfire near Cooma in southern NSW this afternoon. Jenny Evans / Getty Images
Three U.S. firefighters gave their lives battling Australia's historic wildfires Thursday when their airborne water tanker crashed.