This website uses cookies to ensure you get the best experience while browsing it. By clicking 'Got It' you're accepting these terms.
Nobel Prize Awarded to Trio of Scientists Who Invented Energy-Saving LEDs
Oct. 07, 2014 02:45PM EST
Business
Today the Royal Swedish Academy of Sciences, which oversees the Nobel Prizes, announced the award of the 2014 Nobel Prize for Physics to a trio of scientists from Japan and California for inventing the technology behind what's become an ubiquitous household staple in the last decade—the LED lightbulb. Unlike some of the scientific awards, this one is as much practical as theoretical.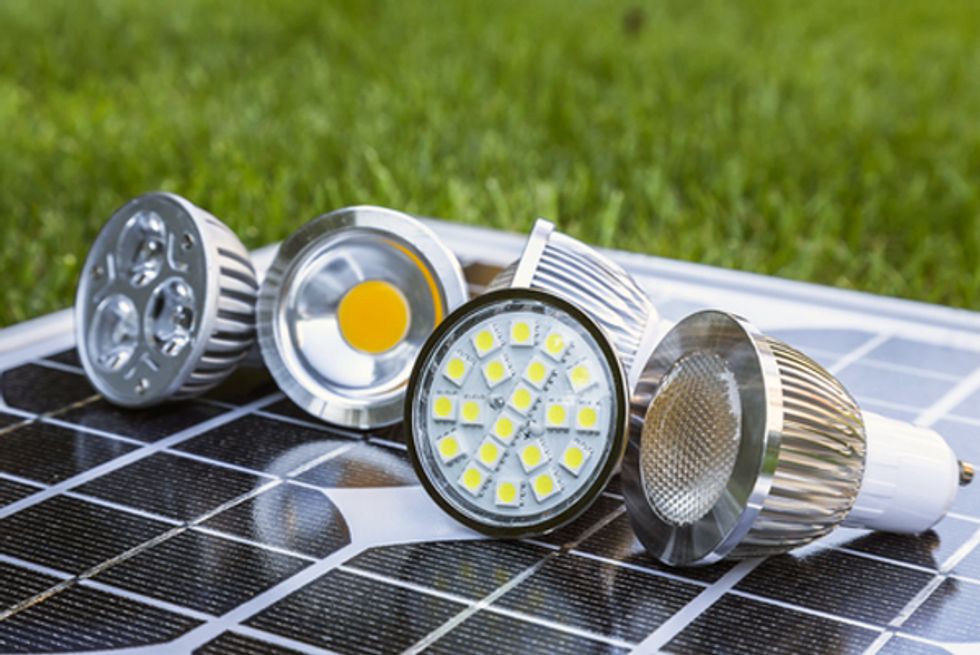 LED lighting has virtually replaced incandescent lighting, invented in the late 19th century. The lightbulbs can last 100 times longer than incandescent ones while saving energy. Photo credit: Shutterstock
In explaining the choice of Isamu Akasaki and Hiroshi Amano from Nagoya University and Shuji Nakamura from the University of California, Santa Barbara, to win the prize, the academy said, "This year's Nobel Laureates are rewarded for having invented a new energy-efficient and environment-friendly light source—the blue light-emitting diode (LED). In the spirit of Alfred Nobel the Prize rewards an invention of greatest benefit to mankind; using blue LEDs, white light can be created in a new way. With the advent of LED lamps we now have more long-lasting and more efficient alternatives to older light sources."
LED lighting has virtually replaced incandescent lighting, invented in the late 19th century. The lightbulbs can last 100 times longer than incandescent ones while saving energy. They use 70-90 percent less energy, reducing dramatically the greenhouse gas emissions produced if the electricity comes from coal-fired plants. And with such low power requirements they can be run off small solar panels, eliminating the need to connect to a grid.
The award is in keeping with the spirit in which Alfred Nobel created the foundation to award the prizes in his 1895 will. In it he said that prizes should go to "those who, during the preceding year, shall have conferred the greatest benefit on mankind." He died in 1896 and the first prizes were awarded in 1901.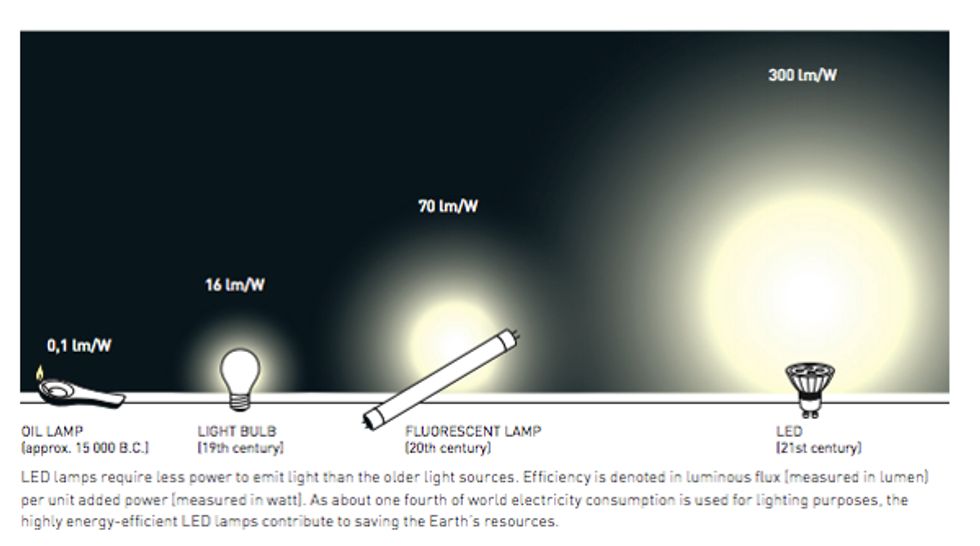 The invention of LED lighting dramatically decreased the energy needed to produce the same amount of light. Photo credit: NobelPrize.org
In a blog post titled "If he were alive today Alfred Nobel would have wanted an environment prize," James Dyke of the UK's University of Southampton points out that the 2007 prize Nobel Peace Prize was awarded to Al Gore and the Intergovernmental Panel on Climate Change (IPCC)  "for their efforts to build up and disseminate greater knowledge about manmade climate change, and to lay the foundations for the measures that are needed to counteract such change."
"I like to think that Nobel himself would understand that in the 21st century conferring the greatest benefit to mankind means looking beyond ourselves and considering how we interact and affect the other species with which we share planet Earth," he writes.
YOU MIGHT ALSO LIKE
Why Energy Efficiency Deserves a Key Role in EPA Carbon Limits
How Does U.S. Rank in Energy Efficiency?
Trade In Old, Inefficient Holiday Lighting for Money Saving LEDs
EcoWatch Daily Newsletter
One of the 25 new Long Beach Transit hybrid gasoline-electric buses on April 23, 2009. Jeff Gritchen / Digital First Media / Orange County Register / Getty Images
In Long Beach, California, some electric buses can charge along their route without cords or wires.
When a bus reaches the Pine Avenue station, it parks over a special charging pad. While passengers get on and off, the charger transfers energy to a receiver on the bottom of the bus.
Semi trucks travel along I94 on June 21 near Lake forest, Illinois. Scott Olson / Getty Images
The Trump administration pushed through an exemption to clean air rules, effectively freeing heavy polluting, super-cargo trucks from following clean air rules. It rushed the rule without conducting a federally mandated study on how it would impact public health, especially children, said the Environmental Protection Agency (EPA) Inspector General Charles J. Sheehan in a report released yesterday, as the AP reported.

A time-restricted eating plan provides a new way to fight obesity and metabolic diseases that affect millions of people worldwide. RossHelen / iStock / Getty Images Plus
By Satchin Panda and Pam Taub
People with obesity, high blood sugar, high blood pressure or high cholesterol are often advised to eat less and move more, but our new research suggests there is now another simple tool to fight off these diseases: restricting your eating time to a daily 10-hour window.
Kunhui Chih / iStock / Getty Images Plus
A man and his dog walk past an H&M store in Stockholm, Sweden on March 11, 2014. Melanie Stetson Freeman / The Christian Science Monitor via Getty Images
By Ashutosh Pandey
H&M's flagship store at the Sergels Torg square in Stockholm is back in business after a months-long refurbishment. But it's not exactly business as usual here.