This website uses cookies to ensure you get the best experience while browsing it. By clicking 'Got It' you're accepting these terms.


The best of EcoWatch, right in your inbox. Sign up for our email newsletter!
NOAA: World's Worst Coral Bleaching Event to Continue 'With No Signs of Stopping'
Jun. 21, 2016 10:51AM EST
Climate
The National Oceanic and Atmospheric Administration (NOAA) predicts 2016 will be another year with significant coral bleaching; and scientists see no end in site.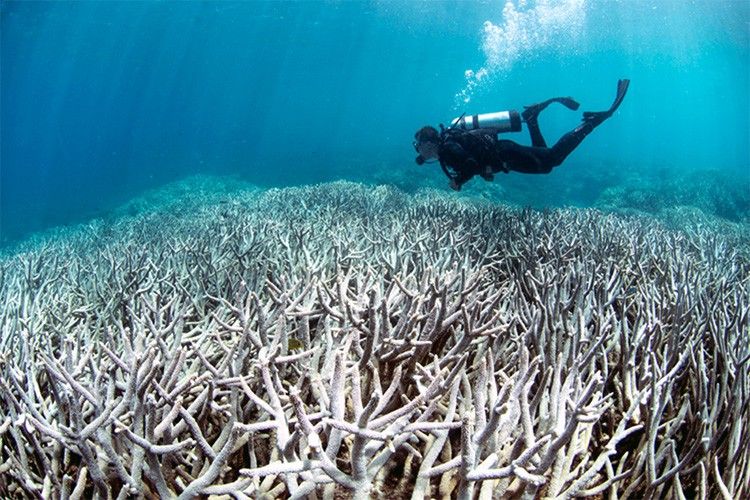 A diver checking out the bleaching at Heron Island in February 2016. This area was one of the first to bleach at Heron Island which is located close to the southern most point of the Great Barrier Reef. Photo credit: XL Catlin Seaview Survey
NOAA expects the bleaching event to hit the U.S. hard, especially in Hawaii, Guam, the Commonwealth of the Northern Mariana Islands, Florida Keys, U.S. Virgin Islands and Puerto Rico, according to a June 20 news release. The administration's Coral Reef Watch believes there's a 90 percent chance of widespread bleaching in the Pacific island nations of Palau and the Federal States of Micronesia.
The Pacific islands's corals are likely to suffer from La Nina. NOAA predicts there's a 75 percent chance La Nina will develop this year, bringing above normal water temperatures to the western Pacific.
NOAA said 2016 marks the third consecutive year with ocean water temperatures hotter than normal. This episode of coral bleaching began in mid-2014, making it "the longest and most widespread coral bleaching event on record."
During this period, the administration reported, 70 percent of U.S. coral reefs have been exposed to prolonged high temperatures that can cause bleaching. Ninety-three percent of Australia's Great Barrier Reef was bleached as of this April. Coral bleaching in the world's largest reef system could cause it to be a "dead ecosystem" in 20 years, EcoWatch reported previously.
The largest coral atoll in the world, Kiritimati, has lost 80 percent of its coral in the past 10 months due to this coral bleaching event. Last month, Thailand announced it was closing 10 popular dive sites due to coral bleaching.
"It's time to shift this conversation to what can be done to conserve these amazing organisms in the face of this unprecedented global bleaching event," Jennifer Koss, NOAA's Coral Reef Conservation Program director, said. "We have boots on the ground and fins in the water to reduce local stressors. Local conservation buys us time, but it isn't enough. Globally, we need to better understand what actions we all can take to combat the effects of climate change."
NOAA is working with coastal resource managers and communities near coral reefs to provide the best science and tools to enhance reef resilience. Scientists are also working on developing methods to assess the potential resilience of reefs so management officials can target and prioritize local conservation actions.
"NOAA's satellite and climate models provide us with the ability to track the high temperatures that are causing this bleaching and alert resource managers and scientists around the world," C. Mark Eakin, NOAA's Coral Reef Watch coordinator, said. "However, it is crucial that scientists and the public continue on site monitoring of reefs to track the actual extent and severity of the bleaching."
YOU MIGHT ALSO LIKE:
10 Popular Dive Sites Closed in Thailand Due to Coral Bleaching Crisis
World's Oceans Face Worst Coral Die-Off in History, Scientists Warn
Scientists Confirm: 93% of Great Barrier Reef Now Bleached
Massive Coral Reef Discovered at Mouth of Amazon, But It's Already Threatened by Oil Drilling
EcoWatch Daily Newsletter
A common green darners (Anax junius). Judy Gallagher / Flickr
By Jason Bittel
It's that time of year again: Right now, monarch butterflies are taking wing in the mountains of northwestern Mexico and starting to flap their way across the United States.
fstop123 / iStock / Getty Images Plus
At EcoWatch, our team knows that changing personal habits and taking actions that contribute to a better planet is an ongoing journey. Earth Day, happening on April 22, is a great reminder for all of us to learn more about the environmental costs of our behaviors like food waste or fast fashion.
To offer readers some inspiration this Earth Day, our team rounded up their top picks for films to watch. So, sit back and take in one of these documentary films this Earth Day. Maybe it will spark a small change you can make in your own life.
Denali national park. Domen Jakus / Flickr / CC BY-NC 2.0
By Stephanie Gagnon
Happy National Parks Week! This year, between April 20 and 28, escape to the beautiful national parks — either in person or in your imagination — and celebrate the amazing wildlife that calls these spaces home.
Sesame, three months old, at Seal Rescue Irleand.
Screenshot / Seal Rescue Ireland Instagram
On Friday, Seal Rescue Ireland released Sesame the seal into the ocean after five months of rehabilitation at the Seal Rescue Ireland facility. Watch the release on EcoWatch's Facebook.

Beer packs of Guinness will now come in a cardboard box. Diageo

By Jordan Davidson
Guinness is joining the fight against single use plastic. The brewer has seen enough hapless turtles and marine life suffering from the scourge of plastic.
Maskot / Getty Images
People of all ages are spending more of their day looking at their phones, computers and television screens, but parents now have another reason for limiting how much screen time their children get — it could lead to behavioral problems.
Rapper and comedian Lil Dicky released a 7-minute climate change awareness song and video today, ahead of Earth Day on Monday, with proceeds going to the Leonardo DiCaprio Foundation.