This website uses cookies to ensure you get the best experience while browsing it. By clicking 'Got It' you're accepting these terms.
NOAA: World's Worst Coral Bleaching Event to Continue 'With No Signs of Stopping'
Jun. 21, 2016 10:51AM EST
The National Oceanic and Atmospheric Administration (NOAA) predicts 2016 will be another year with significant coral bleaching; and scientists see no end in site.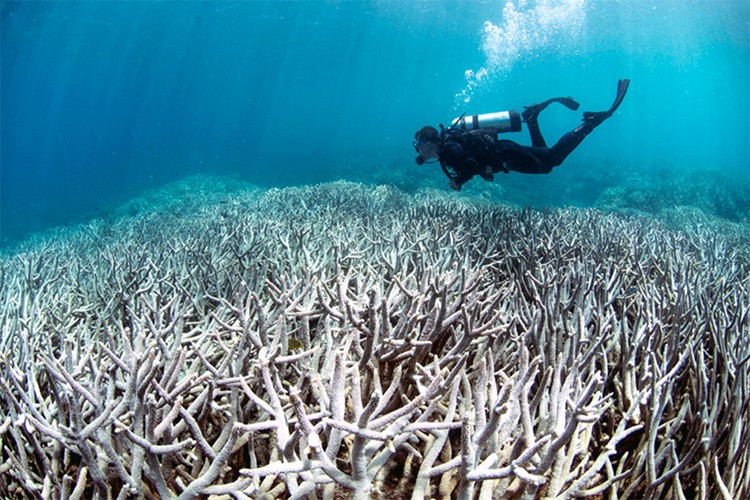 A diver checking out the bleaching at Heron Island in February 2016. This area was one of the first to bleach at Heron Island which is located close to the southern most point of the Great Barrier Reef. Photo credit: XL Catlin Seaview Survey
NOAA expects the bleaching event to hit the U.S. hard, especially in Hawaii, Guam, the Commonwealth of the Northern Mariana Islands, Florida Keys, U.S. Virgin Islands and Puerto Rico, according to a June 20 news release. The administration's Coral Reef Watch believes there's a 90 percent chance of widespread bleaching in the Pacific island nations of Palau and the Federal States of Micronesia.
The Pacific islands's corals are likely to suffer from La Nina. NOAA predicts there's a 75 percent chance La Nina will develop this year, bringing above normal water temperatures to the western Pacific.
NOAA said 2016 marks the third consecutive year with ocean water temperatures hotter than normal. This episode of coral bleaching began in mid-2014, making it "the longest and most widespread coral bleaching event on record."
During this period, the administration reported, 70 percent of U.S. coral reefs have been exposed to prolonged high temperatures that can cause bleaching. Ninety-three percent of Australia's Great Barrier Reef was bleached as of this April. Coral bleaching in the world's largest reef system could cause it to be a "dead ecosystem" in 20 years, EcoWatch reported previously.
The largest coral atoll in the world, Kiritimati, has lost 80 percent of its coral in the past 10 months due to this coral bleaching event. Last month, Thailand announced it was closing 10 popular dive sites due to coral bleaching.
"It's time to shift this conversation to what can be done to conserve these amazing organisms in the face of this unprecedented global bleaching event," Jennifer Koss, NOAA's Coral Reef Conservation Program director, said. "We have boots on the ground and fins in the water to reduce local stressors. Local conservation buys us time, but it isn't enough. Globally, we need to better understand what actions we all can take to combat the effects of climate change."
NOAA is working with coastal resource managers and communities near coral reefs to provide the best science and tools to enhance reef resilience. Scientists are also working on developing methods to assess the potential resilience of reefs so management officials can target and prioritize local conservation actions.
"NOAA's satellite and climate models provide us with the ability to track the high temperatures that are causing this bleaching and alert resource managers and scientists around the world," C. Mark Eakin, NOAA's Coral Reef Watch coordinator, said. "However, it is crucial that scientists and the public continue on site monitoring of reefs to track the actual extent and severity of the bleaching."
YOU MIGHT ALSO LIKE:
10 Popular Dive Sites Closed in Thailand Due to Coral Bleaching Crisis
World's Oceans Face Worst Coral Die-Off in History, Scientists Warn
Scientists Confirm: 93% of Great Barrier Reef Now Bleached
Massive Coral Reef Discovered at Mouth of Amazon, But It's Already Threatened by Oil Drilling
Pixabay
By John R. Platt
The world needs to change the way it eats, not just as individuals but as a society.
The Russian military is taking measures to protect the residents of a remote Arctic settlement from a mass of polar bears, German press agency DPA reported.
The move comes after regional authorities declared a state of emergency over the weekend after sightings of more than 50 bears in the town of Belushya Guba since December.
This year's letter from Bill and Melinda Gates focused on nine things that surprised them. For the Microsoft-cofounder, one thing he was surprised to learn was the massive amount of new buildings the planet should expect in the coming decades due to urban population growth.
"The number of buildings in the world is going to double by 2060. It's like we're going to build a new New York City every month for the next 40 years," he said.
Over the past few years, it seems vegan cooking has gone from 'brown rice and tofu' to a true art form. These amazing cooks show off the creations on Instagram—and we can't get enough.