This website uses cookies to ensure you get the best experience while browsing it. By clicking 'Got It' you're accepting these terms.
NOAA: World's Worst Coral Bleaching Event to Continue 'With No Signs of Stopping'
Jun. 21, 2016 10:51AM EST
Climate
The National Oceanic and Atmospheric Administration (NOAA) predicts 2016 will be another year with significant coral bleaching; and scientists see no end in site.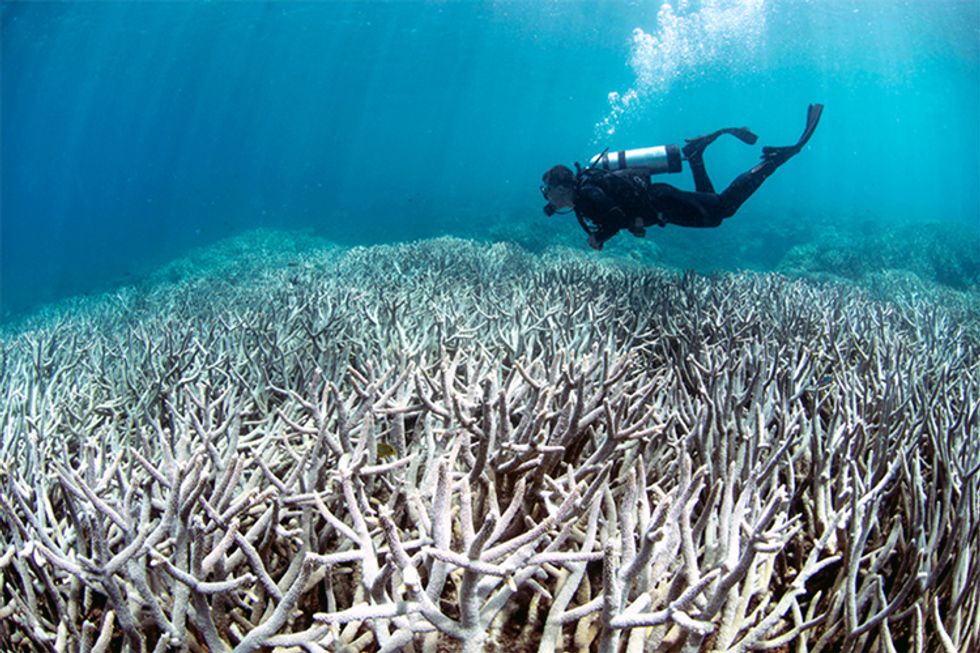 A diver checking out the bleaching at Heron Island in February 2016. This area was one of the first to bleach at Heron Island which is located close to the southern most point of the Great Barrier Reef. Photo credit: XL Catlin Seaview Survey
NOAA expects the bleaching event to hit the U.S. hard, especially in Hawaii, Guam, the Commonwealth of the Northern Mariana Islands, Florida Keys, U.S. Virgin Islands and Puerto Rico, according to a June 20 news release. The administration's Coral Reef Watch believes there's a 90 percent chance of widespread bleaching in the Pacific island nations of Palau and the Federal States of Micronesia.
The Pacific islands's corals are likely to suffer from La Nina. NOAA predicts there's a 75 percent chance La Nina will develop this year, bringing above normal water temperatures to the western Pacific.
NOAA said 2016 marks the third consecutive year with ocean water temperatures hotter than normal. This episode of coral bleaching began in mid-2014, making it "the longest and most widespread coral bleaching event on record."
During this period, the administration reported, 70 percent of U.S. coral reefs have been exposed to prolonged high temperatures that can cause bleaching. Ninety-three percent of Australia's Great Barrier Reef was bleached as of this April. Coral bleaching in the world's largest reef system could cause it to be a "dead ecosystem" in 20 years, EcoWatch reported previously.
The largest coral atoll in the world, Kiritimati, has lost 80 percent of its coral in the past 10 months due to this coral bleaching event. Last month, Thailand announced it was closing 10 popular dive sites due to coral bleaching.
"It's time to shift this conversation to what can be done to conserve these amazing organisms in the face of this unprecedented global bleaching event," Jennifer Koss, NOAA's Coral Reef Conservation Program director, said. "We have boots on the ground and fins in the water to reduce local stressors. Local conservation buys us time, but it isn't enough. Globally, we need to better understand what actions we all can take to combat the effects of climate change."
NOAA is working with coastal resource managers and communities near coral reefs to provide the best science and tools to enhance reef resilience. Scientists are also working on developing methods to assess the potential resilience of reefs so management officials can target and prioritize local conservation actions.
"NOAA's satellite and climate models provide us with the ability to track the high temperatures that are causing this bleaching and alert resource managers and scientists around the world," C. Mark Eakin, NOAA's Coral Reef Watch coordinator, said. "However, it is crucial that scientists and the public continue on site monitoring of reefs to track the actual extent and severity of the bleaching."
YOU MIGHT ALSO LIKE:
10 Popular Dive Sites Closed in Thailand Due to Coral Bleaching Crisis
World's Oceans Face Worst Coral Die-Off in History, Scientists Warn
Scientists Confirm: 93% of Great Barrier Reef Now Bleached
Massive Coral Reef Discovered at Mouth of Amazon, But It's Already Threatened by Oil Drilling
EcoWatch Daily Newsletter
One of the 25 new Long Beach Transit hybrid gasoline-electric buses on April 23, 2009. Jeff Gritchen / Digital First Media / Orange County Register / Getty Images
In Long Beach, California, some electric buses can charge along their route without cords or wires.
When a bus reaches the Pine Avenue station, it parks over a special charging pad. While passengers get on and off, the charger transfers energy to a receiver on the bottom of the bus.
Semi trucks travel along I94 on June 21 near Lake forest, Illinois. Scott Olson / Getty Images
The Trump administration pushed through an exemption to clean air rules, effectively freeing heavy polluting, super-cargo trucks from following clean air rules. It rushed the rule without conducting a federally mandated study on how it would impact public health, especially children, said the Environmental Protection Agency (EPA) Inspector General Charles J. Sheehan in a report released yesterday, as the AP reported.

A time-restricted eating plan provides a new way to fight obesity and metabolic diseases that affect millions of people worldwide. RossHelen / iStock / Getty Images Plus
By Satchin Panda and Pam Taub
People with obesity, high blood sugar, high blood pressure or high cholesterol are often advised to eat less and move more, but our new research suggests there is now another simple tool to fight off these diseases: restricting your eating time to a daily 10-hour window.
Kunhui Chih / iStock / Getty Images Plus
A man and his dog walk past an H&M store in Stockholm, Sweden on March 11, 2014. Melanie Stetson Freeman / The Christian Science Monitor via Getty Images
By Ashutosh Pandey
H&M's flagship store at the Sergels Torg square in Stockholm is back in business after a months-long refurbishment. But it's not exactly business as usual here.