This website uses cookies to ensure you get the best experience while browsing it. By clicking 'Got It' you're accepting these terms.
New Undersea Turbines Harness Enormous Power From Local Tides
May. 17, 2016 08:35AM EST
Energy
Two countries with the highest tides in the world, Canada and the UK, both claim to be the world leaders in creating electricity from the tides.
They are among a group of coastal states—including China, South Korea, the U.S. and Australia—that are hoping to harness the enormous power of their local twice-daily tides to tap a new and reliable supply of electricity.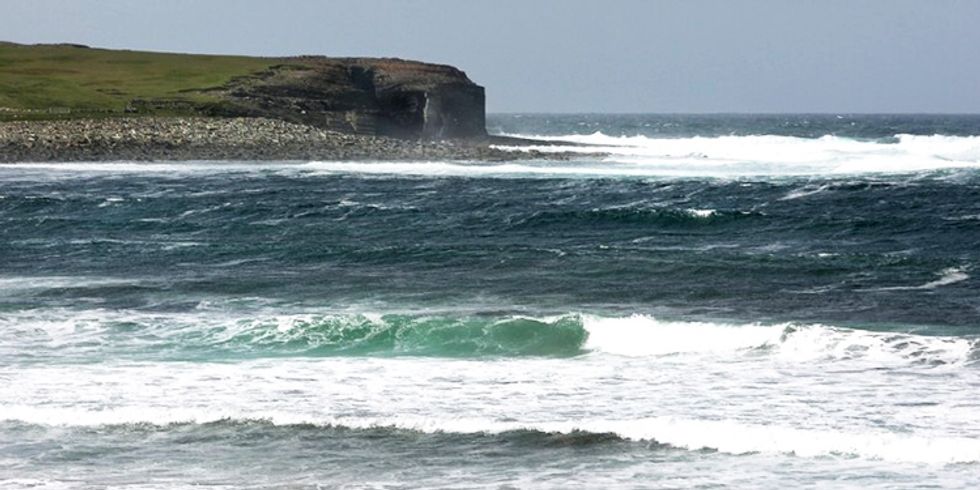 Unlike wind and solar energy, tidal power is entirely predictable. If it can be tapped on a large scale as a power source, it will provide reliable base load power for any grid system.
There are all sorts of schemes in many countries, the most familiar being the tidal barrages that direct the ebb and flow of the tide through turbines to generate electricity.
Best known of these is the Rance tidal power station, which was opened in 1966 at Saint-Malo, northern France. At 240 megawatts (MW), it was the largest in the world for 45 years, until South Korea's Sihwa Lake power station came into service in 2011, producing 254 MW.
Tidal Currents
But there is a new generation of tidal power schemes. They use undersea turbines, able to make use of the powerful tidal currents in estuaries and in relatively shallow water on continental shelves. Because water is far denser than air, the same area of turbine blade can produce four times more electricity than a wind turbine.
So far, 20 sites in the world have been identified where hundreds of underwater turbines could be deployed. These are in shallow water, where the tidal current moves swiftly and where cables can be connected to the onshore grid.
The best sites are between islands or in other narrow stretches of sea where the tide flows strongly. Eight of these sites have been identified in the UK and they could on their own generate around 20 percent of the country's electricity needs—more than its 15 nuclear reactors are currently producing.
In Canada, which has two coasts with many offshore islands, there are also many potential locations—enough to replace a dozen large coal and gas plants.
The stretch of water between the northeast tip of Scotland and the Orkney islands is probably the best place in the world to generate electricity from the movement of the tides. Several companies are already testing prototypes.
It is here in the Pentland Firth, Caithness, that MeyGen has begun work on building 61 undersea turbines—out of a planned total of 269—that will make it the largest undersea power station in the world. In total, the scheme will generate 398 MW of clean power, which is enough for 175,000 homes.
Another large-scale scheme has been announced in Northern Ireland, where the Fair Head project will begin building undersea turbines in 2018 to provide 100 MW of power.
But, in one sense, Canada is already ahead. The Bay of Fundy in Nova Scotia has the highest tides in the world. The Fundy Ocean Research Centre for Energy project already has undersea cables connected to the grid and four power companies with turbines of different designs and has agreements to provide power for up to 10,000 homes.
Undersea Arrays
With Canada's vast array of offshore islands and its strong tides, the government has identified more than 100 possible sites, large and small, for undersea arrays. Small schemes could provide a steady power source for some of the country's more isolated communities.
While there are still questions over the best design of turbine to generate the maximum amount of reliable electricity with the least maintenance, this is clearly a technology with a bright future.
It also has the advantage over all other generating systems of being out of sight. The turbines' design will depend on the strength of the tidal current and on the height they are placed above the sea bed.
There are also still environmental issues to be resolved—for example, the effect on marine life and particularly the potential damage to fish and marine mammals. But, compared with wind turbines, the blades turn very slowly.
Because undersea arrays are limited to areas with high tidal flows, they could not compete with solar and wind power for a worldwide share of the renewable market.
But for those countries lucky enough to have shallow seas and big tides the technology is expected to be a significant and long-term source of clean power.
YOU MIGHT ALSO LIKE
With Clean Energy Jobs Booming in Republican Districts, It's Time to Recalibrate Climate Politics
Facebook, Microsoft Give Wind and Solar Energy a Big Boost
The Heartland of America is '100% Clean Energy Ready'
This Country Generated So Much Renewable Energy It Paid People to Use It
EcoWatch Daily Newsletter
A harbour seal on an ice floe in Glacier Bay, Alaska. A new study shows that the climate crisis has warmed waters, changing ecosystems and crippling sea ice growth. Janette Hill / robertharding / Getty Images Plus
Doctors report that only 1 in 4 children are getting the recommended 60 minutes of physical activity per day. Ronnie Kaufman / DigitalVision / Getty Images
By Dan Gray
Pediatricians are being urged to start writing "exercise prescriptions" for the children they see in their office.
A First Nations protester walks in front of a train blockade in Tyendinaga, near Belleville, Ontario, Canada on Feb. 21, 2020. LARS HAGBERG / AFP via Getty Images
An indigenous rail blockade that snarled train travel in Canada for more than two weeks came to an end Monday when police moved in to clear protesters acting in solidarity with another indigenous community in British Columbia (B.C.), which is fighting to keep a natural gas pipeline off its land.
A rainbow snake, a rare reptile spotted in a Florida county for the first time in more than 50 years, seen here on July 5, 2013.
Kevin Enge / FWC Fish and Wildlife Research Institute / Flickr
A Florida hiker recently stumbled across a slithering surprise — a rare snake that hadn't been spotted in the area for more than 50 years.
We need our government to do everything it can to stop PFAS contamination and exposure from wreaking havoc in communities across the country. LuAnn Hun /
Unsplash
By Genna Reed
The EPA announced last week that it is issuing a preliminary regulatory determination for public comment to set an enforceable drinking water standard to two of the most common and well-studied PFAS, PFOA and PFOS.
This decision is based on three criteria:
PFOA and PFOS have an adverse effect on public health
PFOA and PFOS occur in drinking water often enough and at levels of public health concern;
regulation of PFOA and PFOS is a meaningful opportunity for reducing the health risk to those served by public water systems.