This website uses cookies to ensure you get the best experience while browsing it. By clicking 'Got It' you're accepting these terms.
New Undersea Turbines Harness Enormous Power From Local Tides
May. 17, 2016 08:35AM EST
Energy
Two countries with the highest tides in the world, Canada and the UK, both claim to be the world leaders in creating electricity from the tides.
They are among a group of coastal states—including China, South Korea, the U.S. and Australia—that are hoping to harness the enormous power of their local twice-daily tides to tap a new and reliable supply of electricity.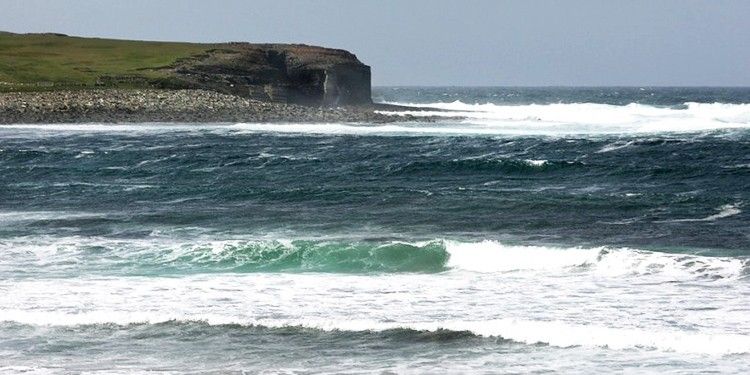 Unlike wind and solar energy, tidal power is entirely predictable. If it can be tapped on a large scale as a power source, it will provide reliable base load power for any grid system.
There are all sorts of schemes in many countries, the most familiar being the tidal barrages that direct the ebb and flow of the tide through turbines to generate electricity.
Best known of these is the Rance tidal power station, which was opened in 1966 at Saint-Malo, northern France. At 240 megawatts (MW), it was the largest in the world for 45 years, until South Korea's Sihwa Lake power station came into service in 2011, producing 254 MW.
Tidal Currents
But there is a new generation of tidal power schemes. They use undersea turbines, able to make use of the powerful tidal currents in estuaries and in relatively shallow water on continental shelves. Because water is far denser than air, the same area of turbine blade can produce four times more electricity than a wind turbine.
So far, 20 sites in the world have been identified where hundreds of underwater turbines could be deployed. These are in shallow water, where the tidal current moves swiftly and where cables can be connected to the onshore grid.
The best sites are between islands or in other narrow stretches of sea where the tide flows strongly. Eight of these sites have been identified in the UK and they could on their own generate around 20 percent of the country's electricity needs—more than its 15 nuclear reactors are currently producing.
In Canada, which has two coasts with many offshore islands, there are also many potential locations—enough to replace a dozen large coal and gas plants.
The stretch of water between the northeast tip of Scotland and the Orkney islands is probably the best place in the world to generate electricity from the movement of the tides. Several companies are already testing prototypes.
It is here in the Pentland Firth, Caithness, that MeyGen has begun work on building 61 undersea turbines—out of a planned total of 269—that will make it the largest undersea power station in the world. In total, the scheme will generate 398 MW of clean power, which is enough for 175,000 homes.
Another large-scale scheme has been announced in Northern Ireland, where the Fair Head project will begin building undersea turbines in 2018 to provide 100 MW of power.
But, in one sense, Canada is already ahead. The Bay of Fundy in Nova Scotia has the highest tides in the world. The Fundy Ocean Research Centre for Energy project already has undersea cables connected to the grid and four power companies with turbines of different designs and has agreements to provide power for up to 10,000 homes.
Undersea Arrays
With Canada's vast array of offshore islands and its strong tides, the government has identified more than 100 possible sites, large and small, for undersea arrays. Small schemes could provide a steady power source for some of the country's more isolated communities.
While there are still questions over the best design of turbine to generate the maximum amount of reliable electricity with the least maintenance, this is clearly a technology with a bright future.
It also has the advantage over all other generating systems of being out of sight. The turbines' design will depend on the strength of the tidal current and on the height they are placed above the sea bed.
There are also still environmental issues to be resolved—for example, the effect on marine life and particularly the potential damage to fish and marine mammals. But, compared with wind turbines, the blades turn very slowly.
Because undersea arrays are limited to areas with high tidal flows, they could not compete with solar and wind power for a worldwide share of the renewable market.
But for those countries lucky enough to have shallow seas and big tides the technology is expected to be a significant and long-term source of clean power.
YOU MIGHT ALSO LIKE
With Clean Energy Jobs Booming in Republican Districts, It's Time to Recalibrate Climate Politics
Facebook, Microsoft Give Wind and Solar Energy a Big Boost
The Heartland of America is '100% Clean Energy Ready'
This Country Generated So Much Renewable Energy It Paid People to Use It
EcoWatch Daily Newsletter
Waterloo Bridge during the Extinction Rebellion protest in London. Martin Hearn / Flickr / CC BY 2.0
Money talks. And today it had something to say about the impending global climate crisis.
Sam Cooper
By Sam Cooper
Thomas Edison once said, "I'd put my money on the sun and solar energy. What a source of power!"
Simple swaps that cut down on kitchen trash.
Sponsored
By Kayla Robbins
Along with the bathroom, the kitchen is one of the most daunting areas to try and make zero waste.
A NOAA research vessel at a Taylor Energy production site in the Gulf of Mexico in September 2018. NOAA
The federal government is looking into the details from the longest running oil spill in U.S. history, and it's looking far worse than the oil rig owner let on, as The New York Times reported.
Golde Wallingford submitted this photo of "Pure Joy" to EcoWatch's first photo contest. Golde Wallingford
EcoWatch is pleased to announce our third photo contest!

Damage at the Malheur National Wildlife Refuge from the 2016 occupation. USFWS
By Tara Lohan
When armed militants with a grudge against the federal government seized the Malheur National Wildlife Refuge in rural Oregon back in the winter of 2016, I remember avoiding the news coverage. Part of me wanted to know what was happening, but each report I read — as the occupation stretched from days to weeks and the destruction grew — made me so angry it was hard to keep reading.
Computer model projection of temperature anomalies across Europe on June 27. Temperature scale in °C. Tropicaltidbits.com
A searing heat wave has begun to spread across Europe, with Germany, France and Belgium experiencing extreme temperatures that are set to continue in the coming days.
Skull morphology of hybrid "narluga" whale. Nature / Mikkel Høegh Post
In the 1980s, a Greenlandic subsistence hunter shot and killed a whale with bizarre features unlike any he had ever seen before. He knew something was unique about it, so he left its abnormally large skull on top of his toolshed where it rested until a visiting professor happened upon it a few years later.