New Undersea Turbines Harness Enormous Power From Local Tides
Two countries with the highest tides in the world, Canada and the UK, both claim to be the world leaders in creating electricity from the tides.
They are among a group of coastal states—including China, South Korea, the U.S. and Australia—that are hoping to harness the enormous power of their local twice-daily tides to tap a new and reliable supply of electricity.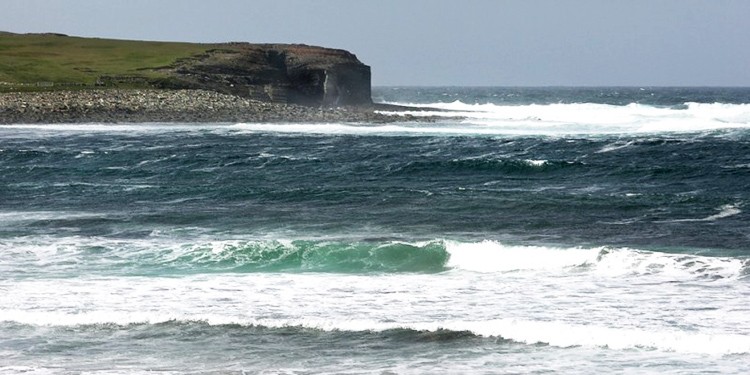 Unlike wind and solar energy, tidal power is entirely predictable. If it can be tapped on a large scale as a power source, it will provide reliable base load power for any grid system.
There are all sorts of schemes in many countries, the most familiar being the tidal barrages that direct the ebb and flow of the tide through turbines to generate electricity.
Best known of these is the Rance tidal power station, which was opened in 1966 at Saint-Malo, northern France. At 240 megawatts (MW), it was the largest in the world for 45 years, until South Korea's Sihwa Lake power station came into service in 2011, producing 254 MW.
Tidal Currents
But there is a new generation of tidal power schemes. They use undersea turbines, able to make use of the powerful tidal currents in estuaries and in relatively shallow water on continental shelves. Because water is far denser than air, the same area of turbine blade can produce four times more electricity than a wind turbine.
So far, 20 sites in the world have been identified where hundreds of underwater turbines could be deployed. These are in shallow water, where the tidal current moves swiftly and where cables can be connected to the onshore grid.
The best sites are between islands or in other narrow stretches of sea where the tide flows strongly. Eight of these sites have been identified in the UK and they could on their own generate around 20 percent of the country's electricity needs—more than its 15 nuclear reactors are currently producing.
In Canada, which has two coasts with many offshore islands, there are also many potential locations—enough to replace a dozen large coal and gas plants.
The stretch of water between the northeast tip of Scotland and the Orkney islands is probably the best place in the world to generate electricity from the movement of the tides. Several companies are already testing prototypes.
It is here in the Pentland Firth, Caithness, that MeyGen has begun work on building 61 undersea turbines—out of a planned total of 269—that will make it the largest undersea power station in the world. In total, the scheme will generate 398 MW of clean power, which is enough for 175,000 homes.
Another large-scale scheme has been announced in Northern Ireland, where the Fair Head project will begin building undersea turbines in 2018 to provide 100 MW of power.
But, in one sense, Canada is already ahead. The Bay of Fundy in Nova Scotia has the highest tides in the world. The Fundy Ocean Research Centre for Energy project already has undersea cables connected to the grid and four power companies with turbines of different designs and has agreements to provide power for up to 10,000 homes.
Undersea Arrays
With Canada's vast array of offshore islands and its strong tides, the government has identified more than 100 possible sites, large and small, for undersea arrays. Small schemes could provide a steady power source for some of the country's more isolated communities.
While there are still questions over the best design of turbine to generate the maximum amount of reliable electricity with the least maintenance, this is clearly a technology with a bright future.
It also has the advantage over all other generating systems of being out of sight. The turbines' design will depend on the strength of the tidal current and on the height they are placed above the sea bed.
There are also still environmental issues to be resolved—for example, the effect on marine life and particularly the potential damage to fish and marine mammals. But, compared with wind turbines, the blades turn very slowly.
Because undersea arrays are limited to areas with high tidal flows, they could not compete with solar and wind power for a worldwide share of the renewable market.
But for those countries lucky enough to have shallow seas and big tides the technology is expected to be a significant and long-term source of clean power.
YOU MIGHT ALSO LIKE
With Clean Energy Jobs Booming in Republican Districts, It's Time to Recalibrate Climate Politics
Facebook, Microsoft Give Wind and Solar Energy a Big Boost
The Heartland of America is '100% Clean Energy Ready'
This Country Generated So Much Renewable Energy It Paid People to Use It
Glyphosate, the main ingredient in Monsanto's widely used herbicide Roundup, will be added July 7 to California's list of chemicals known to the state to cause cancer, according to a Reuters report Tuesday. This news comes after the company's unsuccessful attempt to block the listing in trial court and requests for stay were denied by a state appellate court and California's Supreme Court.
California's Office of Environmental Health Hazard Assessment (OEHHA) announced the designation on Monday under the Safe Drinking Water and Toxic Enforcement Act of 1986, or Proposition 65.
Keep reading...
Show less
www.facebook.com
Keep reading...
Show less
Researchers from the Marine Animal Response Society examine one of the dead right whales. Marine Animal Response Society
Canadian government officials and marine biologists are investigating the mysterious deaths of six North American right whales. The endangered animals all turned up dead between June 6 and June 23 in the Gulf of St. Lawrence, off Canada's southeastern coast.
North Atlantic right whales are the rarest of all large whale species and among the rarest of all marine mammal species, with only about 450 right whales in the North Atlantic.
Keep reading...
Show less
Scott Pruitt testifies during his Senate confirmation hearing for EPA administrator, January 2017.
The U.S. Environmental Protection Agency's (EPA) chief of staff pressured the leader of its Board of Scientific Counselors to change her congressional testimony to downplay the impact of the agency's mass dismissal of scientists from the board, the New York Times reports.
Keep reading...
Show less
By Jason Mark
Sequoiadendron giganteum. That's the scientific name for the giant sequoia: the mammoth trees found in California's Sierra Nevada that are the largest organisms on Earth, and among the longest-lived. Biologists estimate that about half of all sequoias live in Giant Sequoia National Monument, a 328,000-acre preserve in the Southern Sierra Nevada established by President Clinton in 2000.
Now that national monument is in jeopardy.
Keep reading...
Show less
By Andy Rowell
Donald Trump this week is launching an "energy week," pushing the argument that the U.S. will become a net exporter of oil and gas.
The president and his cronies are talking about a new era of "U.S. energy dominance," which could stretch for decades to come. However, no one believes the president anymore.
Keep reading...
Show less
UN
By Colleen Curry
The United Nations has designated 23 new sites around the world to its World Network of Biosphere reserves—stunning natural landscapes that balance environmental and human concerns and strive for sustainability.
The forests, beaches and waterways were added to the list this year at the International Coordinating Council of the Man and the Biosphere Programme meeting in Paris earlier this month.
Keep reading...
Show less
Jun. 26, 2017 01:48PM EST
www.elysee.fr
By Andy Rowell
There is a growing feeling within European capitals that a quiet, but deeply positive, revolution is happening under Emmanuel Macron in France.
Macron's opinion poll rating is high, especially boosted in how the young French president has reacted to Donald Trump on the international stage.
Keep reading...
Show less
Jun. 26, 2017 12:32PM EST
www.facebook.com
Keep reading...
Show less