Meet 6 of the World's Top Environmental Heroes
The Goldman Environmental Foundation announced today the six winners of the 2015 Goldman Environmental Prize, the world's largest award for grassroots environmentalists. Every year since 1989, the foundation has chosen an environmental hero from each of the world's six inhabited continental regions.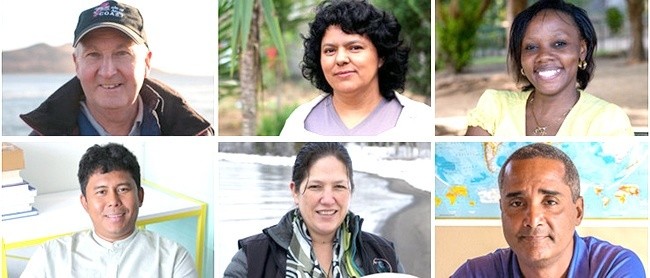 Just as in past years, this year's winners persevered in the face of extreme adversity. Photo credit: Goldman Environmental Foundation
The prize "recognizes fearless grassroots activists working against all odds to protect the environment and their communities." The winners of the prize "often work in countries where violence and death threats against environmental defenders are on the rise, as documented in a report from Global Witness released today," says the Goldman Environmental Foundation.
The prize was established by late San Francisco civic leaders and philanthropists Richard and Rhoda Goldman. Prize winners are selected by an international jury from confidential nominations submitted by a worldwide network of environmental organizations and individuals. The winners will be awarded the prize at an invitation-only ceremony tonight at 5:30 p.m. PDT at the San Francisco Opera House (this event will be live streamed online). A ceremony at the Ronald Reagan Building and International Trade Center in Washington, DC will follow on April 22 at 7:30 p.m. EDT.
This year's winners are:
Phyllis Omido, Kenya
After learning her own breast milk was making her baby sick—and realizing her child wasn't the only one suffering from lead poisoning—Phyllis Omido galvanized the community in Mombasa to shut down the smelter that was exposing people to dangerous chemicals.
Myint Zaw, Myanmar
Facing heavy government scrutiny and restricted use of tools like email or social media, journalist and activist Myint Zaw launched a national movement, which included the use of art exhibitions, to successfully stop construction of the Myitsone Dam on Myanmar's treasured Irrawaddy River. The dam would have displaced over 12,000 indigenous people and destroyed the watershed while exporting 90 percent of the energy generated to China.
Howard Wood, Scotland
After witnessing the severe degradation of the Isle of Arran's marine environment from destructive commercial fishing practices, Howard Wood, a recreational diver spearheaded the establishment of Scotland's first community-developed Marine Protected Area, leading to a dramatic recovery of biodiversity.
Jean Wiener, Haiti
In a country plagued by extreme poverty and political instability, Jean Wiener led community efforts to establish the nation's first Marine Protected Areas by empowering Haitians to see the long-term value in sustainably managing fisheries and mangrove forests.
Marilyn Baptiste, Canada
A former chief of the Xeni Gwet'in First Nation, Marilyn Baptiste led her community in defeating not one but three attempts by a powerful mining company to construct British Columbia's largest gold and copper mine, which would have destroyed Fish Lake—a source of spiritual identity and livelihood for the Xeni Gwet'in.
Berta Cáceres, Honduras
In a country with growing socioeconomic inequality and human rights violations, Berta Cáceres rallied the indigenous Lenca people of Honduras and waged a grassroots campaign that successfully pressured the world's largest dam builder to pull out of the Agua Zarca Dam.
YOU MIGHT ALSO LIKE
World Premiere of Chloe & Theo and Its Extraordinary Behind-the-Scenes Story
School Kids Weigh in on Helping the Planet at Earth Day Festivities in DC
Incredible Photos: Is This Tiny Cabin Micro-Community the Future of Sustainable Living?
Wikimedia Commons
By Stacy Malkan
Neil deGrasse Tyson has inspired millions of people to care about science and imagine themselves as participants in the scientific process. What a hopeful sign it is to see young girls wearing t-shirts emblazoned with the words, "Forget princess, I want to be an astrophysicist."
Keep reading...
Show less
www.youtube.com
By Andy Rowell
Any day now we will truly witness climate change in action. Within days at worst, maybe weeks at best, scientists predict that a huge section of the Larsen C ice shelf in Antarctica will break off into the ocean, in what is called a major "carving" event.
Keep reading...
Show less
www.youtube.com
President Trump visited Cedar Rapids, Iowa on June 21 to speak to a large crowd in the U.S. Cellular Center at a political rally organized by his campaign.
As Trevor Noah noted during The Daily Show episode last night (starts at 2:25), the real reason Trump has these rallies is to "get back in front of his loyal crowds and feed of their energy." Noah believes that "Trump supporters are so on board with their dude he can say anything and they'll come along for the ride."
Keep reading...
Show less
The Kamuthi solar plant in the southern Indian state of Tamil Nadu.
The rapid growth in renewable energy continues to put a dent in the demand for coal.
Coal India, the world's biggest coal mining company and producer of 82 percent of the country's coal, announced the closure of 37 mines that are financially "unviable."
Keep reading...
Show less
www.youtube.com
By Katie O'Reilly
Two years ago—long before coal became one of the most dominant and controversial symbols of the 2016 presidential election—Bloomberg Philanthropies approached production company RadicalMedia with the idea of creating a documentary exploring the U.S. coal mining industry. Last spring, they brought on Emmy-nominated director Michael Bonfiglio, tasked with forging a compelling story out of the multitudes of facts, statistics and narratives underlying the declining industry.
Keep reading...
Show less
Mayors for 100% Clean Energy
Keep reading...
Show less
www.youtube.com
Thanks to Newsy for their coverage on Thursday's news that the U.S. Fish and Wildlife Service removed grizzly bears in the Greater Yellowstone region from the Endangered Species List.
Watch above as Newsy explains that the decision comes despite serious concerns from the environmental and scientific community, and Tribal Nations about a declining, isolated grizzly bear population with diminishing food resources and record-high mortalities.
Keep reading...
Show less
www.facebook.com
By Francine Kershaw
Seismic airguns exploding in the ocean in search for oil and gas have devastating impacts on zooplankton, which are critical food sources for marine mammals, according to a new study in Nature. The blasting decimates one of the ocean's most vital groups of organisms over huge areas and may disrupt entire ecosystems.
And this devastating news comes on the heels of the National Marine Fisheries Service's proposal to authorize more than 90,000 miles of active seismic blasting. Based on the results of this study, the affected area would be approximately 135,000 square miles.
Keep reading...
Show less
By Jill Richardson
Is coconut oil:
good for you
bad for you
neither good nor bad
scientists don't know
The subject of this question is the source of a disagreement. Initially, the question was thought to be settled decades ago, when scientist Ancel Keys declared all saturated fats unhealthy. Coconut oil, which is solid at room temperature, is a saturated fat.
Keep reading...
Show less


Get EcoWatch in your inbox