This website uses cookies to ensure you get the best experience while browsing it. By clicking 'Got It' you're accepting these terms.
Meet 6 of the World's Top Environmental Heroes
Apr. 20, 2015 09:43AM EST
The Goldman Environmental Foundation announced today the six winners of the 2015 Goldman Environmental Prize, the world's largest award for grassroots environmentalists. Every year since 1989, the foundation has chosen an environmental hero from each of the world's six inhabited continental regions.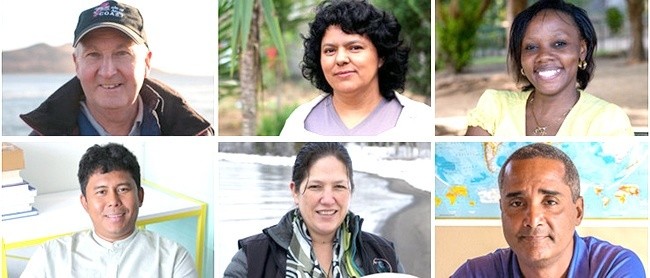 Just as in past years, this year's winners persevered in the face of extreme adversity. Photo credit: Goldman Environmental Foundation
The prize "recognizes fearless grassroots activists working against all odds to protect the environment and their communities." The winners of the prize "often work in countries where violence and death threats against environmental defenders are on the rise, as documented in a report from Global Witness released today," says the Goldman Environmental Foundation.
The prize was established by late San Francisco civic leaders and philanthropists Richard and Rhoda Goldman. Prize winners are selected by an international jury from confidential nominations submitted by a worldwide network of environmental organizations and individuals. The winners will be awarded the prize at an invitation-only ceremony tonight at 5:30 p.m. PDT at the San Francisco Opera House (this event will be live streamed online). A ceremony at the Ronald Reagan Building and International Trade Center in Washington, DC will follow on April 22 at 7:30 p.m. EDT.
This year's winners are:
Phyllis Omido, Kenya
After learning her own breast milk was making her baby sick—and realizing her child wasn't the only one suffering from lead poisoning—Phyllis Omido galvanized the community in Mombasa to shut down the smelter that was exposing people to dangerous chemicals.
Myint Zaw, Myanmar
Facing heavy government scrutiny and restricted use of tools like email or social media, journalist and activist Myint Zaw launched a national movement, which included the use of art exhibitions, to successfully stop construction of the Myitsone Dam on Myanmar's treasured Irrawaddy River. The dam would have displaced over 12,000 indigenous people and destroyed the watershed while exporting 90 percent of the energy generated to China.
Howard Wood, Scotland
After witnessing the severe degradation of the Isle of Arran's marine environment from destructive commercial fishing practices, Howard Wood, a recreational diver spearheaded the establishment of Scotland's first community-developed Marine Protected Area, leading to a dramatic recovery of biodiversity.
Jean Wiener, Haiti
In a country plagued by extreme poverty and political instability, Jean Wiener led community efforts to establish the nation's first Marine Protected Areas by empowering Haitians to see the long-term value in sustainably managing fisheries and mangrove forests.
Marilyn Baptiste, Canada
A former chief of the Xeni Gwet'in First Nation, Marilyn Baptiste led her community in defeating not one but three attempts by a powerful mining company to construct British Columbia's largest gold and copper mine, which would have destroyed Fish Lake—a source of spiritual identity and livelihood for the Xeni Gwet'in.
Berta Cáceres, Honduras
In a country with growing socioeconomic inequality and human rights violations, Berta Cáceres rallied the indigenous Lenca people of Honduras and waged a grassroots campaign that successfully pressured the world's largest dam builder to pull out of the Agua Zarca Dam.
YOU MIGHT ALSO LIKE
World Premiere of Chloe & Theo and Its Extraordinary Behind-the-Scenes Story
School Kids Weigh in on Helping the Planet at Earth Day Festivities in DC
Incredible Photos: Is This Tiny Cabin Micro-Community the Future of Sustainable Living?
Plus, learn if there's one that's best for your health.
Catherine Falls Commercial / Moment / Getty Images
An invasive Amynthas worm, also known as a crazy snake worm, Asian jumping worm and Alabama jumper Tom Potterfield / Flickr
By Jason Bittel
My wife and I built a house two years ago on a few acres of woodland outside of Pittsburgh. The backyard is full of maples, poplars, briars and common spicebush. Two-lined salamanders and grumpy-looking crayfish wade among the rocks in the small stream that runs down the edge of the property. Deer, raccoon and opossum tracks appear regularly in the snow and mud. Sometimes, my trail-cam even catches a pair of gray foxes as they slink through the night.
AleksandarNakic / Getty Images
By Kate Murphy
No matter the time of year, there's always a point in each season when my skin decides to cause me issues. While these skin issues can vary, I find the most common issues to be dryness, acne and redness.

David Woodfall / The Image Bank / Getty Images
By Sam Nickerson
The U.S. Environmental Protection Agency (EPA) in April 2018 proposed relaxing standards related to how it assesses the effects of exposure to low levels of toxic chemicals on public health.
Now, correspondence obtained by the LA Times revealed just how deeply involved industry lobbyists and a controversial, industry-funded toxicologist were in drafting the federal agency's proposal to scrap its current, protective approach to regulating toxin exposure.
Steve Irwin poses with a three foot long alligator at the San Francisco Zoo on June 26, 2002. Justin Sullivan / Getty Images
February 22 is the birthday of conservationist and beloved TV personality "Crocodile Hunter" Steve Irwin, who would have been 57 years old today.
Irwin's life was tragically cut short when the barb from a stingray went through his chest while he was filming in 2006, but his legacy of loving and protecting wildlife lives on, most recently in a Google Doodle today honoring his birthday.