Apr. 20, 2015 09:43AM EST
Meet 6 of the World's Top Environmental Heroes
The Goldman Environmental Foundation announced today the six winners of the 2015 Goldman Environmental Prize, the world's largest award for grassroots environmentalists. Every year since 1989, the foundation has chosen an environmental hero from each of the world's six inhabited continental regions.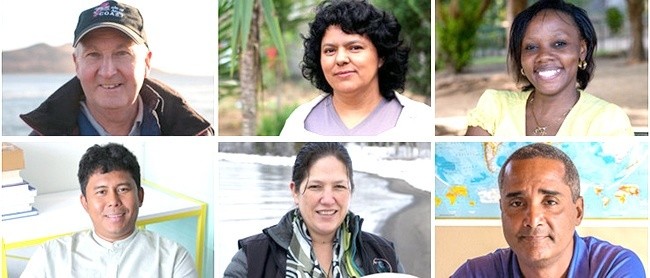 Just as in past years, this year's winners persevered in the face of extreme adversity. Photo credit: Goldman Environmental Foundation
The prize "recognizes fearless grassroots activists working against all odds to protect the environment and their communities." The winners of the prize "often work in countries where violence and death threats against environmental defenders are on the rise, as documented in a report from Global Witness released today," says the Goldman Environmental Foundation.
The prize was established by late San Francisco civic leaders and philanthropists Richard and Rhoda Goldman. Prize winners are selected by an international jury from confidential nominations submitted by a worldwide network of environmental organizations and individuals. The winners will be awarded the prize at an invitation-only ceremony tonight at 5:30 p.m. PDT at the San Francisco Opera House (this event will be live streamed online). A ceremony at the Ronald Reagan Building and International Trade Center in Washington, DC will follow on April 22 at 7:30 p.m. EDT.
This year's winners are:
Phyllis Omido, Kenya
After learning her own breast milk was making her baby sick—and realizing her child wasn't the only one suffering from lead poisoning—Phyllis Omido galvanized the community in Mombasa to shut down the smelter that was exposing people to dangerous chemicals.
Myint Zaw, Myanmar
Facing heavy government scrutiny and restricted use of tools like email or social media, journalist and activist Myint Zaw launched a national movement, which included the use of art exhibitions, to successfully stop construction of the Myitsone Dam on Myanmar's treasured Irrawaddy River. The dam would have displaced over 12,000 indigenous people and destroyed the watershed while exporting 90 percent of the energy generated to China.
Howard Wood, Scotland
After witnessing the severe degradation of the Isle of Arran's marine environment from destructive commercial fishing practices, Howard Wood, a recreational diver spearheaded the establishment of Scotland's first community-developed Marine Protected Area, leading to a dramatic recovery of biodiversity.
Jean Wiener, Haiti
In a country plagued by extreme poverty and political instability, Jean Wiener led community efforts to establish the nation's first Marine Protected Areas by empowering Haitians to see the long-term value in sustainably managing fisheries and mangrove forests.
Marilyn Baptiste, Canada
A former chief of the Xeni Gwet'in First Nation, Marilyn Baptiste led her community in defeating not one but three attempts by a powerful mining company to construct British Columbia's largest gold and copper mine, which would have destroyed Fish Lake—a source of spiritual identity and livelihood for the Xeni Gwet'in.
Berta Cáceres, Honduras
In a country with growing socioeconomic inequality and human rights violations, Berta Cáceres rallied the indigenous Lenca people of Honduras and waged a grassroots campaign that successfully pressured the world's largest dam builder to pull out of the Agua Zarca Dam.
YOU MIGHT ALSO LIKE
World Premiere of Chloe & Theo and Its Extraordinary Behind-the-Scenes Story
School Kids Weigh in on Helping the Planet at Earth Day Festivities in DC
Incredible Photos: Is This Tiny Cabin Micro-Community the Future of Sustainable Living?
Werner Baumann (left), CEO of Bayer AG, and Hugh Grant, chairman and CEO of Monsanto. Bayer
The European Commission, the European Union's executive arm, announced Tuesday it has opened an in-depth investigation into Bayer's proposed $66 billion takeover of Monsanto over "concerns that the merger may reduce competition in areas such as pesticides, seeds and traits."

The controversial merger, if successful, will form the world's largest integrated seed and pesticide company.
Keep reading...
Show less
www.youtube.com
U.S. Environmental Protection Agency (EPA) administrator Scott Pruitt appears in a video sponsored by the beef industry calling on farmers and ranchers to file official comments on a proposal to withdraw and rewrite the Obama-era "Waters of the United States" rule (or WOTUS) before the Aug. 28 deadline.
The National Cattlemen's Beef Association (NCBA) video was produced by the beef lobbying organization's policy division, Beltway Beef and was released last week. Notably, NCBA spent $117,375 in lobbying last year.
Keep reading...
Show less
Two years ago, Stanford University professor Mark Jacobson and his collaborators published a widely circulated study that detailed how the U.S. can eliminate nuclear, biofuels and fossil fuels and transition to 100 percent renewable energy by 2050.
Now, in a paper published Wednesday in the new scientific journal Joule, Jacobson and 26 co-authors created clean energy roadmaps not just for the 50 United States, but for 139 individual countries.

Keep reading...
Show less
Subtitle removed and sidebar altered on federal health website. EDGI
The effects of climate change is inextricably linked to human health. The burning of fossil fuels releases carbon dioxide and other greenhouse gases that traps heat in the atmosphere, causing global temperatures to spike, air quality to worsen, all while fueling droughts, floods and storms that impact food and water security.
Climate change is making us sick in many ways, but it appears that the Trump administration trying to downplay this fact.
Keep reading...
Show less
Pax Ahimsa Gethen / Wikimedia Commons
By Steve Horn
Energy Transfer Partners, owner of the Dakota Access pipeline, has filed a $300 million Racketeer Influenced and Corrupt Organizations (RICO) lawsuit against Greenpeace and other environmental groups for their activism against the long-contested North Dakota-to-Illinois project.
In its 187-page complaint, Energy Transfer alleges that "putative not-for-profits and rogue eco-terrorist groups who employ patterns of criminal activity and campaigns of misinformation to target legitimate companies and industries with fabricated environmental claims and other purported misconduct" caused the company to lose "billions of dollars."
Keep reading...
Show less
ExxonMobil misled the public on what it knew about climate change and its link to fossil fuels, according to a groundbreaking new analysis of the company's internal and external communications.
In a study published Tuesday in the journal Environmental Research Letters, Harvard postdoctoral fellow Geoffrey Supran and professor Naomi Oreskes reviewed nearly 200 communications on climate change from the oil giant, including scientific research, internal company memos and paid editorial features in the New York Times.
Keep reading...
Show less
Energy
Aug. 22, 2017 12:55PM EST
Tallahassee Democrat / Twitter
The U.S. District Court of Appeals ruled 2-1 Tuesday saying that the Federal Environmental Energy Regulatory Commission (FERC) failed to adequately review the environmental impacts of the greenhouse gas (GHG) emissions of the fracked gas Sabal Trail pipeline, which runs more than 500 miles through Alabama, Georgia and Florida.
Keep reading...
Show less
Offshore Staghorn coral nursery. Rescue-A-Reef, UM Rosenstiel School of Marine and Atmospheric Science
As ocean waters warm and acidify, corals across the globe are disappearing. Desperate to prevent the demise of these vital ecosystems, researchers have developed ways to "garden" corals, buying the oceans some much-needed time. University of Miami Rosenstiel School marine biologist Diego Lirman sat down with Josh Chamot of Nexus Media to describe the process and explain what's at stake. This interview has been edited for length and clarity.
Keep reading...
Show less


Get EcoWatch in your inbox