Maryland Just Became the Most Bee-Friendly State in the U.S.
Yesterday Maryland led the country by being the first state in the country to pass a bill to eliminate consumer use of neonicotinoid pesticides—a leading driver of global bee declines. This is a major victory in the fight to protect bees and will hopefully compel other states and the U.S. Environmental Protection Agency (EPA) to follow.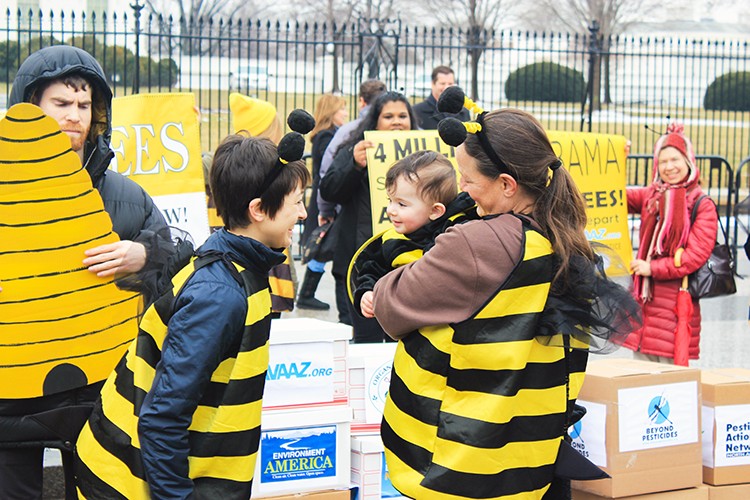 The House and Senate passed the bill with bi-partisan support not a moment too late. Last year, Maryland beekeepers lost more than 61 percent of their hives—twice the national average and far higher than the 10 percent losses considered sustainable. If Maryland hadn't passed this bill, many beekeepers were concerned that they would become an endangered species alongside bees and other essential pollinators.
If we lose our bees and beekeepers, we risk losing one in three bites of food we eat. Bees are essential to our food system. In Maryland, honeybee pollination directly supports the agriculture industry in the state and is valued at more than $26 million, annually.
This bill reflects the growing body of research that confirms neonicotinoids kill and harm bees and other pollinators, like butterflies and birds as well as aquatic life including molting blue crabs. These pesticides pose a serious threat to our food supply, public health and environment.
While neonicotinoids are widely used in agriculture, their use in gardens, lawns and landscapes are an important contributing factor to bee decline. Some garden products containing neonicotinoids can be applied at doses up to 120 times higher than are used on farms and can continue "expressing" these pesticides in home gardens where they can continue to contaminate soil and be taken up by plants for months to years.
Maryland's bill passed because Marylanders overwhelmingly supported the measures. In a 2015 survey, 78 percent of Maryland voters favored restricting consumer use of this type of pesticides. This support is significant because the last time Maryland passed legislation regulating pesticides use was in 1998 with the Integrated Pest Management in Schools Law, which was expanded to include IPM on school grounds in 1999.
While Maryland is the first state to pass a bill banning all consumer use of neonicotinoids, other states have considered or are currently considering similar legislation. Bills to restrict neonicotinoids were introduced during the 2015-2016 legislative sessions in Alaska, California, Connecticut, Hawaii, Maine, Massachusetts, Minnesota, New Jersey, New Mexico, New York, Virginia and Vermont.
Aside from states, more than 30 retailers in the U.S., including Home Depot and Lowe's, have committed to taking steps to eliminate these pesticides from store shelves and more than 20 cities, municipalities and universities have passed policies to eliminate the use of these pesticides.
The EPA is starting to listen to the strong body science by placing a moratorium on new or expanded uses of neonicotinoids, but these regulations still don't address the more than 500 neonicotinoid products currently on the market, designed for more than 100 uses. In January, the agency confirmed that the neonicotinoid imidaclodprid is highly toxic to bees.
We know the action of Maryland will help bees. Take Italy—it went from losing 37.5 percent of its hives in 2008 to only 15 percent in 2010 after it restricted neonicotinoids. If bees rebounded that much after just a few years, imagine the impact the EPA could have if it banned all bee-killing pesticides.
The passage of Maryland's bill is a big victory for bees. Next, it's vitally important that other states, EPA and Congress follow the lead of Maryland by taking action to ban the use of these pesticides to protect bees, our food supply and the environment.
YOU MIGHT ALSO LIKE
France to Ban Glyphosate Weedkillers Due to Health Risks
5 Island Nations That Could Completely Dry Up This Month
Removal of 4 Dams to Reopen 420 Miles of Historic Salmon Habitat on Klamath River
5 Foods That 'Used to' Be Bad for You … But Now Are Considered an Essential Part of a Healthy Diet
www.elysee.fr
By Andy Rowell
There is a growing feeling within European capitals that a quiet, but deeply positive, revolution is happening under Emmanuel Macron in France.
Macron's opinion poll rating is high, especially boosted in how the young French president has reacted to Donald Trump on the international stage.
Keep reading...
Show less
www.facebook.com
Keep reading...
Show less
Keep reading...
Show less
www.youtube.com
According to Bloomberg, "SeaWorld Entertainment Inc. received a subpoena earlier this month from regulators investigating disclosures and public statements by executives, including comments about the Blackfish documentary that caused a public backlash against the confinement of orcas.
Keep reading...
Show less
By Mary Mazzoni
In 2013, shoppers were reacquainted with the tragic story of their clothing when a massive factory collapse claimed the lives of more than 1,100 Bangladeshi garment workers.
The nonprofit Fashion Revolution, formed in response to that disaster, continues to track the apparel industry's progress on environmental stewardship and human rights. But four years later, big brands are still not doing enough to disclose their efforts to customers, the organization concluded in a recent report.
Keep reading...
Show less
Hawaii Renewable Energy Alliance
The latest issue of the U.S. Energy Information's "Electric Power Monthly" (with data through April 30) reveals that—for the first time since the beginning of the nuclear era—renewable energy sources (i.e., biomass, geothermal, hydropower, solar—inc. small-scale PV, wind) are now providing a greater share of the nation's electrical generation than nuclear power.
Keep reading...
Show less
www.youtube.com
Check out this great 360° virtual reality video by NowThis on the world's largest indoor vertical farm, AeroFarms. Located in Newark, New Jersey, AeroFarms grows more than 2 million pounds of greens a year without sunlight, soil or pesticides.
As reported by EcoWatch in July 2105, the $30 million, 70,000-square-foot AeroFarms headquarters dwarfs Japan's (already impressive) 25,000-square-foot vertical indoor farm, which had been the world's largest until now.
www.facebook.com
"There's no such thing as clean coal," according to this ATTN: video.
Watch above as ATTN: explains the many hazards of coal beyond carbon emissions, that no matter what there's no reviving the coal industry and how investment in renewable energy is the best way forward.
Share this video if you think America needs real energy solutions.
Wikipedia
By Franziska Spritzler, RD, CDE
Boosting your metabolic rate can help you lose body fat. However, most "fat-burning" supplements on the market are either unsafe, ineffective or both.
Fortunately, several natural foods and beverages have been shown to increase your metabolism and promote fat loss.
Keep reading...
Show less


Get EcoWatch in your inbox