This website uses cookies to ensure you get the best experience while browsing it. By clicking 'Got It' you're accepting these terms.
Maryland Just Became the Most Bee-Friendly State in the U.S.
Apr. 08, 2016 12:27PM EST
Animals
Yesterday Maryland led the country by being the first state in the country to pass a bill to eliminate consumer use of neonicotinoid pesticides—a leading driver of global bee declines. This is a major victory in the fight to protect bees and will hopefully compel other states and the U.S. Environmental Protection Agency (EPA) to follow.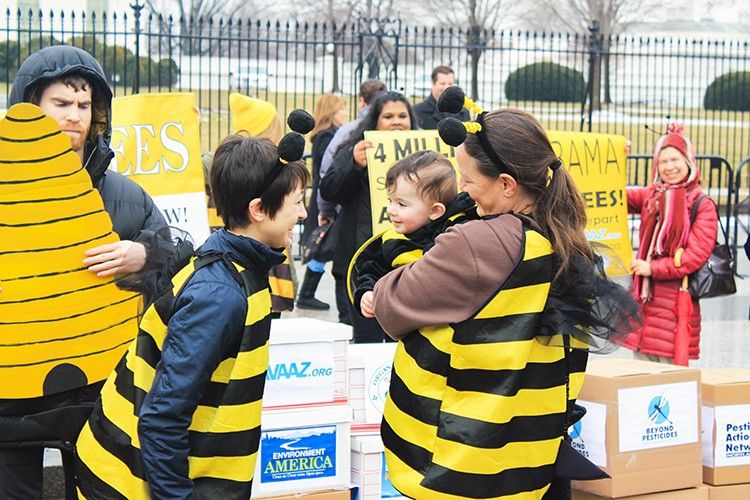 The House and Senate passed the bill with bi-partisan support not a moment too late. Last year, Maryland beekeepers lost more than 61 percent of their hives—twice the national average and far higher than the 10 percent losses considered sustainable. If Maryland hadn't passed this bill, many beekeepers were concerned that they would become an endangered species alongside bees and other essential pollinators.
If we lose our bees and beekeepers, we risk losing one in three bites of food we eat. Bees are essential to our food system. In Maryland, honeybee pollination directly supports the agriculture industry in the state and is valued at more than $26 million, annually.
This bill reflects the growing body of research that confirms neonicotinoids kill and harm bees and other pollinators, like butterflies and birds as well as aquatic life including molting blue crabs. These pesticides pose a serious threat to our food supply, public health and environment.
While neonicotinoids are widely used in agriculture, their use in gardens, lawns and landscapes are an important contributing factor to bee decline. Some garden products containing neonicotinoids can be applied at doses up to 120 times higher than are used on farms and can continue "expressing" these pesticides in home gardens where they can continue to contaminate soil and be taken up by plants for months to years.
Maryland's bill passed because Marylanders overwhelmingly supported the measures. In a 2015 survey, 78 percent of Maryland voters favored restricting consumer use of this type of pesticides. This support is significant because the last time Maryland passed legislation regulating pesticides use was in 1998 with the Integrated Pest Management in Schools Law, which was expanded to include IPM on school grounds in 1999.
While Maryland is the first state to pass a bill banning all consumer use of neonicotinoids, other states have considered or are currently considering similar legislation. Bills to restrict neonicotinoids were introduced during the 2015-2016 legislative sessions in Alaska, California, Connecticut, Hawaii, Maine, Massachusetts, Minnesota, New Jersey, New Mexico, New York, Virginia and Vermont.
Aside from states, more than 30 retailers in the U.S., including Home Depot and Lowe's, have committed to taking steps to eliminate these pesticides from store shelves and more than 20 cities, municipalities and universities have passed policies to eliminate the use of these pesticides.
The EPA is starting to listen to the strong body science by placing a moratorium on new or expanded uses of neonicotinoids, but these regulations still don't address the more than 500 neonicotinoid products currently on the market, designed for more than 100 uses. In January, the agency confirmed that the neonicotinoid imidaclodprid is highly toxic to bees.
We know the action of Maryland will help bees. Take Italy—it went from losing 37.5 percent of its hives in 2008 to only 15 percent in 2010 after it restricted neonicotinoids. If bees rebounded that much after just a few years, imagine the impact the EPA could have if it banned all bee-killing pesticides.
The passage of Maryland's bill is a big victory for bees. Next, it's vitally important that other states, EPA and Congress follow the lead of Maryland by taking action to ban the use of these pesticides to protect bees, our food supply and the environment.
YOU MIGHT ALSO LIKE
France to Ban Glyphosate Weedkillers Due to Health Risks
5 Island Nations That Could Completely Dry Up This Month
Removal of 4 Dams to Reopen 420 Miles of Historic Salmon Habitat on Klamath River
5 Foods That 'Used to' Be Bad for You … But Now Are Considered an Essential Part of a Healthy Diet
EcoWatch Daily Newsletter
A vegan diet can improve your health, but experts say it's important to keep track of nutrients and protein. Getty Images
By Dan Gray
Research shows that 16 weeks of a vegan diet can boost the gut microbiome, helping with weight loss and overall health.
A healthy microbiome is a diverse microbiome. A plant-based diet is the best way to achieve this.
It isn't necessary to opt for a strictly vegan diet, but it's beneficial to limit meat intake.
New research shows that following a vegan diet for about 4 months can boost your gut microbiome. In turn, that can lead to improvements in body weight and blood sugar management.
Students gathered at the National Mall in Washington DC, Sept. 20. NRDC
By Jeff Turrentine
Nearly 20 years have passed since the journalist Malcolm Gladwell popularized the term tipping point, in his best-selling book of the same name. The phrase denotes the moment that a certain idea, behavior, or practice catches on exponentially and gains widespread currency throughout a culture. Having transcended its roots in sociological theory, the tipping point is now part of our everyday vernacular. We use it in scientific contexts to describe, for instance, the climatological point of no return that we'll hit if we allow average global temperatures to rise more than 2 degrees Celsius above preindustrial levels. But we also use it to describe everything from resistance movements to the disenchantment of hockey fans when their team is on a losing streak.
samael334 / iStock / Getty Images
Berries are small, soft, round fruit of various colors — mainly blue, red, or purple.
A glacier is seen in the Kenai Mountains on Sept. 6, near Primrose, Alaska. Scientists from the U.S. Geological Survey have been studying the glaciers in the area since 1966 and their studies show that the warming climate has resulted in sustained glacial mass loss as melting outpaced the accumulation of new snow and ice. Joe Raedle / Getty Images
By Mark Mancini
On Aug. 18, Iceland held a funeral for the first glacier lost to climate change. The deceased party was Okjökull, a historic body of ice that covered 14.6 square miles (38 square kilometers) in the Icelandic Highlands at the turn of the 20th century. But its glory days are long gone. In 2014, having dwindled to less than 1/15 its former size, Okjökull lost its status as an official glacier.
Members of Chicago Democratic Socialists of America table at the Logan Square Farmers Market on Aug. 18. Alex Schwartz
By Alex Schwartz
Among the many vendors at the Logan Square Farmers Market on Aug. 18 sat three young people peddling neither organic vegetables, gourmet cheese nor handmade crafts. Instead, they offered liberation from capitalism.
Hackney primary school students went to the Town Hall on May 24 in London after school to protest about the climate emergency. Jenny Matthews / In Pictures / Getty Images
Bird watching in the U.S. may be a lot harder than it once was, since bird populations are dropping off in droves, according to a new study.