Koch Brothers' Influence Preventing Chris Christie From Acting on Climate Change?
Jul. 13, 2015 09:44AM EST
Climate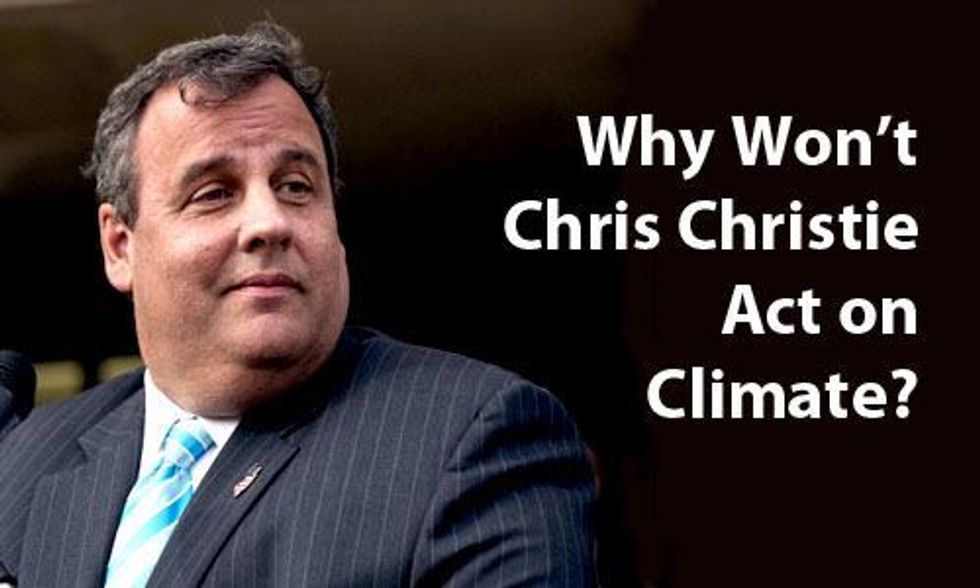 "Real. Honest. Direct. Tell It Like It Is." Those were the words on a banner at a recent campaign event by New Jersey Gov. Chris Christie. Christie is one of the latest entrants in the crowded 2016 presidential field, and political observers say that he's trying to distinguish himself by telling voters the truth, even when it's tough to hear. The trouble is, Christie doesn't seem willing to tell the truth when it comes to climate action, clean energy and the environment.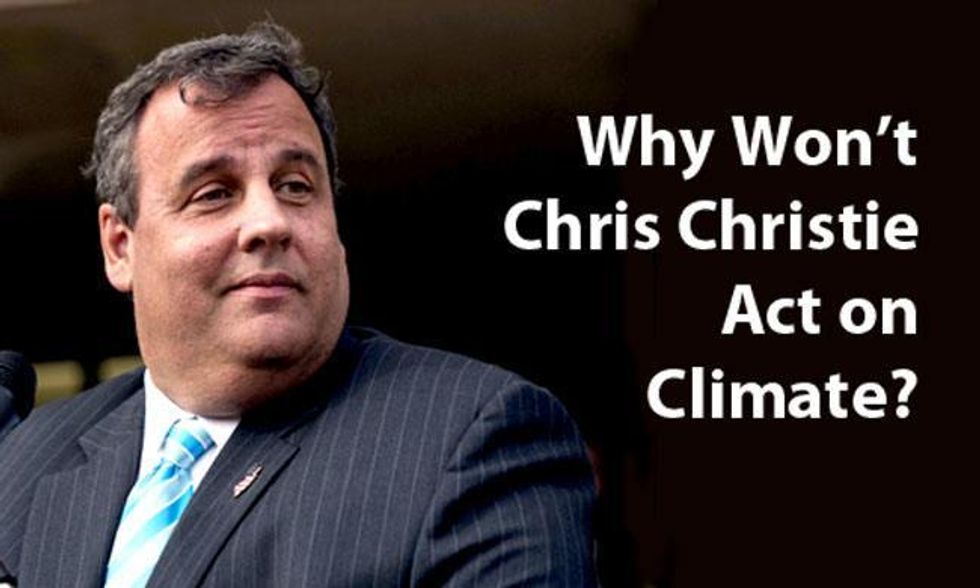 Denying Need to Act
Where does Christie stand on climate change? He's not denying the science of climate change, but he does deny the need to act.
Back in 2011, Christie said:
"There's undeniable data that CO2 levels and other greenhouse gases in our atmosphere are increasing. This decade, average temperatures have been rising. Temperature changes are affecting weather patterns and our climate. […] But when you have over 90 percent of the world's scientists who have studied this stating that climate change is occurring and that humans play a contributing role, it's time to defer to the experts."
More recently, in May 2015, Christie said:
"I think global warming is real. I don't think that's deniable. And I do think human activity contributes to it. […] There's no use in denying global warming exists. The question is what we do to deal with it."
That's a good start, and it is certainly a big improvement over competitors who claim that evidence of climate change is "not conclusive" (Rand Paul) or that snow and ice in New Hampshire prove that climate change is fake (Ted Cruz). However, accepting the science of climate change means accepting scientists' pleas to act urgently to avoid the worst consequences of a warming world. And, on that count, Christie has failed miserably.
Christie closed his state's Office of Climate Change and Energy and withdrew New Jersey from the regional carbon reduction program, known as RGGI, calling it a "gimmicky [program] that hasn't worked." In fact, RGGI has returned "more than $2.9 billion in lifetime energy bill savings to more than 3.7 million participating households and 17,800 businesses" while avoiding the release of 1.3 million tons of carbon to date. More than $1 billion has been invested in programs including energy efficiency, clean and renewable energy, greenhouse gas abatement, and direct bill assistance. If that's a gimmick, sign me up!
Like His Friend Bobby Jindal
Like Bobby Jindal, you'd think Christie might know better when it comes to climate action. After witnessing Hurricane Sandy's devastation, you'd think Christie would be eager to act. You'd be wrong. Christie has denied a link between climate change and the hurricane, and New Jersey is the only state on the eastern seaboard without a statewide climate plan.
One might think that, as a Catholic, Christie would respond to Pope Francis's recent encyclical calling for action on climate change as a moral imperative. So far, Christie is still denying the need to act. I'm hoping that he'll change his tune and tell the "truth" about the need for urgent action as the campaign (and the globe) heats up.
Koch Brothers Influence
For those wondering why Christie is so opposed to climate action, and the RGGI program in particular, some people have an answer: the Koch Brothers despise climate action.
In a New York Times profile of Christie's refusal to participate in RGGI, a representative from the Koch-backed group Americans for Prosperity said, "We were exceedingly pleased that the governor got New Jersey out of the R.G.G.I. boondoggle. […] It's something that A.F.P. in New Jersey worked hard on." According to the Times, the AFP representative "said the move would be sure to help Mr. Christie's efforts in the Republican primaries, should he run."
In March this year, Christie reportedly visited David Koch's Palm Beach mansion.
Time to Tell The Truth
It's time for Christie to live up to his self-proclaimed mantra of truth-telling.
Sometimes he says things that are like a breath of fresh air. In 2012, he said, "Having renewable energy in our state, having it be a larger part of our portfolio, creating jobs, is not a Republican issue or Democratic issue. It's an issue that the people of our state demand we work on together." I read that and I think, "So true." But then I read that Christie has cut more than $1 billion from the state's Clean Energy Fund in order to balance budgets in recent years and I'm reminded that telling the truth isn't enough. Telling the truth is essential, but acting on that truth is what really matters.
"Here's the one thing you'll get with me: You never have to wonder where I stand," said Christie. Actually, Chris, until your action matches your rhetoric, I have no clue where you stand.
YOU MIGHT ALSO LIKE
10 Reasons Bernie Sanders Is 'Rockin' in the Free World'
3 Presidential Candidates Say 'No' to Fossil Fuel Funding, Will Hillary Join Them?
EcoWatch Daily Newsletter