This website uses cookies to ensure you get the best experience while browsing it. By clicking 'Got It' you're accepting these terms.
Justice Denied for Murdered Thai Activist Who Defended His Community Against Coal
Oct. 23, 2015 10:05AM EST
The recent Thai Supreme Court acquittal of three men who masterminded the murder of environmental activist Charoen Wat-aksorn, shows a skewed justice system that puts capitalism in front of community. But this is not the only case of the forced silence of environmentalists.
On June 21, 2004, Charoen Wat-aksorn, a 37-year-old pineapple farmer from Bo Nok village in Prachuap Khiri Khan province, some 240 km [150 miles] south of Bangkok, was returning by bus to his hometown. He had just been in the capital to testify before a parliamentary anti-corruption panel as to how local politicians were colluding with business figures to conduct illegal land grabs.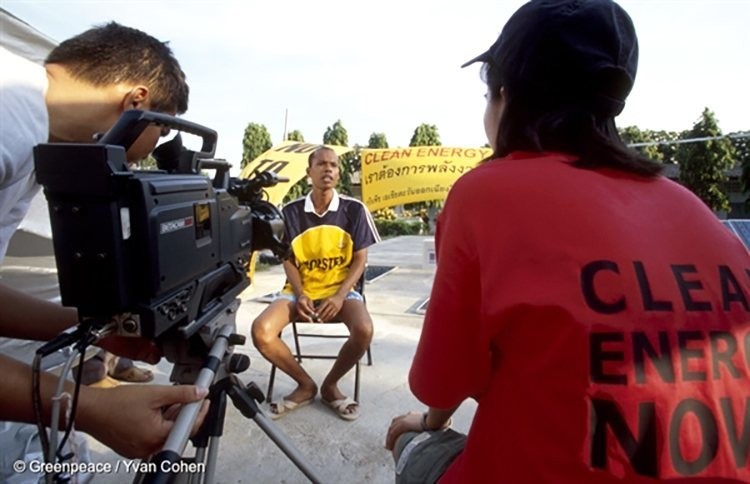 Charoen Wat-aksorn being interviewed as part of a documentary by Greenpeace (2002). Photo credit: Yvan Cohen / Greenpeace
As the leading opponent of coal-fired power plant projects in his province, Charoen was a thorn in the side of companies who wanted to raze land and kick out communities. For a decade he fought, fended off bribes, survived multiple threats and mobilized tens of thousands of villagers to lead blockades. In 2002, bowing to pressure, the Thaksin government announced they would postpone plans, eventually scrapping the coal power plant projects in Bo Nok and in neighboring village, Ban Krut.
But on that day in June as Charoen alighted from the Bo Nok bus station after simply standing up for what he believed in, he was shot.
The two accused gunmen, Saneh Lekluan and Prachuab Hinkaew, who confessed to the assassination, mysteriously died in 2006 just before they were due to testify, though any formal proof of their cause of death was not presented.
In 2008, Thanu Hinkaew, a 53-year-old lawyer, was convicted and sentenced to death. His sibling, Manote Hinkaew, 49, a former provincial councillor, and their father Juea Hinkaew, 78, a former head of a Bo Nok sub-district where a coal-fired power plant was planned, were acquitted.
But over a lengthy appeals process, on Oct. 13, the Supreme Court delivered the final verdict. Due to lack of evidence, the ruling was upheld and all three men were acquitted.
"For the past 11 years following the case of Charoen Wat-aksorn's murder, we have realized that the Thai justice system is incapable of prosecuting the perpetrators and victims can hardly expect any protection," said his wife Korn-uma Pongnoi.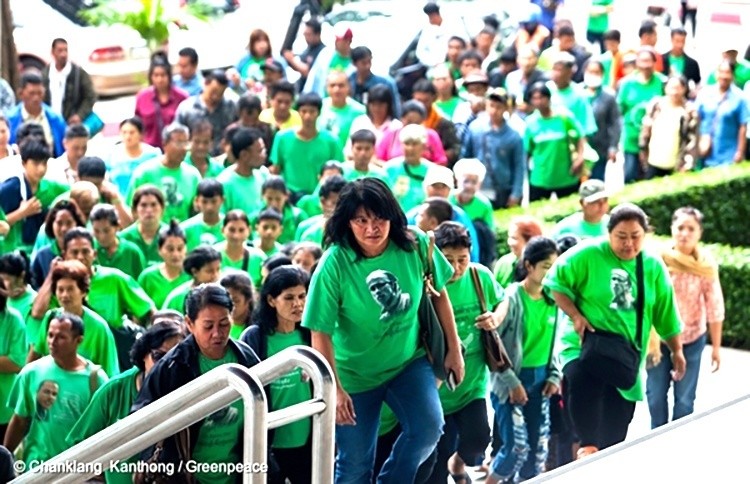 Korn-uma Pongnoi (front), arrives at the Supreme Court along with hundreds of supporters. Photo credit: Chanklang Kanthong / Greenpeace
Charoen, like other activists, has risked all to protect his community and the environment. According to a 2014 Global Witness report, "on average two people are killed every week defending their land, forests and waterways against the expansion of large-scale agriculture, dams, mining, logging and other threats." Between 2002 and 2013, 16 Thai environmentalists were murdered.
But for these dedicated activists, the dangers of coal are worth fighting for. Two recent reports from Greenpeace show that in Indonesia, existing coal plants cause an estimated 7,100 premature deaths every year; and in Vietnam, an estimated 4,300 premature deaths. A similar coal report from Thailand is currently being researched.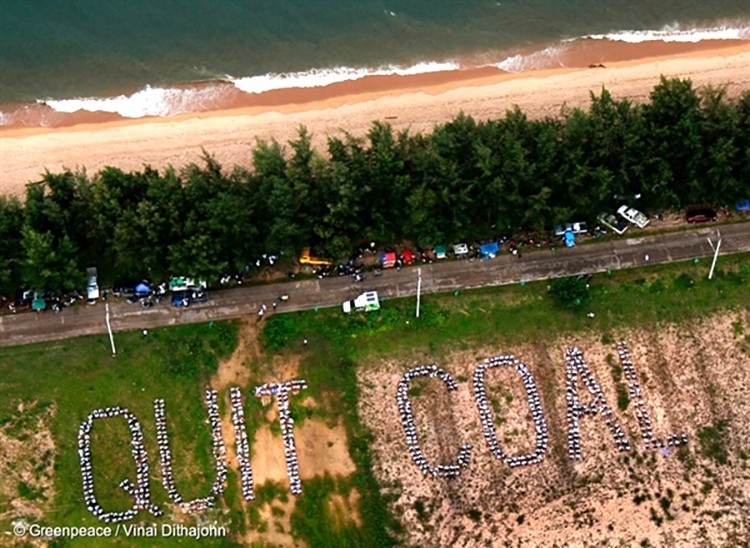 Hundreds of locals join Greenpeace activists on Thap Sakae Beach, Prachuab Khiri Khan province to protest against plans to build a 4,000 MW coal-fired plant in Thapsakae (2008). Photo credit: Vinai Dithajohn / Greenpeace
Non-violence is a core value of Greenpeace. Across the world, from Indonesia, Poland, Australia, Hong Kong and many other countries, activists have staged protests to end the destruction of coal mines on health and the environment. The age of coal is over, and we call for the use of renewable energy as a clean, green alternative to unsustainable and dangerous fossil fuels.
At the Supreme Court hearing in front of more than 100 Bo Nok villagers who gathered to hear the final decision, all wearing green t-shirts screen-printed with the slain activist's image, Korn-uma declared:
"Thailand's skewed justice system must be promptly reformed from the investigation process to the judicial process at all levels to make them transparent, or else wicked people will be scot-free while innocent people are detained."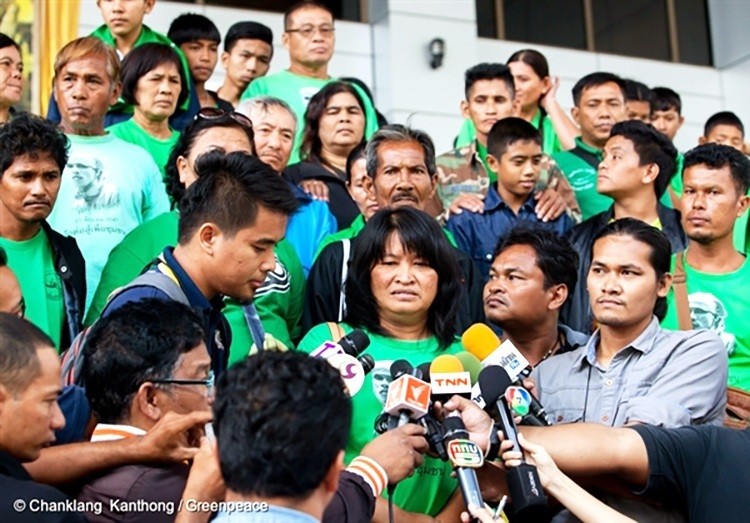 Korn-uma Pongnoi, Charoen Wat-akson's wife, gives a statement to the media. Photo credit: Chanklang Kanthong / Greenpeace
This is unconscionable. We stand with the brave activists in Thailand—and around the world—who are fighting for a green and peaceful world.
YOU MIGHT ALSO LIKE
Groups Gather at Nation's Capitol to Pressure Congress to Ban Fracking on Public Lands
MIT Students: We're Sitting-In at President Reif's Door Until He Divests From Fossil Fuels
Apple to Clean Up Act in China With Huge Investments in Renewable Energy
David Suzuki: 'Democracy Is as Strong as the People Who Make Its Values Come Alive'
KarinaKnyspel / iStock / Getty Images
2018 saw a number of studies pointing to the outsized climate impact of meat consumption. Beef has long been singled out as particularly unsustainable: Cows both release the greenhouse gas methane into the atmosphere because of their digestive processes and require a lot of land area to raise. But for those unwilling to give up the taste and texture of a steak or burger, could lab-grown meat be a climate-friendly alternative? In a first-of-its-kind study, researchers from the Oxford Martin School set out to answer that question.
Three scissor-tailed flycatcher fledglings in a mesquite tree in Texas. Texas Eagle / CC BY-NC 2.0
By Gary Paul Nabhan
President Trump has declared a national emergency to fund a wall along our nation's southern border. The border wall issue has bitterly divided people across the U.S., becoming a vivid symbol of political deadlock.
PeopleImages / E+ / Getty Images
By Daniel Ross
Hurricane Florence, which battered the U.S. East Coast last September, left a trail of ruin and destruction estimated to cost between $17 billion and $22 billion. Some of the damage was all too visible—smashed homes and livelihoods. But other damage was less so, like the long-term environmental impacts in North Carolina from hog waste that spilled out over large open-air lagoons saturated in the rains.
Hog waste can contain potentially dangerous pathogens, pharmaceuticals and chemicals. According to the state's Department of Environmental Quality, as of early October nearly 100 such lagoons were damaged, breached or were very close to being so, the effluent from which can seep into waterways and drinking water supplies.
This picture taken on May 21, 2018 shows discarded climbing equipment and rubbish scattered around Camp 4 of Mount Everest. Decades of commercial mountaineering have turned Mount Everest into the world's highest rubbish dump as an increasing number of big-spending climbers pay little attention to the ugly footprint they leave behind. DOMA SHERPA / AFP / Getty Images
China has closed its Everest base camp to tourists because of a buildup of trash on the world's tallest mountain.