It's Time to Get America Off Oil Once and for All
To cut carbon pollution and meet air quality standards, we have to ditch oil and power our cars, trucks and buses with clean electricity. To do that, we need America's electric industry to use its power (particularly electrical and financial) to supercharge the market for electric vehicles (EVs) and do so in a manner that also helps replace fossil fuel plants with renewable resources like wind and solar.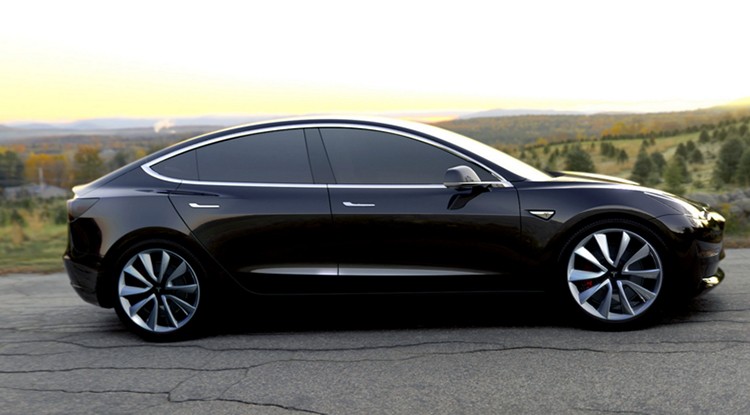 In a report released Thursday, Driving Out Pollution: How Utilities Can Accelerate the Market for Electric Vehicles, we explain how the electric industry could accelerate the national EV market by helping to deploy charging stations where drivers live, work and play; increasing public awareness of EVs' economic and environmental benefits; and incentivizing drivers to charge their cars at times that will help bring more solar and wind energy onto the grid.
The report details how the electric industry can use spare capacity in the grid to charge our nation's vehicle fleet, partner with independent EV charging companies to increase access to electricity as a transportation fuel and maximize fuel cost savings relative to gasoline by offering lower rates for charging during periods when the grid is underutilized and/or excess renewable power is available.
According to a recent paper published by the National Academy of Sciences, the share of new vehicles sold that are electric vehicles needs to grow from today's 1 percent, to 40 percent or more by 2030 to avoid the worst impacts of global warming.
This is not an impossible task—almost 400,000 people put down $1,000 deposits for the next-generation, moderately priced Tesla during a two-week period earlier this year and drivers are expected to pack dealerships later this year when the mass market Chevrolet Bolt goes on sale.
However, potential EV purchasers attracted by the prospect of fueling up on a cleaner fuel that is the cost equivalent to $1 per gallon gasoline may change their minds if the charging infrastructure network does not catch up to consumer demand.
Expanding the EV charging network can also pave the way for a broader, more diverse EV market and provide low-income customers much needed relief from wildly fluctuating gas prices.
Our report provides a roadmap for the electric industry to help grow the EV market, divided into three phases: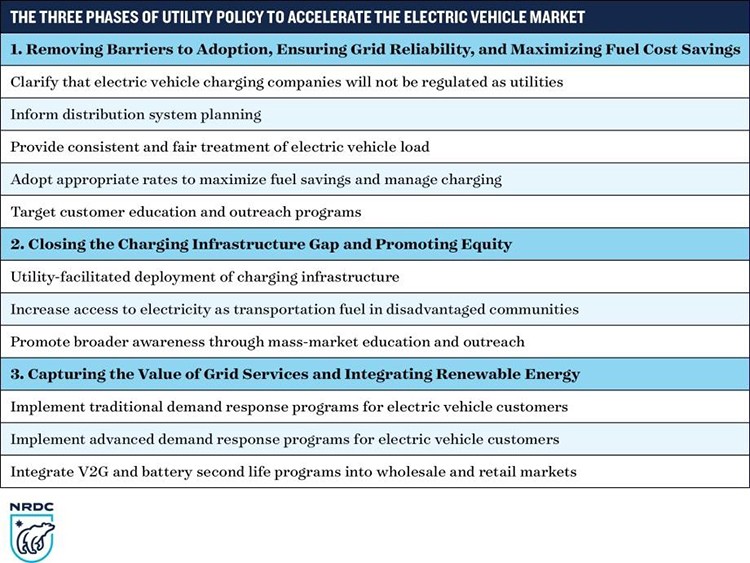 Phase 1 presents the most pressing issues, but the foundations for Phase 2 and Phase 3 must be laid today in order to realize the long-term benefits of widespread EV adoption. Now is the time to act. Short-term delays could result in a near-impossible task in the future, as it takes decades to turn over the nation's vehicle fleet.
Thankfully, some states have already started down this path. California and Oregon adopted laws directing utilities to accelerate the electrification of the transportation sector. The California Public Utilities Commission recently approved EV infrastructure and market education programs for Southern California Edison and San Diego Gas & Electric and is currently considering a widely supported settlement proposal that would implement a similar program in the northern and central areas of the state served by Pacific Gas & Electric.
Meanwhile, the Washington Utilities and Transportation Commission approved a $3 million EV infrastructure deployment pilot proposed by Avista, which serves rural areas in the eastern Washington and northern Idaho. Kansas City Power and Light is investing $20 million to install more than 1,000 public and workplace charging stations and Georgia Power and Light is implementing a $12 million "Get Current. Drive Electric" charging program to install 60 public charging stations with both standard and fast-charging stations.
In addition, power companies nationwide are pursuing EVs as a new and emerging revenue stream. Electrifying the transportation sector can bring money into the electric system that would otherwise go to oil companies—this can lower monthly bills for all electric utility customers.
It has been estimated that traffic pollution could cause more than 50,000 premature deaths annually in the lower 48 states, which is more than 1.5 times the deaths from traffic accidents on an annual basis. The electric industry should move quickly to bring forward the environmental and economic benefits of moving America off oil—once and for all.
YOU MIGHT ALSO LIKE
Volkswagen Bets on Electric Cars After Dieselgate
Nation's Largest Residential Solar Storage Project to Launch This Summer
Will Norway Ban Sales of Gas-Powered Cars by 2025?
Glyphosate, the main ingredient in Monsanto's widely used herbicide Roundup, will be added July 7 to California's list of chemicals known to the state to cause cancer, according to a Reuters report Tuesday. This news comes after the company's unsuccessful attempt to block the listing in trial court and requests for stay were denied by a state appellate court and California's Supreme Court.
California's Office of Environmental Health Hazard Assessment (OEHHA) announced the designation on Monday under the Safe Drinking Water and Toxic Enforcement Act of 1986, or Proposition 65.
Keep reading...
Show less
www.facebook.com
Keep reading...
Show less
Researchers from the Marine Animal Response Society examine one of the dead right whales. Marine Animal Response Society
Canadian government officials and marine biologists are investigating the mysterious deaths of six North American right whales. The endangered animals all turned up dead between June 6 and June 23 in the Gulf of St. Lawrence, off Canada's southeastern coast.
North Atlantic right whales are the rarest of all large whale species and among the rarest of all marine mammal species, with only about 450 right whales in the North Atlantic.
Keep reading...
Show less
Scott Pruitt testifies during his Senate confirmation hearing for EPA administrator, January 2017.
The U.S. Environmental Protection Agency's (EPA) chief of staff pressured the leader of its Board of Scientific Counselors to change her congressional testimony to downplay the impact of the agency's mass dismissal of scientists from the board, the New York Times reports.
Keep reading...
Show less
By Jason Mark
Sequoiadendron giganteum. That's the scientific name for the giant sequoia: the mammoth trees found in California's Sierra Nevada that are the largest organisms on Earth, and among the longest-lived. Biologists estimate that about half of all sequoias live in Giant Sequoia National Monument, a 328,000-acre preserve in the Southern Sierra Nevada established by President Clinton in 2000.
Now that national monument is in jeopardy.
Keep reading...
Show less
By Andy Rowell
Donald Trump this week is launching an "energy week," pushing the argument that the U.S. will become a net exporter of oil and gas.
The president and his cronies are talking about a new era of "U.S. energy dominance," which could stretch for decades to come. However, no one believes the president anymore.
Keep reading...
Show less
UN
By Colleen Curry
The United Nations has designated 23 new sites around the world to its World Network of Biosphere reserves—stunning natural landscapes that balance environmental and human concerns and strive for sustainability.
The forests, beaches and waterways were added to the list this year at the International Coordinating Council of the Man and the Biosphere Programme meeting in Paris earlier this month.
Keep reading...
Show less
Jun. 26, 2017 01:48PM EST
www.elysee.fr
By Andy Rowell
There is a growing feeling within European capitals that a quiet, but deeply positive, revolution is happening under Emmanuel Macron in France.
Macron's opinion poll rating is high, especially boosted in how the young French president has reacted to Donald Trump on the international stage.
Keep reading...
Show less
Jun. 26, 2017 12:32PM EST
www.facebook.com
Keep reading...
Show less