This website uses cookies to ensure you get the best experience while browsing it. By clicking 'Got It' you're accepting these terms.
Is Biomass Energy Renewable?
May. 17, 2016 10:03AM EST
Climate
By Josh Schlossberg
A report funded by Clean Air Council questions whether biomass should count as renewable energy, arguing that carbon dioxide and air pollutant emissions disqualify the controversial energy source.
Wood Burning, Biomass, Air Pollution and Climate Change, by Christopher D. Ahlers, adjunct professor of Law at Vermont Law School, explains that the term renewable is a "subjective policy judgment" that must take into account the health and environmental impacts of a given energy source.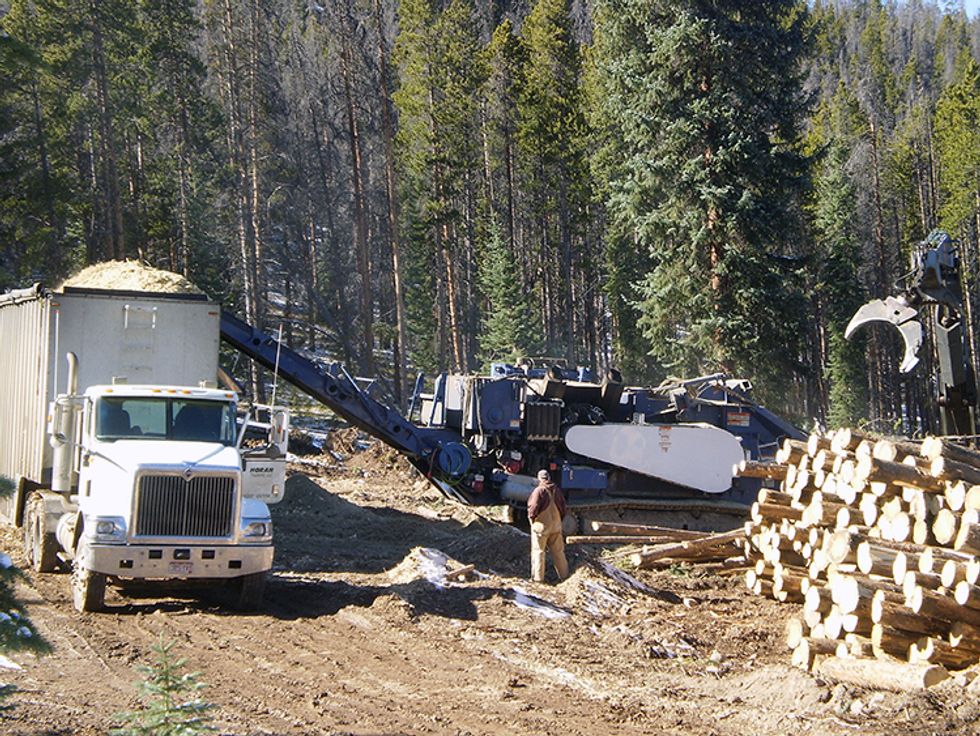 Currently, biomass energy makes up 50 percent of renewable energy in the U.S., according to the U.S. Energy Information Administration, with half of that tally coming from wood products.
Ahlers, legal support for the Philadelphia-based Clean Air Council, contrasts biomass energy from solar and wind and instead compares bioenergy to fossil fuels, as "both involve the extraction of solid material from the Earth, for the purpose of combustion." He also discusses the time difference between growing a new tree (decades to centuries) and the formation of new fossil fuel deposits (millennia).
The Carbon Question
The idea of separately accounting for the carbon emissions of fossil fuels and bioenergy—biogenic carbon—is "ambiguous," according to the report, which references the U.S. Environmental Protection Agency's (EPA) ongoing "uncertainty" on the topic.
While wood gradually emits carbon dioxide as it decomposes in the forest, Ahlers points out that wood burned in a biomass facility releases the CO2 in one immediate pulse. Still, he notes the issue involves a "complex factual question" that climate scientists have "wrestled with."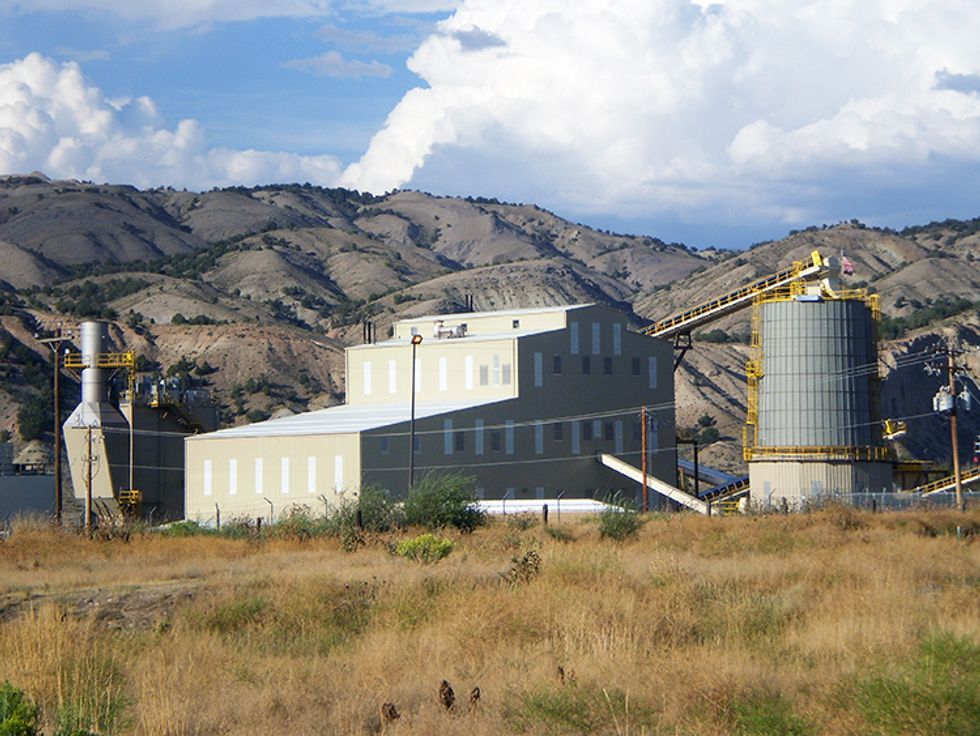 Biomass101, a coalition of organizations representing the forest products industry, agrees that accounting for bioenergy carbon emissions is complicated. In an email to The Biomass Monitor, a representative writes that biomass energy is "part of a complex process of carbon capture, storage and emission that carries on much the same whether trees become forest bioenergy or are lost to insects, disease, storm damage, wildfires and the like."
The organization contends that "biomass is carbon neutral where American forests are capturing as much or more carbon as energy production is emitting and where sustainable forest management is reinforcing that dynamic."
When it comes to directly measurable smokestack emissions, Ahlers writes that biomass energy generates "nearly as many carbon dioxide emissions as coal and significantly more carbon dioxide emissions than natural gas."
Specifically, the EPA attributes 208.6 MMT (million metric tons) of carbon dioxide emissions per year to the commercial, industrial and residential burning of woody biomass. 120.2 MMT comes from the industrial sector, 59.8 MMT from residential burning, 21.3 MMT from the electricity sector and 7.2 MMT from commercial biomass.
Public Health
The EPA and proponents of biomass energy have distracted attention away from its public health impacts by "framing the issue of biomass around climate," writes report author Christopher Ahlers, in an email exchange with The Biomass Monitor. Ignoring air pollution, he said, has resulted in "limiting the engagement of environmental groups," many of which are either tangentially involved with the issue or not at all.
The report delves into the air pollution concerns from the combustion of biomass, citing World Health Organization estimates of 7 million annual deaths worldwide attributed to air pollution.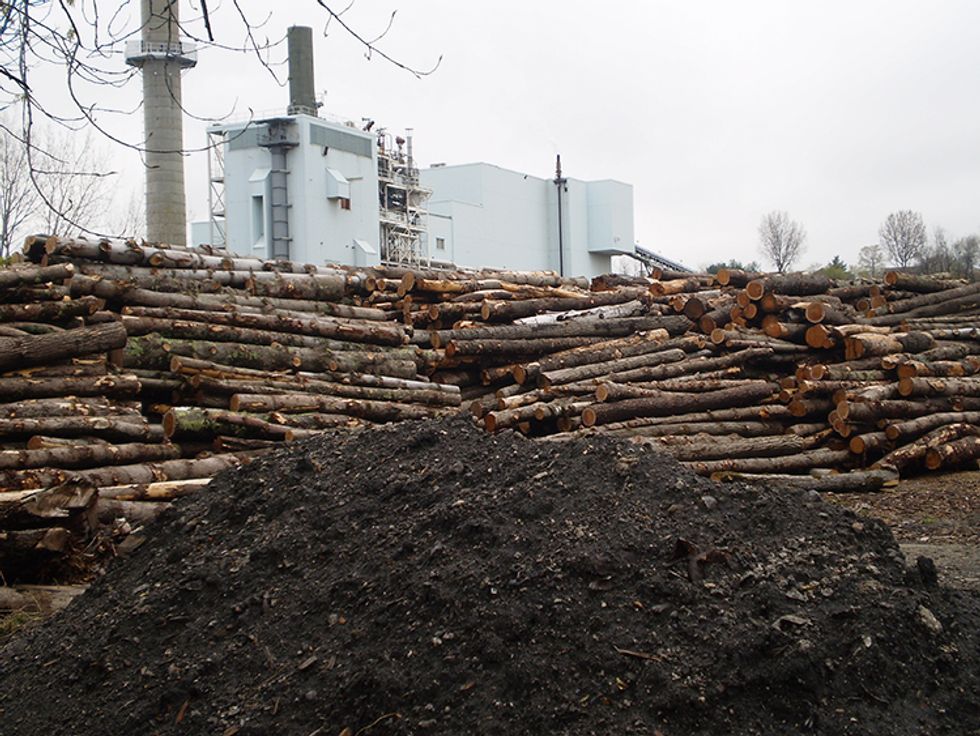 All forms of combustion, including biomass, emit nitrogen oxides and fine particulates, along with hazardous air pollutants (formaldehyde, benzene, toluene), mercury and other chemicals. The EPA has linked nitrogen oxides to respiratory problems and when it comes to particulate matter, the agency has "not identified a threshold below which there are no adverse effects on human health."
Therefore, the report concludes that biomass energy "contributes to the formation of the country's two most significant air pollution problems."
Because of its air emissions, biomass is "more similar to coal, oil and natural gas (non- renewable energy), than it is to wind and solar power."Ahlers determines that "many people have erroneously become fixated on biomass, even though it presents harm to public health."
Culture of Wood Burning
The report also tackles the issue of residential wood burning, including wood stoves and fireplaces.
New England is a hot bed of wood heating, with Vermont, New Hampshire and Maine ranked first, fourth, fifth in per capita air emissions from wood burning. The report notes a "broader pattern of elevated asthma levels" in these states.
Ahlers compares emissions from fireplaces and woodstoves, calculating that fireplaces release twenty times the amount of particulates as an EPA-certified woodstove. An EPA-certified woodstove, meanwhile, emits 169 times more particulates than a gas furnace.
Because of what he calls a "cultural affinity for wood burning," when it comes to wood stoves, some states are "refusing to enforce more stringent standards for the protection of public health."
Outside of the U.S., burning wood and biomass for cooking and heating is responsible for "millions of annual deaths from household air pollution in developing countries."
Renewable or Not?
According to Biomass101, the fact that trees cut for bioenergy eventually grow back means the energy source is "inherently renewable."
However, Clean Air Council believes the expansion of biomass energy is less a science-based decision and more the "result of political and cultural choices being made by both consumers and corporations."
Ahlers makes the point that nuclear energy could theoretically be considered renewable, because of its lack of direct air emissions and the fact that uranium isn't a fossil fuel, however it's been denied the label mostly because of its health and environmental impacts.
The report concludes that the same restrictions applied to nuclear power should be applied to biomass energy, "due to the health and environmental impacts in the form of fine particulates and harvesting of trees."
Josh Schlossberg is the editor-in-chief of The Biomass Monitor.
YOU MIGHT ALSO LIKE
Tens of Thousands Take Part in Global Actions Targeting World's Most Dangerous Fossil Fuel Projects
Shell Oil Spill Dumps Nearly 90,000 Gallons of Crude Into Gulf
Facebook, Microsoft Give Wind and Solar Energy a Big Boost
EPA Finalizes Methane Emissions Rules, New Regs Fail to 'Stop Dangerous Methane Leaks From Existing Fracking Wells'
EcoWatch Daily Newsletter
Protesters holding signs in solidarity with the Wet'suwet'en Nation outside the Canadian Consulate in NYC. The Indigenous Peoples Day NYC Committee (IPDNYC), a coalition of 13 Indigenous Peoples and indigenous-led organizations gathered outside the Canadian Consulate and Permanent Mission to the UN to support the Wet'suwet'en Nation in their opposition to a Coastal GasLink pipeline scheduled to enter their traditional territory in British Columbia, Canada. Erik McGregor / LightRocket / Getty Images
Tensions are continuing to rise in Canada over a controversial pipeline project as protesters enter their 12th day blockading railways, demonstrating on streets and highways, and paralyzing the nation's rail system
Horseshoe Bend (seen above) is a horseshoe-shaped meander of the Colorado River in Page, Arizona.
didier.camus
/ Flickr /
public domain
Millions of people rely on the Colorado River, but the climate crisis is causing the river to dry up, putting many at risk of "severe water shortages," according to new research, as The Guardian reported.
An alarming sign of an impending drought is the decreased snowpack in the Sierra Nevada Mountain range, as seen here in Christmas Valley, South Lake Tahoe, California on Feb. 15, 2020.
jcookfisher
/
CC BY 2.0
California is headed toward drought conditions as February, typically the state's wettest month, passes without a drop of rain. The lack of rainfall could lead to early fire conditions. With no rain predicted for the next week, it looks as if this month will be only the second time in 170 years that San Francisco has not had a drop of rain in February, according to The Weather Channel.
New and recent books explore how we can effectively respond to climate change while enhancing our health and happiness. Kei Uesugi / DigitalVision / Getty Images
A warm day in winter used to be a rare and uplifting relief.

Now such days are routine reminders of climate change – all the more foreboding when they coincide with news stories about unprecedented wildfires, record-breaking "rain bombs," or the accelerated melting of polar ice sheets.
Where, then, can one turn for hope in these dark months of the year?