Is Biomass Energy Renewable?
By Josh Schlossberg
A report funded by Clean Air Council questions whether biomass should count as renewable energy, arguing that carbon dioxide and air pollutant emissions disqualify the controversial energy source.
Wood Burning, Biomass, Air Pollution and Climate Change, by Christopher D. Ahlers, adjunct professor of Law at Vermont Law School, explains that the term renewable is a "subjective policy judgment" that must take into account the health and environmental impacts of a given energy source.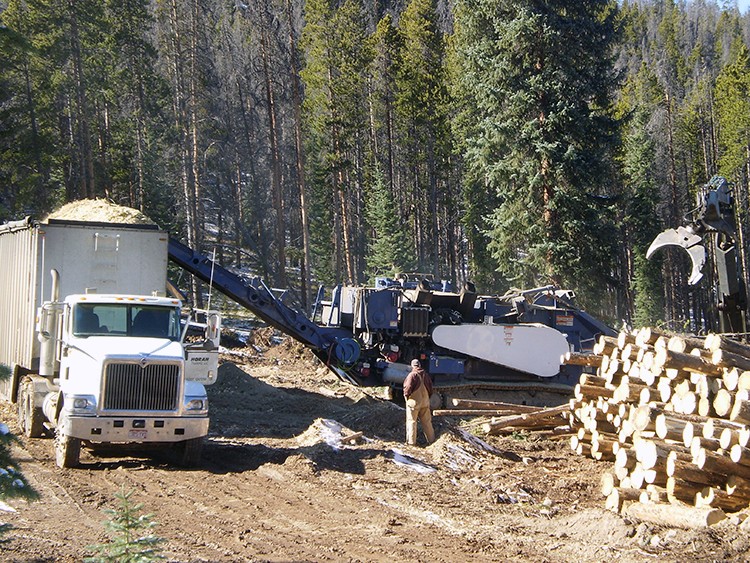 Currently, biomass energy makes up 50 percent of renewable energy in the U.S., according to the U.S. Energy Information Administration, with half of that tally coming from wood products.
Ahlers, legal support for the Philadelphia-based Clean Air Council, contrasts biomass energy from solar and wind and instead compares bioenergy to fossil fuels, as "both involve the extraction of solid material from the Earth, for the purpose of combustion." He also discusses the time difference between growing a new tree (decades to centuries) and the formation of new fossil fuel deposits (millennia).
The Carbon Question
The idea of separately accounting for the carbon emissions of fossil fuels and bioenergy—biogenic carbon—is "ambiguous," according to the report, which references the U.S. Environmental Protection Agency's (EPA) ongoing "uncertainty" on the topic.
While wood gradually emits carbon dioxide as it decomposes in the forest, Ahlers points out that wood burned in a biomass facility releases the CO2 in one immediate pulse. Still, he notes the issue involves a "complex factual question" that climate scientists have "wrestled with."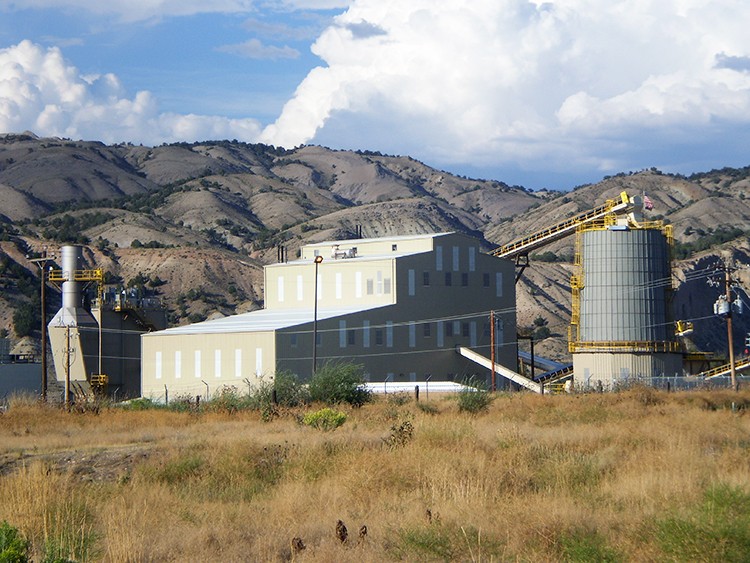 Biomass101, a coalition of organizations representing the forest products industry, agrees that accounting for bioenergy carbon emissions is complicated. In an email to The Biomass Monitor, a representative writes that biomass energy is "part of a complex process of carbon capture, storage and emission that carries on much the same whether trees become forest bioenergy or are lost to insects, disease, storm damage, wildfires and the like."
The organization contends that "biomass is carbon neutral where American forests are capturing as much or more carbon as energy production is emitting and where sustainable forest management is reinforcing that dynamic."
When it comes to directly measurable smokestack emissions, Ahlers writes that biomass energy generates "nearly as many carbon dioxide emissions as coal and significantly more carbon dioxide emissions than natural gas."
Specifically, the EPA attributes 208.6 MMT (million metric tons) of carbon dioxide emissions per year to the commercial, industrial and residential burning of woody biomass. 120.2 MMT comes from the industrial sector, 59.8 MMT from residential burning, 21.3 MMT from the electricity sector and 7.2 MMT from commercial biomass.
Public Health
The EPA and proponents of biomass energy have distracted attention away from its public health impacts by "framing the issue of biomass around climate," writes report author Christopher Ahlers, in an email exchange with The Biomass Monitor. Ignoring air pollution, he said, has resulted in "limiting the engagement of environmental groups," many of which are either tangentially involved with the issue or not at all.
The report delves into the air pollution concerns from the combustion of biomass, citing World Health Organization estimates of 7 million annual deaths worldwide attributed to air pollution.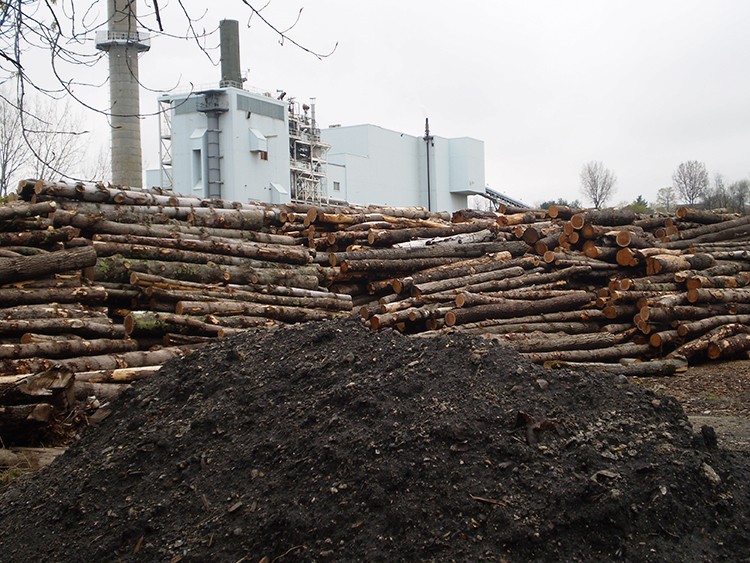 All forms of combustion, including biomass, emit nitrogen oxides and fine particulates, along with hazardous air pollutants (formaldehyde, benzene, toluene), mercury and other chemicals. The EPA has linked nitrogen oxides to respiratory problems and when it comes to particulate matter, the agency has "not identified a threshold below which there are no adverse effects on human health."
Therefore, the report concludes that biomass energy "contributes to the formation of the country's two most significant air pollution problems."
Because of its air emissions, biomass is "more similar to coal, oil and natural gas (non- renewable energy), than it is to wind and solar power."Ahlers determines that "many people have erroneously become fixated on biomass, even though it presents harm to public health."
Culture of Wood Burning
The report also tackles the issue of residential wood burning, including wood stoves and fireplaces.
New England is a hot bed of wood heating, with Vermont, New Hampshire and Maine ranked first, fourth, fifth in per capita air emissions from wood burning. The report notes a "broader pattern of elevated asthma levels" in these states.
Ahlers compares emissions from fireplaces and woodstoves, calculating that fireplaces release twenty times the amount of particulates as an EPA-certified woodstove. An EPA-certified woodstove, meanwhile, emits 169 times more particulates than a gas furnace.
Because of what he calls a "cultural affinity for wood burning," when it comes to wood stoves, some states are "refusing to enforce more stringent standards for the protection of public health."
Outside of the U.S., burning wood and biomass for cooking and heating is responsible for "millions of annual deaths from household air pollution in developing countries."
Renewable or Not?
According to Biomass101, the fact that trees cut for bioenergy eventually grow back means the energy source is "inherently renewable."
However, Clean Air Council believes the expansion of biomass energy is less a science-based decision and more the "result of political and cultural choices being made by both consumers and corporations."
Ahlers makes the point that nuclear energy could theoretically be considered renewable, because of its lack of direct air emissions and the fact that uranium isn't a fossil fuel, however it's been denied the label mostly because of its health and environmental impacts.
The report concludes that the same restrictions applied to nuclear power should be applied to biomass energy, "due to the health and environmental impacts in the form of fine particulates and harvesting of trees."
Josh Schlossberg is the editor-in-chief of The Biomass Monitor.
YOU MIGHT ALSO LIKE
Tens of Thousands Take Part in Global Actions Targeting World's Most Dangerous Fossil Fuel Projects
Shell Oil Spill Dumps Nearly 90,000 Gallons of Crude Into Gulf
Facebook, Microsoft Give Wind and Solar Energy a Big Boost
EPA Finalizes Methane Emissions Rules, New Regs Fail to 'Stop Dangerous Methane Leaks From Existing Fracking Wells'
Werner Baumann (left), CEO of Bayer AG, and Hugh Grant, chairman and CEO of Monsanto. Bayer
The European Commission, the European Union's executive arm, announced Tuesday it has opened an in-depth investigation into Bayer's proposed $66 billion takeover of Monsanto over "concerns that the merger may reduce competition in areas such as pesticides, seeds and traits."

The controversial merger, if successful, will form the world's largest integrated seed and pesticide company.
Keep reading...
Show less
www.youtube.com
U.S. Environmental Protection Agency (EPA) administrator Scott Pruitt appears in a video sponsored by the beef industry calling on farmers and ranchers to file official comments on a proposal to withdraw and rewrite the Obama-era "Waters of the United States" rule (or WOTUS) before the Aug. 28 deadline.
The National Cattlemen's Beef Association (NCBA) video was produced by the beef lobbying organization's policy division, Beltway Beef and was released last week. Notably, NCBA spent $117,375 in lobbying last year.
Keep reading...
Show less
Two years ago, Stanford University professor Mark Jacobson and his collaborators published a widely circulated study that detailed how the U.S. can eliminate nuclear, biofuels and fossil fuels and transition to 100 percent renewable energy by 2050.
Now, in a paper published Wednesday in the new scientific journal Joule, Jacobson and 26 co-authors created clean energy roadmaps not just for the 50 United States, but for 139 individual countries.

Keep reading...
Show less
Subtitle removed and sidebar altered on federal health website. EDGI
The effects of climate change is inextricably linked to human health. The burning of fossil fuels releases carbon dioxide and other greenhouse gases that traps heat in the atmosphere, causing global temperatures to spike, air quality to worsen, all while fueling droughts, floods and storms that impact food and water security.
Climate change is making us sick in many ways, but it appears that the Trump administration trying to downplay this fact.
Keep reading...
Show less
Pax Ahimsa Gethen / Wikimedia Commons
By Steve Horn
Energy Transfer Partners, owner of the Dakota Access pipeline, has filed a $300 million Racketeer Influenced and Corrupt Organizations (RICO) lawsuit against Greenpeace and other environmental groups for their activism against the long-contested North Dakota-to-Illinois project.
In its 187-page complaint, Energy Transfer alleges that "putative not-for-profits and rogue eco-terrorist groups who employ patterns of criminal activity and campaigns of misinformation to target legitimate companies and industries with fabricated environmental claims and other purported misconduct" caused the company to lose "billions of dollars."
Keep reading...
Show less
ExxonMobil misled the public on what it knew about climate change and its link to fossil fuels, according to a groundbreaking new analysis of the company's internal and external communications.
In a study published Tuesday in the journal Environmental Research Letters, Harvard postdoctoral fellow Geoffrey Supran and professor Naomi Oreskes reviewed nearly 200 communications on climate change from the oil giant, including scientific research, internal company memos and paid editorial features in the New York Times.
Keep reading...
Show less
Energy
Aug. 22, 2017 12:55PM EST
Tallahassee Democrat / Twitter
The U.S. District Court of Appeals ruled 2-1 Tuesday saying that the Federal Environmental Energy Regulatory Commission (FERC) failed to adequately review the environmental impacts of the greenhouse gas (GHG) emissions of the fracked gas Sabal Trail pipeline, which runs more than 500 miles through Alabama, Georgia and Florida.
Keep reading...
Show less
Offshore Staghorn coral nursery. Rescue-A-Reef, UM Rosenstiel School of Marine and Atmospheric Science
As ocean waters warm and acidify, corals across the globe are disappearing. Desperate to prevent the demise of these vital ecosystems, researchers have developed ways to "garden" corals, buying the oceans some much-needed time. University of Miami Rosenstiel School marine biologist Diego Lirman sat down with Josh Chamot of Nexus Media to describe the process and explain what's at stake. This interview has been edited for length and clarity.
Keep reading...
Show less


Get EcoWatch in your inbox