This website uses cookies to ensure you get the best experience while browsing it. By clicking 'Got It' you're accepting these terms.
Hundreds Call on Congress to Protect Families from Toxic Chemicals at DC Stroller Brigade
Oct. 29, 2013 11:54AM EST
Health + Wellness
A Stroller Brigade of hundreds of parents and their children descended on the nation's capital today to call on Congress to protect their families from toxic chemicals.
The demonstration for safer chemicals was timed to coincide with the U.S. Senate's consideration of reforming federal laws overseeing toxic chemicals, which organizers say is the most serious reform attempt in nearly 40 years.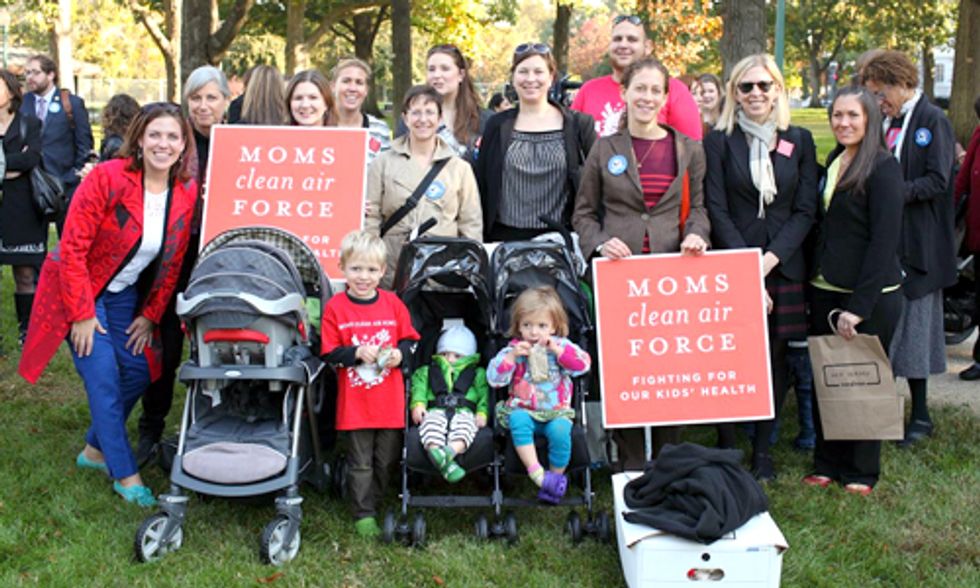 Stroller Brigade participants gather for a rally today at the Capitol in DC. Photo credit: Safer Chemicals Healthy Family
Toxic chemicals—many of which are linked to cancer, birth defects, early puberty, asthma and other serious illness—have been found in common consumer products ranging from household cleaners to children's products and building materials.
Stroller Brigade organizers say the chemical industry has been blocking progress on meaningful reform, spending a staggering $30 million for lobbying in the first two quarters of this year alone.
"Americans have woken up to the fact that known toxic chemicals get into our homes and our bodies, often through the products we buy, and that the government doesn't do a thing about it," said Andy Igrejas, director of Safer Chemicals, Healthy Families, the coalition that hosted today's event.
"We need reform that truly protects American families from chemicals that contribute to the rising rates of childhood cancer, learning disabilities, infertility and other health problems. The current proposal before Congress does not meet that standard," he said.
A rally on Capitol Hill, which kicked off at 10 a.m., featured parents, children and cancer survivors from around the country. Families also met with their senators to urge federal reform that will:
Protect pregnant women, children and vulnerable communities
Take immediate action on the most toxic chemicals
Allow states the ability to pass their own toxic chemical laws
The bill before the Senate, the Chemical Safety Improvement Act, doesn't meet these important health criteria, organizers say.
Among the parents in attendance was actress Jennifer Beals, who has been an outspoken advocate for safer chemicals.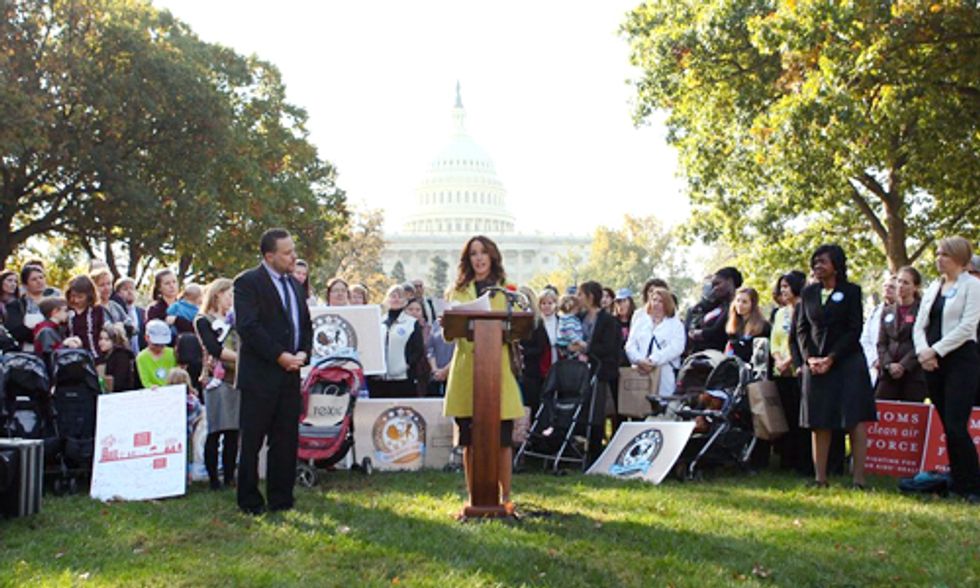 "We are living in the most extensive human experiment imaginable, one that is without our consent because it is largely being conducted without our knowledge," Beals said. "We look to our government to provide our basic rights of clean air and water and yet right in front of us, chemicals have for the most part gone untested in their effect on human health."
Representatives from Alaska visited their senators, including two delegates from St. Lawrence Island in Alaska who hand-delivered chemical policy reform resolutions from the villages of Gambell and Savoonga. The Alaska Nurses Association hand-delivered a similar resolution, which says in part, "the Alaska Nurses Association advocates for meaningful chemical policy reform both nationally and on the state level that reduces the use of toxic chemicals and requires that less harmful chemical be substituted whenever possible and ensures adequate information on the health effect of chemicals is available to the public before these chemicals are introduced on the market such as is the process outlined in SB 1009."
New information about product testing was revealed at the event. The new data, commissioned by Healthy Stuff and the Center for Health Environment and Justice, found common products with high levels of phthalates, a group of chemicals linked to hormone-disruption, cancer and infertility. Among the products were dumbbells, over-the-ear headphones, vinyl flooring and a Spongebob Square Pants rain poncho for children.
"Diverse organizations of doctors agree on the urgency of reforming our toxic chemical laws and the critical elements needed for it to be meaningful," said pediatrician Dr. Yolanda Whyte, citing statements by the National Medical Association, American College of Obstetricians and Gynecologists and American Academy of Pediatrics.
"The proposal before Congress does not meet that test," Whyte said. "We're here to tell Congress that reform needs to be meaningful and credible with the public health community."
Among the critical elements Whyte cited were protection of vulnerable populations, looking at all the sources of exposure to a chemical and providing a strictly health-based standard of review.
Public health and environmental groups have raised strong critiques of the Chemical Safety Improvement Act, as drafted.
Sara Chieffo, legislative director of the League of Conservation Voters, said,  "To win the support of moms across the country, reform of our toxic chemical laws must be real. Parents are asking the Senate to pass reform that will truly protect the public from toxic chemicals."
Visit EcoWatch's HEALTH page for more related news on this topic.
EcoWatch Daily Newsletter
A new study shows that half of all Arctic warming and corresponding sea-loss during the late 20th century was caused by ozone-depleting substances. Here, icebergs discharged from Greenland's Jakobshavn Glacier. Kevin Krajick / Earth Institute /
EurekAlert!
The world awakened to the hole in the ozone layer in 1985, which scientists attributed it to ozone depleting substances. Two years later, in Montreal, the world agreed to ban the halogen compounds causing the massive hole over Antarctica. Research now shows that those chemicals didn't just cut a hole in the ozone layer, they also warmed up the Arctic.
Diane Wilson holds up a bag full of nurdles she collected from one of Formosa's outfall areas on Jan. 15. Julie Dermansky / DeSmogBlog
On the afternoon of Jan. 15, activist Diane Wilson kicked off a San Antonio Estuary Waterkeeper meeting on the side of the road across from a Formosa plastics manufacturing plant in Point Comfort, Texas.
After Wilson and the waterkeeper successfully sued Formosa, the company agreed to no longer release even one of the tiny plastic pellets known as nurdles into the region's waterways. The group of volunteers had assembled that day to check whether the plant was still discharging these raw materials of plastics manufacturing.
Malaysian Environment Minister Yeo Bee Yin (front 2nd L) and officials inspect a container containing plastic waste shipment on Jan. 20, 2020 before sending back to the countries of origin. AFP via Getty Images
The Southeast Asian country Malaysia has sent 150 shipping containers packed with plastic waste back to 13 wealthy countries, putting the world on notice that it will not be the world's garbage dump, as CNN reported. The countries receiving their trash back include the United States, the United Kingdom, France and Canada.
Trump leaves after delivering a speech at the Congress Centre during the World Economic Forum annual meeting in Davos on Jan. 21, 2020. JIM WATSON / AFP via Getty Images