New research based on nationwide tests shows that many fast food chains still use food wrappers, bags and boxes coated with highly fluorinated chemicals. The Environmental Working Group's (EWG) report supplements a new peer-reviewed study in the journal Environmental Science & Technology Letters, which shows some of the test samples contained traces of a notorious and now-banned chemical formerly used to make DuPont's Teflon.
Scientists from nonprofit research organizations including EWG, federal and state regulatory agencies and academic institutions collaborated to collect and test samples of sandwich and pastry wrappers, french fry bags, pizza boxes and other paper and paperboard products from 27 fast food chains and several local restaurants in five regions of the U.S. They found that of the 327 samples used to serve food, collected in 2014 and 2015, 40 percent tested positive for fluorine, a likely indicator of the compounds known as PFCs or PFAS chemicals.
EWG, from L. Schaider et al., Fluorinated Compounds in U.S. Fast Food Packaging. Environmental Science and Technology Letters, February 2017.
"Fluorine-based coatings are used in food packaging to repel grease," said David Andrews, Ph.D., EWG senior scientist and co-author of the EWG report and the peer-reviewed paper. "There is very little public information on how much leaching occurs, as there are lots of different types of coatings made with this family of chemicals. Our tests show they are not necessary, because there are PFC-free food wrappers readily available."
Perfluorinated chemicals or PFCs and PFASs, have been linked to cancer, developmental issues, reproductive harm, compromised immune systems and other health effects. Although some PFCs, such as those formerly used to make Teflon and 3M's Scotchgard, have been banned or phased out as hazardous, chemical companies have flooded the market with a new generation of PFCs that have not been adequately tested for safety.
FDA Bans Three Chemicals Linked to Cancer From Food Packaging https://t.co/uvHztUu86z @HuffPostGreen @greenpeaceusa

— EcoWatch (@EcoWatch)1452032710.0
"We don't know enough about the safety of the new generation of PFCs," said Bill Walker, EWG managing editor and co-author of the report. "We know there are dangers of exposure to some of these chemicals at extremely low doses, especially during critical windows of child development. A woman who eats fast food frequently during her pregnancy might consume enough of these chemicals to affect the future health of her child."

DuPont has acknowledged that one of these replacement chemicals does cause cancerous tumors in lab animals. And some of these fluorinated chemicals are migrating from the packaging to food; hot, greasy food actually increases the likelihood of migration.
"It's concerning that people could be exposed to these toxic chemicals through the food they eat," said Dr. Laurel Schaider, an environmental chemist at Silent Spring Institute and the study's lead author. "PFASs have been linked with numerous health effects including cancer. Children are especially at risk because their developing bodies are more vulnerable to toxic chemicals."
"These molecules are very long-lived in the environment and simply don't break down easily and go away," said Graham Peaslee, a physicist at the University of Notre Dame, who discovered a new application method that allows faster analysis of materials that may contain fluorinated chemicals. "Consumer products like papers that are treated with PFAS will decompose long before the treatment does and these chemicals will enter the environment directly from our landfills. This type of long-lived chemical just isn't a sustainable practice: once it is made, it doesn't go away."
National fast food brands source paper from different suppliers, who in turn collect paper from different sources.
"Up and down the line there needs to be a greater level of concern," said Walker. "We're not pointing the finger at the fast food chains or saying it's safer to eat at one chain compared to another. It's possible they're not getting the straight story from their suppliers. This is a snapshot that shows there's a problem and both the Food and Drug Administration (FDA) and the restaurant industry should address it."
EWG's recommendations include:
Fast food companies should stop using PFCs or other fluorinated compounds in sandwich or pastry wrappers, fried food containers, pizza boxes or anywhere else where they may come into contact with food. Parent companies should exercise more oversight over their supply chains and the paper sources of their franchises.
The FDA should further restrict the use of fluorinated chemicals in food or food-contact materials. The FDA should close the loophole that allows companies to self-certify chemicals as Generally Recognized as Safe.
For consumers, exposure to PFCs in food wrappers can be reduced by eating fresh foods and preparing meals at home. Avoid the use of paper tableware and microwave popcorn. For more tips on how to keep these chemicals out of your body and your home, see EWG's Guide to Avoiding PFCs.
EcoWatch Daily Newsletter
In the last three years, farmers in parts of California's Central Valley irrigated nearly 100,000 acres of food crops with billions of gallons of oil field wastewater possibly tainted with toxic chemicals, including chemicals that can cause cancer and reproductive harm, according to an Environmental Working Group (EWG) analysis of state data.
Since 2014, oil companies reported that they used more than 20 million pounds and 2 million gallons of chemicals in their operations, including at least 16 chemicals the state of California classifies as carcinogens or reproductive toxicants under the state's Proposition 65 law. That recycled wastewater was then sold to irrigation districts largely in Kern County. The Central Valley Regional Water Quality Control Board has allowed the practice for at least four decades and only recently required the oil companies and water districts to disclose the details.

EWG detailed its findings in a report released Wednesday, two days before a public meeting of an expert panel convened to study the practice's safety. Although scientists don't know whether using oil field wastewater to grow crops poses a health risk to people who eat the food, the water board has refused to halt the practice until the expert panel releases its findings.
"The overlap of fracking chemicals and the chemicals used in conventional drilling is troubling," said Bill Allayaud, EWG's California director of government affairs. "The water board should have thoroughly studied and assessed this practice before allowing it.
"No one should stop eating produce from California," said Tasha Stoiber, an EWG senior scientist and author of the report. "But there are too many unanswered questions about whether crops could take up the chemicals in the wastewater and whether that could harm people's health. The only way to know for sure if this practice is safe for consumers, farm workers and the environment is to conduct a thorough and independent study."
The water board convened the expert panel after the use of oil field wastewater for irrigation came to light last spring, sparking concern from environmental groups and the news media. But the panel found it couldn't do its job without knowing which chemicals were used in the oil fields or to treat the water before its sale to irrigation districts. In response, the water board ordered the oil companies to disclose their chemical use.
The companies submitted records for 198 commercial additives. But the names of about 40 percent of the chemical ingredients were withheld as "trade secrets," so a complete analysis remains impossible.
California Farmers Irrigate Crops With Chevron's Oil Wastewater in Drought-Stricken Central Valley via @EcoWatch https://t.co/K6XOpGc7MU

— Freeheart (@Freeheart)1472174026.0
The water board says because of concerns about chemicals used in fracking fluids, no water from fracked oil wells is used for crop irrigation. But EWG's analysis found that about 40 percent of the chemicals identified from the oil company disclosures have also been used in fracking in California, raising the question of a double standard.
"The overlap of fracking chemicals and the chemicals used in conventional drilling is troubling," said Bill Allayaud, EWG's California director of government affairs. "The water board should have thoroughly studied and assessed this practice before allowing it. But even as it plays catch-up, it is contemplating additional proposals to expand the practice. Until the safety of the public and the environment can be assured, this is irresponsible."

Stop Irrigating Your Produce With Oil Wastewater https://t.co/Lt3nj748ig @earthisland @Sierra_Magazine

— EcoWatch (@EcoWatch)1477430115.0
The lightly treated wastewater is blended with fresh water and then applied to almonds, pistachios and citrus trees, along with grapes, carrots, beans, tomatoes and potatoes grown throughout Kern and Tulare Counties. To date, only three limited studies have been conducted, all by consultants paid by the oil companies or the irrigation districts that buy the wastewater, including one that draws conclusions based on only five water samples collected on a single day.
EWG recommends that until independent scientific studies, free from conflicts of interest, can say whether it is safe to irrigate food crops with wastewater from oil fields, the state should suspend existing permits and declare a moratorium on new projects.
More than 650,000 kindergarten through 12th grade children in nine states attend school within one mile of a fracked oil or gas well, putting them at increased risk of health impacts from dangerous chemicals and air pollution.
Moms Clean Air Force
The finding comes from a new study by Environment America Research & Policy Center that exposes the proximity of fracking near schools, hospitals, day care centers and nursing homes, risking the health of our children and other vulnerable populations.

"Schools and day care centers should be safe places for kids to play and learn," said Rachel Richardson, director of Environment America's Stop Drilling program and co-author of the report. "Unfortunately, our research shows far too many kids may be exposed to dirty air and toxic chemicals from fracking right next door."
Using data provided by the oil and gas industry and state regulators, Dangerous and Close—Fracking Puts the Nation's Most Vulnerable People at Risk, found that:

1,947 child care facilities, 1,376 schools, 236 nursing care providers and 103 hospitals are within a one-mile radius of fracked wells in the nine states examined.
More than 650,000 kindergarten through 12th grade children attend school within one mile of a fracked well.
The highest percentage of children attending school close to fracked wells is in West Virginia, where 8 percent of children spend their school days within one mile of a fracked well.
Texas has the largest number of children attending school close to a well, with 437,000 kindergarten through 12th grade students attending public or private school within one mile of a fracked well.
The report included data from nine states total including Arkansas, California, Colorado, New Mexico, North Dakota, Ohio, Pennsylvania, Texas and West Virginia.
Hospitals, nursing homes, schools and day care facilities within one mile of a fracked well, 2005 through early 2016, in Arkansas, California, Colorado, New Mexico, North Dakota, Ohio, Pennsylvania, Texas and West Virginia.Environment America
"American society aspires to protect children, the sick and the elderly," said Elizabeth Ridlington, policy analyst with Frontier Group and co-author of the report. "This report shows that we're violating that ideal because of our overwhelming dependence on fossil fuels. We've sunk to putting vulnerable populations at risk instead of making the wholesale shift to conservation and renewable energy."

Fracking creates a range of threats to our health, including creating toxic air pollution that can reduce lung function even among healthy people, trigger asthma attacks and has been linked to premature death. Children and the elderly are especially vulnerable to fracking's health risks. Children's immune systems are more susceptible to damage from toxic chemicals while older adults have weaker immune systems and more difficulty breaking down toxics chemicals in the body.
New Fracking Study Finds Children at Greater Risk of Respiratory Health Problems https://t.co/9khQK6xBHn @POTUS @GovernorTomWolf @EcoWatch

— Frack Action (@Frack Action)1463075434.0
Studies show that the closer you are to fracking, the more susceptible you are to suffering negative health effects. In Colorado, residents living within one-half mile of fracked wells were exposed to pollutants that increased their risk of illness. Researchers at University of Pennsylvania and Columbia University found that in Pennsylvania hospitalizations rates increase near fracking sites.
Health Dangers of #Fracking Revealed in Johns Hopkins Study https://t.co/XN2bg4eVhO @foodandwater @MarkRuffalo @JoshFoxFilm @ssteingraber1

— EcoWatch (@EcoWatch)1472148801.0
"Fracking is an inherently dangerous threat to public health and should not be where vulnerable children and families live," said Dr. Walter Tsou, president of Philadelphia Physicians for Social Responsibility.

"It is an unavoidable fact that as fracking operations have spread across the U.S., significant damage to our health and our environment has occurred," said Laura Burns, parent of two and field organizer for Mom's Clean Air Force in Ohio. "Our children are our future. And for the sake of our future, we need to be seeking clean, renewable energy solutions."
Given the scale and severity of fracking's impacts, fracking should be prohibited wherever possible and existing wells should be shut down beginning with those near institutions that serve our most vulnerable populations.
To better protect communities already on the front lines of drilling, stricter regulations should be adopted and federal fracking loopholes should be closed to hold the oil and gas industry to the same standards as other industry. Currently, oil and gas companies are exempt from key provisions in the Safe Drinking Water Act, the Clean Air Act, the Clean Water Act, and the Resource Conservation and Recovery Act.
"Our children's health and safety should be non-negotiable," Richardson said. "Ultimately, the only solution to this toxic health threat is to ban fracking entirely and move toward 100 percent renewable energy as swiftly as possible."
The nation's new chemical safety law promises to give the U.S. Environmental Protection Agency (EPA) expanded authority to regulate hazardous chemicals in consumer products. But of the tens of thousands of chemicals on the market, most never tested for safety, which should the EPA tackle first?
Today, the Environmental Working Group (EWG) released a list of high priority chemicals the EPA should act on quickly. It includes chemicals in products Americans use every day—detergents and household cleaners, clothes, mattresses, furniture, toys and even kids' jewelry.
The Environmental Working Group released a list of high priority chemicals the EPA should act on quickly.
"After decades of stagnation, EPA can now ban or restrict the use of toxic chemicals and order companies to conduct safety testing when more information is needed," EWG senior scientist David Andrews said. "It's important that the agency act promptly to eliminate or reduce Americans' exposure to industrial compounds linked to cancer, birth defects, hormone disruption and other health problems."

For many chemicals on the list, action is long overdue. For example, many Americans believe asbestos—a carcinogen that claims 12,000 to 15,000 lives each year—was banned decades ago, as it has been in 55 other nations. But U.S. industry still imports, uses and sells asbestos and asbestos products, including automobile brake pads and clutches, vinyl tile and roofing materials.
With so many hazardous chemicals in use, any list of those posing the greatest risks would be subjective and incomplete. But the vast catalogue of chemicals that have never been evaluated for safety make it urgent for the EPA to move quickly to tackle the backlog. The agency put 90 chemicals known to pose health risks on a list called the TSCA [Toxic Substances Control Act] Work Plan.
"The work plan list represents opportunities for assessment and regulation where EPA action is overdue," EWG senior scientist Johanna Congleton said. "In some cases, such as with some kinds of flame retardants, the initial EPA review was hindered by the lack of safety and exposure data. EPA must now use its expanded authority to fill in these critical information gaps."
EWG scientists scrutinized the chemicals on the work plan, analyzed studies by U.S. and international researchers and consulted fellow experts in environmental health. They considered each chemical's health risks, how widely Americans are exposed to it and the likelihood of EPA action under the new law.
Here are the 10 chemicals EWG urges the EPA to thoroughly review and regulate as soon as possible:
1. Asbestos
The cancer-causing substance is still found in automobile brake pads and clutches, vinyl tiles and roofing materials. While some uses have been banned since 1989, no new risk assessment is scheduled.
2. PERC
This probably carcinogen appears in dry-cleaning fluid, spot removers and water repellents.
3. Phthalates
These chemicals are linked to early puberty in girls and other reproductive harm. They show up in PVC plastic, toys and plastic wrap.
4. BPA
This carcinogen is also linked to infertility, developmental harm and diabetes. BPA is used in food cans and other food containers and cash register receipts.
5. Chlorinated phosphate fire retardants
These chemicals turn up in upholstered furniture, foam cushions, baby car seats and insulation. They are linked to possible nerve and brain damage.
6. TBBPA and related chemicals
This potential carcinogen and endocrine disruptor is seen in electronics, auto parts and appliances.
7. Brominated phthalate fire retardants
These chemicals are linked to developmental toxicity and appear in polyurethane foam for furniture and baby products.
8. 1-Bromopropane
This probable carcinogen is used in aerosol cleaners and adhesives and linked to reproductive harm.
9. DEHA
This probable carcinogen is found in plastic wrap and PVC plastic. It is also linked to developmental toxicity.
10. P-dichlorobenzene
This probable carcinogen is detected in moth balls and deodorant blocks. It is linked to liver and nerve damage.
EWG, from EPA's 2014 TSCA Work Plan
The U.S. Supreme Court ruled against a group of homeowners in North Carolina yesterday who unknowingly bought land contaminated by toxic chemicals and then attempted to sue the company responsible for dumping them there. 
Citing a lapse in a North Carolina state deadline, the high court decided that a law with a 10-year "statute of repose" can bar victims of toxic pollution from suing their polluters, even if they were not aware of the contamination until much later.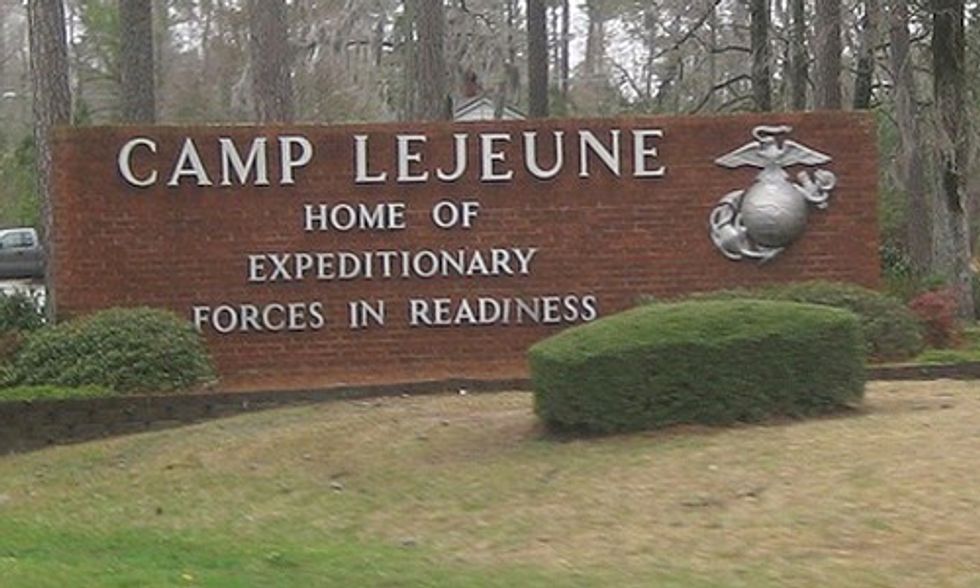 "I am outraged by today's Supreme Court decision which once again demonstrates the power of corporations over the rights of individual in this country," consumer advocate Erin Brockovich said yesterday. "It's a sad day when victims are denied the most basic right to their day in court."
According to the Environmental Working Group, the ruling carries sweeping implications for countless Americans threatened by toxic dumping, among them, the legal claims of thousands of Marines and their families poisoned by water contamination at Camp Lejeune in Jacksonville, NC.
"I am stunned by today's decision. It's a blow to all victims exposed to and suffering from the health effects of toxic pollution," said retired Master Sgt. Jerry Ensminger, who uncovered the contamination at Camp Lejeune after losing his 9-year old daughter Janey to leukemia. "Science shows that the latency period of cancer after toxic chemical exposure is 20 or 30 years—this ruling means victims will not be able to sue a company for its wrongful pollution once the statute of repose has passed." 
Veterans and their families have charged that exposure to trichloroethlylene—a known carcinogen—in polluted waters at Camp Lejeune over a 30-year period has caused at least 84 cases of male breast cancer and thousands more rare cancers, leukemia, birth defects and other serious illnesses.
"I have been fighting for the rights of veterans to see justice from the toxic pollution of Camp Lejeune for more than 20 years and this ruling is a tragedy for all of us," said Ensminger. "Words cannot describe my disappointment in the Obama Administration for siding with the polluters in this case and the ultimate decision that has resulted in a harmful precedent for polluted communities across the country."
In Aug. 2012, President Obama signed the Janey Ensminger Act into law, which offered health benefits to those contaminated at Camp Lejeune. No word yet on what affects Monday's Supreme Court decision will have on the Janey Ensminger law.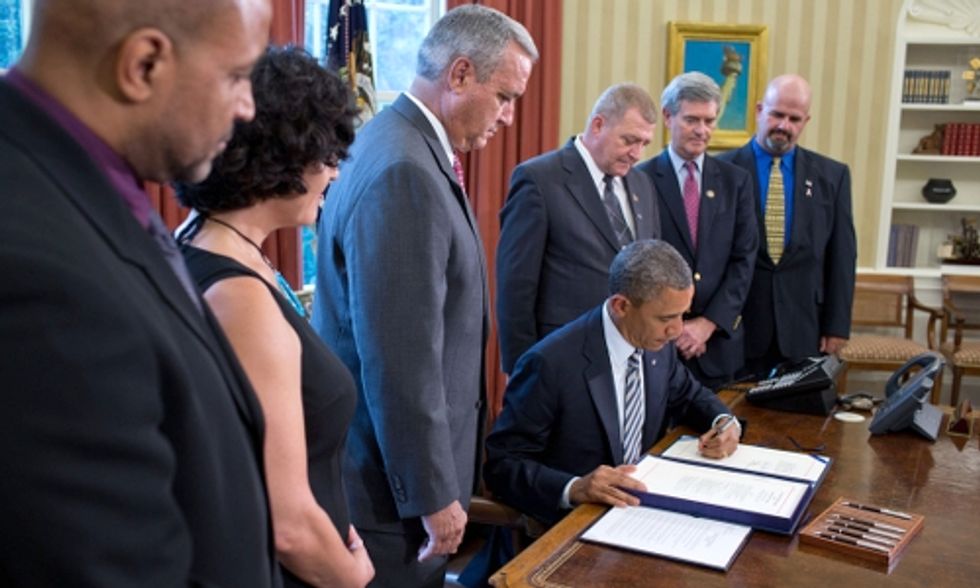 "We are deeply disappointed in today's wrongheaded decision," said Danielle Brian, executive director of the Project on Government Oversight, one of Environmental Working Group's partners in the fight for environmental health legislation. "We fear that this may set the precedent that the Obama Administration sought—denying justice to those harmed by toxic pollution at Camp Lejeune and elsewhere."
"It is unconscionable that people may lose their right to seek justice before they even know they were harmed," Brian continued. "Like Justice Ginsberg, we are concerned that this will encourage more secrecy and cover-ups like the one the government has engaged in over Camp Lejeune for decades. Ultimately, Congress may need to make clear its intent to protect the rights of victims of polluters no matter how long it takes for them to get cancer or die."
--------
YOU MIGHT ALSO LIKE
Erin Brockovich Joins Vets to Rally Against DOJ's Position in Supreme Court Water Pollution Case
Congress: Protect Public Health, Not Toxic Chemicals
Leaked TTIP Documents Expose Chemical Industry's Toxic Agenda
--------
According to a recent study published in the American Chemical Society's (ACS) journal Chemical Research in Toxicology, the chemicals triclosan and octylphenol are linked to the growth of breast cancer cells. Triclosan is an antibacterial and antifungal agent found in numerous commonly known household products. Octylphenol is a commercial solvent that can be found in paints and plastics, and is often used as an inert ingredient in pesticide formulations.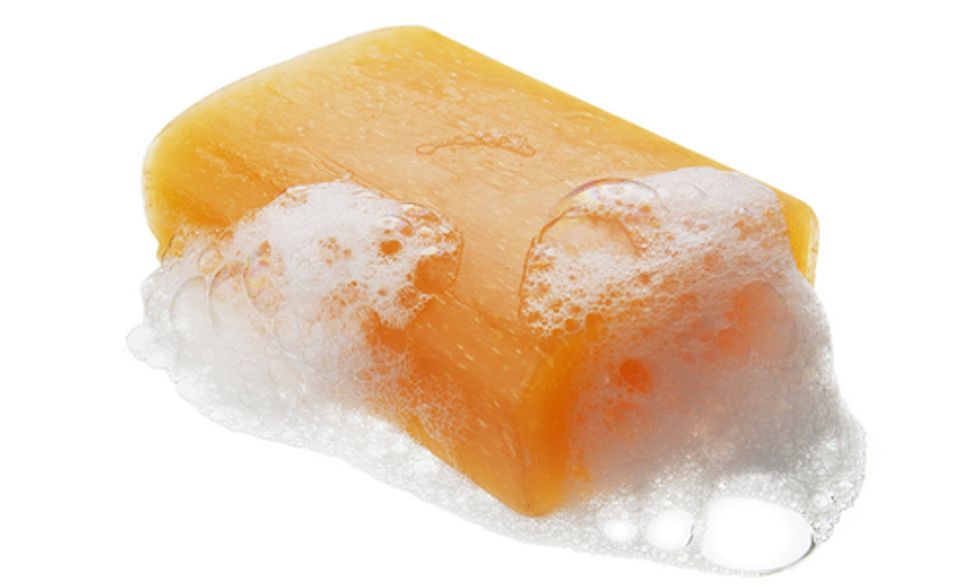 Photo courtesy of Shutterstock
Researchers investigated whether these two endocrine-disrupting chemicals (ECDs) contributed to the growth of cancer cells. In their study, Progression of Breast Cancer Cells Was Enhanced by Endocrine-Disrupting Chemicals, Triclosan and Octylphenol, via an Estrogen Receptor-Dependent Signaling Pathway in Cellular and Mouse Xenograft Models, scientists performed both in vitro tests on human breast cancer cells in petri dishes, and in vivo tests via tissue grafts on mice.
"Although the doses of EDCs were somewhat high, we did this to simulate their effects of daily exposure, as well as body accumulation due to long-term exposure, simultaneously in animal experiments," said Kyung-Chul Choi, PhD, co-author of the research.
Results of the study established that both triclosan and octylphenol interfered with the genes involved in breast cancer growth. In human breast cancer cells, these chemicals altered the expression of two cell cycle regulators, ultimately leading to proliferation of the cancerous cells. Mice exposed to the chemicals experienced larger and denser breast cancer tumors compared to the control group. "Thus, exposure to EDCs may significantly increase the risk of breast cancer development and adversely affect human health," the researchers state in the paper.
Endocrine disruptors function by: (i) Mimicking the action of a naturally-produced hormone, such as estrogen or testosterone, thereby setting off similar chemical reactions in the body; (ii) Blocking hormone receptors in cells, thereby preventing the action of normal hormones; or (iii) Affecting the synthesis, transport, metabolism and excretion of hormones, thus altering the concentrations of natural hormones. In addition to cancer, recent studies have linked EDCs to declines in sperm count, increased risk of endometriosis, and the impairment of fish hearts.
Octylphenol is regulated as an inert ingredient by the U.S. Environmental Protections Agency (EPA). Under this status, the chemical can be added to formulated pesticide products without providing knowledge to the consumer. Last month, Beyond Pesticides and allies filed a complaint against the EPA for the agency's failure to disclose inert ingredients on pesticide project labels. Pesticide labels only identify the weight percentage of inert ingredients, which often comprise 50 to 99 percent of a formulation, and mislead the public into thinking that these other "inert" ingredients are safe.
"Consumers and users of pesticide products have a right to know all the ingredients that are in products they purchase so that they can make more informed choices in the marketplace," said Jay Feldman, executive director of Beyond Pesticides.
Due to its widespread use, and numerous studies showing adverse health impacts, triclosan, the other chemical tested in this recent study, has been a particular focus for environmental, health and consumer advocates. In 1972, Congress required the U.S. Food and Drug Administration (FDA) to set guidelines for many common antibacterial chemicals found in over-the-counter soaps and scrubs. The FDA published tentative guidelines for chemicals used in liquid hand soaps and washes by 1978, stating triclosan was "not generally recognized as safe and effective." This was due to a lack of scientific research demonstrating the chemical's safety and effectiveness. While many major manufacturers, including Johnson and Johnson and Proctor and Gamble, have already announced their intent to eliminate triclosan from their products, the chemical still remains widespread in a number of consumer goods.
Due to these growing concerns, the FDA proposed a new rule last December that requires manufacturers of antibacterial hand soaps, body washes and other consumer goods to prove that their products are both safe for long-term use and more effective than regular bar soap in order to remain on the market. This announcement, though long-delayed, represents a positive step toward reining in the unnecessary use of antibacterial chemicals. Toothpaste containing triclosan is not subject to this rulemaking as the FDA has indicated that the chemical is effective as an anti-gingivitis ingredient.
As new science emerges, Beyond Pesticides continues to urge concerned consumers to join the ban triclosan campaign and sign the pledge  to stop using triclosan. Since the rule will not go into effect until at least 2016, make sure to continue to read the label of personal care products in order to avoid those containing triclosan. You can also encourage your local schools, government agencies and businesses to use their buying power to go triclosan-free. Urge your municipality, school, or company to adopt the model resolution that commits to not procuring or using products containing triclosan.
--------
YOU MIGHT ALSO LIKE
Campaign for Safe Cosmetics Results in Decline in Toxic Phthalates Exposure
Study Strengthens Link Between Breast Cancer and BPA
Cancer Caused by Toxic Chemicals 'Grossly Underestimated' in U.S.
--------
Recent spills in West Virginia and North Carolina cast a spotlight on toxic hazards in our midst. But as bad as they are, these acute incidents pale in scope compared to the chronic flow of hazardous chemicals coursing through our lives each day with little notice and minimal regulation.
A new report by Environmental Defense Fund (EDF), Toxics Across America, tallies billions of pounds of chemicals in the American marketplace that are known or strongly suspected to cause increasingly common disorders, including certain cancers, developmental disabilities and infertility.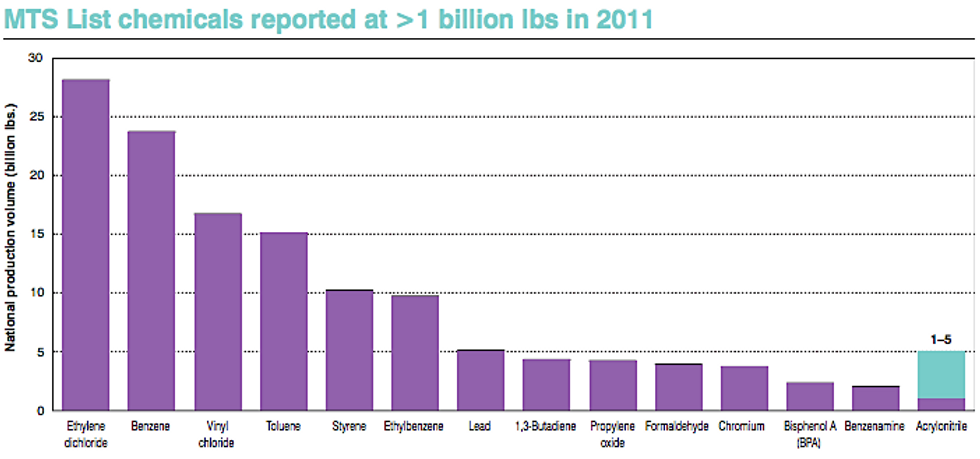 While it's no secret that modern society consumes huge amounts of chemicals, many of them dangerous, it is surprisingly difficult to get a handle on the actual numbers. And under current law it's harder still to find out where and how these substances are used, though we know enough to establish that a sizeable share of them end up in one form or another in the places where we live and work.
The new report looks at 120 chemicals that have been identified by multiple federal, state and international officials as known or suspected health hazards. Using the latest—albeit limited—data collected by the U.S. Environmental Protection Agency (EPA), the report identifies which of these chemicals are in commerce in the U.S.; in what amounts they are being made; which companies are producing or importing them; where they are being produced or imported; and how they are being used. An interactive online map accompanying the report lets the user access the report's data and search by chemical, by company, by state and by site location.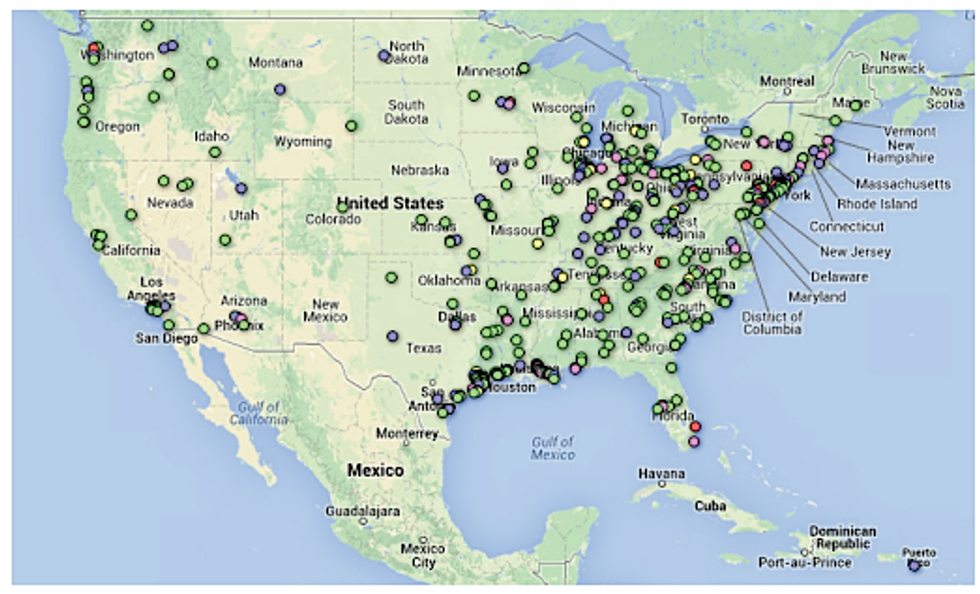 Among the findings: 
At least 81 of the chemicals on the list are produced or imported to the U.S. annually in amounts of 1 million pounds or more.
At least 14 chemicals exceed 1 billion pounds produced or imported annually, including carcinogens such as formaldehyde and benzene, and the endocrine disruptor bisphenol A—or BPA.
More than 90 chemicals on the list are found in consumer and commercial products. At least eight chemicals are used in children's products.
The interactive map shows these chemicals are produced or imported in all parts of the country, in 45 states as well as the Virgin Islands. Companies with sites in Texas, Pennsylvania, New Jersey and New York reported producing or importing at least 40 listed chemicals.
While the report shows how deeply toxic chemicals are embedded in U.S. commerce, the chemicals identified represent just part of the story. Companies making or importing up to 12-and-a-half tons of a chemical at a given site do not need to report at all. Others claim their chemical data is confidential business information, masking it from public disclosure. The EPA only collects the data every four years, and chemical companies often don't know and aren't required to find out where or how the chemicals they make are being used.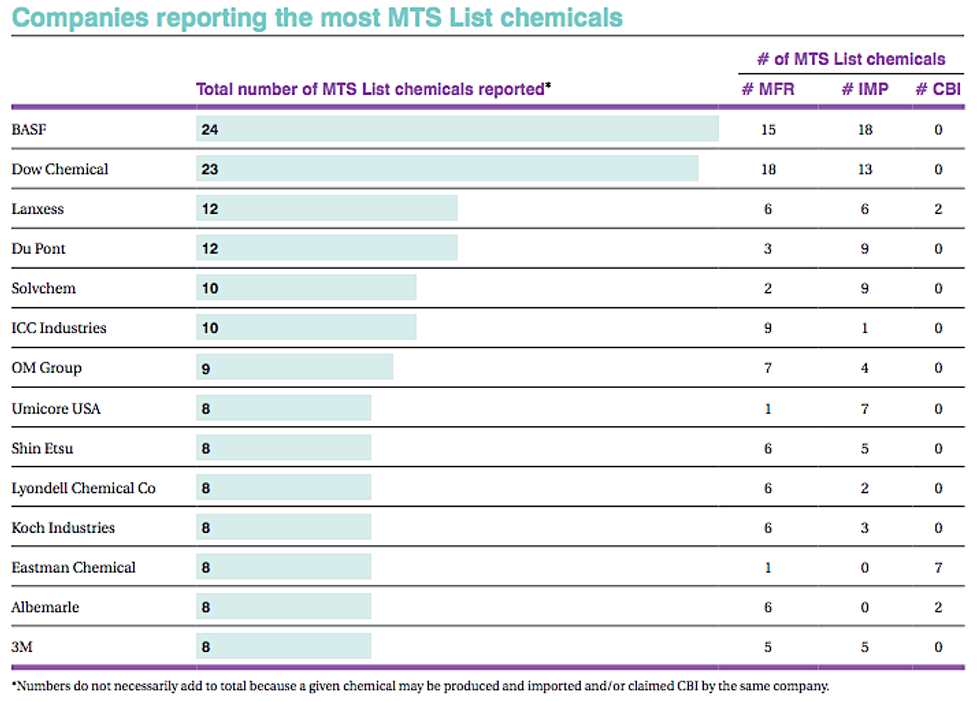 Most Americans assume that somebody is regulating these chemicals to make sure we're safe.  In fact, thanks to gaping loopholes in federal law, officials are virtually powerless to limit even chemicals—such as those featured in the report—we know or have good reason to suspect are dangerous. Because none of us has the power to avoid them on our own, we need stronger safeguards that protect us from the biggest risks and give companies that use these chemicals a reason to look for better alternatives.
The good news is that Congress is working on bipartisan legislation that—if done right—would require greater evidence of safety for both chemicals already in use and new chemicals before they enter the market.  And by driving development of and access to more chemical safety data, it would give not only government but also product makers and consumers much more of the information they need to identify and avoid dangerous chemicals, and strengthen incentives to develop safer alternatives.
--------
YOU ALSO MIGHT LIKE
Congress: Protect Public Health, Not Toxic Chemicals
Is Your State One of the 33 Taking Action on Toxic Chemicals?
Cancer Caused by Toxic Chemicals 'Grossly Underestimated' in the U.S.
--------
On MomsRising's weekly tweet chat, called #EcoTipTue, the featured guest this week was Sara Alcid of Reproductive Health Technologies Project. The organization advocates for chemical policy reform so the burden of protection doesn't have to be on pregnant women.
Alcid shared these tips for pregnant women, their partners and caregivers to avoid toxic chemicals during these important months: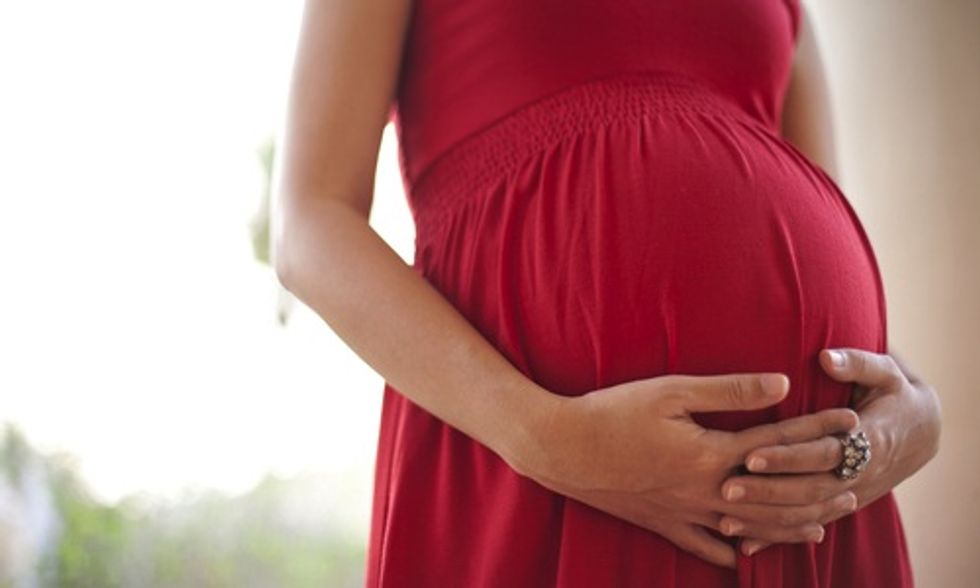 Shutterstock
 1. Start early. Exposure to toxics before pregnancy can impact fetal health. If you plan to have children the time is now to limit your exposure so you can protect your reproductive health options.
2. Eat organic food as much as possible to avoid pesticide residue. If this is not possible, eat only the Clean 15 and avoid the Dirty Dozen.
3. Don't microwave plastic or put it in the dishwasher. Hormone-disrupting chemicals leach out of plastic at elevated temperatures. Endocrine disrupters swamp a developing fetus, with potentially long term implications. They have been linked to reproductive problems, early puberty, cancer and obesity.
4. Avoid using conventional feminine care products. They contain harmful chemicals and the vagina absorbs many more chemicals than other tissue. Find out the most toxic products and ingredients to avoid and reduce use as much as possible. Look for unscented and unbleached products from companies that list all their ingredients.
5. Remove your shoes (and kindly ask your guests to as well) before entering your home to avoid tracking in oils and chemicals from the street. This is an easy, painless step that can reduce exposures.
6. Use fewer personal products (such as cosmetics, lotions, hair and nail products). Many ingredients have been linked to health problems and add to the chemical cocktail of exposure. Personal care products are unregulated. Companies can use whatever chemicals they want in products until they are proved harmful or the public pressure gets too great. That's why we need chemical policy reform! Products need to be proven safe BEFORE they hit the market. For the personal care products you do use, try to make sure they have no synthetic fragrances, parabens, phthalates, or triclosan. Find out how your favorite products rate. Buy and use safer products.
7. Avoid conventional household cleaners that contain toxic ingredients such as drain, toilet and oven cleaners. According to Planned Parenthood, "Some cleaning products can disrupt your hormones, which can change the start of puberty in young teens. If you're a woman, disrupted hormones may make it harder to get pregnant, change your menstrual cycle and increase your risk of miscarriage and breast cancer. If you're a man, disrupted hormones may lower your sperm count and increase your risk of testicular cancer." Many reasons to avoid these toxic cleaners! Find safer ones such as Seventh Generation or make your own. 
To see the rest of the list, visit Moms Rising.
Visit EcoWatch's HEALTH page for more related news on this topic.

An investigation by Germany's Federal Institute for Risk Assessment (BfR) in Berlin has found that cleaners used in espresso machines can add a shot of lead to your latte.
As reported in the German newsmagazine Der Spiegel, a safety study found that high-end espresso-makers can release large amounts of lead into coffee for days after they are cleaned. The culprit seems to be cleaning agents used to remove limescale inside the machines, which appear to cause parts of the machines to release lead.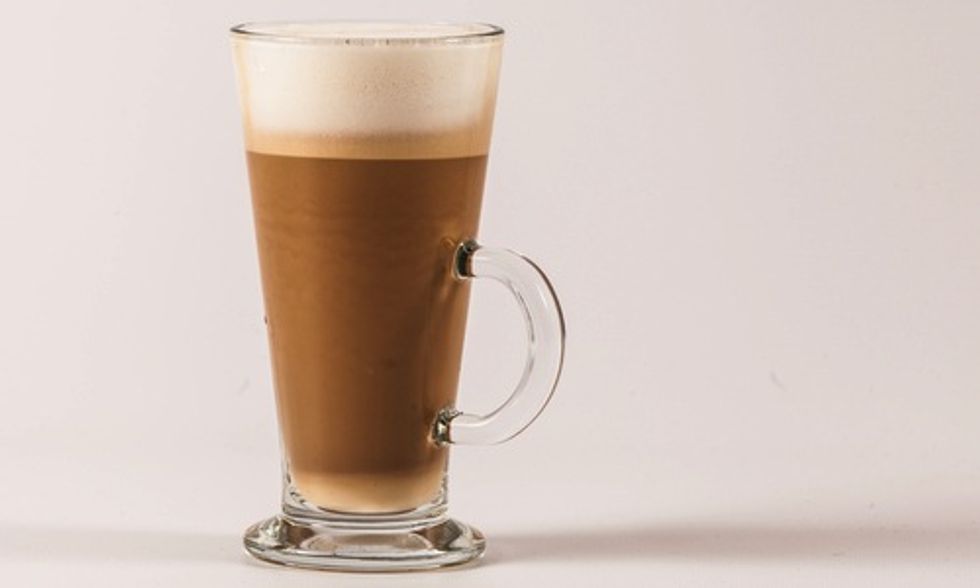 Shutterstock
Two-thirds of the machines tested by the BfR were found to be discharging high levels of lead after they had been cleaned for limescale, the off-white chalky residue left in kettles, hot water boilers, pipes and other items. After an espresso machine was cleaned, the concentration of lead in water passing through it was found to be 100 times higher than the limits recommended by the European Union.
Testing a few days after the machines had been cleaned found that the lead content of the water was up to five times higher than the E.U.'s limit.
A BfR spokesman told Der Spiegel that the investigation indicates that espresso machines—the expensive pump-driven ones found in coffee shops and cafes—pose a serious health risk that requires attention. In particular, "the lead emissions need to be minimized to guarantee users' safety," the BfR emphasized.
The German researchers emphasize that espresso machines made for use in the home, such as capsule- or coffee pod-type machines, contained minimal traces of lead.
If you're cleaning your own espresso machine, avoid chemical cleaning agents altogether by using lemon juice and vinegar.

Those festive beaded garlands and necklaces that make holidays and Mardi Gras merry have a scary side. New research has found hazardous chemicals in these plastic beaded products.
The research, a collaboration between the Ecology Center's website HealthyStuff.org and VerdiGras, found most beads have at least one hazardous chemical that has been linked to serious health threats.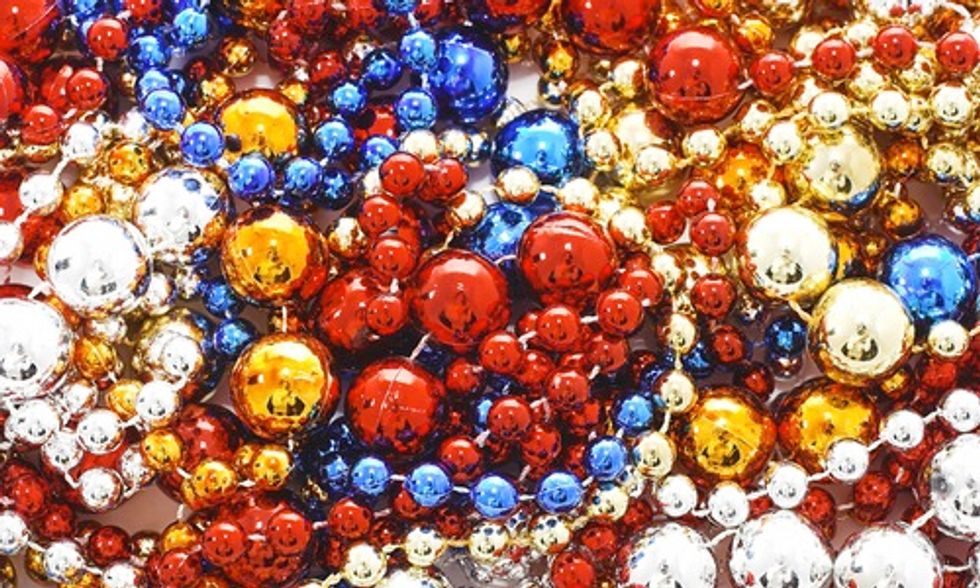 Shutterstock
HealthyStuff.org tested 106 beaded products for chemicals based on their toxicity or tendency to build up in people and the environment. These chemicals include lead, bromine, chlorine, cadmium, arsenic, tin, phthalates and mercury.
The products included 19 beaded holiday garlands purchased in Michigan between October and November from six top national retailers—CVS, Walgreens, Lowe's, Home Depot, Target and Walmart—and 87 Mardi Gras strands of beads collected from New Orleans.
Two-thirds of the Mardi Gras beads tested exceed 100 part per million (ppm) of lead, which is the U.S. Consumer Product Safety Commission (CPSC) federal safety limit for lead in children's products. While Mardi Gras beads are not classified as a children's product, children certainly can come into regular contact with the beads.
"It is disturbing to see products as enticing to children as Mardi Gras and holiday beads containing such high amounts of lead," Howard W. Mielke, a study collaborator and professor at Tulane University School of Medicine, said. "The Centers for Disease Control and Prevention are emphasizing that the only way to reduce a child's exposure to lead and other toxicants is through prevention, yet children love these beads and often put them in their mouths. Eliminating preventable sources of lead in products is an important way to prevent human exposure to all sources of lead."
Ecology Center researchers used electron microscope imagery to examine the interior and exterior of the beads. Researchers compared the elemental composition of the beads to plastic waste streams, leading to the conclusion that recycled plastic waste is the most likely filler ingredient in the beads. Plastic waste streams can contain the hazardous chemicals identified in the study.
"These plastic bead products are being used as a dumping ground for old plastic waste, which is loaded with toxic chemicals," said Jeff Gearhart, Ecology Center research director. 
HealthyStuff.org recommends common sense precautions when handling these products because they may contain hazardous substances. Do not allow children (or adults) to put beads in their mouths. Wash your hands after handling the beads. Bring baby wipes to the Mardi Gras parade to wipe children's hands after catching and playing with beads and before eating. Wash the beads that have been caught, especially if they were lying on the ground. Recycle the beads. Never burn the beads and do not store them in sunlight. People who regularly handle beads should wear gloves.
Highlights from the Mardi Gras bead study:
Sixty-four percent of the products tested had levels of lead above 100 ppm.
Fifty-nine percent of the products tested had levels of bromine above 400 ppm, suggesting the presence of brominated flame retardants (BFR).
Forty-five percent of the products sampled contained BFR levels in the range of 1 percent to 2 percent (by weight or 10,000 ppm to 20,000 ppm).
Electron microscope images of the beads show fragments of material that appear to be used as filler in the production of the beads. Many of these fragments have halogenated flame retardants in them, including decabromodiphenyl ether (decaBDE) and tetrabromobisphenol A (TBBPA).
About 63 percent  of the products had levels of chlorine above 3,500 ppm, suggesting the use of either polyvinyl chloride (PVC) or chlorinated flame retardants (CFRs).
The interior of the beads, which often get shattered during celebrations, contained concentrations of hazardous chemicals that were as high as the exterior coating of the beads.
A plastic Mardi Gras football contained about 29 percent phthalates by weight, including Bis (2-ethylhexyl) phthalate, a phthalate banned by the CPSC.
Highlights from the holiday garland bead study:
About 74 percent of the beaded garlands had bromine levels above 400 ppm, suggesting the use of BFRs.
About 42 percent of the beaded garlands had chlorine levels above 3,500 ppm, suggesting the use of PVC or CFRs.
More than two-thirds of the beaded garlands had lead levels exceeding 100 ppm. The highest level of lead was 4,161 ppm found in a beaded garland purchased at Lowe's.
Many of the substances found in the beaded strands already have been restricted or banned in other consumer products. For example, decaBDE is restricted in Maine, Washington, Vermont and Oregon. In 2009, the U.S. Environmental Protection Agency (EPA) negotiated a voluntary phase-out of the use of decaBDE for U.S. producers and importers of the chemical. The phase out was effective in most products by the end of 2012 and in all products by the end of 2013. Lead has been restricted in children's products by the U.S. Consumer Product Safety Commission, but remains poorly regulated in all other products.
To conduct the tests, experts used a High Definition X-Ray Fluorescence (HD XRF) analyzer and laboratory testing. HD XRF is an accurate device that has been used by the EPA to screen packaging; the U.S. Food & Drug Administration to screen food; and many state and county health departments to screen for residential lead paint. Other samples were analyzed by laboratories.
"This report raises significant concerns not only for our community celebrations that feature these beads and trinkets, but also for all of us during the holidays when trimming our trees. It also raises concerns for the Chinese workers who melt down the plastic that goes into these products," said Holly Groh, M.D. and one of the founders of VerdiGras. "As a New Orleans residents, the hazards present in the beads and throws shocked my husband and me. We hope manufacturers will be more cautious with what goes into their products because of the findings of this report and, until the market cleans up, we encourage people to take precautions when handling the beads and throws."
Check out this video from  the Ecology Center on the study:
Visit EcoWatch's HEALTH page for more related news on this topic.

Traces of 18 unregulated chemicals were found in drinking water from more than one-third of U.S. water utilities in a nationwide sampling, according to new, unpublished research by federal scientists.
Included are 11 perfluorinated compounds, an herbicide, two solvents, caffeine, an antibacterial compound, a metal and an antidepressant, reports Environmental Health News.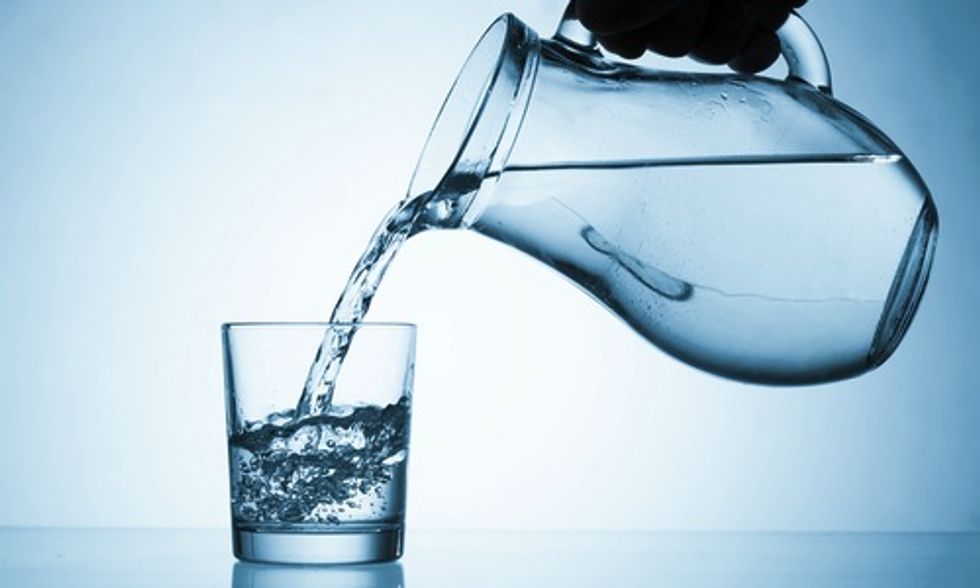 Shutterstock
While studies increasingly report newly emerging contaminants in wastewater, there has been little data on which ones are in drinking water. Researchers from the U.S. Geological Survey (USGS) and the U.S. Environmental Protection Agency (EPA) analyzed single samples of untreated and treated water from 25 U.S. utilities that voluntarily participated in the project.
Twenty-one contaminants were detected—mostly in low concentrations of parts per trillion—in treated drinking water from at least nine of the utilities. Eighteen of the chemicals are not regulated under the federal Safe Drinking Water Act so utilities do not have to meet any limit or even monitor for them.
"The good news is the concentrations are generally pretty low," said Dana Kolpin, a research hydrologist with the USGS who participated in the study. "But there's still the unknown. Are there long-term consequences of low-level exposure to these chemicals?"
For many of the contaminants, little is known about potential human health effects of low doses. But one of the perfluorinated compounds, known as PFOA, has been linked to a variety of health problems, including cancer, among people in communities where water is contaminated by a chemical plant in West Virginia.
Of 251 chemicals, bacteria, viruses and microbes the scientists measured, 117 were not detected in any of the treated drinking water. Twenty-one were found in water from more than one-third of the 25 utilities (nine or more) and 113 were found in less than one-third (eight or fewer).
Four of the chemicals found in the samples—the metal strontium, the herbicide metolachlor, PFOS and PFOA—are on the EPA's list of chemicals under consideration for drinking water standards. The EPA plans to make decisions regarding at least five of the contaminants on its list next year.
"We're hoping through this work the EPA will do a much more intensive contaminant candidate list and develop new methods and requirements for drinking water plants," said Edward Furlong, a scientist with the USGS who participated in the study.
Perfluorinated chemicals, which were found most frequently, are widely used in a variety of industrial processes, including manufacture of some nonstick and stain-resistant food packaging, fabrics and cookware.
The two most common perfluorinated compounds, PFOS and PFOA, in the utilities' water have been detected in the blood of nearly all people in the U.S.
A panel of scientists has concluded there is a "probable link" between PFOA in drinking water and high cholesterol, ulcerative colitis, thyroid disease, testicular cancer, kidney cancer and pregnancy-induced hypertension. The findings were based on people in Mid-Ohio Valley communities whose water was polluted with PFOA from a DuPont plant.
PFOS, used in Scotchgard until 3M phased it out in 2002, has been linked to attention disorders in children and thyroid disease in men.
The EPA has classified metolachlor as a possible human carcinogen based on studies of highly exposed rats. Strontium can affect bone growth, according to some animal studies that used doses much higher than those found in drinking water.
The perfluorinated compounds were at similar concentrations in the untreated and treated drinking water, suggesting that treatment techniques are largely unsuccessful. Only one plant was successful at removing them and it used activated carbon treatment.
Activated carbon, ozone and UV treatments are generally better at removal than traditional chlorine treatment, but such techniques are often prohibitively expensive, said EPA research chemist Susan Glassmeyer, who led the project.
"People resent having to pay anything for water," she said. "There's the thought that there's a God-given right to have as much as we want but, if you want the cleanest water, these techniques take money."
Treatment also can sometimes transform compounds into new ones, said Laurel Schaider, a research associate at the Harvard School of Public Health.
"Chlorination and other treatments technologies will remove some contaminants, but will react with others," Schaider said. "Some compounds may appear to be removed but may be transformed to a chemical we know even less about."
Glassmeyer said the utilities, which remain anonymous, represented a mix of large and small and used different water treatment technologies.
Preliminary findings of the study, which is expected to be published next year, were presented by the scientists at a toxicology conference in Nashville last month.
Visit EcoWatch's HEALTH page for more related news on this topic.

Beauty balm and complexion corrector creams may expose users to fewer toxic chemicals than the moisturizer, foundation and sunscreen regimens they are designed to replace, says a new analysis by Environmental Working Group (EWG).
A consumer using a beauty balm or complexion corrector—a product that is an all-in-one primer, sunscreen, moisturizer and tone evener—would typically be exposed to an average of 40 chemical ingredients. Someone using three separate products—foundation, moisturizer and sunscreen—would be exposed to an average of 70 chemical ingredients, EWG's report shows.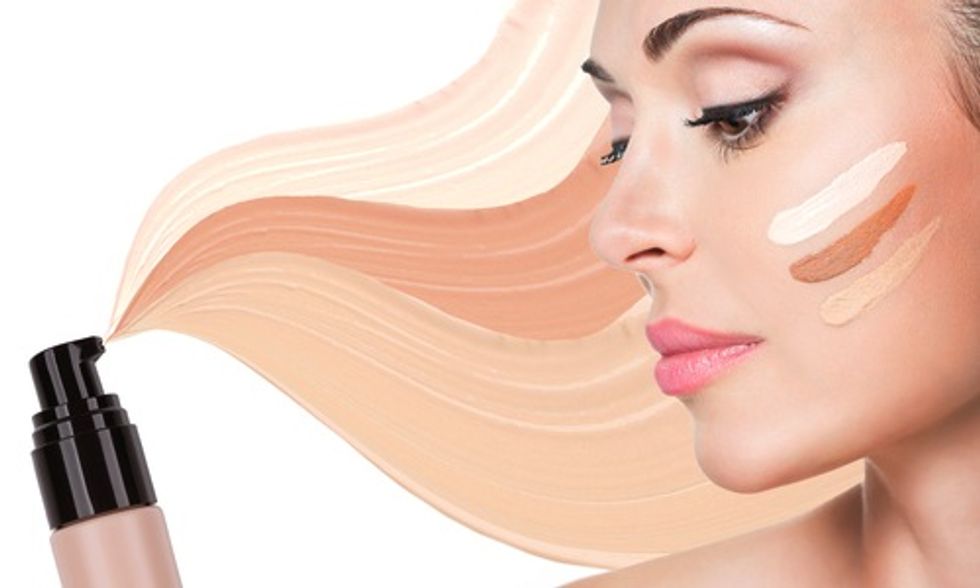 Shutterstock
Checking products against Skin Deep, EWG's cosmetics safety database, researchers found the average number of ingredients recognized as hazardous dropped from three to one when the user shifted from a three-product regimen to a single beauty balm or complexion corrector.
"On average, you can reduce your exposure to cosmetic chemical ingredients by nearly half by using one of these products, instead of the usual trifecta of moisturizer, foundation and sunscreen," said Nneka Leiba, EWG deputy research director.
EWG advises consumers to do their homework before choosing a product because some beauty balm and complexion correctors contain ingredients of concern. Some contain hazardous ingredients such as vitamin A and oxybenzone commonly found in sunscreen products.
EWG has published a list of top picks and products to avoid.
The federal Food and Drug Administration (FDA) has no authority to require companies to test products for safety before they go to market. Nor does the agency review or approve the vast majority of products or ingredients before they are sold.
"As with all cosmetics products on the market, you simply can't trust the FDA to ensure that those products are truly safe and effective," Leiba said.
Visit EcoWatch's HEALTH page for more related news on this topic.

It's bad enough that some shampoos have ingredients that can cause cancer. Now a new study shows that some anti-dandruff shampoos may be harmful to the environment.
The study, in the journal Environmental Toxicology and Chemistry, says that the anti-dandruff ingredient climbazole recently was detected for the first time in wastewater treatment plant discharge.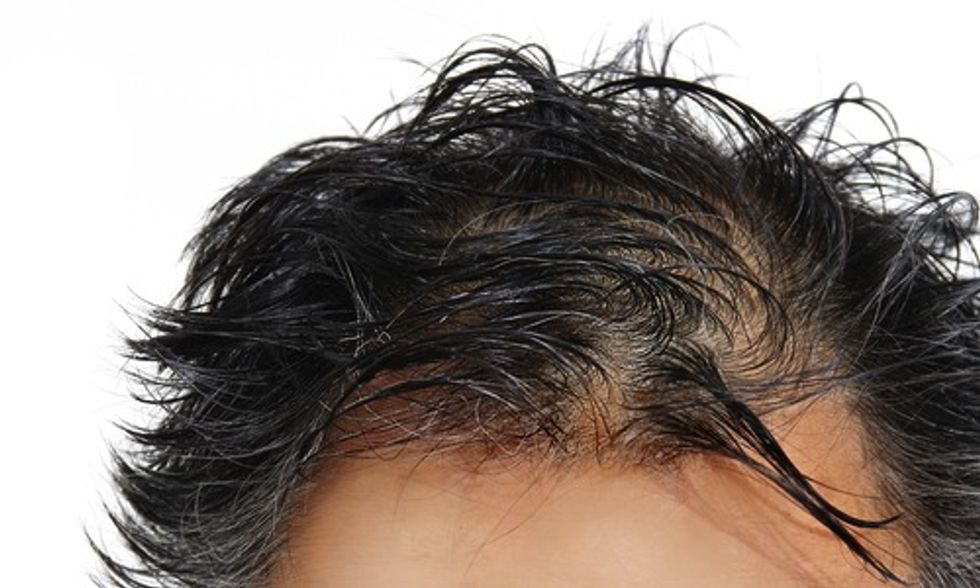 Shutterstock
Climbazole acts as a highly efficient fungicide, the study says, and not much is known about its impact on the environment. But even at concentrations as low as 0.5 micrograms per liter of water, such fungicides can hurt many organisms, from tiny algae to big plants and fish.
The local wastewater treatment plant removes a lot of substances, but fail to grab the drugs in soaps, shampoos, toothpastes, perfumes, sunscreen, prescription medications and other skincare products that our daily habits add to wastewater.
Because the climbazole remains in the water, the plants are exposed to the fungicide day after day after day. The algae die, but bigger plants suffer retarded growth. Animals like fish are affected, too, since they share similar cellular mechanisms.
Cosmetics are among the least-regulated products on the market, says the Campaign for Safe Cosmetics. Under current U.S. regulations, it is legal for cosmetics manufacturers to use unlimited amounts of virtually any ingredient in salon and professional use products, as well as those sold to the general public, including chemicals linked to cancer, reproductive and developmental harm, hormone disruption and other adverse health impacts, with no pre-market safety assessment.
As a result, 89 percent of all ingredients in cosmetics have not been evaluated for safety by any publicly accountable institution.
Visit EcoWatch's HEALTH page for more related news on this topic.