How Is Climate Change Affecting the Philippines?
Haiyan, Thelma, Ike, Fengshen, Washi, Durian, Bopha, Trix, Amy, Nina. These are the 10 deadliest typhoons of the Philippines between 1947 and 2014.
What's alarming is that five of the 10 have occurred since 2006, affecting and displacing thousands of citizens every time. Seven of these 10 deadly storms each resulted in more than 1,000 casualties. But the deadliest storm on record in the Philippines is Typhoon Haiyan, known locally as Typhoon Yolanda, which was responsible for more than 6,300 lost lives, more than four million displaced citizens and $2 billion in damages in 2013. So what's going on—is the Philippines simply unlucky? Not exactly.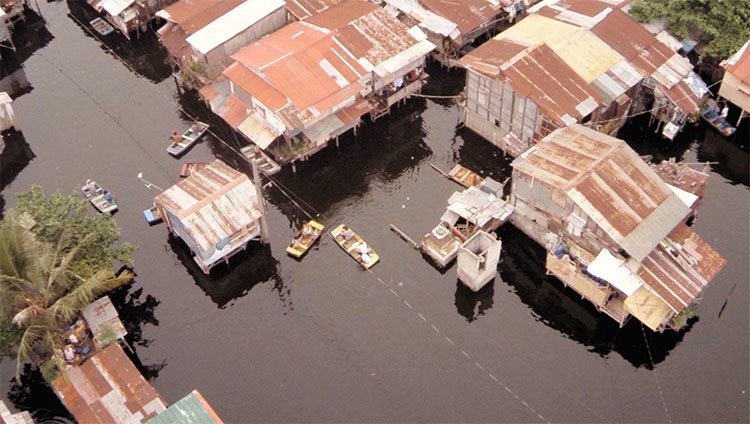 The Philippines has long been particularly vulnerable to extreme weather. But in recent years the nation has suffered from even more violent storms like Typhoon Haiyan. On average, about 20 tropical cyclones enter Philippine waters each year, with eight or nine making landfall. And over the past decade, these tropical storms have struck the nation more often and more severely, scientists believe, because of climate change. In addition, two factors unique to the Philippines—its geography and development—have combined to exacerbate both this threat and its devastating consequences.
As Climate Reality heads to Manila, Philippines on March 14-16 for our next Climate Reality Leadership Corps training, we wanted to take a deeper look at how climate change affects the Philippines and the role geography and development play in making a tremendous challenge even greater.
Geography
The Global Climate Risk Index 2015 listed the Philippines as the number one most affected country by climate change, using 2013's data. This is thanks, in part, to its geography. The Philippines is located in the western Pacific Ocean, surrounded by naturally warm waters that will likely get even warmer as average sea-surface temperatures continue to rise.
To some extent, this is a normal pattern: the ocean surface warms as it absorbs sunlight. The ocean then releases some of its heat into the atmosphere, creating wind and rain clouds. However, as the ocean's surface temperature increases over time from the effects of climate change, more and more heat is released into the atmosphere. This additional heat in the ocean and air can lead to stronger and more frequent storms—which is exactly what we've seen in the Philippines over the last decade.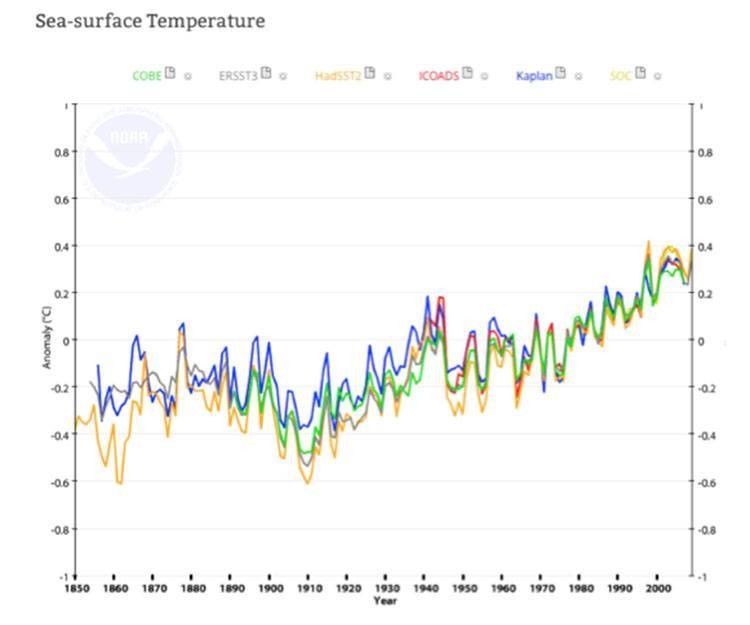 The Philippines also lacks natural barriers; as a collection of more than 7,000 islands there is almost nothing standing between them and the sea. In addition to their coral reefs, one of the best buffers against typhoons are the Philippine mangrove ecosystems. These mangroves help mitigate the impact of storm surge and stabilize soil but have disappeared by almost half since 1918 due to deforestation (an issue for another day).Other natural factors, like regional wind patterns or currents, can also increase the risk of tropical storms. Geography again plays a role here, as these factors affect different areas of the country differently, due to their unique circumstances. The graphic below from a report by the Philippine Department of Environment and Natural Resources shows how the various regions in the Philippines can face a range of climate threats, based on where they sit on the map.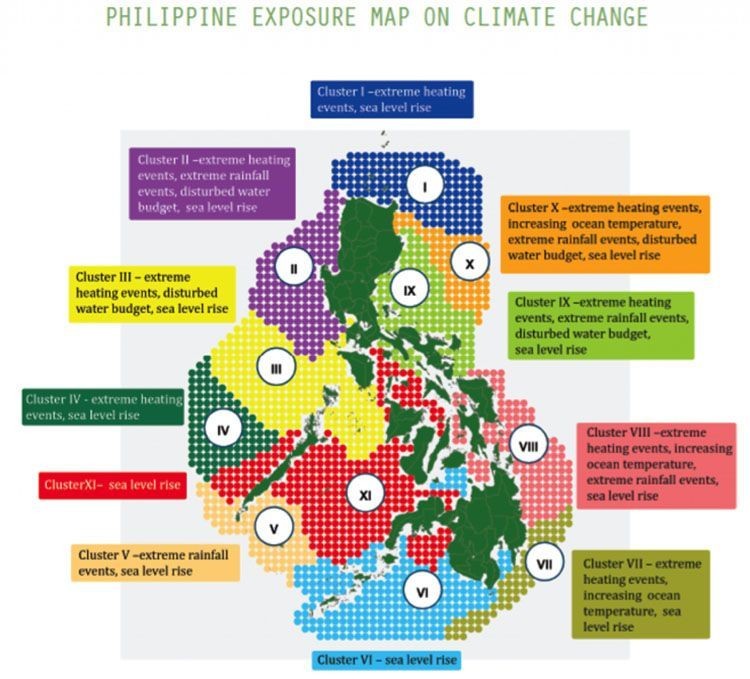 The map also shows the regions most vulnerable to sea-level rise, another detrimental effect of climate change that can be exacerbated by the storm surge from tropical storms. Sea levels in the Philippines are rising at about twice the global average. And when especially strong storms like Typhoon Haiyan make landfall, this higher sea level contributes to storm surge that can rise upwards of 15-20 feet, displacing thousands or even millions of citizens in coastal communities. Which brings us to our next topic: development in the Philippines.
Development
Developmental factors have made it difficult for the Philippines to prepare and respond to disasters. Evacuation plans, early-warning systems and shelters are critical to dealing with extreme weather events. Warning and relocating thousands or millions of citizens when a storm is approaching would be a massive hurdle for any country—and in the case of a developing nation like the Philippines with nearly 100 million citizens spread out across thousands of islands, the hurdle becomes bigger still.
Then there's what these storms mean for the Philippines' economy. According to a 2013 statement from government officials, a destructive typhoon season costs the nation two percent of its gross domestic product. It costs another two percent to rebuild the infrastructure lost, putting the Philippines at least four percent in the hole each year from tropical storms. And when you're a nation aspiring to grow and create better lives for your citizens, this regular hit to the economy is the last thing you can afford.
This is not an easy problem to fix, but we need to try. The first step is educating citizens both in the Philippines and around the world about what the nation is facing and about the practical clean-energy solutions available that can begin to address the harmful effects of climate change in the Philippines and beyond.
We're going to do just that at our next Climate Reality Leadership Corps training on March­ 14­–16 in Manila, Philippines, led by former U.S. Vice President Al Gore. We invite you to learn more about how you can make a difference in fighting climate change by applying to become a Climate Reality Leader. Applications for our Manila training are open through Feb. 8, 2016.

YOU MIGHT ALSO LIKE 
NASA Scientist Dying of Cancer Attacked by Climate Deniers
Abu Dhabi Desalination Plant to be Powered by Off-Grid Rooftop Solar
Why 2015 Was the Hottest Year on Record
Carl Pope: Global Leaders on Pace to Rescue the Climate
Bill Maher is sick of billionaires' obsession with Mars, more like "Mars-a-Lago," he said.
In a new animation produced by ATTN:, the popular talk show host of Real Time, discusses the perils of our planet, including how "climate change is killing us."
Keep reading...
Show less
Dr. Benjamin D. Santer, research scientist
A group of prominent climate scientists have written a study explicitly refuting statements made by the U.S. Environmental Protection Agency Administrator Scott Pruitt on climate data. During his Senate confirmation hearing, Pruitt claimed in a written response that satellite data shows a "leveling off" of warming over the past two decades.
Keep reading...
Show less
By David Pomerantz
The Nevada Assembly passed a bill Wednesday that would dramatically increase the growth of renewable energy in the state, but Sheldon Adelson, the casino magnate and major donor to Donald Trump, is attempting to prevent the bill from becoming law.
Keep reading...
Show less
Matt Crossick
By Yosola Olorunshola
Whether it's through fashion or protest, Vivienne Westwood is not a woman afraid of making a statement.
On May 23, she rocked up to the residence of the Archbishop of Canterbury in London with a special guest—the Grim Reaper—to issue a strong statement on the Church of England's position on fracking.
Keep reading...
Show less
Military veterans from across Virginia released a letter Thursday opposing two proposed fracked-gas pipelines: Dominion Energy's Atlantic Coast Pipeline and EQT's Mountain Valley Pipeline. These pipelines would cross through pristine areas of Virginia, taking private property by use of eminent domain, removing mountain ridgetops and threatening valuable drinking water resources. The veterans view this as contrary to their service to protect and defend the freedom and security of American citizens.

Keep reading...
Show less
By Paul Brown
The food industry and big agricultural concerns are driving climate change and at the same time threatening to undermine efforts to feed the world's growing population, according to GRAIN, an organization that supports small farmers.
Particularly singled out for criticism are the large chemical fertilizer producers that have gained access to the United Nations talks on climate change. GRAIN accuses them of behaving like the fossil fuel companies did in the 1990s, pushing false information in the hope of delaying real action on climate change.
Keep reading...
Show less
May. 24, 2017 06:55PM EST
By Sydney Robinson
President Trump has no doubt been given a long list of extravagant, elaborate gifts in his lifetime, but the gift given to him today by Pope Francis may not make it on his most favorite list.
Keep reading...
Show less
May. 24, 2017 07:17PM EST
By John Rogers
Maybe it's because I first started working on clean energy while serving in the Peace Corps he founded, or maybe it's my years of working on these issues from his home state. But I can't help thinking about the 100th anniversary of John F. Kennedy's birth, and connecting his stirring rhetoric to the energy challenges of our times.
Here's what our 35th president might have said about the challenges of energy transition and the opportunities in clean energy:
"Change is the law of life. And those who look only to the past or present are certain to miss the future."
Keep reading...
Show less


Get EcoWatch in your inbox