This website uses cookies to ensure you get the best experience while browsing it. By clicking 'Got It' you're accepting these terms.
Help Save the World's Last Dinosaur
Jun. 02, 2016 02:03PM EST
Animals
Sea Shepherd Conservation Society supporters Richard Dean Anderson and Holly Marie Combs are lending their names as producers on the company's crowd-funded documentary feature Why Just One?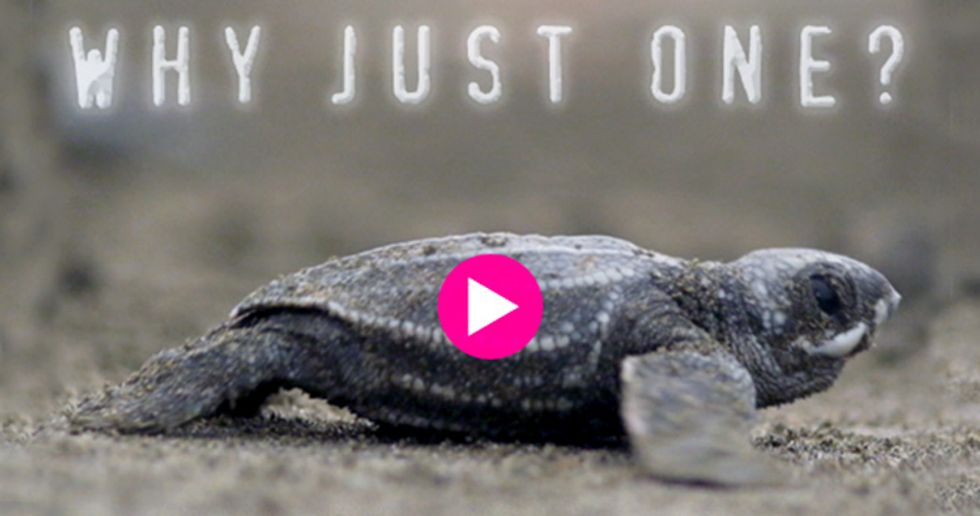 The documentary follows Sea Shepherd's 2015 sea turtle defense campaign, Operation Jairo, which took place in Honduras, Florida and Costa Rica. Why Just One? focuses specifically on the sea turtle defenders' successes and struggles of the ground campaign in Costa Rica.
The Costa Rican campaign takes place on the remote Pacuare Island and Moin Beach, the latter where Costa Rican turtle defender Jairo Mora Sandoval was brutally murdered on May 31, 2013 while attempting to protect leatherback turtle nests. Sea Shepherd named Operation Jairo in his honor.
From death threats to attacks, from protecting sea turtles and their eggs, to interviews with Costa Rican activists and Sandoval's best friend, Why Just One? seeks to answer the question of why only one in one thousand sea turtles survive to maturity.
The documentary also looks to answer why sea turtles are disappearing from the beaches of Costa Rica—and can we save them in time?
"This species which has survived so much, may not survive us," Sea Shepherd founder Captain Paul Watson commented.
Executive Producer Anderson, a close friend of Watson who is best known to fans in the title role of the hit TV series MacGyver, says he hopes the film will bring world-wide attention to the "heart-breaking plight" of sea turtles.
"My support for Captain Paul Watson and the hearty hordes of volunteers who make up the crews venturing out to sea, has exposed me to the kind of on-going education that continues to enlighten me, both head and heart," said Anderson. "It is my hope, as executive producer, that this documentary will shed a bright light on a dire situation and proceed to enlighten ALL of us to care about these endangered turtles, as well as ALL of our earths marine life.
Associate Producer Combs, who came to prominence on the TV series Charmed and currently appears on Pretty Little Liars, added: "I became a Sea Shepherd supporter a few years ago when I learned of their amazing work defending the oceans and her inhabitants. Sea Shepherd has shined an international spotlight on the slaughter of dolphins in Japan and the documentary Why Just One? will bring that same international spotlight on the poaching of sea turtles in Costa Rica. I look forward to many more years of working with the courageous and dedicated volunteers of Sea Shepherd."
Watch the trailer here:
Why Just One? Reached its initial funding on Indiegogo in less that 24 hours and has backers from more than 40 counties. It is scheduled for release July 2016. A stretch goal was announced and additional perks were added for a limited time only. To support this film and learn more, visit http://bit.ly/WhyJustOne.
YOU MIGHT ALSO LIKE
40 Dead Tiger Cubs Found in Freezer at Thai Buddhist Temple
Who's to Blame for Harambe's Death?
Could Pixar's 'Finding Dory' Have an Adverse Effect on Coral Reefs?
EcoWatch Daily Newsletter
Blue whale (Balaenoptera musculus) surfacing, showing the remains of a blow and its mottled appearance near South Georgia Island in the Polar Regions. Mick Baines & Maren / Getty Images
The largest animal on Earth is proving that wildlife protections work.
More than 300 people were forced to evacuate and 46 were sent to the hospital after a gas pipeline ruptured in Mississippi Saturday.

Pexels
By Tim Lydon
Climate-related disasters are on the rise, and carbon emissions are soaring. Parents today face the unprecedented challenge of raising children somehow prepared for a planetary emergency that may last their lifetimes. Few guidebooks are on the shelves for this one, yet, but experts do have advice. And in a bit of happy news, it includes strategies already widely recognized as good for kids.
Pexels
Be it Nina Simone and James Brown for civil rights, Joni Mitchell and Marvin Gaye for the environment, or Jackson Browne and Buffalo Springfield for nuclear disarmament, musicians have long helped push social movements into the limelight.
Yulia Lisitsa / iStock / Getty Images Plus
Collagen is the most abundant protein in your body.
It is the major component of connective tissues that make up several body parts, including tendons, ligaments, skin, and muscles.