This website uses cookies to ensure you get the best experience while browsing it. By clicking 'Got It' you're accepting these terms.
Help Free the Arctic 30 and Stand Up Against Fossil Fuel Extraction Everywhere
Nov. 16, 2013 09:04AM EST
Climate
By Daryl Hannah and Phil Radford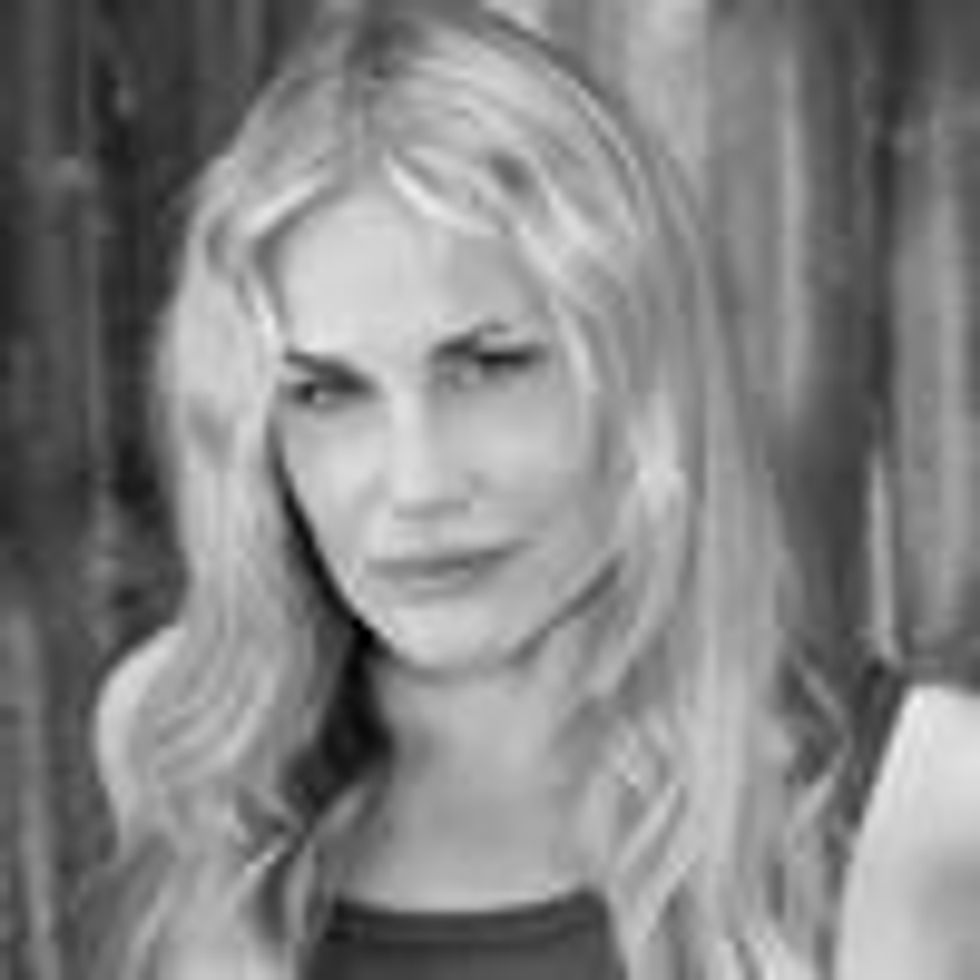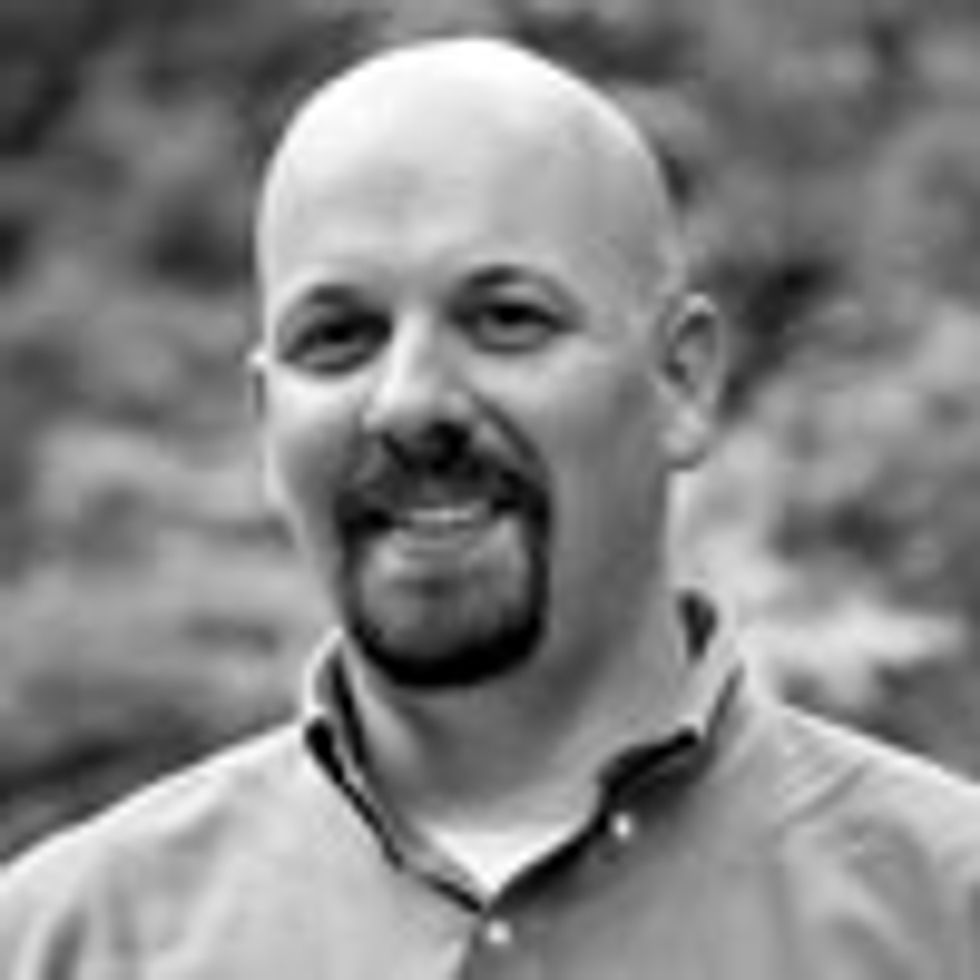 All around the globe, record numbers of people from all walks of life are being thrown into jails because they are standing up to protect the most basic of human needs—uncontaminated water, unpolluted lands and a liveable climate free from the ramifications of extreme fossil fuel extraction. If the greed-driven fossil fuel extraction corporations—and the governments that do their bidding to assure sustained record profits—don't stop endangering our critical and already-compromised life support systems, there is little doubt that the numbers of individuals standing up will grow exponentially.
People are increasingly recognizing the critical necessity to safeguard our communities and our ecosystems, and growing numbers around the world are taking that bold step to engage in the time-honored tradition of peaceful civil disobedience as a means of alerting others to the dangers that threaten us all. This map from The Public Society shows some of the major protests against fossil fuel extraction in the past year alone, and the reach is staggering.
Help Free the Arctic 30 and Stand Up Against Fossil Fuel Extraction Everywhere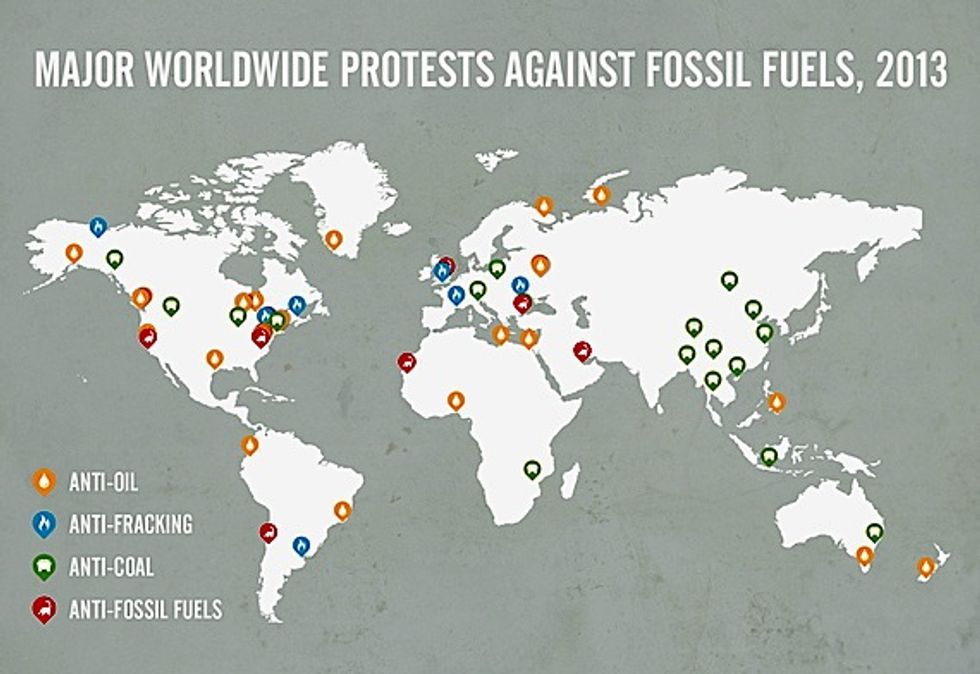 Those of us who choose civil disobedience as a tactic, often of last resort, do so not because they are looking to get away with a crime, but because we are seeking to shine a light on laws that allow for injustice to prevail. No one wants to go to jail. But the history of righting terrible wrongs is first a history of individuals putting their bodies on the line, risking arrest, facing uncertain circumstances and sometimes going to jail (or worse), long before the nation or the world awakens to the realities of what amounts to legalized decimation, injustice and oppression.
There were times in our history here in the U.S. where the law of the land allowed slavery, prohibited women the right to vote, left children unprotected by labor laws and didn't guarantee the civil rights of all citizens. In the U.S.'s many hard-fought movements of great social progress—the abolitionist movement, women's suffrage, labor and civil rights movements, as well as the free speech, peace, and environmental justice movements—there have always been those who were out in front, laying their bodies on the line and leading the way—well before the lawmakers followed with new legislation designed to make this a "more perfect union."
The climate movement is well underway, and thousands of peaceful protesters and interventionists have already put their bodies and freedom on the line. As the world grapples with how to recognize the first of its climate refugees, and as it becomes desperately clear that carbon pollution must be urgently addressed, the quest for more difficult to access and dirtier oil and gas has never been more furious. In the states, lawmakers in the pocket of extraction industry make the pillaging easier and the public health concerns more profound by allowing exemptions from the Clean Water Act, the Clean Air Act, and Safe Drinking Water Act. So, in the U.S. alone, more than 76,000 have pledged to engage in dignified acts of peaceful civil disobedience if the debacle that is the KeystoneXL pipeline is allowed to proceed through our country's heartland.
The third largest threat to our planetary climate—third only to mining nearly all of China and Australia's coal—would be drilling for oil and gas in the Arctic, where oil companies plan to take advantage of melting sea ice in this most sensitive region on earth. If their plan were to succeed, despite the technical obstacles and enormous environmental risks, the drilling would add 520 million tons of carbon pollution to the atmosphere per year, as much as all of Canada's annual global warming pollution.
That's why Greenpeace activists and independent journalists determined to bring this urgent threat to humanity to light journeyed to the Russian Arctic to protest the first ever offshore Arctic oil drilling project. On Sept. 19, consistent with the tradition of peaceful direct action, Greenpeace activists scaled a Gazprom oil platform to hang a banner off of the side. They hoped to bring awareness of the frightening risks of runaway climate change and the devastating effect of oil spills that Arctic drilling could bring to the world.
The Russian Federal Security Services responded with force, firing 11 warning shots into the water just inches away from the Greenpeace small inflatable boats. Two activists were taken by the knife wielding agents, while the other 28 activists and journalists remained on the Greenpeace ship, the Arctic Sunrise.
The next day, in international waters, 15 masked Russian troops rappelled on to the Arctic Sunrise from a helicopter, held all 28 civilians onboard at gunpoint, and seized the ship.
The Arctic 30 have been in Russian custody since.
While even President Putin said the activists and journalists were "obviously not pirates;" the Russian authorities detained and charged all 30 with piracy—a crime that carries a 15 year jail sentence in Russia. A few weeks ago, they added "hooliganism," charges which carry even more disproportionate penalties of up to seven years in jail. The illegal arrests on international waters and the outrageous charges have been condemned by governments and many human rights groups, including Amnesty International, while people in 220 cities from Jakarta to Hong Kong to California marched, calling for the release of the Arctic 30.
The disproportionate Russian response is like unleashing attack dogs on a sit-in.
History has shown us that peaceful activism is vital when all else fails to respond appropriately to the most pressing issues of our time. The great practitioners of non-violent direct action as a means of achieving social change knew this and practiced it only with love in their hearts. Mahatma Gandhi and Martin Luther King, Jr. both said in so many words, "if a law is unjust, it is your responsibility to break it." MLK once said, "injustice anywhere is a threat to justice everywhere." That one profound statement of moral genius succinctly exemplifies why the world must not be silent until the Arctic 30 are once again free.
Stand in solidarity with those who were willing and compelled to go to the front lines on behalf of all future generations. The risks that these activists have taken, and the cost to them personally and to their loved ones, need you to relentlessly demand that Russia free the Arctic 30—and of course that the world move swiftly, urgently and in earnest to a planet powered by clean energy.
Visit EcoWatch's ENERGY page for more related news on this topic.

EcoWatch Daily Newsletter
A Starbucks barista prepares a drink at a Starbucks Coffee Shop location in New York. Ramin Talaie / Corbis via Getty Images
By Cathy Cassata
Are you getting your fill of Starbucks' new Almondmilk Honey Flat White, Oatmilk Honey Latte, and Coconutmilk Latte, but wondering just how healthy they are?
By Sharon Kelly
Back in April last year, the Trump administration's Environmental Protection Agency decided it was "not necessary" to update the rules for toxic waste from oil and gas wells. Torrents of wastewater flow daily from the nation's 1.5 million active oil and gas wells and the agency's own research has warned it may pose risks to the country's drinking water supplies.
Swedish climate activist Greta Thunberg takes part in a "Friday for Future" youth demonstration in a street of Davos on Jan. 24, 2020 on the sideline of the World Economic Forum annual meeting. FABRICE COFFRINI / AFP via Getty Images
Treasury Secretary Steven Mnuchin pretended not to know who Greta Thunberg is, and then he told her to get a degree in economics before giving world leaders advice, as The Guardian reported.
The Visible Infrared Imaging Radiometer Suite on the Suomi NPP satellite acquired this image of forest fire smoke hovering over North America on Aug. 15, 2018. NASA Earth Observatory
New York City isn't known for having the cleanest air, but researchers traced recent air pollution spikes there to two surprising sources — fires hundreds of miles away in Canada and the southeastern U.S.
If temperatures continue to rise, the world is at risk from global
sea-level rise
, which will flood many coastal cities as seen above in Bangladesh. NurPhoto / Contributor / Getty Images
The mounting climate emergency may spur the next global financial crisis and the world's central banks are woefully ill equipped to handle the consequences, according to a new book-length report by the Bank for International Settlements (BIS), as S&P Global reported. Located in Basel, Switzerland, the BIS is an umbrella organization for the world's central banks.