This website uses cookies to ensure you get the best experience while browsing it. By clicking 'Got It' you're accepting these terms.


The best of EcoWatch, right in your inbox. Sign up for our email newsletter!
Grizzly Bears at Risk of Being Hunted for the First Time in Decades
Mar. 10, 2016 03:19PM EST
Animals
Once upon a time in America, back in the early 1800s, more than 50,000 grizzly bears resided between the Pacific Ocean and the Great Plains. By 1975, there were only 136 grizzly bears left in Yellowstone National Park. Because of this dwindling number, they were listed as a threatened species.
Fast forward 40 years and there's good news and bad news for grizzly bears in Yellowstone. The good news? Thanks to their protected status, there are now about 700 or more grizzly bears and they have doubled their roaming range.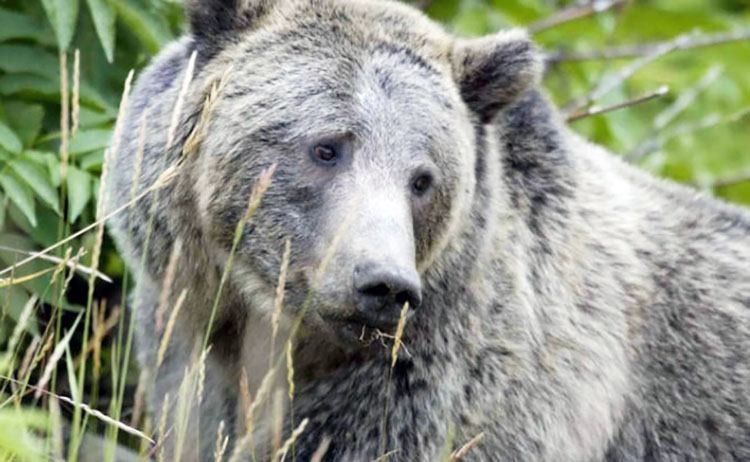 "The recovery of the Yellowstone grizzly bear represents a historic success for partnership-driven wildlife conservation under the Endangered Species Act," U.S. Fish and Wildlife Service (FWS) Director Dan Ashe said last week.
The bad news? Because of this historic success, the FWS announced it wants to remove grizzly bears in the Greater Yellowstone Ecosystem from the federal lists of endangered and threatened wildlife. According to the FWS, the Greater Yellowstone Ecosystem is reaching its capacity for the bears.
This means that, for the first time in decades, grizzly bears that wander outside Yellowstone National Park—where they will remain protected—could be legally hunted if they are delisted.
The management of those roaming bears would be taken over by the governments of Idaho, Montana, Wyoming and local tribes, according to a FWS FAQ. It would be up to these states and tribes to determine if and when hunting begins.
As many as 100 grizzly bears may be killed before hunting of them is once again prohibited.
When the FWS tried to delist grizzly bears in 2007, environmental groups took it to court.
In 2009, a federal judge in Montana ruled that Yellowstone grizzly bears should continue to be protected because not only were the safeguards promised by the USFWS unenforceable, but due to climate change, bears were losing a major part of their diet: the seeds from whitebark pine trees that were dying off.
The ruling was upheld two years later by a federal appeals court, which stated that the FWS "cannot take a full-speed ahead, damn-the-torpedoes approach to delisting—especially given the Endangered Species Act's 'policy of institutionalized caution.'"
The environmental law firm Earthjustice, which helped lead those efforts to keep the Yellowstone grizzly bear protections in place, is currently reviewing the latest delisting proposal from the FWS.
"Earthjustice will closely examine the service's action to ensure that the Yellowstone region's irreplaceable grizzly bear population is adequately protected," attorney Tim Preso said in a statement.
The FWS insists it will remain committed to the conservation of Yellowstone grizzly bears if they are delisted.
"We will continue to be part of a strong monitoring program, implementation of the conservation strategy and partnership with our state and federal partners," Ashe stated. "We are look forward to hearing from the public about the proposal and consulting with Native American tribes."
The FWS will make its decision later this year. In the meantime, it is accepting comments from the public that include reasons why Yellowstone grizzly bears should or should not be protected.
YOU MIGHT ALSO LIKE
SeaWorld's Famous Whale and 'Blackfish' Star Is Dying
Victory: Alaska's Polar Bears Win Their Day in Court
EcoWatch Daily Newsletter
A child playing with a ball from planet earth during Extinction Rebellion rally on April 18 in London, England. Brais G. Rouco / Barcroft Media / Getty Images
Earth Day 2019 just passed, but planning has already begun for Earth Day 2020, and it's going to be a big deal.
Geneva Vanderzeil, A Pair & A Spare / Flickr / CC BY 2.0
Is your closet filled with clothes you don't wear (and probably don't like anymore)? Are you buying cheap and trendy clothing you only wear once or twice? What's up with all the excess? Shifting to a more Earth-conscious wardrobe can help simplify your life, as well as curb fast fashion's toll on people and the planet.
Christine Zenino / Wikimedia Commons / CC BY 2.0

The 18th century St. Catherine of Alexandria church is seen after its bell tower was destroyed following a 6.3 magnitude earthquake that struck the town of Porac, pampanga province on April 23. TED ALJIBE / AFP / Getty Images
At least 16 people have died, 81 are injured and 14 are still missing after an earthquake struck Luzon island in the Philippines Monday, according to the latest figures from the National Disaster Risk Reduction and Management Council, as the Philippine Star tweeted Tuesday.
Climate change activists gather in front of the stage at the Extinction Rebellion group's environmental protest camp at Marble Arch in London on April 22, on the eighth day of the group's protest calling for political change to combat climate change. TOLGA AKMEN / AFP / Getty Images
Pexels
By Alina Petre, MS, RD (CA)
Veganism refers to a way of living that attempts to minimize animal exploitation and cruelty. For this reason, vegans aim to exclude all foods containing meat, poultry, fish, eggs, dairy and honey from their diet (1).
American farmers use chlorpyrifos, a pesticide tied to brain and nervous system issues, on crops such as apples, broccoli, corn and strawberries. Stephanie Chapman / Flickr / CC BY 2.0
By Jessica Corbett
In a ruling welcomed by public health advocates, a federal court on Friday ordered the Trump administration to stop stalling a potential ban on a pesticide linked to brain damage in children, giving regulators until mid-July to make a final decision.
fstop123 / iStock / Getty Images Plus
At EcoWatch, our team knows that changing personal habits and taking actions that contribute to a better planet is an ongoing journey. Earth Day, happening on April 22, is a great reminder for all of us to learn more about the environmental costs of our behaviors like food waste or fast fashion.
To offer readers some inspiration this Earth Day, our team rounded up their top picks for films to watch. So, sit back and take in one of these documentary films this Earth Day. Maybe it will spark a small change you can make in your own life.