This website uses cookies to ensure you get the best experience while browsing it. By clicking 'Got It' you're accepting these terms.
Grizzly Bears at Risk of Being Hunted for the First Time in Decades
Mar. 10, 2016 03:19PM EST
Once upon a time in America, back in the early 1800s, more than 50,000 grizzly bears resided between the Pacific Ocean and the Great Plains. By 1975, there were only 136 grizzly bears left in Yellowstone National Park. Because of this dwindling number, they were listed as a threatened species.
Fast forward 40 years and there's good news and bad news for grizzly bears in Yellowstone. The good news? Thanks to their protected status, there are now about 700 or more grizzly bears and they have doubled their roaming range.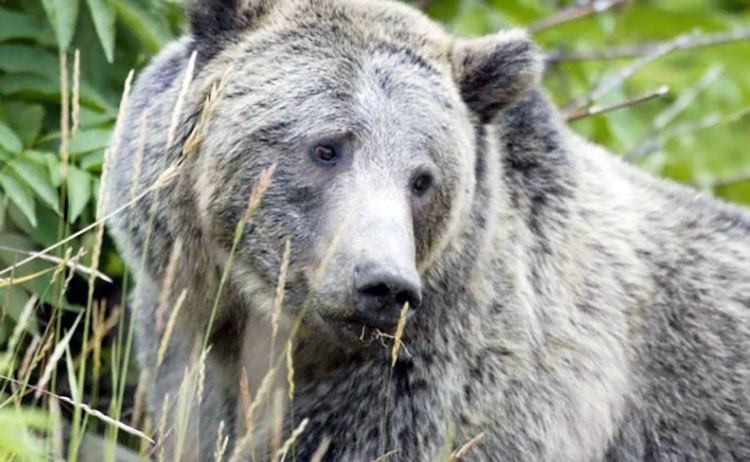 "The recovery of the Yellowstone grizzly bear represents a historic success for partnership-driven wildlife conservation under the Endangered Species Act," U.S. Fish and Wildlife Service (FWS) Director Dan Ashe said last week.
The bad news? Because of this historic success, the FWS announced it wants to remove grizzly bears in the Greater Yellowstone Ecosystem from the federal lists of endangered and threatened wildlife. According to the FWS, the Greater Yellowstone Ecosystem is reaching its capacity for the bears.
This means that, for the first time in decades, grizzly bears that wander outside Yellowstone National Park—where they will remain protected—could be legally hunted if they are delisted.
The management of those roaming bears would be taken over by the governments of Idaho, Montana, Wyoming and local tribes, according to a FWS FAQ. It would be up to these states and tribes to determine if and when hunting begins.
As many as 100 grizzly bears may be killed before hunting of them is once again prohibited.
When the FWS tried to delist grizzly bears in 2007, environmental groups took it to court.
In 2009, a federal judge in Montana ruled that Yellowstone grizzly bears should continue to be protected because not only were the safeguards promised by the USFWS unenforceable, but due to climate change, bears were losing a major part of their diet: the seeds from whitebark pine trees that were dying off.
The ruling was upheld two years later by a federal appeals court, which stated that the FWS "cannot take a full-speed ahead, damn-the-torpedoes approach to delisting—especially given the Endangered Species Act's 'policy of institutionalized caution.'"
The environmental law firm Earthjustice, which helped lead those efforts to keep the Yellowstone grizzly bear protections in place, is currently reviewing the latest delisting proposal from the FWS.
"Earthjustice will closely examine the service's action to ensure that the Yellowstone region's irreplaceable grizzly bear population is adequately protected," attorney Tim Preso said in a statement.
The FWS insists it will remain committed to the conservation of Yellowstone grizzly bears if they are delisted.
"We will continue to be part of a strong monitoring program, implementation of the conservation strategy and partnership with our state and federal partners," Ashe stated. "We are look forward to hearing from the public about the proposal and consulting with Native American tribes."
The FWS will make its decision later this year. In the meantime, it is accepting comments from the public that include reasons why Yellowstone grizzly bears should or should not be protected.
YOU MIGHT ALSO LIKE
SeaWorld's Famous Whale and 'Blackfish' Star Is Dying
Victory: Alaska's Polar Bears Win Their Day in Court
Plus, learn if there's one that's best for your health.
Catherine Falls Commercial / Moment / Getty Images
An invasive Amynthas worm, also known as a crazy snake worm, Asian jumping worm and Alabama jumper Tom Potterfield / Flickr
By Jason Bittel
My wife and I built a house two years ago on a few acres of woodland outside of Pittsburgh. The backyard is full of maples, poplars, briars and common spicebush. Two-lined salamanders and grumpy-looking crayfish wade among the rocks in the small stream that runs down the edge of the property. Deer, raccoon and opossum tracks appear regularly in the snow and mud. Sometimes, my trail-cam even catches a pair of gray foxes as they slink through the night.
AleksandarNakic / Getty Images
By Kate Murphy
No matter the time of year, there's always a point in each season when my skin decides to cause me issues. While these skin issues can vary, I find the most common issues to be dryness, acne and redness.

David Woodfall / The Image Bank / Getty Images
By Sam Nickerson
The U.S. Environmental Protection Agency (EPA) in April 2018 proposed relaxing standards related to how it assesses the effects of exposure to low levels of toxic chemicals on public health.
Now, correspondence obtained by the LA Times revealed just how deeply involved industry lobbyists and a controversial, industry-funded toxicologist were in drafting the federal agency's proposal to scrap its current, protective approach to regulating toxin exposure.
Steve Irwin poses with a three foot long alligator at the San Francisco Zoo on June 26, 2002. Justin Sullivan / Getty Images
February 22 is the birthday of conservationist and beloved TV personality "Crocodile Hunter" Steve Irwin, who would have been 57 years old today.
Irwin's life was tragically cut short when the barb from a stingray went through his chest while he was filming in 2006, but his legacy of loving and protecting wildlife lives on, most recently in a Google Doodle today honoring his birthday.