This website uses cookies to ensure you get the best experience while browsing it. By clicking 'Got It' you're accepting these terms.
France Cancels Major Climate March, Groups Say They Won't Be Silenced
Nov. 19, 2015 08:50AM EST
Climate
Update: The Prefecture of Police of Paris has reportedly canceled a march planned for Nov. 29 that organizers expected to draw at least 200,000 people, citing security concerns. Activists noted that other actions planned worldwide will still move forward.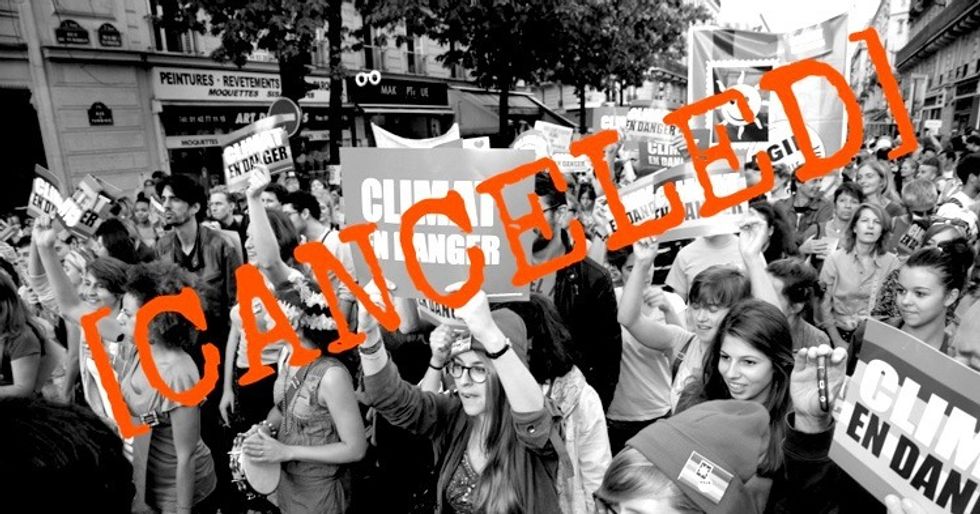 Nicolas Haeringer, French campaigner for climate advocacy group 350.org, said in response:
"The government can prohibit these demonstrations, but our voices will not be silenced. While this makes it difficult to go forward with our original plans, we will still find a way for people in Paris to make the call for climate justice heard, and we encourage everyone around the world to join a Global Climate March and raise their voices louder than ever. There's never been a greater need.
"While our plans in Paris must change, the movement for climate justice will not slow down. Around the world, marches, demonstrations, and civil disobedience are all planned for the weeks and months ahead. Together, we will continue to stand against violence and hatred with our peace and resolve. For people around the world, join the Global Climate March in your community to show your support for climate justice. For those who were planning to travel to Paris, still come and join us, and together we'll find a way to take action together."
Earlier:
French police are reintroducing border checks and cracking down on demonstrations set to take place during the upcoming climate talks in Paris—but activists on the ground say they will not sacrifice their plans for protest.
Talks between organizers and French Foreign Minister Laurent Fabius ended in a stalemate on Tuesday with no immediate consensus on a massive march planned for Nov. 29—the day before the COP21 negotiations are scheduled to begin—which climate groups hoped would draw hundreds of thousands of people.
Following last week's attacks that killed 129 people in Paris, French officials had proposed scaling down the Nov. 29 march to a stationary action held behind kettling nets, miles away from the summit headquarters, with a cutoff of 5,000 participants.
But organizers said such a dramatic downsizing "would not be acceptable."
In fact, many said, now is the time to double down on free speech and free assembly.
Alix Mazounie, a campaigner with Climate Action Network France who took part in the meeting with Fabius, told Democracy Now! on Wednesday, "More than ever, people across the world and in Paris need to stand up to say that they are fearless and that they want the right to public and democratic freedom of speech."
Watch the video below:
Nick Dearden, director of Global Justice Now, said COP21 actions were more important now than ever. In a blog post published Wednesday, Dearden wrote, "It will be deeply ironic if climate activists from around the world are among the first to fall foul of France's emergency powers."
"Of course, those campaigners have nothing to do with the brutal attacks on Paris last Friday night. On the contrary, they will challenge the unequal, unsustainable and militaristic policies on which terrorism has thrived," he added.
Authorities also said they will employ more than 30,000 police officers at 285 different land, sea, and air checkpoints around France from now until two days after the conference ends. According to AFP, security forces will also keep close watch on "extreme" environmental groups and advocates.
However, those rigid security measures will be met head-on by activists planning to forge ahead with demonstrations that are scheduled to take place throughout the two-week summit.
"The tragedy in Paris has only strengthened our resolve," said Nicolas Haeringer, France campaigner for the climate advocacy group 350.org. "We fully share [authorities'] concerns about public safety—just as we fully oppose any unnecessary crackdowns on civil liberties and minority populations."
"This is not the time to step back," Mazounie told The Guardian. "We are in a country of free expression—that has always been the source of our power. This will be about unity, solidarity and peace, as well as climate change."
Anti-globalization group Attac said full-scale mobilization was not only a free-speech issue, but also a stance of solidarity with the victims of the attacks in Paris and the bombings in Beirut.
"We are all targeted but we are not afraid," Attac France said Tuesday. "We do not succumb to anxiety, just as we do not accept the 'shock strategy,' which consists in taking advantage of human, social and environmental catastrophes to trigger all forms of regression, restrict our basic freedoms and generate withdrawal."
Much of the action in Paris is being organized by Coalition Climat 21, comprising Greenpeace, Oxfam, Avaaz, and more than 130 other civil society groups. The coalition said it would work in tandem with authorities to ensure participants' safety, but added that protests during COP21 were crucial to the summit's success.
"Thus, we will implement all our efforts to hold all the mobilizations currently planned," the coalition said.
YOU MIGHT ALSO LIKE
Bernie Sanders Refuses to Back Down on Climate-Terrorism Connection
Tim DeChristopher: Don't Back Down in Paris
Why Fossil Fuel Stocks Are Doomed
EcoWatch Daily Newsletter
A new study shows that half of all Arctic warming and corresponding sea-loss during the late 20th century was caused by ozone-depleting substances. Here, icebergs discharged from Greenland's Jakobshavn Glacier. Kevin Krajick / Earth Institute /
EurekAlert!
The world awakened to the hole in the ozone layer in 1985, which scientists attributed it to ozone depleting substances. Two years later, in Montreal, the world agreed to ban the halogen compounds causing the massive hole over Antarctica. Research now shows that those chemicals didn't just cut a hole in the ozone layer, they also warmed up the Arctic.
Diane Wilson holds up a bag full of nurdles she collected from one of Formosa's outfall areas on Jan. 15. Julie Dermansky / DeSmogBlog
On the afternoon of Jan. 15, activist Diane Wilson kicked off a San Antonio Estuary Waterkeeper meeting on the side of the road across from a Formosa plastics manufacturing plant in Point Comfort, Texas.
After Wilson and the waterkeeper successfully sued Formosa, the company agreed to no longer release even one of the tiny plastic pellets known as nurdles into the region's waterways. The group of volunteers had assembled that day to check whether the plant was still discharging these raw materials of plastics manufacturing.
Malaysian Environment Minister Yeo Bee Yin (front 2nd L) and officials inspect a container containing plastic waste shipment on Jan. 20, 2020 before sending back to the countries of origin. AFP via Getty Images
The Southeast Asian country Malaysia has sent 150 shipping containers packed with plastic waste back to 13 wealthy countries, putting the world on notice that it will not be the world's garbage dump, as CNN reported. The countries receiving their trash back include the United States, the United Kingdom, France and Canada.
Trump leaves after delivering a speech at the Congress Centre during the World Economic Forum annual meeting in Davos on Jan. 21, 2020. JIM WATSON / AFP via Getty Images