This website uses cookies to ensure you get the best experience while browsing it. By clicking 'Got It' you're accepting these terms.
Stunning Images of One of Nature's Most Incredible Phenomena
Jan. 15, 2016 11:58AM EST
Adventure
Have you ever seen images of the water at Horsetail Fall glowing red like lava at Yosemite National Park? Or better yet, have you ever seen it in person?
"For a few weeks in February, if the water is flowing in Horsetail Fall, photographers and park visitors gather in the waning evening light for an amazing natural display," Delaware North, the contracted concessioner for Yosemite National Park, said. "The Horsetail Fall phenomenon appears when the angle of the setting sun sets the waterfall ablaze with reds and oranges, like a fire was falling down the cliffs on the shoulder of El Capitan."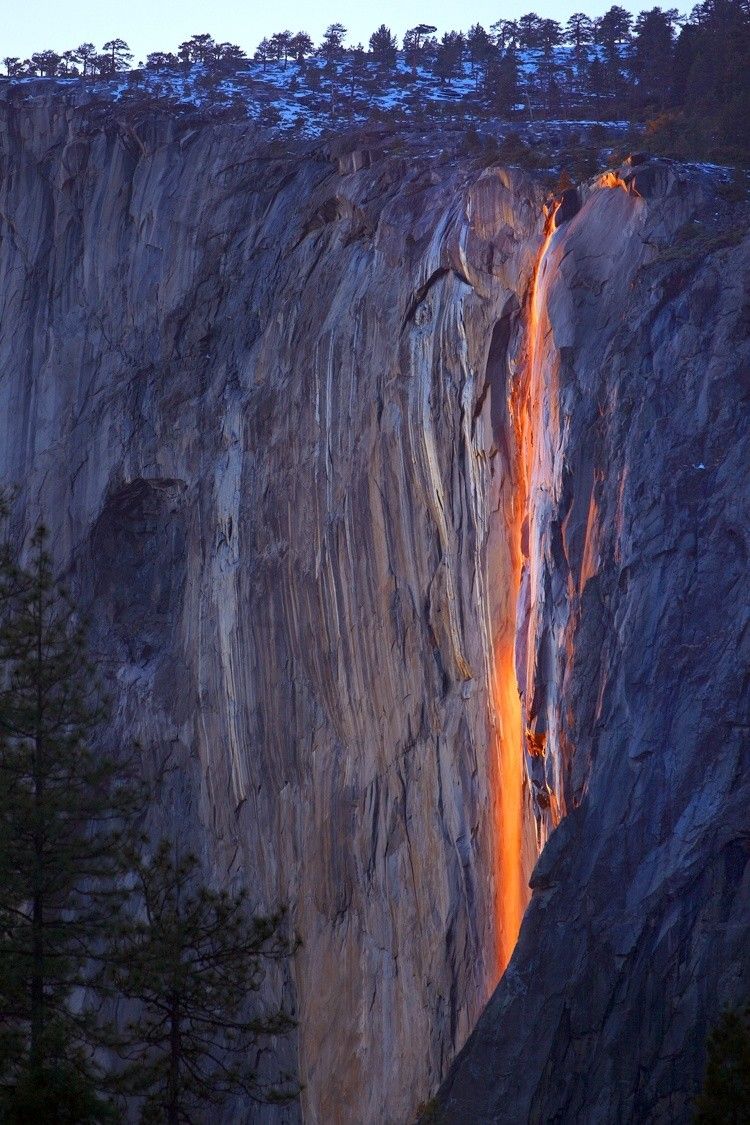 When conditions are just right, Horsetail Fall glows red like lava at sunset. It typically only happens a few weeks each year. Reddit
The first known photograph of the phenomenon was taken by photographer Galen Rowell in 1973. The so-called "firefall" has captivated onlookers ever since. "It's truly a wonder of nature," said Elizabeth Christie, who posted a picture on Facebook of the waterfall glowing red.
Elizabeth Christie / Facebook
The phenomenon occurs when conditions are just right, usually in mid to late February. Some years the firefall only happens on one or two days, according to the National Park Service. Blurppy explains why the firefall is so "finicky":
Although Horsetail Fall is visible from multiple viewpoints in Yosemite Valley, several factors must converge to trigger the firefall. If conditions are not perfect, the firefall will not glow.
First and foremost, Horsetail Fall must be flowing. If there's not enough snowpack in February, there will not be enough snowmelt to feed the waterfall, which tumbles 1,570 feet (480 meters) down the east face of El Capitan. Likewise, temperatures must be warm enough during the day to melt the snowpack. If temperatures are too cold, the snow will stay frozen and Horsetail Fall won't flow. (Lack of runoff is also why there is no firefall in autumn. Although the sun hits Yosemite Valley at the same angle in October as it does in February, Horsetail Falls is usually dry in October because the runoff that feeds it has long since dried up.)
Second, the western sky must be clear at sunset. If it's snowing, raining, or even just cloudy, the sun's rays will be blocked and Horsetail Falls will not light up. Winter weather can be highly variable in Yosemite, however, and days that start off cloudy can clear up by sunset.
If everything comes together and conditions are just right, the firefall will light up for about 10 minutes. To see Horsetail Fall glowing blood red is an almost supernatural experience.
As the sun begins to set, the falls turn a golden hue and eventually become a bright reddish orange.
Watch Yosemite National Park's video to get a better understanding of the natural phenomenon and to see some stunning images of the firefall:
EcoWatch Daily Newsletter
DESIREE MARTIN / AFP / Getty Images
Wildfires raging on Gran Canaria, the second most populous of Spain's Canary Islands, have forced around 9,000 people to evacuate.
Wolves in Mount Rainier, Washington. Ron Reznick / VW Pics / Universal Images Group via Getty Images
The last four members of an embattled wolf pack were killed in Washington State Friday, hours before the court order that could have saved them.
Plateau Creek near De Beque, Colorado, where land has been leased for oil and gas production. Helen H. Richardson / The Denver Post / Getty Images
By Randi Spivak
Slashing two national monuments in Utah may have received the most attention, but Trump's Interior Department and U.S. Forest Service have been quietly, systematically ceding control of America's public lands to fossil fuel, mining, timber and livestock interests since the day he took office.
Aerial view of lava flows from the eruption of volcano Kilauea on Hawaii, May 2018. Frizi / iStock / Getty Images
Hawaii's Kilauea volcano could be gearing up for an eruption after a pond of water was discovered inside its summit crater for the first time in recorded history, according to the AP.
Global SO2 Emission Hotspot Database / Greenpeace
A new report by Greenpeace International pinpointed the world's worst sources of sulfur dioxide pollution, an irritant gas that harms human health. India has seized the top spot from Russia and China, contributing nearly 15 percent of global sulfur dioxide emissions.
The huge surge this year in Amazon deforestation is leading some European countries to think twice about donations to the Amazon Fund. LeoFFreitas / Moment / Getty Images
By Sue Branford and Thais Borges
Ola Elvestrun, Norway's environment minister, announced Thursday that it is freezing its contributions to the Amazon Fund, and will no longer be transferring €300 million ($33.2 million) to Brazil. In a press release, the Norwegian embassy in Brazil stated:
Gina Lopez, the Philippine secretary of the environment, at a meeting with residents affected by a mine tailing disaster. Keith Schneider
Gina Lopez, a former Philippine environment secretary, philanthropist and eco-warrior, died on Aug. 19 from brain cancer. She was 65.
Trump speaks to contractors at the Shell Chemicals Petrochemical Complex on Aug. 13 in Monaca, Pennsylvania. Jeff Swensen / Getty Images
Thousands of union members at a multibillion dollar petrochemical plant outside of Pittsburgh were given a choice last week: Stand and wait for a speech by Donald Trump or take the day off without pay.