This website uses cookies to ensure you get the best experience while browsing it. By clicking 'Got It' you're accepting these terms.
Evidence Finds BP Gulf Oil Disaster Causing Widespread Deformities in Fish
Mar. 25, 2014 09:43AM EST
Crude oil from the 2010 Deepwater Horizon disaster causes severe defects in the developing hearts of bluefin and yellowfin tunas, according to a new study by a team of National Oceanic and Atmospheric Administration (NOAA) and academic scientists.
The findings, published in the Proceedings of the National Academy of Sciences on the 25th anniversary of the Exxon Valdez oil spill, show how the largest marine oil spill in U.S. history may have affected tunas and other species that spawned in oiled offshore habitats in the northern Gulf of Mexico.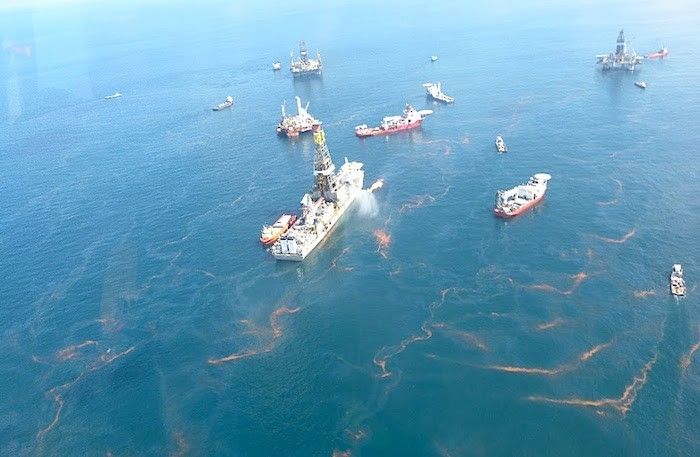 Atlantic bluefin tuna, yellowfin tuna and other large predatory fish spawn in the northern Gulf during the spring and summer months, a time that coincided with the Deepwater Horizon spill in 2010. These fish produce buoyant embryos that float near the ocean surface, potentially in harm's way as crude oil from the damaged wellhead rose from the seafloor to form large surface slicks.
The new study shows that crude oil exposures adversely affect heart development in the two species of tuna and an amberjack species by slowing the heartbeat or causing an uncoordinated rhythm, which can ultimately lead to heart failure.
"We know from the 1989 Exxon Valdez spill in Prince William Sound that recently spawned fish are especially vulnerable to crude oil toxicity," said Nat Scholz, Ph.D., leader of the ecotoxicology program at NOAA's Northwest Fisheries Science Center in Seattle. "That spill taught us to pay close attention to the formation and function of the heart."
"The timing and location of the spill raised immediate concerns for bluefin tuna," said Barbara Block, Ph.D., a study coauthor and professor of biology at Stanford University. "This spill occurred in prime bluefin spawning habitats, and the new evidence indicates a compromising effect of oil on the physiology and morphology of bluefin embryos and larvae."
Recent studies are increasingly painting a more detailed picture of how oil-derived polycyclic aromatic hydrocarbons (PAHs) act on the heart. Earlier this year, the Stanford-NOAA team showed in a related paper published in Science (Brette et al. 343: 772) that Deepwater Horizon crude oil samples block excitation-contraction coupling—vital processes for normal beat-to-beat contraction and pacing of the heart—in individual heart muscle cells isolated from juvenile bluefin and yellowfin tuna.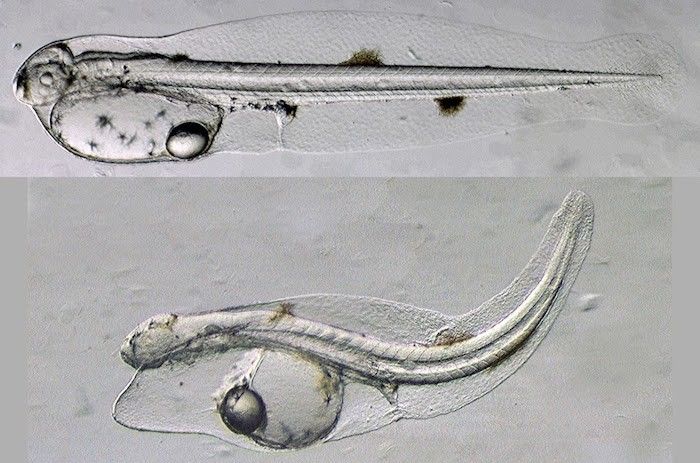 "We now have a better understanding why crude oil is toxic, and it doesn't bode well for bluefin or yellowfin embryos floating in oiled habitats." said Block. "At the level of a single heart muscle cell, we've found that petroleum acts like a pharmacological drug by blocking key processes that are critical for cardiac cell excitability."
This mechanism explains why the team observed a range of cardiac effects in the developing hearts of intact embryos in the present study. "We directly monitored the beating hearts of living fish embryos exposed to crude oil," said Dr. John Incardona, NOAA research toxicologist and the study's lead author. "The tiny offspring of tunas and other Gulf species are translucent, and we can use digital microscopy to watch the heart develop."
The major difficulty facing the researchers was access to live animals. Tunas are difficult to raise in captivity and few facilities exist worldwide with spawning fish. In the open ocean, fragile fish embryos and larvae are mixed with many other types of plankton, and they usually don't survive the rough conditions in a net towed near the surface. This made it close to impossible to assess developmental cardiotoxicity in samples collected near the Deepwater Horizon surface oil slicks.
To work around this challenge, the international team brought the oil to the fish. Samples of crude oil were collected from the damaged riser pipe and surface skimmers. The samples were then transported to the only land-based hatcheries in the world capable of spawning tunas in captivity.
This approach allowed the scientists to design environmentally relevant crude oil exposures for bluefin tuna and yellowfin tuna at marine research facilities in Australia and Panama, respectively. Luke Gardner, an Australian native post-doctoral associate from Stanford University and co-author on the PNAS paper, was vital in helping the team investigate the bluefin.
"It is challenging to maintain bluefin in culture and we were privileged to have successfully tested the crude oil in Australian facilities, the only on-land hatchery that has bluefin tuna in culture. This gave us access to tuna embryos and allowed us to study the developmental toxicity of oil," said Gardner. The pioneering effort to develop new testing methods was also led by Martin Grosell, Ph.D., at the University of Miami.
The new research adds to a growing list of fish that are affected by crude oil. "This fits the pattern," said Incardona. "The tunas and the amberjack exposed to Deepwater Horizon crude oil were impacted in much the same way that herring were deformed by the Alaska North Slope crude oil spilled in Prince William Sound during the Exxon Valdez accident."
Crude oil is a complex mixture of chemicals, some of which are known to be toxic to marine animals. Past research has focused in particular on PAHs, which can also be found in coal tar, creosote, air pollution and stormwater runoff from land. In the aftermath of an oil spill, PAHs can persist for many years in marine habitats and cause a variety of adverse environmental effects.
Developmental abnormalities were evident in bluefin and yellowfin tunas at very low concentrations, in the range of approximately one to 15 parts per billion total PAHs. These levels are below the measured PAH concentrations in many samples collected from the upper water column of the northern Gulf during the active Deepwater Horizon spill phase.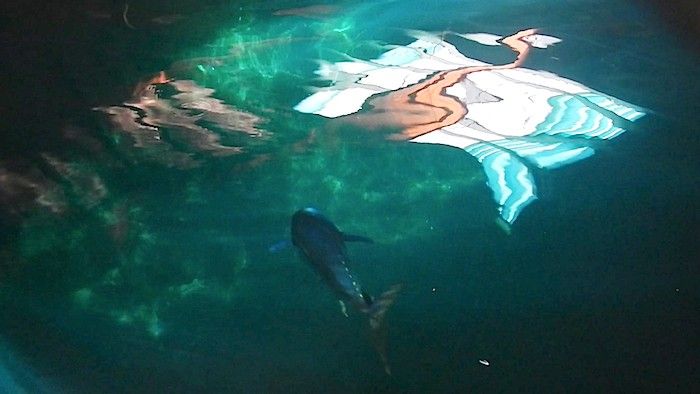 Severely affected fish with heart failure and deformed jaws are likely to have died soon after hatching. However, the NOAA team has shown in previous work that fish surviving transient crude oil exposures with only mild effects on the still-forming heart have permanent changes in heart shape that reduce swimming performance later in life.
"This creates a potential for delayed mortality," said Incardona. "Swimming is everything for these species."
The nature of the injury was very similar for all three pelagic predators, and similar also to the response of other marine fish previously exposed to crude oil from other geologic sources. Given this consistency, the authors suggest there may have been cardiac-related impacts on swordfish, marlin, mackerel and other Gulf species. "If they spawned in proximity to oil, we'd expect these types of effects," said Incardona.
The research was funded by NOAA as part of the on-going Natural Resource Damage Assessment for the Gulf ecosystem following the April 20, 2010 Deepwater Horizon oil spill. Contributing to the findings in addition to NOAA and Stanford University were researchers from the University of Miami's Rosenstiel School of Marine and Atmospheric Sciences and the University of the Sunshine Coast in Queensland, Australia.
RELATED CONTENT:
Dolphins Suffering From Lung Disease Due to BP Gulf Oil Spill
BP Disaster Recovery Through the Lens of the Exxon Valdez Oil Spill
4 Years After Deepwater Horizon Oil Spill, EPA Lifts BP's Gulf Drilling Ban
EcoWatch Daily Newsletter
A. Battenburg / Technical University of Munich
By Sarah Kennedy
Algae in a pond may look flimsy. But scientists are using algae to develop industrial-strength material that's as hard as steel but only a fraction of the weight.
Variety of fermented food korean traditional kimchi cabbage and radish salad. white and red sauerkraut in ceramic plates over grey spotted background. Natasha Breen / REDA&CO / Universal Images Group / Getty Image
Even if you've never taken probiotics, you've probably heard of them.
These supplements provide numerous benefits because they contain live microorganisms, such as bacteria or yeast, which support the healthy bacteria in your gut (1, 2, 3, 4).
Pexels
Singapore will become the first country in the world to place a ban on advertisements for carbonated drinks and juices with high sugar contents, its health ministry announced last week. The law is intended to curb sugar consumption since the country has some of the world's highest diabetes rates per capita, as Reuters reported.
A typical adult takes around 20,000 breaths per day. If you live in a megacity like Beijing, with many of those lungfuls you're likely to inhale a noxious mixture of chemicals and pollutants.
Fred Stone holds his brown swiss cow Lida Rose at his Arundel dairy farm on March 18 after a press conference where he spoke about PFAS chemical contamination in his fields. Gregory Rec / Portland Portland Press Herald via Getty Images
By Susan Cosier
First there was Fred Stone, the third-generation dairy farmer in Maine who discovered that the milk from his cows contained harmful chemicals. Then came Art Schaap, a second-generation dairy farmer in New Mexico, who had to dump 15,000 gallons of contaminated milk a day.
Protesters attend the 32nd annual Fur-Free Friday demonstration on Nov. 23, 2018 in Beverly Hills, California. Ella DeGea / Getty Images
California Governor Gavin Newsom signed into law a bill that that bans the sale and manufacture of fur products in the state. The fur ban, which he signed into law on Saturday, prohibits Californians from selling or making clothing, shoes or handbags with fur starting in 2023, according to the AP.
By Simon Evans
During the three months of July, August and September, renewables generated an estimated total of 29.5 terawatt hours (TWh), compared with just 29.1TWh from fossil fuels, the analysis shows.
A demonstrator waves an Ecuadorian flag during protests against the end of subsidies to gasoline and diesel on Oct. 9 in Quito, Ecuador. Jorge Ivan Castaneira Jaramillo / Getty Images