This website uses cookies to ensure you get the best experience while browsing it. By clicking 'Got It' you're accepting these terms.
Cancer-Causing Chemical Found in Drinking Water of 218 Million Americans
Sep. 21, 2016 10:52AM EST
Popular
By Bill Walker

Drinking water supplies for two-thirds of Americans are contaminated with the carcinogenic chemical made notorious by the film, Erin Brockovich, which was based on the real-life poisoning of tap water in a California desert town. But there are no national regulations for the compound—and the chemical industry is trying to keep it that way.
The Environmental Working Group (EWG) released an analysis Tuesday of more than 60,000 tap water tests conducted nationwide, finding that chromium-6, or hexavalent chromium, is in the tap water of more than 218 million Americans. That's two-thirds of the U.S. being served water with chromium-6 at, or above, the level that California state scientists consider safe. The California public health goal allows a chromium-6 level expected to cause no more than one case of cancer in 1 million people who drink it for lifetime.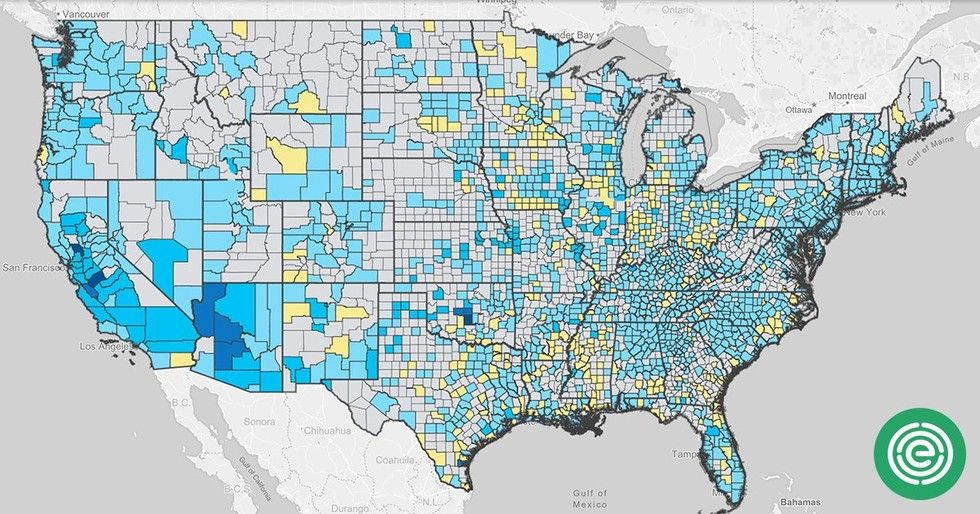 Interactive map of chromium-6 in U.S. drinking water shows an estimated 218 million Americans served unsafe levels of the chemical.Environmental Protection Agency, UCMR-3
Though far more permissive than its public health goal, California is the only state that has set an enforceable legal limit for chromium-6 in drinking water. Federal chromium regulations, set in 1991, do not specifically address chromium-6 and do not consider current science showing that drinking water contaminated with the chemical can cause cancer.

Chromium is a naturally occurring element but can also be manufactured. The two main types are chromium-3—an essential human nutrient considered to be mostly harmless—and chromium-6, which has long been known to cause lung cancer when airborne particles are inhaled. Recent science has also shown that, when ingested, it can cause stomach cancer. Chromium-6 is used in chrome plating, wood and leather treatments, dyes and pigments, and the water in cooling towers of electrical power plants.

A 2008 study by the National Toxicology Program found chromium-6 in drinking water caused cancer in rats and mice. California state scientists drew on that study to determine its public health goal, which is unenforceable, but guided state regulators in setting a legal limit. Although EWG believes the legal limit is far too high to protect public health, it is the only enforceable regulation on chromium-6 in the U.S.
The National Toxicology Program study was also used by the U.S. Environmental Protection Agency (EPA) to draft a health assessment for a safe exposure level. The draft was completed in 2011, but not formally released because the chemical and electric power industries pressured the EPA to wait for the results of other, industry-funded studies. Five years later, we're still waiting for the industry studies, which are expected to argue that the EPA doesn't need to set a national standard at all. They're also expected to fundamentally challenge the way the EPA calculates the risk of all carcinogenic chemicals.

Will the EPA stand up to industry pressure? The agency's record is not good. Since landmark amendments to the Safe Drinking Water Act in 1996, the EPA has not set any new drinking water regulations for previously unregulated contaminants. The EPA has ordered tests on 81 contaminants, but moved forward on setting regulations for just one—and those regulations are two years behind schedule.
California's public health goal is 0.02 parts per billion of chromium-6 in drinking water, yet the state's legal limit is 500 times higher. A home water filter can remove chromium-6 and most other chemicals of concern, but can be expensive. Ultimately, the better solution is for federal regulators to set drinking water standards that keep up with advances in science and prevent dangerous contaminants from getting into tap water in the first place.

EcoWatch Daily Newsletter

georgeclerk / E+ / Getty Images
By Jennifer Molidor
One million species are at risk of extinction from human activity, warns a recent study by scientists with the United Nations. We need to cut greenhouse gas pollution across all sectors to avoid catastrophic climate change — and we need to do it fast, said the Intergovernmental Panel on Climate Change.
This research should serve as a rallying cry for polluting industries to make major changes now. Yet the agriculture industry continues to lag behind.
Edwin Remsburg / VW Pics / Getty Images
Botswana, home to one third of Africa's elephants, announced Wednesday that it was lifting its ban on the hunting of the large mammals.
"The Ministry of Environment, Natural Resources Conservation and Tourism wishes to inform the public that following extensive consultations with all stakeholders, the Government of Botswana has taken a decision to lift the hunting suspension," the government announced in a press release shared on social media.
Pxhere
By Richard Denison
Readers of this blog know how concerned EDF is over the Trump EPA's approval of many dozens of new chemicals based on its mere "expectation" that workers across supply chains will always employ personal protective equipment (PPE) just because it is recommended in the manufacturer's non-binding safety data sheet (SDS).
By Grant Smith
From 2009 to 2012, Gregory Jaczko was chairman of the Nuclear Regulatory Commission, which approves nuclear power plant designs and sets safety standards for plants. But he now says that nuclear power is too dangerous and expensive — and not part of the answer to the climate crisis.
A lake in Rocky Mountain National Park. Brett Walton / Circle of Blue
By Brett Walton
When Greg Wetherbee sat in front of the microscope recently, he was looking for fragments of metals or coal, particles that might indicate the source of airborne nitrogen pollution in Rocky Mountain National Park. What caught his eye, though, were the plastics.
Gabriele Holtermann Gorden / Pacific Press / LightRocket / Getty Images
In a big victory for animals, Prada has announced that it's ending its use of fur! It joins Coach, Jean Paul Gaultier, Giorgio Armani, Versace, Ralph Lauren, Vivienne Westwood, Michael Kors, Donna Karan and many others PETA has pushed toward a ban.
This is a victory more than a decade in the making. PETA and our international affiliates have crashed Prada's catwalks with anti-fur signs, held eye-catching demonstrations all around the world, and sent the company loads of information about the fur industry. In 2018, actor and animal rights advocate Pamela Anderson sent a letter on PETA's behalf urging Miuccia Prada to commit to leaving fur out of all future collections, and the iconic designer has finally listened.
Amer Ghazzal / Barcroft Media / Getty Images
If people in three European countries want to fight the climate crisis, they need to chill out more.
That's the conclusion of a new study from think tank Autonomy, which found that Germany, the UK and Sweden all needed to drastically reduce their workweeks to fight climate change.
Amazon Employees for Climate Justice held a press conference after the annual shareholder meeting on May 22. Amazon Employees for Climate Justice